The Celerio, Swift, and new Ciaz also get a cash discount.
Suzuki Vitara is a popular SUV model and recently, Suzuki Philippines Inc. (SPH) is welcoming the ber months of 2021 with the introduction of the "Four the Win" promo for this model. It offers car buyers whopping cash discounts and low downpayment deals for four of its models including the new Vitara AllGrip. (You can also check out the price of all Suzuki SUV for sale here)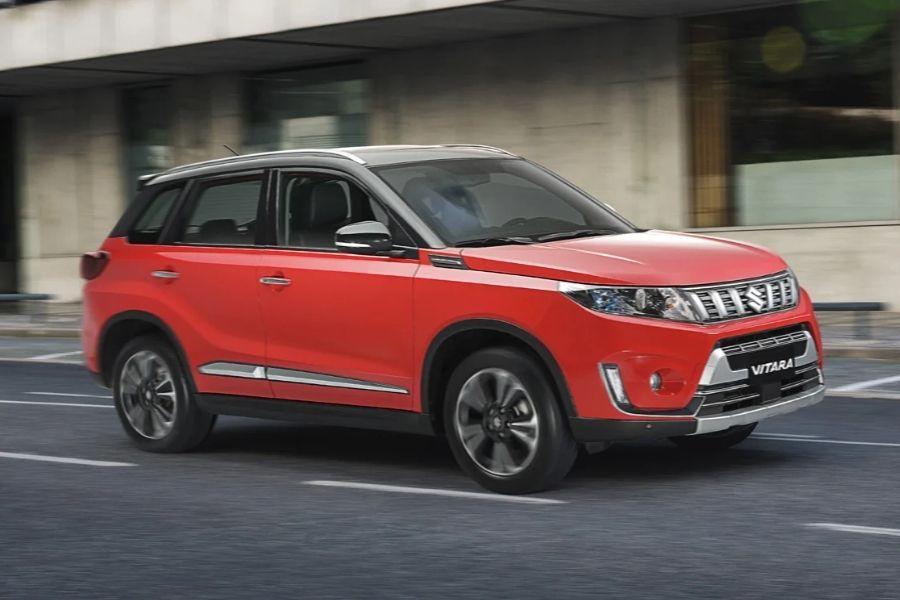 Suzuki Vitara AllGrip
For the month of September, the Suzuki Vitara AllGrip is available with as much as Php 70,000 cash discount. It can be used to lessen the model's suggested retail price of Php 1,458,000 (Php 1,468,000 for the two-tone option).
A Php 90,000 low down payment plan is also offered for those who are looking for a different payment scheme. Both the said deals under the promo can be taken advantage of to own Suzuki's latest iteration of the Vitara that now comes with an all-wheel-drive system as standard.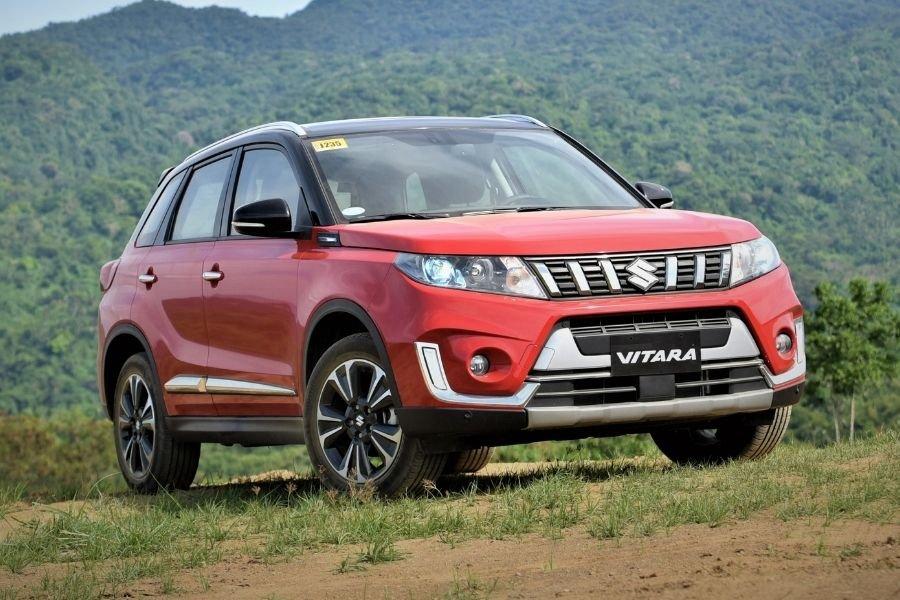 It is configured with the AllGrip technology
The new Suzuki Vitara AllGrip discontinued the front-wheel-drive from the previous model moving forward. This new AllGrip technology offers better traction on the road which can result in safer drives. It is paired with four drive modes to adapt to different road conditions, namely Auto, Sport, Snow, and Lock.
Under the hood, the Japanese subcompact crossover is powered by a 1.6-liter M16A inline-4 gasoline engine that is capable of generating 115 hp and 156 Nm of torque. It sends power to all wheels through a 6-speed automatic transmission. A manual mode and paddle shifters are also installed to provide a more engaging driving experience.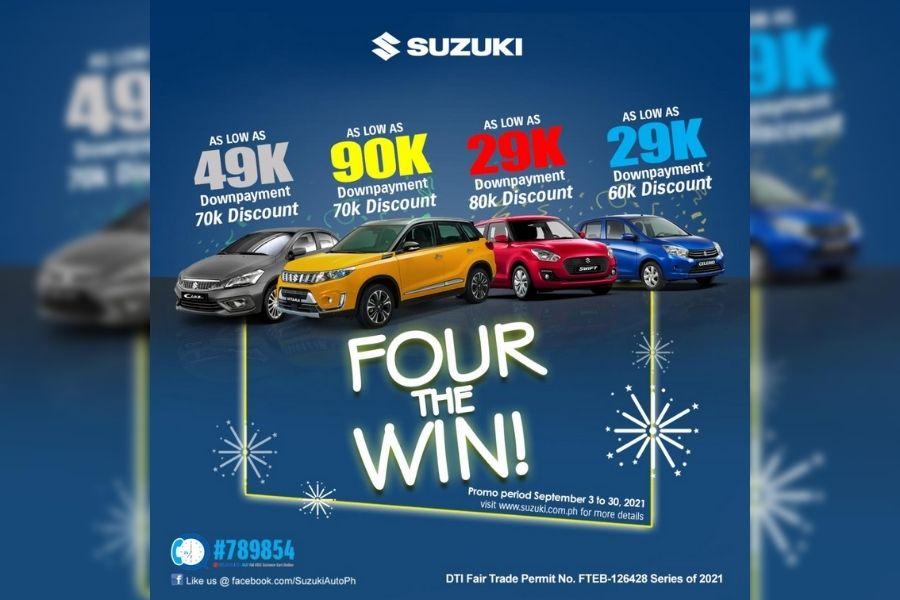 Four the Win
Aside from the Suzuki Vitara AllGrip, the "Four the Win" promo offers time-limited deals for the Celerio, Swift, and new Ciaz. The Suzuki Celerio gets Php 29,000 low downpayment and Php 60,000 cash discount, while the Swift comes with a Php 80,000 cash discount and a low down payment of Php 29,000. Lastly, the new Ciaz is available with a Php 70,000 cash discount, as well as a Php 49,000 low downpayment scheme.
"Now more than ever is the time for us in Suzuki Philippines to show that our customers plan an integral part in all our achievements as a company. Owning a car is a winning moment in a person's life, that's why we remain committed in assuring our products are made accessible to meet every lifestyle for the modern-day Filipino," said Suzuki Philippines Automobile Vice President and General Manager Mr. Keiichi Suzuki.
"We are truly excited and optimistic that with the promos we offer, we may be able to help uplift the life on the roads for our countrymen," added Suzuki.
Visit Philkotse for more automotive news and car price lists. 
Know more about Suzuki Vitara 2021

Introduced in 1984 by multinational automaker Suzuki, the Vitara is a versatile compact crossover. Now on its fourth generation and enjoyed for over 30 years, this Hungary-built vehicle is still glorious as ever. The current release is noticeably smaller measuring 1,610mm high, 1,775mm wide, and 4,175mm long. Its size is its strength and advantage as it can effortlessly maneuver on the busy streets in the metro and can be parked at any challenging spaces. The new Suzuki Vitara is splashed with the latest innovations in and out. With this, you can expect convenience, luxury, and pleasurable driving experience. Currently, it has only one variant, the Vitara GLX AT Allgrip. The said variant can either come in a monotone or two-tone color scheme.

Rex Sanchez
Author
Recent posts