Is it worth the added money?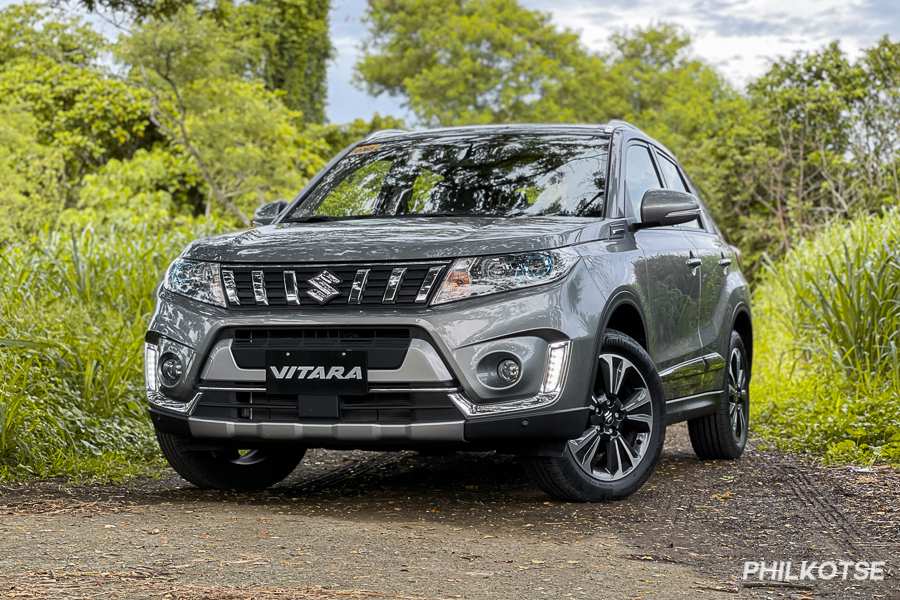 In this review...
Introduction

Exterior

Interior

Tech & Safety

Engine & Performance

Fuel Efficiency

Verdict

Price

Color Options

Specs
2021 Suzuki Vitara AllGrip Review: Introduction
In the Philippines, there's some kind of a cheat sheet to sell a new model. Load it with features, then price it competitively in the market. You'll seriously see car brands here constantly trying to upend each other in terms of pricing within a segment.

Suzuki Auto, however, has other plans.
2021 Suzuki Vitara AllGrip – A return to off-road form?
Practically swimming upstream in the sea of crossovers and SUVs, the Suzuki Vitara gets a new, all-wheel-drive variant called AllGrip. Priced higher by P300,000, it replaces the newly-facelifted model, kicking the more affordable front-wheel-drive variant out of the lineup.

At this point, your question is just the same as ours right now: is this car worth the added money? Find out in this review of the 2021 Suzuki Vitara AllGrip.
Overall exterior & Interior design, build quality, form vs function

Number of safety & tech features, consistency during usage

Power delivery, acceleration, transmission, suspension, handling

Overall Ride Comfort, Space, Storage Areas

Sticker price vs overall package
2021 Suzuki Vitara AllGrip Exterior Review: Added bling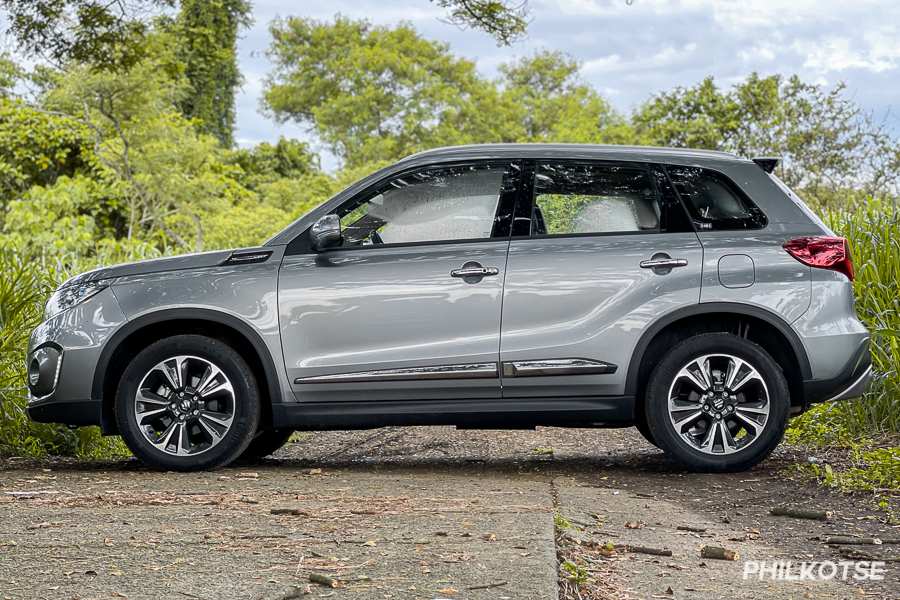 The Vitara GLX AllGrip from the side
Design-wise, the new Vitara AllGrip doesn't look far from the facelifted model that was introduced in 2019. With the addition of faux-skid plates, front and back, it gets a more rugged look than before. There are those who are into this styling, as with the added thick chrome bling on the sides, so I'll leave this at that.

That said, the Vitara AllGrip gets the same boxy form, compact size, and considerable 185mm space from the ground. Not that they're a bad thing; it's a formula that's eye-pleasing and attracted current owners to the nameplate.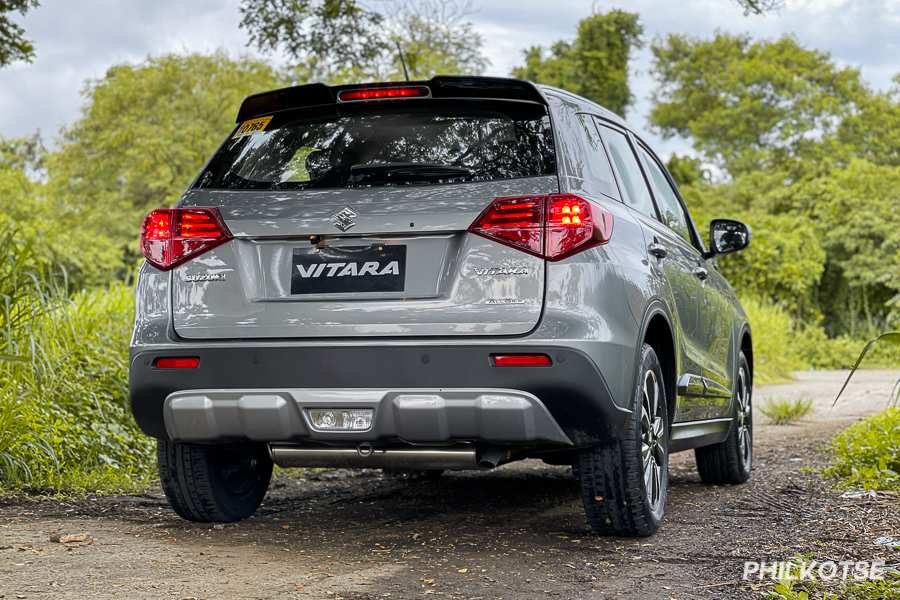 The Suzuki-made crossover's rear end
For what it's worth, the Vitara looks better with a contrasting roof color, which warrants an additional P10,000. And oh, thank heavens for the full LED affair and an interesting all-red taillight configuration.
YOU MAY WANT TO READ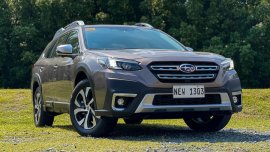 Model Price Philippines
₱ 2,480,000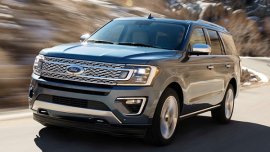 Model Price Philippines
₱ 4,479,000 - ₱ 4,612,000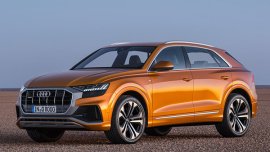 Model Price Philippines
Price available upon request
2021 Suzuki Vitara AllGrip Interior Review: Greatest weakness
My biggest gripe in the outgoing Vitara was the choice of plastics used in the cabin and sadly, the new AllGrip model retains the use of those unattractive, albeit, durable polymers. Even the aging steering wheel made its way in this new offering, which is kind of disappointing, to put it bluntly.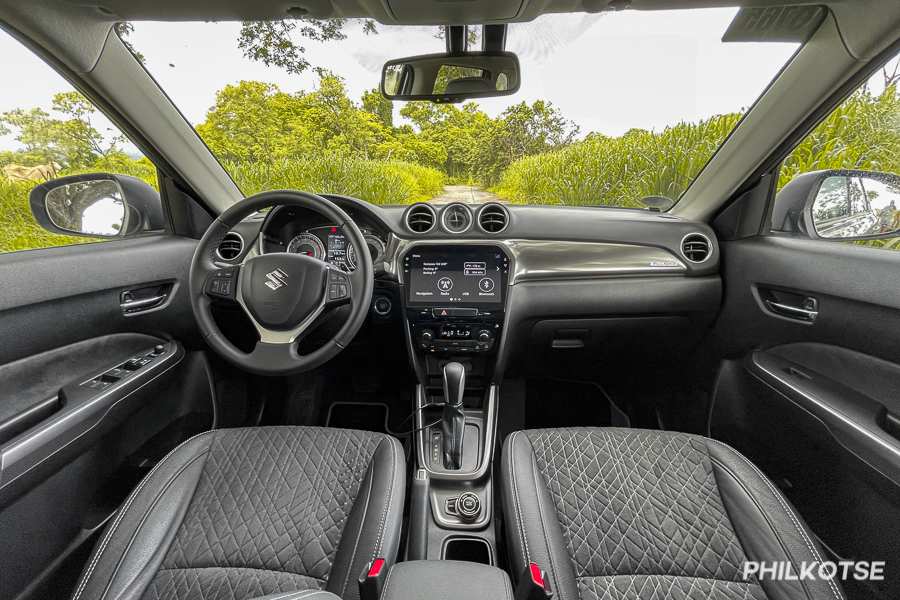 The Vitara AllGrip's front cabin
As a saving grace, the Vitara has well-designed and comfy leather seats with suede inserts. The soft-touch suede is also found on the door cards, while the slidable center armrest and door-side cushion make for a relaxing cruise.

But then again, there's the question of space. The Vitara is not that spacious in the rear cabin. It's enough for a comfortable ride for average-sized Filipinos, but those taller than 5'6" might find the space lacking; the limited headroom's amplified by the panoramic sunroof. Plus, the lack of rear A/C vents can be a problem for rear occupants, especially during hot days and the thin mesh cloth that covers the glass roof.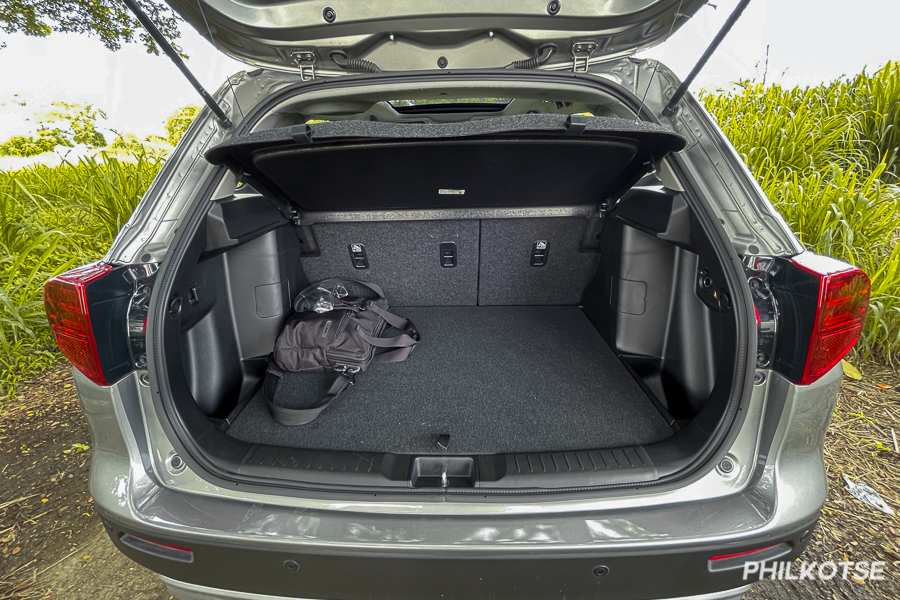 The Vitara's cargo space with the rear seats folded up
Good thing, default trunk space is generous at 375L, expandable to 1,120L by folding the backrests and removing the tonneau.
2021 Suzuki Vitara AllGrip: Tech & Safety Review
In terms of Vitara AllGrip's tech and safety toys, the pros overcome the cons. Sure, the crossover's rid of speed-sensing door locks and electronic seat adjustments, plus the rearview camera's display needs an upgrade. But at least it does have auto headlamps, an auto-dimming rearview mirror, regular cruise control with limiter, and a massive 10-inch infotainment with Apple CarPlay and Android Auto.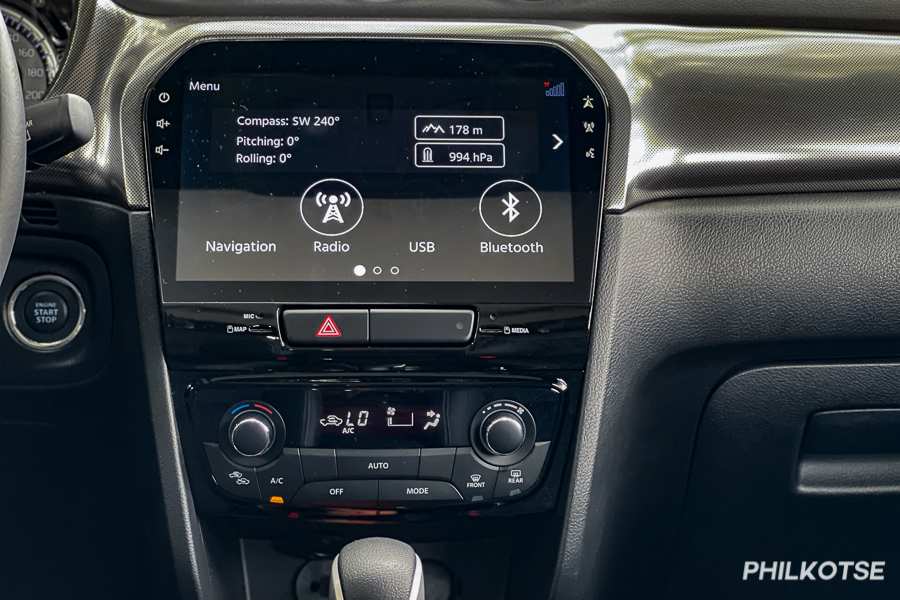 The Vitara AllGrip's 10-inch headunit
However, the bulk of your money goes to the AllGrip all-wheel-drive system. While adding the capability to run on all fours aids in better acceleration, its main purpose is for safety. The added traction ensures safe passage on slippery and demanding terrains.
2021 Suzuki Vitara AllGrip: Engine & Performance Review
Speaking of all-wheel-drive, running on all four wheels inspired confidence while I was testing the Vitara. The 1.6-liter naturally-aspired gasoline engine puts out 115hp and 156Nm of torque, sent to the wheels via a 6-speed torque converter automatic.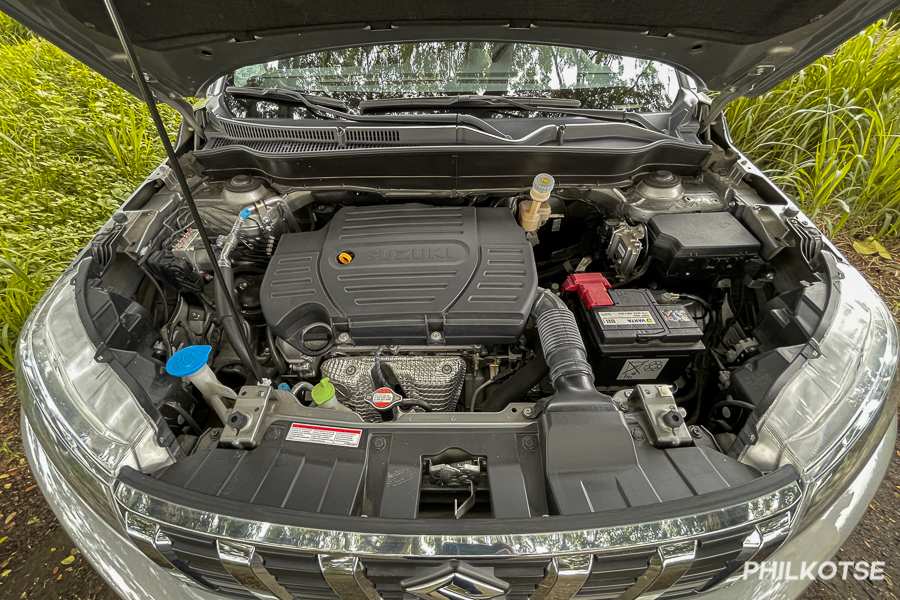 The Vitara AllGrip's 1.6-liter M16A inline-4 gasoline engine
I felt the immediate pull with every accelerator input, even without switching to Sport mode, but torque seems to plateau early in the rev range accompanied by a loud engine sound penetrating the cabin. Beyond those, it did a great job in pulling even its laden weight plus brakes work nicely without any complaint.

Handling-wise, the Vitara AllGrip's fun to drive most of the time, plus the firm suspension adds a sense of control on corners. Plight on imperfect roads wasn't an issue, but I really wish Suzuki could increase the noise insulation in this crossover for better ride comfort.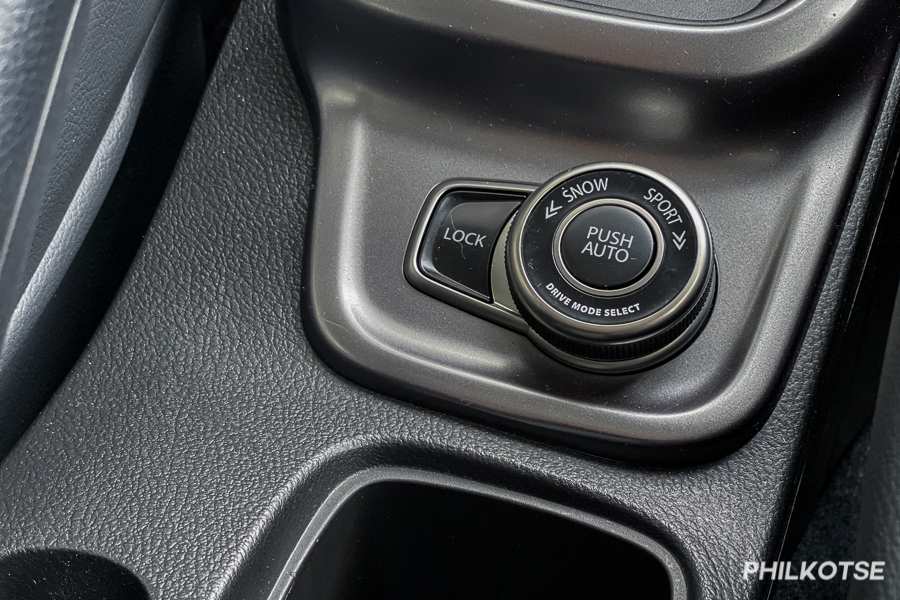 The AllGrip Select knob. We don't have snow locally, but it will work on slipper road surfaces
As for the AllGrip Select, I tested the Vitara on unfinished and muddy roads. Theoretically, the system should recognize which wheels exactly need torque to avoid slippage. On the actual road test, it complied and worked seamlessly. Whether you're on Auto or Snow (best used for very slippery situations), the system's intelligent enough to ensure worry-free passage.
2021 Suzuki Vitara AllGrip: Fuel Efficiency
Despite the added weight of the all-wheel-drive system, the Vitara AllGrip still returned stellar fuel efficiency numbers after days of testing.

Mixed driving (city and highway) at an average speed of 30-40 km/h yielded 10.1 km/l, while highway runs with the cruise control set at 90 km/h read a remarkable 21.4 km/l after an hour of driving. Those numbers are insane, mind you, and I tested it twice (to and from my destination) just for good measure.

2021 Suzuki Vitara AllGrip Review: Verdict
Onto the biggest question: is 2021 Suzuki Vitara AllGrip worth your money? Well, it depends. At P1,458,000, the Vitara AllGrip now stands as the most affordable all-wheel-drive crossover in the market, undercutting the Mazda CX-30 and Subaru XV by a huge margin.

Now, this depends on whether you're buying AWD for its real intended use, like if you frequent mountain passes and you want a car that can ferry you without worry. If you're looking at the Vitara this way, and not as a crossover made for the urban jungle, then yes, it's worth your consideration. Otherwise, I'm struggling to find a good reason why you have to consider one.

That said, we hope Suzuki Philippines brings back the Vitara in its more affordable front-wheel-drive flavor so buyers will still have a choice.

2021 Suzuki Vitara AllGrip Review: Price
| | |
| --- | --- |
| Suzuki Vitara Variants | Price |
| Vitara GLX AT AllGrip | Php 1,458,000 |
| Vitara GLX AT AllGrip (Two-tone) | Php 1,468,000 |
2021 Suzuki Vitara AllGrip Review: Color Options
Suzuki Vitara Color Options (Monotone and Two-tone)
Galactic Grey Metallic, Cool White Pearl, Solid Bright Red / Cosmic Black Pearl Metallic, Prime Solar Yellow / Cosmic Black Pearl Metallic
2021 Suzuki Vitara AllGrip Review: Specs
Overall

Make

Suzuki

Name

Vitara GLX A/T ALLGRIP

Body Type

5-door crossover

Dimensions and Weight

Length

4,175mm

Width

1,775mm

Height

1,610mm

Engine and Transmission

Type

1.6-liter inline-4 Gasoline

Max Power

115 horsepower

Max Torque

156 Nm

Transmission

Six-speed Automatic w/ Paddle Shifter

Chassis and Suspension

Brakes (Front/rear)

Disc/Disc

Suspension (Front/rear)

MacPherson Strut/Torsion beam

Wheels and Tires

215 / 55 R17 – 17-inch alloy wheels

Exterior

LED Headlamps

LED daytime running lamps

LED taillights

Front fog lamps

Rear spoiler

Front and rear skid plates

Interior

Leather seats w/ suede inserts

Automatic air-conditioning

Push-to-start button

Panoramic sunroof

10-inch touchscreen with Apple CarPlay, Android Auto, and Clinometer

12-Volt power outlets

Cruise Control

AllGrip Select terrain selector

Safety and Security

6 airbags

Anti-lock braking with electronic brake-force distribution

Electronic stability control

Traction control

Hill-hold control

Reverse camera

Parking sensors (front and rear)

Security Alarm and engine immobilizer

ISOFIXX


Jacob Oliva
Author