Nissan's crossover continues to endure.
No compact crossover list would be complete without the X-Trail. It was one of Nissan's first crossovers, launched at the turn of the millennium. This aptly represented a new phase for the carmaker, as it joined its rivals in fielding a model that combined car-like handling with practical utility. 
The X-Trail was originally intended to drive winter sports fans up ice-capped mountains, with a plastic floor on the rear compartment that can safely accommodate snowboards and other gear.
Introducing the new Nissan X-Trail, ready for new adventures
Apparently, what's good for the slopes is good for other terrain as well, and Nissan's modest sales projections ended up pushing 800,000 units over the first six years of production.
Here's a short journey back in time at how the X-Trail has evolved across four generations. 
First Generation (2000-2007)
The first X-Trail was a successor to the Rasheen, a Japan-exclusive small SUV that had Nissan's proprietary ATTESA (Advanced Total Traction Engineering System for All-terrain) powertrain.
Positioned between the Patrol and the Terrano, the original X-Trail rode on the FF-S platform shared with other stablemates such as the Almera, the Bluebird Sylphy, and the Sentra.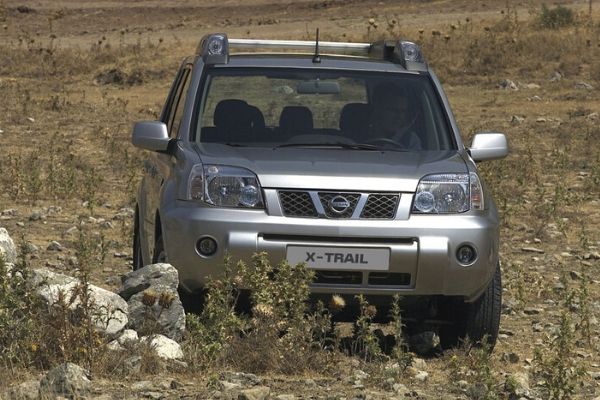 The boxy first-generation X-Trail was no square when it came to versatility
Despite the Nissan X-Trail carrying over the Rasheen's boxy design, customers were impressed with the former's versatility on both city streets and country trails. The X-Trail came with several power plants: a 2.0L and 2.5L gasoline engine that made 140 and 178 hp respectively, as well as a 2.2L common-rail diesel option good for 134 hp.
Transmission options included five- and six-speed manual transmissions, as well as a four-speed automatic. A choice of 2WD and 4WD versions was also available.
The X-Trail managed to score four stars for front occupant protection in Euro NCAP crash tests. Sales for the Japanese market began in 2001, with the model arriving on Philippine shores in mid-2003.
>>> Related: 2021 Nissan X-Trail debuts with more power, roguishly handsome looks
Second Generation (2007-2013)
The second-generation X-Trail used the Renault/Nissan C platform, resulting in increased dimensions over the previous model. Nevertheless, the original design language was largely retained, save for rounded corners and revised headlamps. A more prominent D-pillar became a characteristic detail.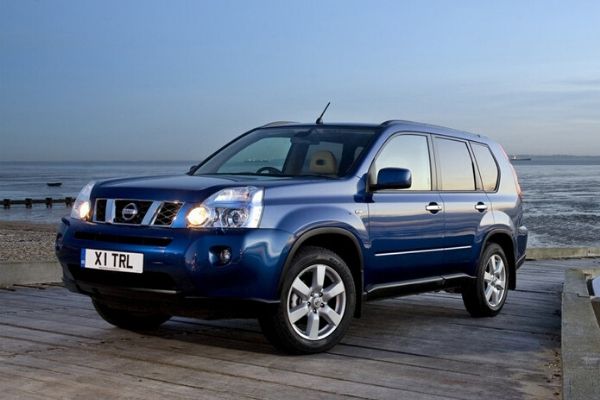 The second-generation X-Trail had the signature D-pillar
The interior was also revised, with the center-mounted gauges on the first generation relocated to the driver's line of sight. The larger cabin was better able to accommodate five occupants, with the flat rear floor translating into more legroom for rear passengers.
The second-generation X-Trail carried over the 2.5L engine from the previous model, along with a 2.0L turbocharged inline-4 introduced in 2003. These were joined by 2.0L gasoline and diesel engines jointly developed by Nissan and Renault. A CVT (continuously variable transmission) option was included.
>>> Related: 2021 Nissan X-Trail: Expectations and what we know so far
Third Generation (2013-2017)
Nissan bade goodbye to two generations of a boxy-looking silhouette and adopted a more aerodynamic design for the third-generation X-Trail, mounted on the CMF (Common Module Family) architecture developed by the Nissan-Renault alliance.
>>> Nissan X-Trail 2016 is on sale for a very budget-friendly price!
The new model took styling cues from several Nissan vehicles, including the Murano, Qashqai, and Patrol. The fascia now sported the V-motion grille, flanked by LED headlamps. A panoramic glass roof was offered as an option.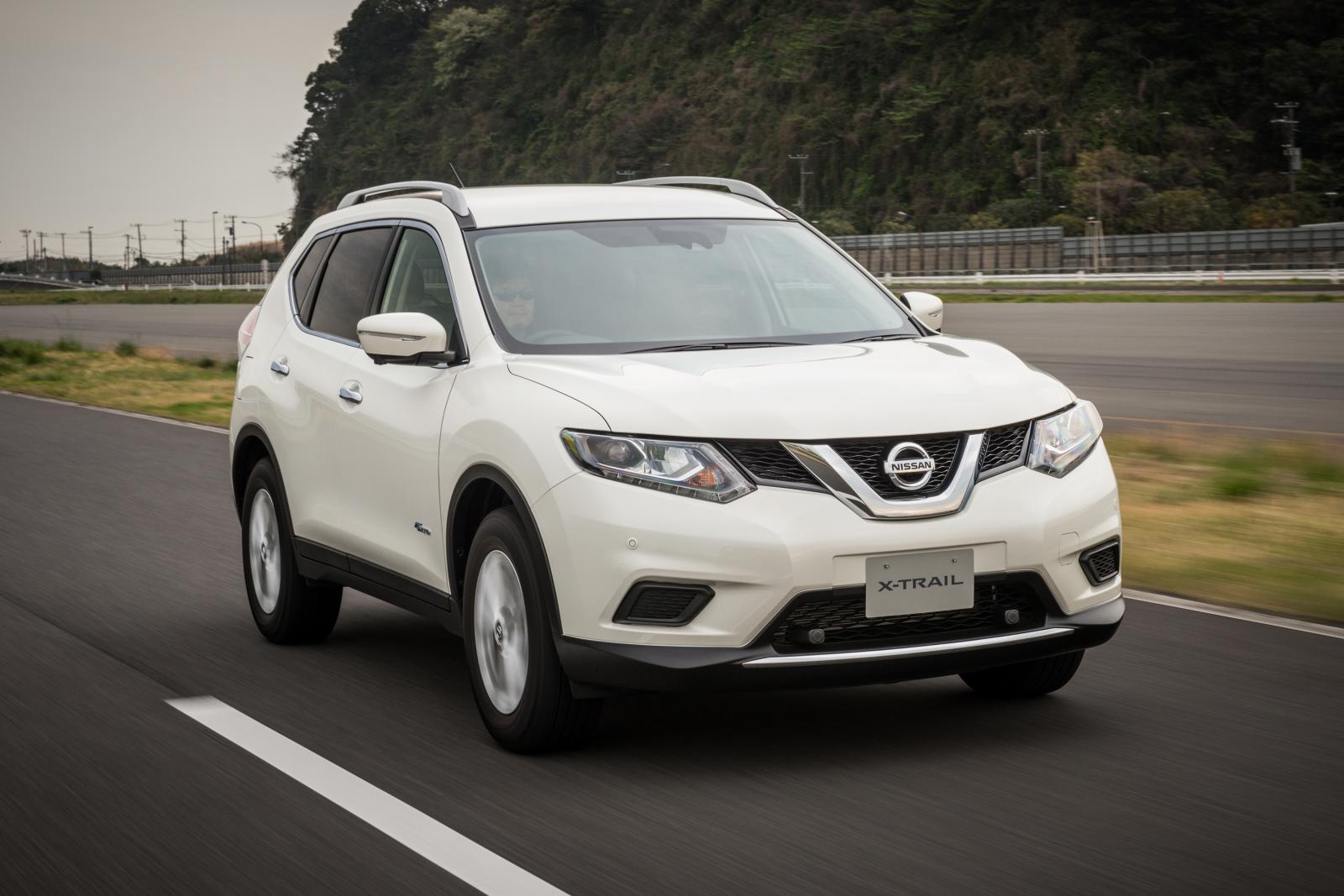 Hybrid technology comes to the X-Trail with the third-generation model
Seven seats were the norm inside the cabin, but the last row was quite small. To compensate somewhat, the middle row seats could be made to slide.
The X-Trail benefitted from the Qashqai's large analog dials, and the infotainment system was mounted on the center console. A facelift in 2017 saw twin LED projector headlamps accompanying the revised grille. The taillamps were also revamped.
More alliance-developed engines became standard offerings on the third-generation X-Trail, including 1.3L and 1.6L engines for the European market, a new 1.6L Renault diesel, and a 2.0L engine for the X-Trail hybrid, which also came with regenerative braking.
An intelligent all-wheel-drive (AWD) system was introduced for better traction. Gearbox options included a six-speed manual, a seven-speed dual-clutch transmission (DCT), and Xtronic CVT.
>>> Related: Nissan X-Trail at the best price for you!
Third-Generation Facelift (2017-2019)
The fourth generation saw the X-Trail introduced to the Chinese market for the first time. New projector LED headlamps accompany the bigger V-motion grille, along with a redesigned hood and bumper that integrates trapezoidal foglamps.
The cabin features leather seats for seven occupants, as well as an optional sunroof. The touchscreen head unit employs a new user interface on its seven-inch screen for communications and infotainment.
The fourth-generation X-Trail comes with Nissan Intelligent Mobility
Engine choices include 2.0L and 2.5L gasoline engines, as well as a 2.0L diesel engine. A six-speed manual and Xtronic CVT remain the gearbox choices, accompanying 2WD and 4WD options.
Fourth-generation X-Trails in the Philippines now offer the Nissan Intelligent Mobility suite of driver-assistive features as standard on the AWD variant, comprising Intelligent Around View Monitor, Forward Collision Warning System, Forward Emergency Braking, and Hill Descent Control.
Fourth Generation (2020-present)
The next-generation X-Trail - also known as the Rogue - sports a more muscular, if shorter body compared to the previous model. A new fascia resembles the one on the new Nissan Juke, with a wider V-motion grille up front surrounded by split headlamps. The wider doors feature a more prominent crease, lending a sportier vibe.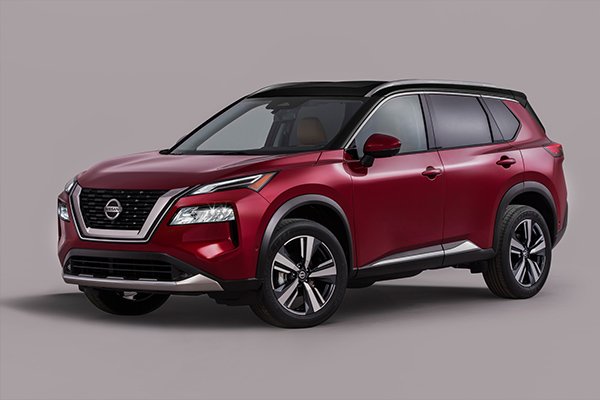 The next-generation X-Trail is smaller yet more muscular than the previous model
>>> Related: 2021 Nissan X-Trail Old vs New: Spot the differences
More flexible seating options can be found in the cabin, and a motion-activated tailgate makes loading cargo more convenient. Tri-zone climate control is standard, along with a 12-inch digital gauge cluster. A nine-inch touchscreen head unit offers Apple CarPlay and Android Auto, while connected to a Bose Premium Audio System.
A more powerful 2.5L inline-4 powers the new X-Trail with 181 hp and 245 Nm of torque, mated to an Xtronic CVT. This generation is also the first to receive Nissan ProPILOT Assist, Nissan's proprietary autonomous driving system. It also comes with Nissan Safety Shield 360, which includes Automatic Emergency Braking with Pedestrian Detection, Rear Cross-Traffic Alert, and Lane Departure Warning.
More automotive history awaits you at Philkotse.com.
Know more about Nissan X-Trail 2021

The new Nissan X-Trail is a stunning and bold crossover vehicle built for any adventure. It is armed with a refreshed exterior and interior that fans and new followers will surely love. It also now comes with a safety suite package to provide an efficient riding experience. Whether you use it daily going to work or a long drive in rural places, this sporty automobile will truly perform. Locally, the available variants are the Nissan X-Trail 2.0 4x2 CVT and the Nissan X-Trail 2.5 4x4 CVT. It comes in Pearl White, Diamond Black, and Gun Metallic. To elevate its irresistible presence on the road, the colors Marine Blue and Premium Corona Orange are also offered.

Joseph Paolo Estabillo
Author