Ford and Volkswagen team up to develop a new medium-size pickup truck.
It seems that the next-gen Ford Ranger will be coming out earlier than expected, according to Volkswagen. Wait, what does Volkswagen have to do with the Ranger's business?
The 2021 Ford Ranger Combines Fuel Efficiency, High Payload, and Advanced Tech in a Mid-Sized Truck
Well, as it turns out Ford and Volkswagen decided to team up in developing joint projects on commercial vehicles, electric vehicles, and autonomous driving tech.
Under the said partnership, Ford and Volkswagen will produce a medium pickup truck that's engineered and based on the Ranger's platform starting in 2022.
With this, Volkswagen's Amarok pickup truck is set to feature a similar platform with the Ranger, according to an official release by the German marque. 
Previously, the Ford Ranger shares the same platform with the Mazda BT-50 but the Japanese automaker decided to go separate ways as it forged new ties with Isuzu last 2016.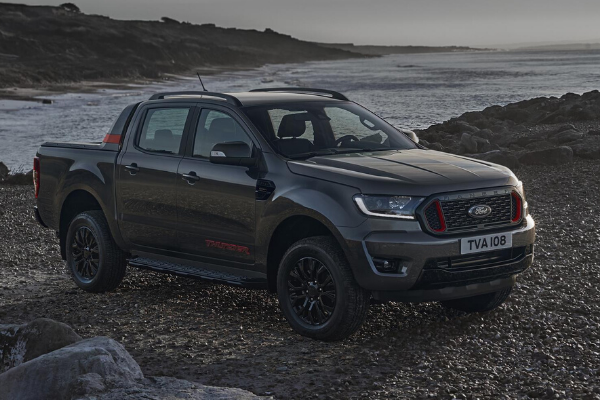 Ford Ranger Thunder edition has a mean-looking front
The result of Mazda's departure from its partnership with Ford is that the next-gen BT-50 that's about to be revealed soon, is based on the Isuzu D-Max's platform.
Ford and Volkswagen decided to join forces in order to drive down development costs, which is an ideal strategy due to the global economic impact of the COVID-19 pandemic.  
"In light of the COVID-19 pandemic and its impacts on the global economy, more than ever it is vital to set up resilient alliances between strong companies.
This collaboration will efficiently drive down development costs, allowing broader global distribution of electric and commercial vehicles, and enhance the positions of both companies," said Volkswagen Group CEO Dr. Herbert Diess.
>>> Related: 2021 Ford Ranger: Expectations and what we know so far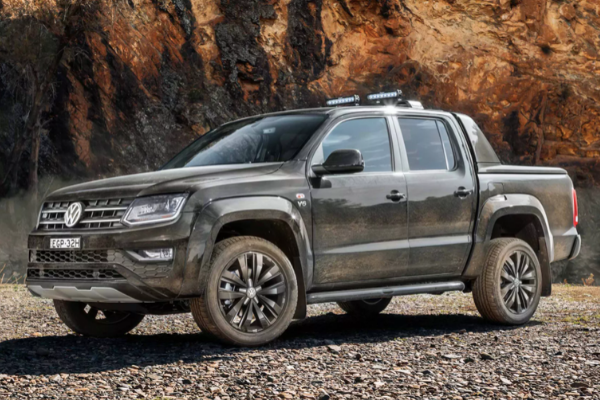 Volkswagen Amarok 580s Edition
The said partnership also points us that we would most likely see the next-gen Ford Ranger earlier than expected. We previously reported that the next-gen Ford Ranger is on its way and would be debuting towards the end of 2022 as a 2023 model year.
The next-gen Ranger, according to a report by CarExpert, is expected to get a new 2.3-liter turbocharged gasoline engine that works together with an electric motor producing a combined power output of 362 hp and 680 Nm of torque.
The said power output is massively better as compared to the current Ranger's Biturbo 2.0-liter EcoBlue diesel engine that generates 210 hp and 500 Nm of torque. 
The top-spec Ranger is also said to be equipped with a 3.0-liter V6 twin-turbo diesel engine, which is the same engine powering the F-150. This engine can generate 250 hp and 600 Nm of torque, also expected to be fitted in the next Ranger Raptor.      
In addition, Ford and Volkswagen's partnership is also geared to further strengthen the commercial-vehicles businesses of both companies. The two companies share that a new delivery van based on the latest Volkswagen Caddy will be released as early as next year.
Then, we should also be seeing a 1-ton cargo van developed by Ford. Ford and Volkswagen will also team up to develop electric vehicles that are built on the German automaker's Modular Electric Drive, as well as further improve its respective autonomous driving tech.
Visit Philkotse.com to get more latest automotive stories.

Know more about Ford Ranger 2022
The 2023 Ford Ranger is a 4x4 or 4x2 pickup truck. It is the latest version of the said model, and as of its launch in the Philippine market, it has a total of eight different variants.
These are the top-spec Wildtrak 4x4, Wildtrak 4x2, Sport 4x4, Sport 4x2, XLT 4x2, XLS 4x2 AT, XLS 4x2 MT, and the entry-level XL 4x4.
Under the hood of the new Ranger are two-different diesel mills. For the Wildtrak 4x4, it uses a 2.0-liter biturbo that can churn out 210 horsepower and 500 Nm of torque. It is also the sole trim that uses a 10-speed automatic tranny.
The rest of the all-new Ranger then gets a 2.0-liter turbodiesel that can produce up to 170 horsepower and 405 Nm of torque. Only the XLS 4x2 and the XL 4x4 may come with a six-speed manual. The other non-biturbo trims then use a six-speed automatic.
Size-wise, the all-new 2023 Ranger is 5,370mm long, 1,918mm wide, and 1,884mm in height. They also offer a wheelbase length of 3,270mm, and a ground clearance of 235mm.
Locally, the 2023 Ford Ranger faces the Toyota Hilux, Nissan Navara, Mitsubishi Strada, Isuzu D-Max, Mazda BT-50, etc.

Martin Aguilar
Author