It's a throwback two-seater that takes on a more truck-like guise.
Some unions beget angels and others result in brats. In the case of the latter, it's not always something to be feared. Take the Toyota Hilux, Subaru Forester, and their unlikely love child if they chose to run away together.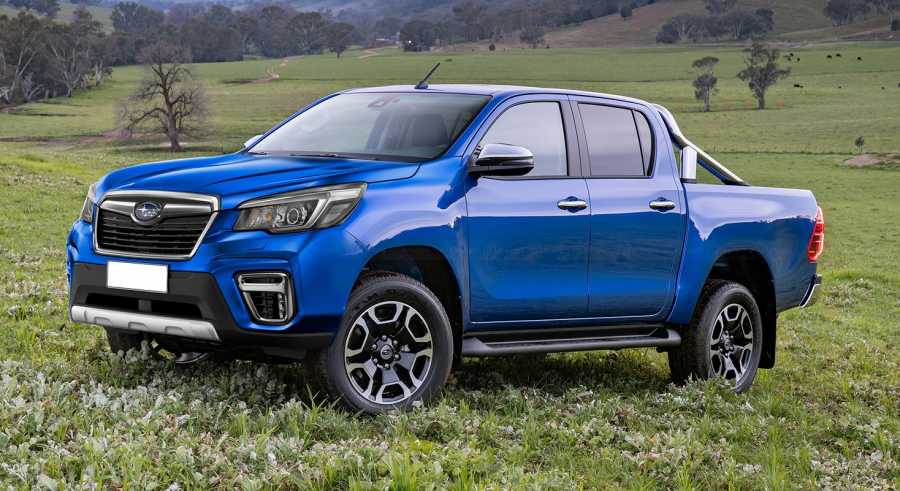 The Subaru BRAT is reborn as a truck for 2023, or at least someone thinks it should be
Apparently, someone going by the handle KDesign AG had a bit of nostalgia and a lot of free time, posting this throwback treat on Behance. But this isn't just any old ToyoBaru render in the vein of the bB/Dex or the 86/BR-Z. What you're looking at is the artist's take on the Subaru BRAT as it might look like in 2023.

BRAT, or Bi-drive Recreational All-terrain Transporter, was a two-seater unibody vehicle that Subaru marketed in various territories under different names from 1978 to 1994. Despite the badge, the BRAT was never part of Subaru's official Japanese lineup, and was only available as a grey-market import for Japanese customers even though it was assembled in Ota, Gunma Prefecture (among other places).  

Whereas the original BRAT was a low-slung model closely resembling an Australian ute, KDesign's 21st century version assumes the form factor of a full-fledged pickup. The Forester's snout is slapped onto the Hilux body, complete with Subaru alloys on all four corners. Completing the transformation is the prominent Subaru branding on the tailgate.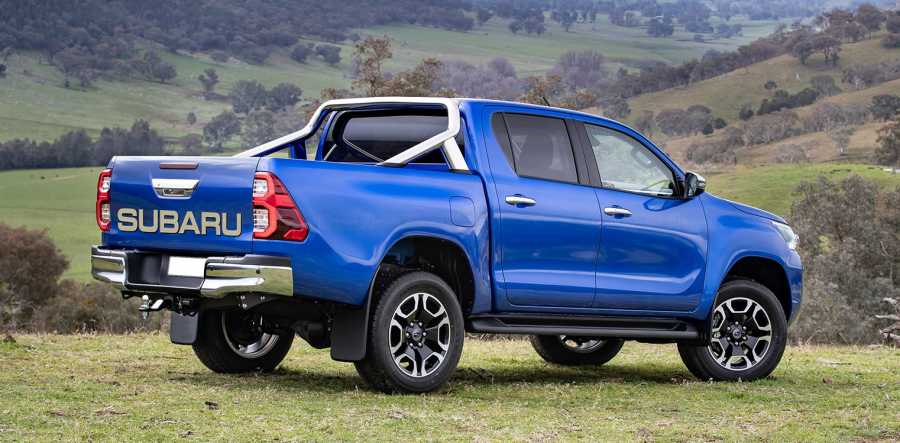 The Hilux sport bar lends a nice touch, but there'll be no more seats on the bed 
It might look a little jarring at first glance, but it works in a surreal sort of way. The Forester's angular fascia seemingly blends well with the overall muscular aesthetic on the Hilux. Of course, it goes without saying that this iteration of the BRAT is now underpinned by a body-on-frame construction, compared to the unibody chassis of the original.  
More importantly, it will likely offer more decent seating for five. The first BRAT came with two rear-facing extra jump seats on the bed, classifying the vehicle as a passenger car in Subaru's attempt to defeat import taxes on light trucks. Obviously, such a stunt isn't going to fly these days.   
Should Toyota and Subaru collaborate in bringing the BRAT back for the new millennium?
Catch more interesting stories on automotive lore at Philkotse.com.
Know more about Toyota Hilux 2021

<p>The Toyota Hilux is a pickup with a globally known nameplate for being one of the reliable workhorse vehicles. It was 1968 when Toyota&#39;s pickup truck started building a reputation for being rugged and dependable, and it continues until today with the facelifted model launched in 2020. This popular pickup continues to evolve and slowly move upmarket after gaining luxuries. The most significant revolutionary jump of the Hilux happened in 2004 when the seventh-generation of the model was introduced. It was the first 21st-century iteration of Toyota&#39;s pickup. It is also the first generation to ride on Toyota&rsquo;s new Innovative Multi-purpose Vehicle architecture. It provided improved safety, better ride comfort, modern D-4D diesel engines, more interior space, and a more modern aerodynamic body. The current 8th generation offers a more refined and stylish design than its predecessor, but the tradition of being a tough pickup continues. It gets a much-awaited refresh in 2020 inline. Aside from improved looks, the Philippine iteration also comes with more powerful engine options. The Toyota Hilux is available in 4x4 and 4x2 variants. In the Philippines, the pickup truck is offered with diesel engines. It is available with automatic or manual transmission depending on the variant.</p>

Joseph Paolo Estabillo
Author