The all-new PH-spec Toyota Vios 2018 price starts at P659,000.
Since its first release in 2002, Vios has gained noticeable popularity among Filipino drivers. Till now, this Toyota subcompact sedan is considered one of the most sought after auto throughout the country for its reliable performances and reasonable price list.
Just few days ago, the all-new Toyota Vios 2018 had its ceremonial rollout celebration at one of the company's plants in Laguna. This automaker also presented all 9 mainstream variants of the model, plus the special version in White Pearl with a variety of price tags, starting from P659,000 to P1,095,000 for 1.3 Base 5-speed manual gearbox and 1.5 G Prime continuously variable transmission respectively. Particularly, the premium version – the White Pearl costs up to P110,000 for its limited edition.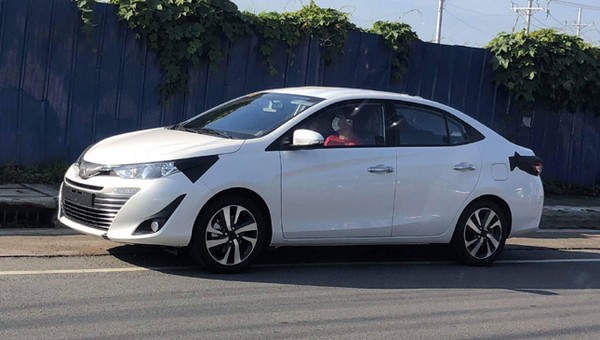 The all-new Toyota Vios spied in the Philippines earlier this month
Looking at the photos, we can see Vios 2018 has undergone major styling changes with squinting headlight systems, a widened trapezoidal grille and a couple of teardrop-shaped fog lamps. The interiors also get certain upgrades regarding its sleek dashboard and a redesigned steering wheel.
As for its safety features, Toyota Vios 2018 offers a set of 7 SRS airbags, ABS and EBD, stability control with brake assist for all versions.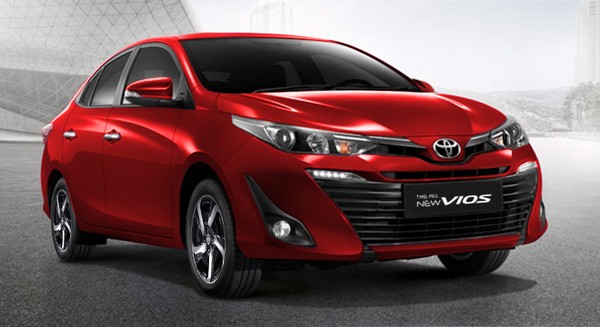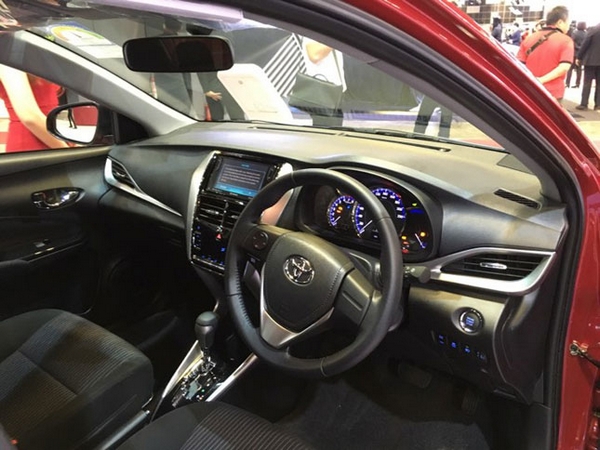 Vios 2018 has a remarkable makeover both outside and inside
Before its official launch today, Philkotse.com has managed to get some further details of its specs as below:
The 2,550mm wheelbase and carryover chassis remain unchanged. This can be clearly seen in the car's pillars.
Two options of engine are offered: 5-speed manual and continuously variable transmission, paired with 1.3L or 1.5L Dual VVT-i. Based on the engine choice, Toyota Vios 2018 can reach 98 to 106 hp at max.
Only 1.5L versions will get extra paddle shifters.
Besides mainstream products, Vios 2018 comes with a premium variant called "Prime" with a much sportier look. This 1.5 G auto will be equipped with an expanded 16-inch alloy wheels in style of two-tone design.
All 1.5L variants are first-time installed powers for engine start/stop, side mirror and auto climate control. These user-friendly buttons will help one operate his car easily just within a push.
Don't rush to exit the page yet, following is the price list of different variants!
Toyota Vios 2018 price in the Philippines

| Model | Price |
| --- | --- |
| Toyota Vios 1.3L Base M/T |  P659,000 |
| Toyota Vios 1.3L J M/T |  P685,000 |
| Toyota Vios 1.3L E M/T |  P828,000 |
| Toyota Vios 1.3L E CVT |  P878,000 |
| Toyota Vios 1.3L E Prime M/T |  P883,000 |
| Toyota Vios 1.3L E Prime CVT |  P933,000 |
| Toyota Vios 1.5L G MT |  P981,000 |
| Toyota Vios 1.5L G CVT |  P1,040,000 |
| Toyota Vios 1.5L G Prime CVT |  P,1095,000 |
What do you think of this all-new model from Toyota?
>>> Also check out:
Know more about Toyota Vios 2021

<p><a href="https://philkotse.com/toyota-philippines-price-list" title="Toyota Philippines">Toyota Motor Philippines</a> introduced the Toyota Vios in 2002. This subcompact sedan is made at Toyota&#39;s plant in Santa Rosa, Laguna. Currently, the Philippine-spec Toyota Vios is offered in nine variants. Prices for the Toyota-made sedan ranges from Php 681,000 to Php 1,020,000. The Toyota Vios subcompact sedan gets two engine options, two transmission options, and a whole host of comfort and safety features. The said model is also available in a wide range of color options. This includes Black, Red Mica, Pearl White, Thermalyte, Blackish Red, Alumina Jade, Freedom White, Grayish Blue, and Super Red.</p>
Recent posts