Keep it simple and it will still look great.
Since its introduction to the world in 2012, the Suzuki Ertiga has remained a significant contender in the seven-seater MPV market segment. This is especially true in the Philippines, where the first- and second-generation models are common sights on Philippine roads.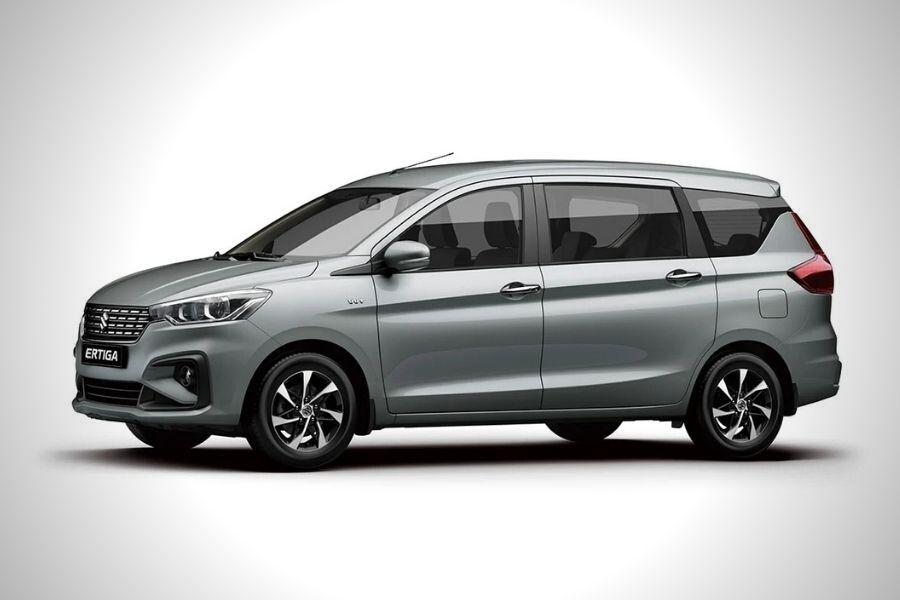 The Suzuki Ertiga in stock form
Due to its popularity though, one can say that we have a sea of Ertigas locally. So how does one make this MPV stand out? 
Here are some tips & advice on how to get your Suzuki Ertiga modified whether for looks or for practicality. 
Suzuki Ertiga Modified: Aftermarket wheels 
To start off this guide, the first modification we'd suggest for the Ertiga are aftermarket wheels. Just like most of our guides though, we urge you to keep its wheels close in size to the stock 15-inch wheel size. 
Sure, you can go for a 16-inch set, but trying to fit in 17-inch wheels is already pushing it. Going for a significantly larger size will affect the car's fuel efficiency, as larger wheels mean larger tires. Larger tires in turn also means less fuel efficiency due to being heavier, and they also have a higher rolling resistance.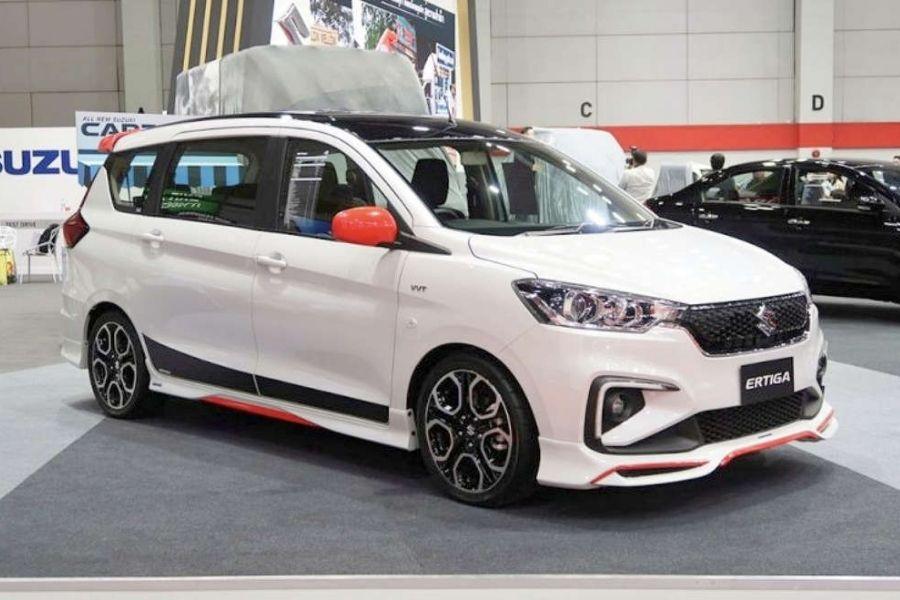 A modified Ertiga by Siam Bodykit [Photo source: Siam Bodykit]
For this mod, we recommend brands like Rota, which can provide a multitude of 15-inch to 16-inch wheels that'll suit the Ertiga. There are also Japanese brands like Enkei, as well as other premium wheel brands like Autec and BBS, among others. 
Suzuki Ertiga Modified: To lower or not? 
As with most builds, many will consider lowering springs or coilovers to be essential for a Suzuki Ertiga 2021. Do consider that lowering it will negatively affect its ability to take on road obstacles and unpaved roads. Then again, a lowered Ertiga will also enjoy better handling due to having a lower center of gravity.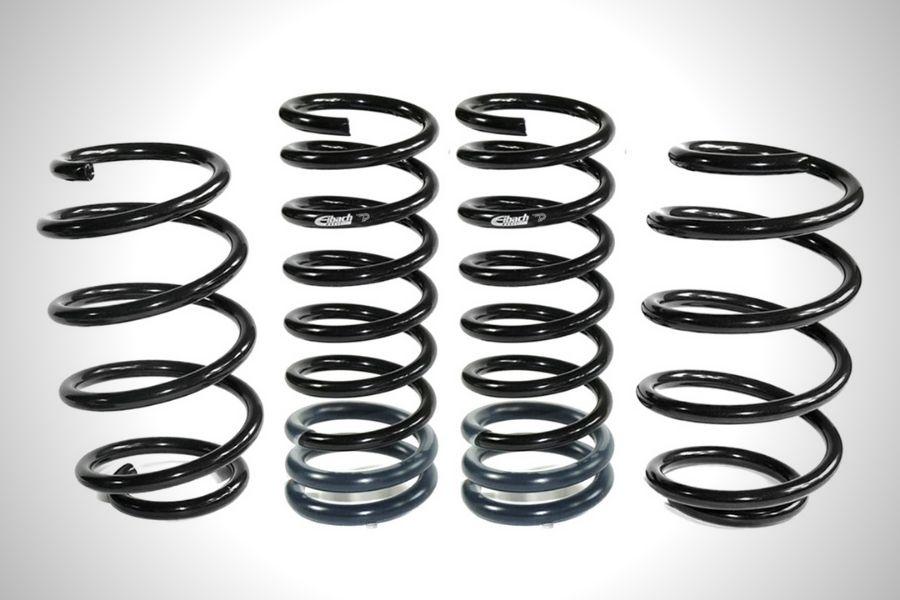 The Pro-Kit lowering springs from Eibach [Photo source: Eibach]
So, if you think your Suzuki-made MPV needs this mod, you might want the Pro-Kit springs from Eibach. ISC also produces aftermarket shocks for the Ertiga. 
Suzuki Ertiga Modified: Practical mods 
Another good aftermarket mod for the Suzuki Ertiga is a roof rack, which of course can expand its cargo capacity. Do note that if you have viewed our car guide pages for the Suzuki Ertiga, then you'll know that it doesn't come stock with the said part.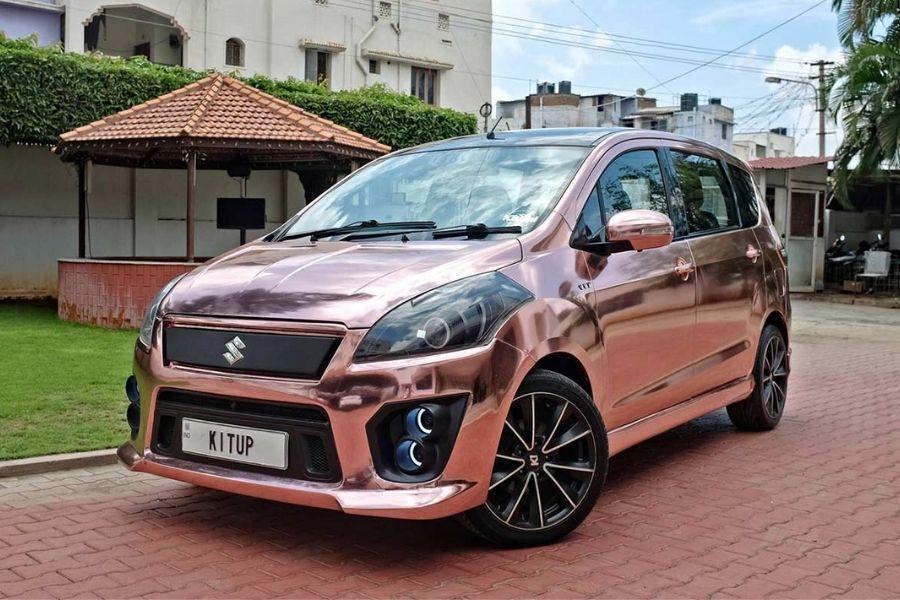 A first-gen Ertiga with aftermarket wheels. The wrap's a bit too much though. [Photo source: Kit Up] 
To address this, you might need to pay a visit to a local car accessory shops. You can also get one online from any of the local e-commerce sites, but this means that you will have to install these by yourself. 
As for roof racks, there are a good number of locally available brands for this. There's Thule, Ajanta, and Autopearl, for starters. 
Suzuki Ertiga Modified: Official accessories 
Besides the modifications mentioned above, Suzuki Philippines also offers genuine accessories for the Ertiga. These include a cargo net for the trunk, a rear roof-mounted spoiler, a rear bumper scuff plate, and door sill guard, as well as a luggage tray.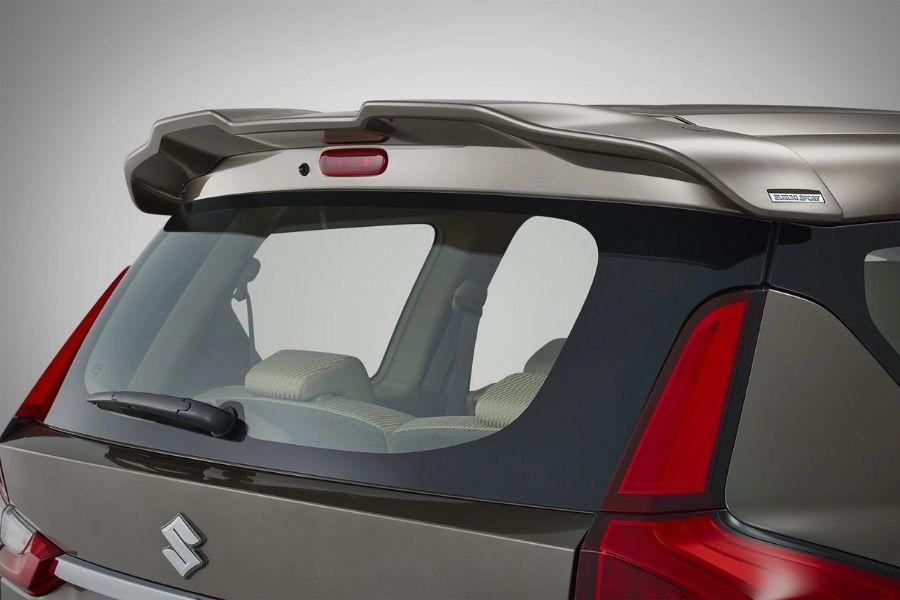 The Ertiga roof-mounted spoiler from Suzuki Philippines
For more car modification guides, as well as car buying and selling guides, keep it here on Philkotse. 

Know more about Suzuki Ertiga 2022

The Suzuki Ertiga 2021-2022 Philippines by auto industry stalwart Suzuki is a seven-seat, five-door, compact MPV. For the Philippine market, it is offered in three variants that all use a 1.5-liter K15B inline-4 engine capable of making up to 103 horsepower and 138 Nm of torque. Available transmission options for this model include a four-speed automatic and a five-speed manual transmission. Moving to the dimensions, the Suzuki Ertiga has a length of 4,395 mm, a width of 1,735 mm, and a height of 1,690 mm. This Japanese MPV is competing in the local market against the likes of the Toyota Avanza, Mitsubishi Xpander, and Maxus G50.

Cesar G.B. Miguel
Author