Also, let's find out how rims and wheels differ.  
Everyone loves wheels. From car enthusiasts to regular car owners, many will eventually swap out their stock set for a new aftermarket set. But did you know that besides making your car look good, car wheels actually have varying types depending on the material they're made out of, and how they're made.
As such, here is a list of the most common types of car wheels and their characteristics. But what about types of car rims? Well, let's clarify a few things first.    
The right wheels can complete the look of your car
1. Rims vs Wheels: The main difference
While these two terms are often used interchangeably, they do not mean the same thing. The term rim refers to the outer edge of the wheel, specifically the circumference of its outer circular edge. It exists to provide a tight, proper fit for the tire.
The width of the rim (distance between flange to flange) also determines the entire size of the wheel.
2. Types of car rims
Do note that car rims can be classified into different types as mentioned below
Beadlock Rims – Beadlocks are used for off-road capable vehicles. As such, they are capable of keeping in-place underinflated tires. For those who are unaware, off-roaders underinflate their tires for better flex. This will make it able to crawl over obstacles. Note however that there are recommended pressure ranges for driving on different terrains like mud, sand, gravel, etc.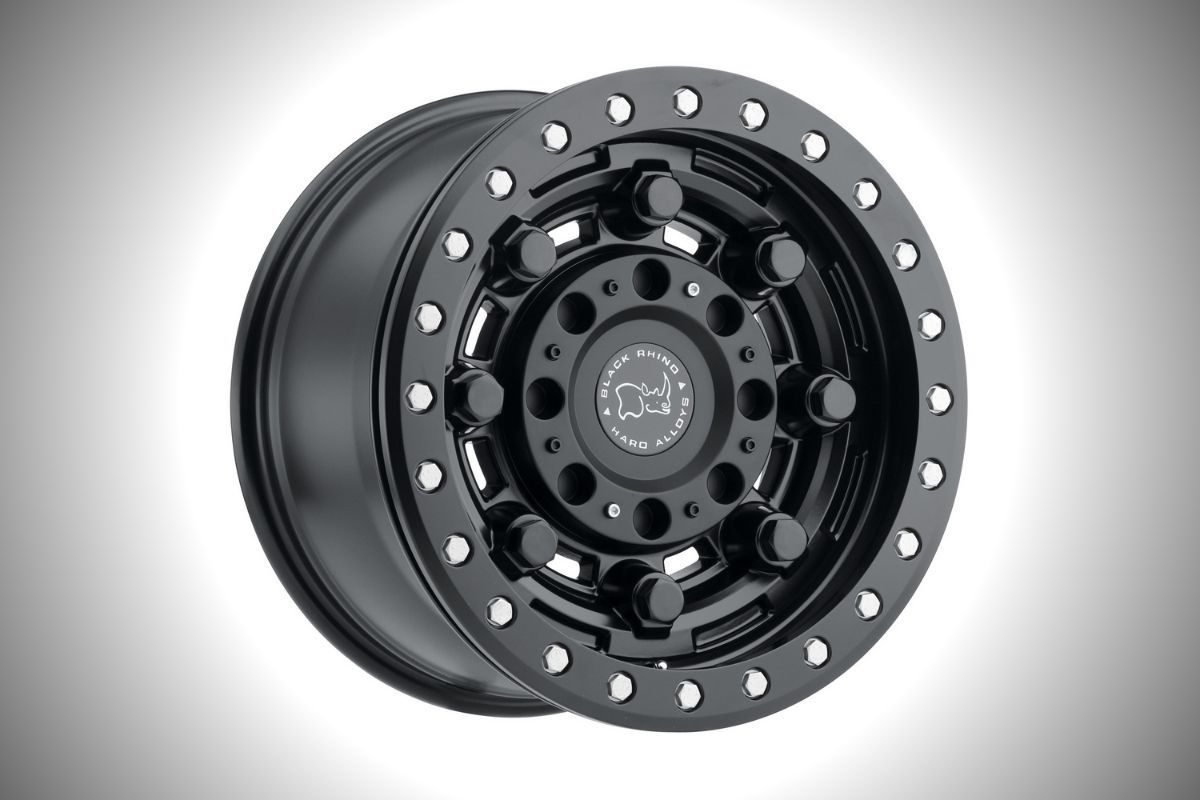 A wheel with beadlock rims [Photo: Black Rhino Wheels]
Split Rims – These rims use side ring or locking rings. This enables this rim type to hold in-place large diameter tires. For the same reason, these are usually found on heavy mobile equipment like tractors, very large trucks, etc.   
Safety Rims – These are the most common type of car rims and are probably the ones you'll see on production passenger vehicles. They come with bumps that enable the wheel to hold a tire even in the absence of pressure.
>>> Related: 
3. Types of car wheels
With rim types out of the way, here's a list of the most common types of car wheels that you can buy today categorized by material, and manufacturing process.   
Car wheel types by material    
Steel – Steel wheels or "steelies" as they are called, are the most affordable, simplest, looking wheels used on modern passenger vehicles. In the Philippine automotive market, these are commonly seen on entry-level variants and are often paired with a wheel cover.  Apart from looking simpler than alloy wheels, steelies are also heavier.
However, steel  wheels can also prove to be more durable, and in some instances, can even be repaired with a few hammer hits. Note though that there are high-performance steel wheels too. Case in point is the JEGS  Baja-8, the Pro Comp Steel Series 51, and many others. These are designed to be used  for off-roading, and even rally-racing.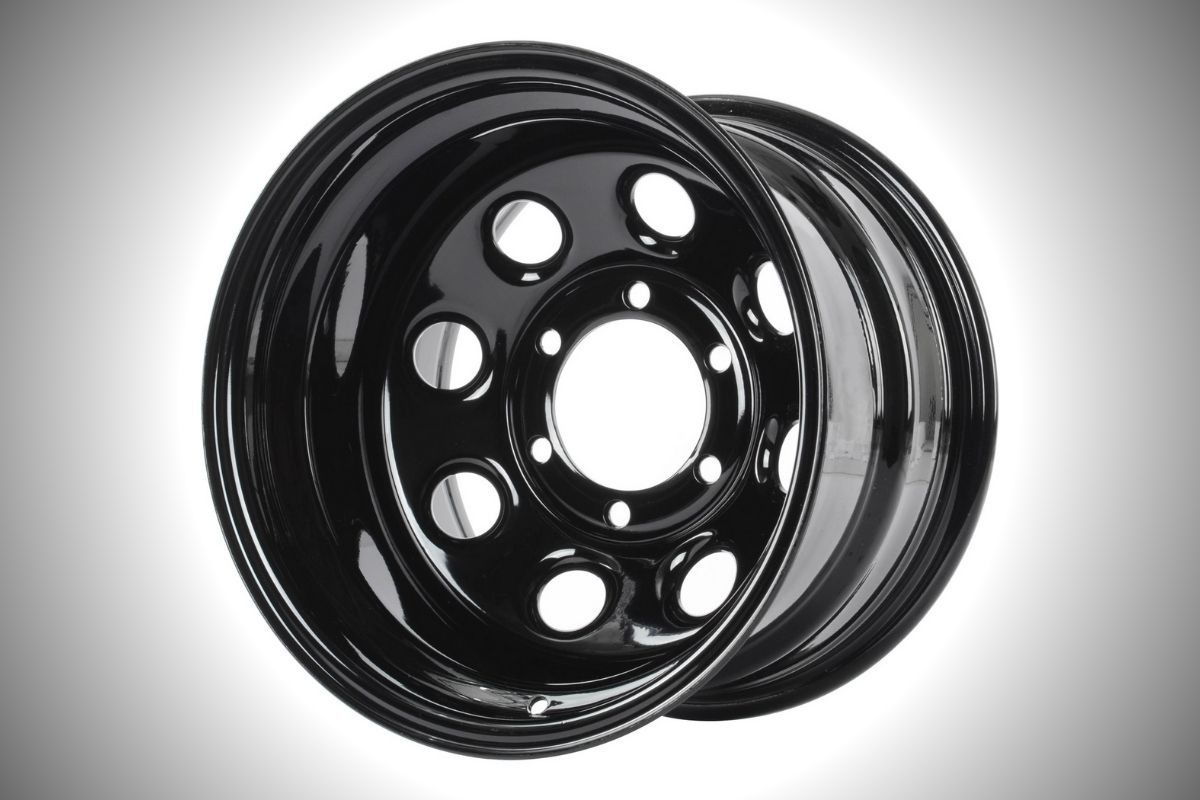 The Jegs Baja-8 [Photo: Jegs]
Alloy – In the context of the Philippine market, alloys are often seen on mid- to top-spec car variants. They can come with more intricate designs than steelies.
Moreover, they're also lighter and are versatile. Alloy wheels also have better heat dissipation than steel wheels, which helps in reducing brake failure due to heat. More often than not, car modders prefer alloy wheels due to having the most performance and looks for the price. They can also be repaired to some degree unlike the next wheel type on this list.    
STEEL Vs. ALLOY WHEELS Which One Is Stronger? Hydraulic Press Test!
Carbon Fiber – Wheels made out of carbon fiber are the most lightweight while having the strength to withstand the rigors of high-performance applications.
This is why this type of car wheels is preferred by serious pro-racing teams in many different types of motorsport events. Due to the nature of carbon fiber, this type of wheel is the most expensive. On top of that, they're also impossible to repair once they break.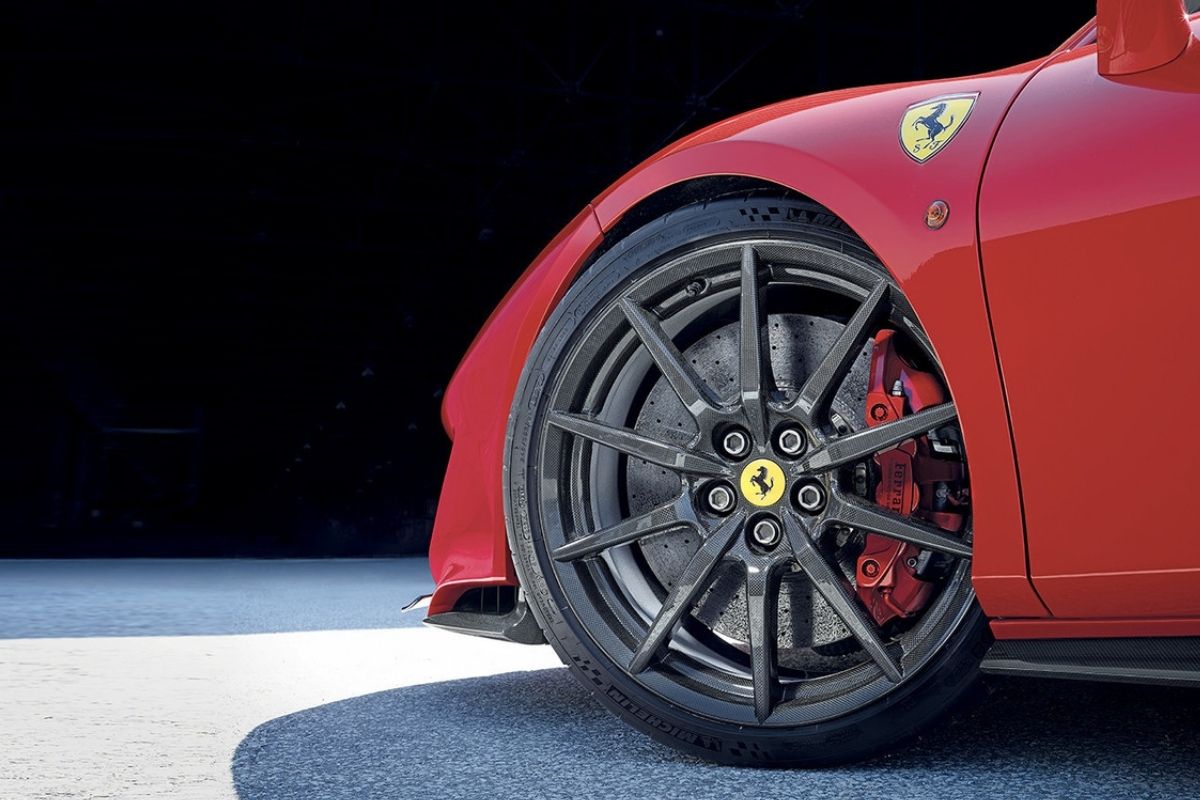 The Ferrari 488 Pista's carbon fiber wheels
>>> Related: 
Car wheel types by manufacturing process   
Multi-piece wheels – Unlike the usual one-piece wheel, multi-piece wheels have several separatable parts. For example, a two-piece wheel will have the rim and the centerpiece as two different parts. This, of course, makes these types of car wheels customizable when it comes to widths, offsets, etc.
Multi-piece wheels are also easier to maintain since you won't need to buy an entire wheel whenever you need a replacement.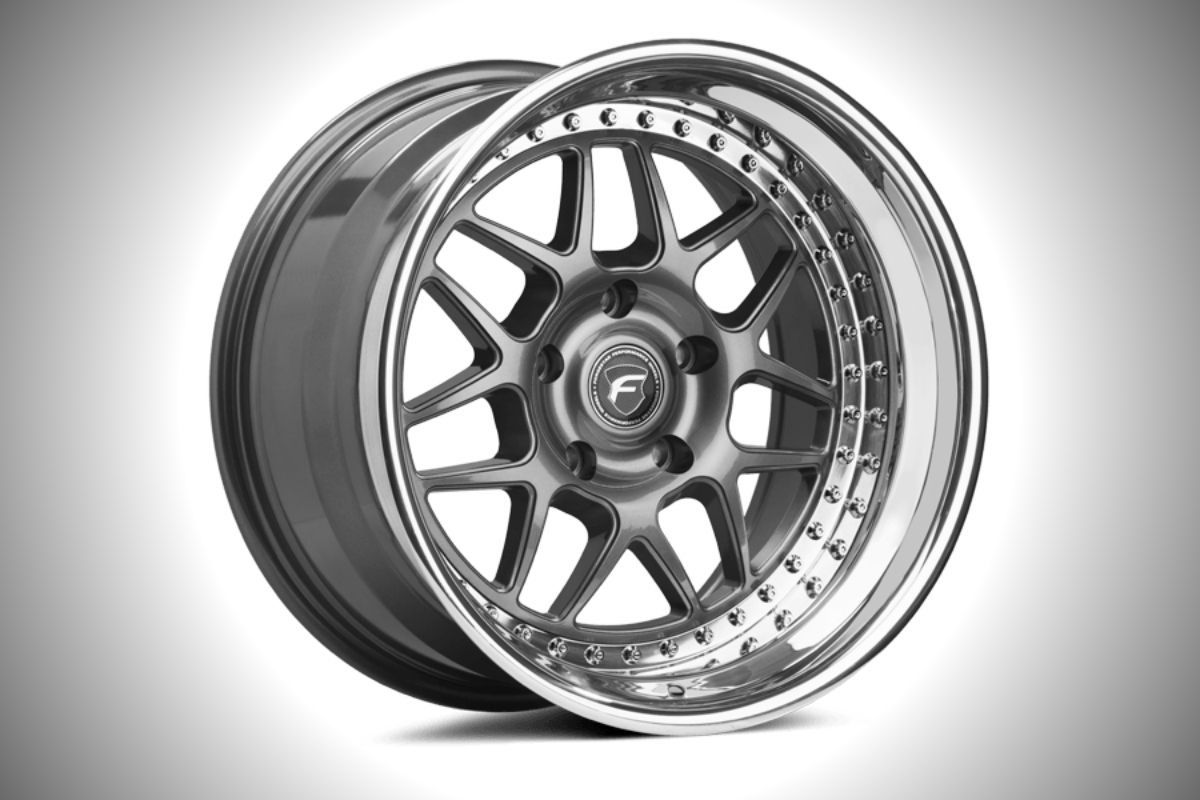 A modular or multi-piece wheel from Forge Star [Photo: Forge Star]
Cast wheels – As per its name, cast wheels are made by pouring molten metal into a cast. They're less expensive than multi-piece and forged wheels, and are decently strong. In casting however, air pockets can form within the wheel, which can eventually lead to cracks.
Forged – Forged wheels are made from a solid single piece of material. The material is heated and pressurized to then form the shape of the wheel. This process eliminates the risk of forming air pockets, and thus makes forged wheels stronger than cast wheels. This process is more complicated and therefore leads to the reason as to why wheels made this way are more expensive.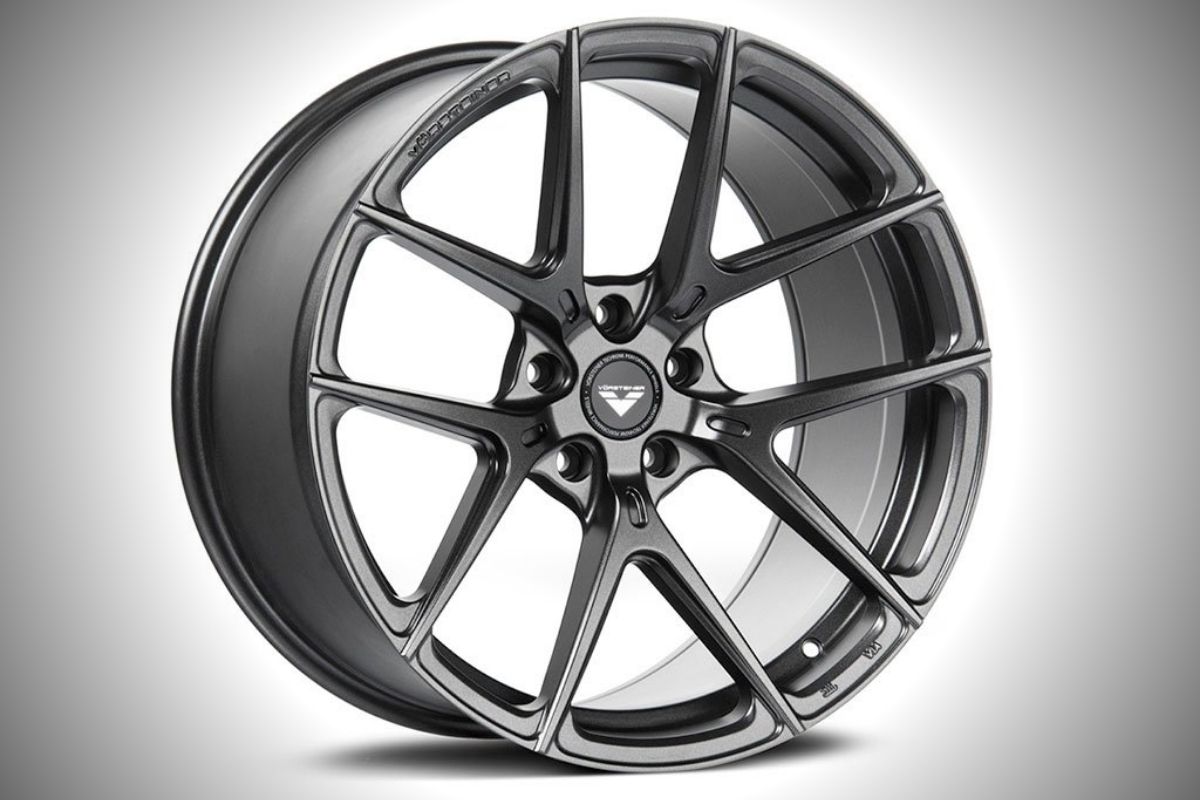 Vorsteiner forged alloy wheels [Photo: Vorsteiner]
>>> Related: Pros and cons of up-sizing your wheel and tire setup
FAQs about  types of car rims and car wheels
1. Question: Why are alloy wheels so expensive?
Answer: Alloy wheels are expensive due to the differences in manufacturing techniques. Aluminum and magnesium, the two most common alloy wheel materials, are also much pricier than plain old steel.
2. Question: What wheel brands are available in the Philippines?
Answer: There are several wheel brands present in the Philippines. There's Rota Wheels, Concept One Wheels, Work Wheels Manila, among others. There are also distributors that sell Enkei, BBS Wheels, Konig, SSR, etc., locally.
3. Question: Why are steel wheels so ugly?
Answer: Beauty is in the eye of the beholder. While one might think that steel wheels are basic and simple, some people actually prefer those characteristics. Regardless, steelies are harder to shape and design than alloy wheels due to the inherent qualities of steel.
4. Question: I bought an entry-level variant with steel wheels. Can I replace them with alloys?
Answer: Yes, you can replace your steel wheels with alloys. For this, we recommend sticking to the same wheel dimensions or something close to it to avoid complications further down the line.
5. Question: What is gutter rash?
Answer: Gutter rash are the scratches on a wheel caused by coming into contact with obstacles. And yes, gutter rash can be repaired.
For more informative articles like this, car buying tips, and the latest car reviews, keep reading here on Philkotse.com. 


Cesar G.B. Miguel
Author