Want your F-150 to look bigger, badder, and tougher?
We've talked about modifying your truck or SUV into something more badass before. There was the modified Ford Ranger Raptor guide, the modded Ford Ranger guide, and even a guide to modify Ford Everest. Now that the Ford-150 has returned, you dream of living a redneck lifestyle here in the Philippines can be a reality.
2020 Ford F-150: The return to the Philippine shores – Quick Look
So with the Ford F-150's return, how can one make it cooler and tougher looking than it already is? How can one make it more off-road capable? So without further ado, here's our recommended modifications for the big and awesome Ford F-150.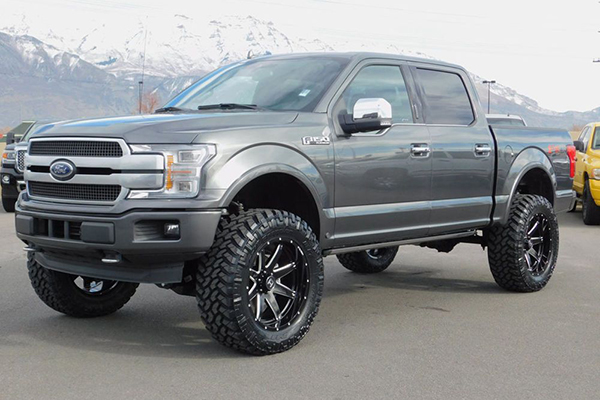 A lifted F-150 Platinum with all-terrain tires. Looks great right?
F-150 Mods to make your truck stand out
1. Off-road suspension and lift kit
If you're planning to go off-roading with the F-150, then you'll want to upgrade its suspension a bit. Sure, the stock suspension works great on light trails, but what we're talking about here going out of the beaten path and traveling on something littered with mud holes, rocks, and even deep slushy sand.
Do note however that the F-150 is a hefty vehicle, so if you're planning on giving it a four-inch lift kit, then you have potential problems with its CV joints and other mechanical parts in the long run.
It'll also change its driving characteristics drastically. So if you're wanting to keep your off-road capable F-150 drivable on paved roads, we recommend the Bilstein 6112 Stage 2 priced at Php 36,000.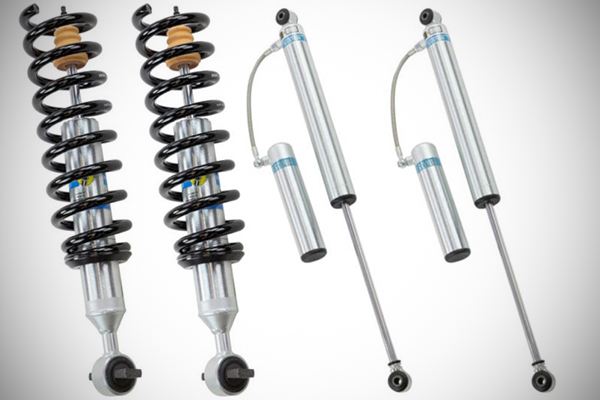 Conquer that trail with an off-road-capable suspension kit
If you're really bent on lifting your F-150 up by six-inches, then consider the Rough Country 0-3 inch lift kit and N3 Shocks. As a kit, it's priced at Php 54,000. Do note however that here in the Philippines, there are certain limitations as to how much you can lift your car, and you might need a permit for your offroad F-150.
>>> Related: Modified Ford Ranger: Tips & tricks to upgrade your lifestyle pickup
2. Winch
Getting your vehicle stuck on a trail is a headache. Seeing a friend's car stuck on a trail on the other hand can be funny. After a few good chuckles, however, you won't hesitate to lend a helping hand. As such, we recommend getting a winch. It can pull you out from that nasty mud hole, or if you want to get your pals out of a pinch.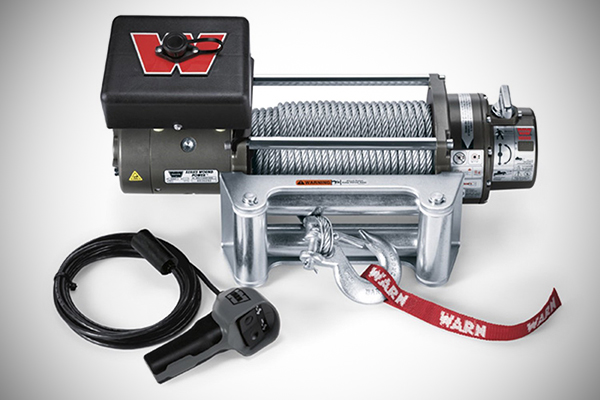 With this you can assume the identity of Winch-Man, the off-road hero [Source: Warn Industries]
Now there are many winch systems for the F-150, but we're recommending the Warn 26502 M8000. Why this particular winch? That's because it can tow up to 8,000 pounds, and Warn's products have a great track record.
>>> Related: 2021 Ford F-150: Expectations and what we know so far
3. Off-road Bumpers
Unlike other trucks, especially midsize trucks, you don't actually need a bumper upgrade to install the winch. This is because the F-150 actually has the space for a winch. Do note though that if you decide to do this, there's a bit of finagling involved, and it might not be easy.
To address this issue, we recommend getting a steel, winch compatible steel bumper. Not only is it easier to mount a winch, but it's also much more durable than the stock bumper, and it might even look better too.
There are also steel bumpers for the F-150, which again, will toughen up the looks of your truck, and will also add a lot to its ability to withstand damage from obstacles.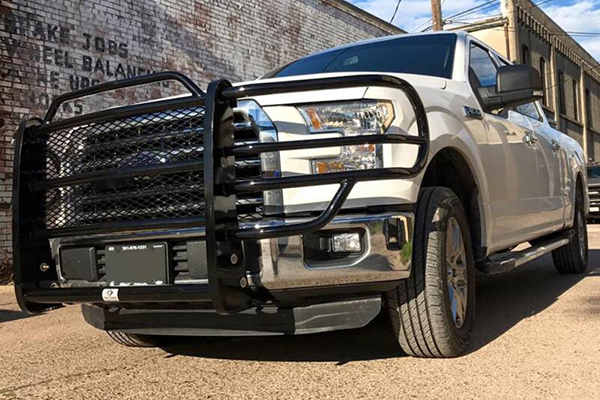 Pedestrian safety, however, will take a sharp drop
For this part, we recommend brands like ARB, Fab Fours, Torxe, Westin, and Addictive Desert Designs. Do note though that this part can be a bit expensive especially if you're considering buying it along with a rear steel bumper. The average price for F-150 front bumpers ranges from Php 40,000 to Php 90,000, and the rear bumpers, if bought alone can be cheaper from Php 20,000 to Php 50,000.
The price of the aftermarket steel bumper that you're getting will also vary with the type. Small stubby bumpers that offer the least protection will be more affordable, and larger full-on brush guards and full-width bumpers combined with a bull bar will tend to cost more.
>>> Related: 
4. Auto-Running Board Delete
For those who might not be aware, only the top-spec F-150 Platinum comes with a 4x4 drivetrain. As such, it's the only available variant of the F-150 here in the Philippines that's going to be a viable off-road/overlanding vehicle.
Do note however that the F-150 Platinum's full-length running boards automatically deploy when you open the doors. Sure, those are useful for the most part when you're using the F-150 as a daily driver, but there's actually a great chance of it breaking when taken on particularly rough off-roading situations.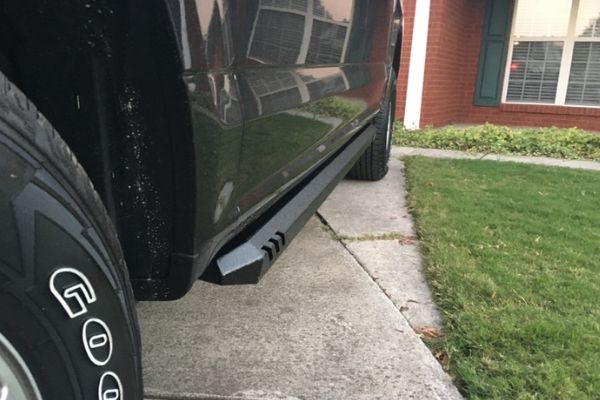 If you've installed rock sliders on your lifted truck, please watch out for your shins
Now in those aforementioned situations, frame-mounted rock sliders will actually protect your vehicle from obstacles jutting out on the sides of the path like rocks, fallen trees, etc., and this is something that the automatic running board simply cannot do.
As such, we recommend removing those and getting a pair of steel sliders that can be mounted directly on the F-150's frame. Sure, you'll now need to heave yourself aboard your F-150, but these are definitely more durable than the stock automatic ones.
Brands we recommend are RPG Off-road and ARB. Steel Sliders will typically cost somewhere from Php 19,000 up to Php 49,000.
5. Better wheels and tires
For the Premium 4x4 F-150, it comes with a set of polished aluminum wheels. For some, these shiny wheels can be a bit gaudy, and they might not be too practical for a full-on off-road F-150 build.
As such, we recommend getting a set of Black Rhino Warlords, Moto Metal Banshees, or Fuel Contras if you like a bit of color on your wheels.
Ladies and gents, the Black Rhino Warlord. What an awesome name right? [Source: Black Rhino]
These range from Php 60,000 to Php 100,000 depending on the brand. Note however that these prices are the average of wheel and tire sets.  
As for tires, we recommend the Nitto Terra Grappler for light off-road and on-road applications. These start at around Php 7,500 each. Or if you're wanting to go off-road more then go for the Mudclaw Extreme M/T which can be had for around Php 8,900 each.
>>> Related: Watch out! Illegal car modifications to avoid in the Philippines!
6. Armor and Protection
Off-roading, as you're already aware, can take a toll on your vehicle's underchassis. So if you want to avoid very costly repairs, you can spend a little bit as a form of a preventative measure.
We're talking about armoring up your F-150 with differential covers, and skid plates. Most of these are made out of durable steel, and they can definitely withstand the rigors of a gnarly trail.
Also, these parts are much more affordable than the other parts on this list as they start at around Php 7,000 for a decent ARB differential cover. They can rack up in cost though especially if you're opting for full underchassis armor like the ARB Belly Up Skid Plate which starts at Php 40,000.
Final Word on F-150 Mods
Do note that the Ford F-150 has been absent from the Philippine market for a long time. As such, not many aftermarket shops will carry these parts.
With its recent return, however, we're guessing that within a year, aftermarket parts for the F-150 will start popping up. Sure, you can order F-150 after-market accessories from abroad, but that can be a headache too.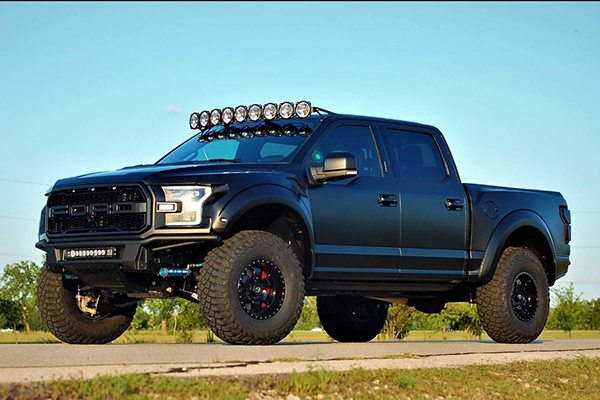 And yes, do be careful of LTO regulations concerning truck mods. If in doubt, do call them up
Also note that like our other articles discussing car modifications, we encourage you to drive around the F-150 in its stock form first.
Get a feel for the vehicle and determine whether you're actually going to off-road the thing, or are you going to keep it stock as a comfortable daily driver. In short, get to know your vehicle first, then after that, you can go ham with the mods if you want to.
For more car mod guides like this, keep reading here on Philkotse.com.

Know more about Ford F-150 2023

The Ford F-150 2023 is a full-size pickup truck that is now in its fourteenth generation. This generation was launched in the Philippine market in November 2021. Locally, the sole variant of the F-150 is the Lariat 3.0 V6 4x4 AT, and it has a price tag of Php 3,398,000. Under the hood of the all-new Ford F-150 is a 3.0-liter V6 turbodiesel mill. At maximum, this engine can churn out 250 horsepower and 596 Nm of torque. Power from the said engine is distributed to all four wheels via a 4x4 drivetrain, and it also uses a 10-speed automatic gearbox.
Size-wise, the F-150 Lariat 4x4 3.0 V6 AT is 5,885mm long, 2,431mm wide, and 1,961mm in height. It has a wheelbase length of 3,693mm, and a ground clearance of 239mm. The Ford F-150's only competitor in the local market is the Ram 1500.

Cesar G.B. Miguel
Author