We really hope Ford PH introduced the FX4 package for the F-150.
2021 Ford F-150: What we know so far
A couple of months ago this year, the Ford F-150 officially made its comeback to the Philippine market. Currently, Ford Philippines is selling two variants. There's the 4x2 Lariat SuperCrew AT and the 4x4 Platinum SuperCrew AT.
2020 Ford F-150: The return to the Philippine shores – Quick Look
For the 2021 model year, we're fairly certain that the current 13th generation model will be carried over. As such, here's what we can expect from that.
Do note though that we have to acknowledge the fact that Ford already introduced the fourteenth-generation F-150 for the U.S. market. This new truck, however, won't be coming to the country anytime soon.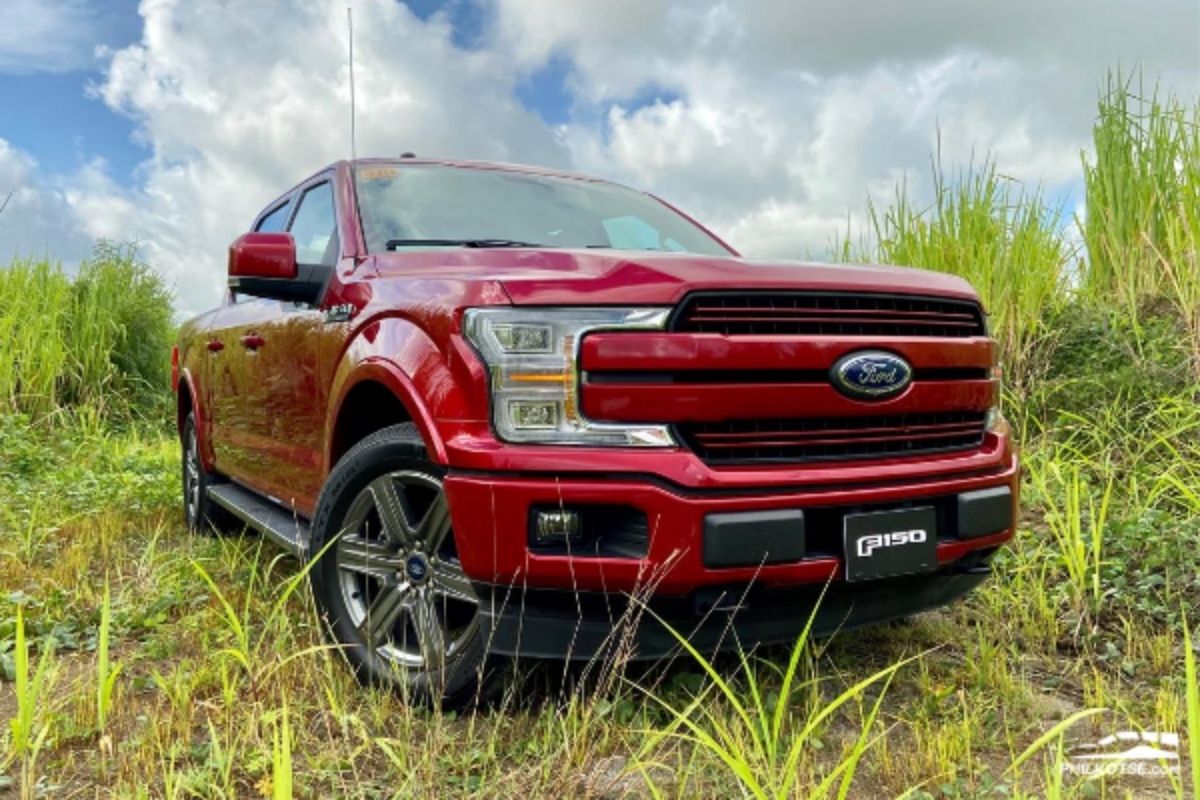 The current PH-spec F-150 Lariat 4x2
>>> Related: What makes the new PH-spec Ford F-150 better than typical midsize trucks?
2021 Ford F-150: Exterior
For the Philippine-spec F-150 for the 2021 model year, we can expect the Lariat and Platinum SuperCrew variants to keep the same look. There are, however, some interesting thirteenth-gen F-150 variants that were sold in other markets before. There's the F-150 XLT, and of course, the Raptor.
While the XLT doesn't look that different from the Lariat and Platinum besides its grille, the Raptor is another story. It looks wider, and it sports a bit more ground clearance. Why are we talking about the F-150 XLT and Raptor?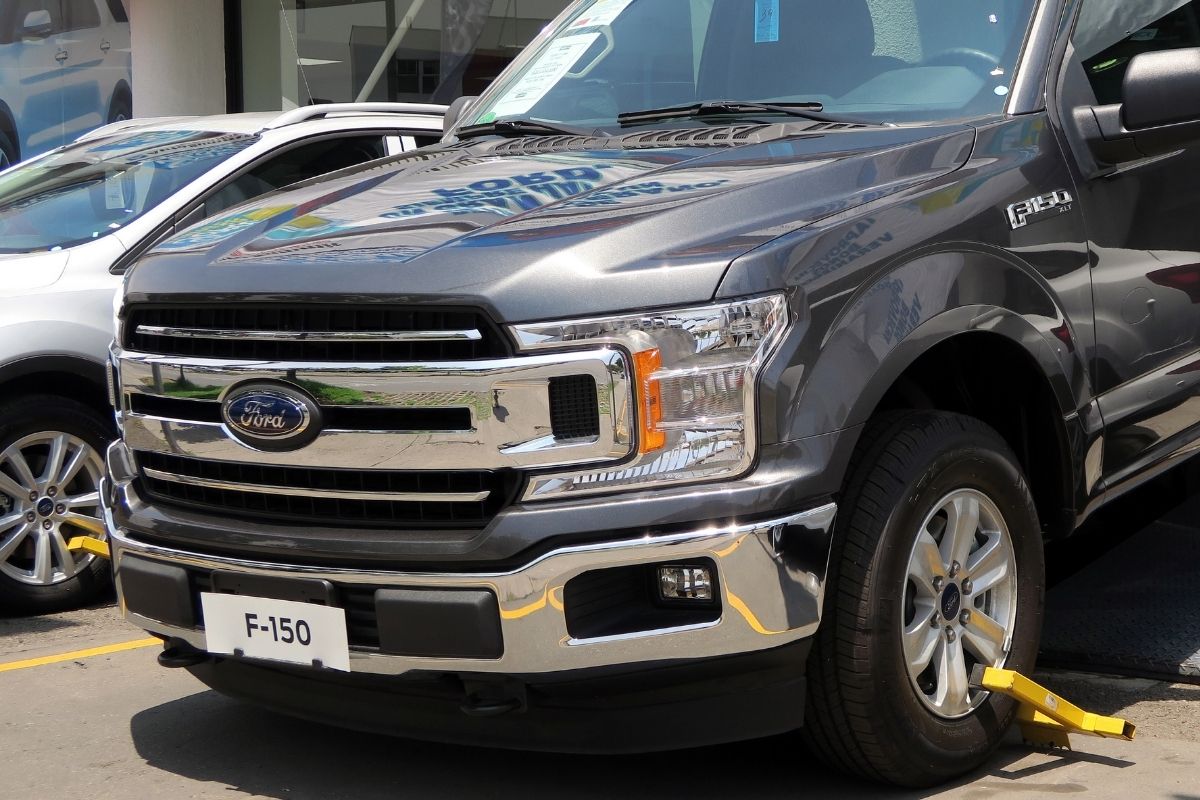 The US-spec F-150 XLT's chrome rich front end
Well, it would be interesting if Ford PH did introduce these in 2021. That said, however, we're not seeing a PH-spec F-150 Raptor happening anytime soon as it might actually eat up a portion of the Ranger Raptor's market. As such, the XLT might not stand out that much from the ones we already have apart from having more chrome. A lot of chrome.
Another possibility is the introduction of the FX4 stand-alone option package. This, however, will add more mechanical bits so more on this package later.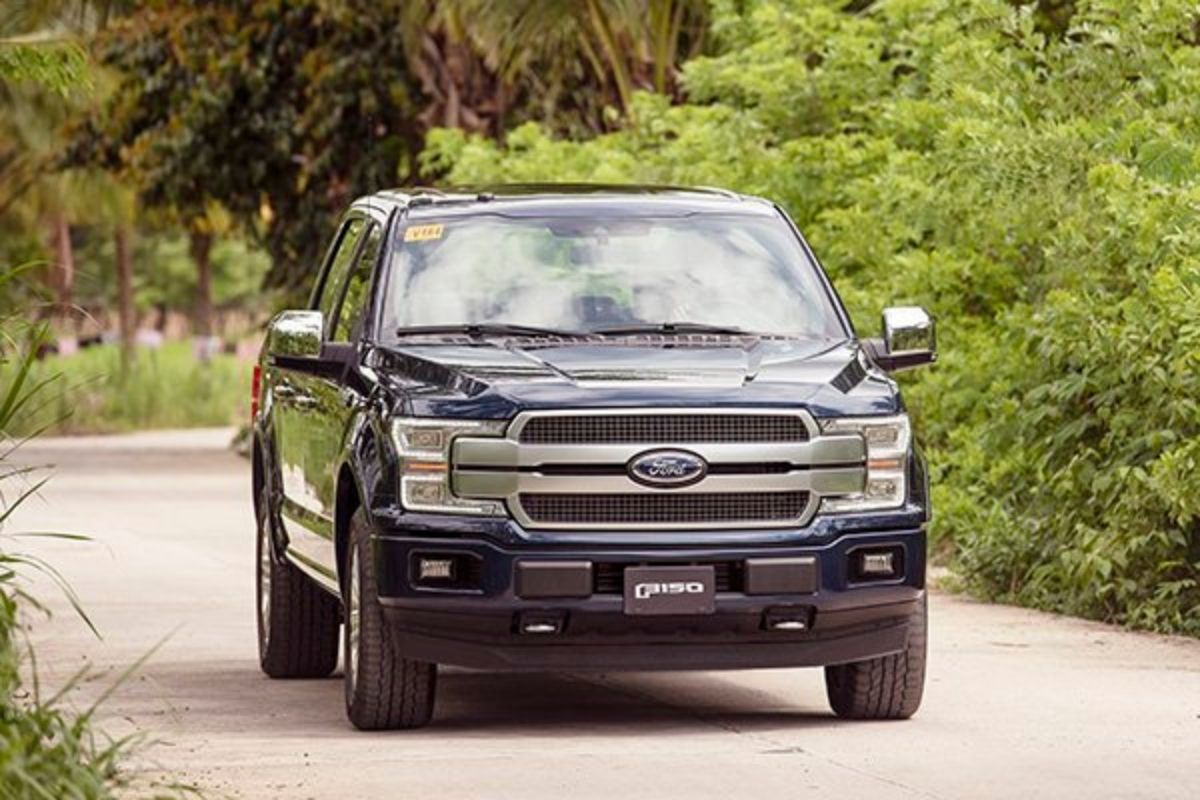 The PH-spec F-150 Platinum 4x4 variant
To sum it up, the F-150 for 2021 will look the same as the current ones we have now. It will still have the same 5,890 mm length, 2,029 mm width, 1920 mm height, and a ground clearance of 216 mm.
The LED headlamps, LED turn signal lamps, and LED taillights will look the same. Both variants will also keep the same 20-inch wheels, although we want to see an update to its designs.
2021 Ford F-150: Interior
Inside, the Philippine-spec F-150 variants will come with the same features. This includes leather-clad seats with electronic adjustment, automatic climate control, a push-to-start button, adaptive cruise control, rain-sensing wipers, ambient lighting, and an electronically adjustable tilt and telescopic steering wheel.
Whatever variant it is, the F-150 has loads of interior space and features
The same goes for onboard tech. It will have the same eight-inch screen with Apple CarPlay and Android Auto, a good number of USB sockets, 12-volt charging ports, and a digital gauge cluster. Both the Lariat and the Premium also come standard with a 10-piece audio system with subwoofers.
>>> Related: RAM 1500 is facing a tough rival with the PH-spec Ford F-150
2021 Ford F-150: Engine and Performance
While the new F-150 for the US market has a wide range of engine options, the Philippine-spec version will still be using the same 3.5-liter EcoBoost V6. Make no mistake though, the aforementioned V6 is already powerful as it can churn out up to 375 horsepower and 637 Nm of torque.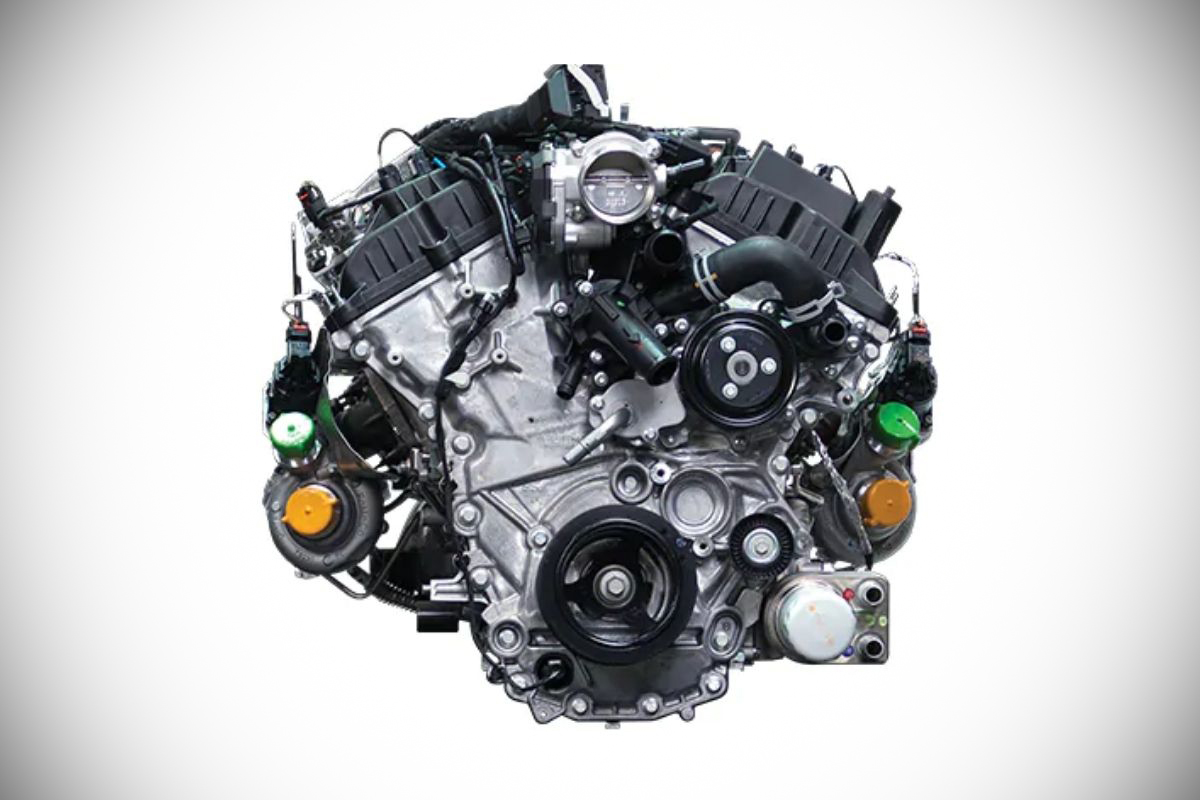 The PH-spec F-150's V6 engine
For the Lariat, we're sure that it will still retain the rear-wheel-drive drivetrain. The Platinum will also use the same part-time 4x4 system. And lastly, the 10-speed automatic gearbox with a gear-level controlled manual-mode will also be carried over.
If Ford Philippines introduced the FX4 package, it will definitely expand the F-150's horizons more. That's because this includes Rancho shocks, skid-plates for the transfer case and fuel tank, as well as an FX4 decal. That said, the FX4 might not bring the F-150 up to par with the Raptor, but it will make it handle better in light off-roading situations.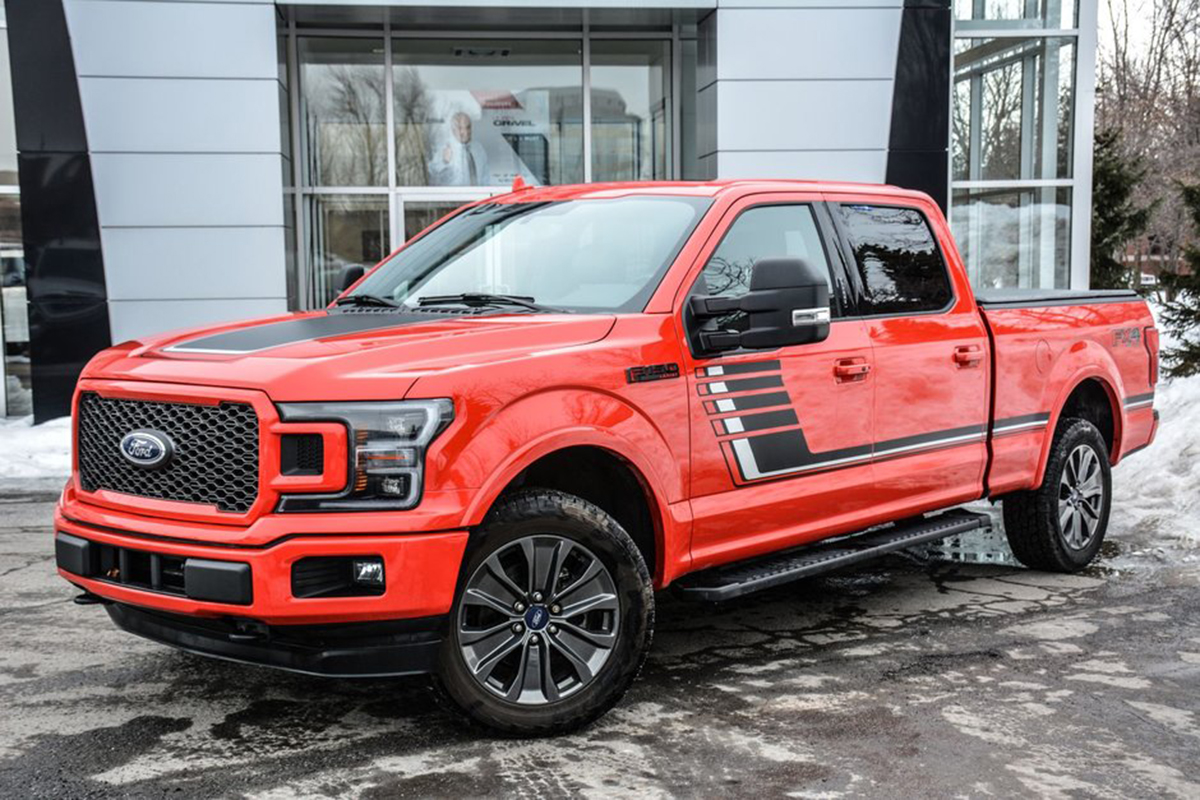 The Canada-spec 13th-gen F-150 with the FX4 package
>>> Related: The top five best pick up trucks in the Philippines in 2020
2021 Ford F-150: Safety
For safety, the current F-150 is already filled to the brim with features. It comes with seven airbags, a parking assist feature, emergency braking, and electronic parking brake, anti-lock braking with electronic brake-force distribution, and ventilated discs all around.
Apart from those, the PH-spec F-150 for 2021 will also retain the 360-degree view camera, as well as the front and rear camera and parking sensors. And of course, the stability and traction control, lane departure warning system, lane-keeping aid, tire pressure monitoring system, and blind-spot detection system will also be retained for both variants.
If we had to compare the current PH-spec F-150 with the new US-spec F-150, then note that the new model already comes with even more driver-assist features like an active driving assist feature, pedestrian detection, automatic emergency braking, among others.
2021 Ford F-150: Final thoughts
As we've said before, the current PH-spec F-150 will be carried over for the 2021 model year. If you're wondering when the new fourteenth-gen version will get here, then the soonest will be sometime around 2022.
That said, the current F-150 is already a competent truck, and the only competition it has in the local market right now is the RAM 1500. RAM however doesn't have the same market presence as Ford locally.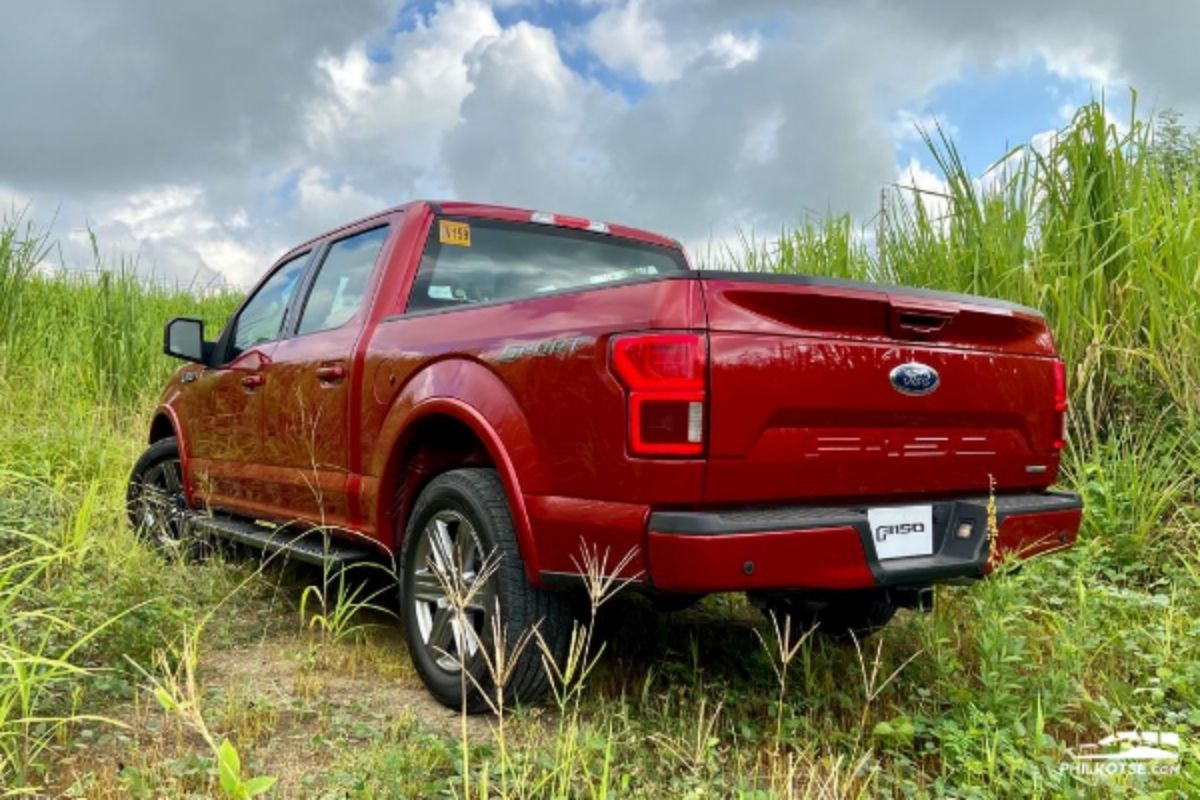 The fullsize F-150 pickup has little to no competition locally
2021 Ford F-150: Expected Price
Currently, the F-150 Lariat 3.5 AT is priced at Php 2,698,000, while the F-150 Platinum 3.5 AT is priced higher at Php 2,998,000. Technically, these versions of the F-150 are new to the local market. As such, we're hoping that Ford won't increase their price tags soon.
On the other hand, the FX4 package was priced at USD 905 or Php 43,517 in 2019. If this was introduced here, we can expect a slight price increase due to taxes and what not.
For more articles like this, keep reading here on Philkotse.com.
Know more about Ford F-150 2021

One of the most popular and comprehensive pickup truck is the Ford F-150. This generation was introduced since 2015 and undergone remarkable changes throughout the years. The pickup truck has improved in terms of towing and hauling capacities, for those with 10-speed automatic transmission and select engines with extra engine power. In 2019, the Ford F-150 model added new shocks, new engine as well as features like forward- collision warning, pedestrian detection, and automatic emergency braking. In 2020, all engines of the pickup truck come with a 10-speed automatic transmission. It is equipped with engine options and several features. It suits all categories, whether it is for an entry-level truck or luxury. Moreover, aside from the customization options offered, the Ford F-150 features a powerful engine, appealing style, and a roomy interior as well. For cargo capacity, the pickup truck provides three various bed lengths such as 5 feet and 6 inches, 6 ft. and 6 in and 8 ft. Also, there are some small-item storage spaces available. Furthermore, it is available in six distinct colors: Star White, Oxford White, Agate Black, Rapid Red, Blue Jeans, and Iconic Silver. At present, the Ford F-150 has two different trims - Ford F-150 4x2 Lariat SuperCrew AT that costs Php 2,698,000 and Ford F-150 4x4 Platinum SuperCrew AT that costs Php 2,998,000.

Cesar G.B. Miguel
Author