Ford gives cosmetic tweaks for the Ranger and Everest.
The Thai automotive industry has seen several new car launches this year that brought back the rivalry in the midsize pickup and SUV segment. Isuzu and Toyota are among the car brands that launched their respective challengers in the pickup and SUV battle royale. Now, Ford is ready to throw its own version of a one-two punch combo as it introduced the facelifted 2021 Ranger and Everest.
The 2021 Ford Ranger and Ford Everest come with a revised fascia as well as distinctive design elements that make it a bit different from the outgoing models. Ford Thailand says that the new Ranger and Everest will underline the brand's product leadership in Thailand.
"With the new Ranger and Everest, Ford once again continues to underline its product leadership in Thailand. The new vehicles celebrate individuality and inspiring lifestyles – unique to our Ford customers," said Ford Thailand managing director Wichit Wongwattanakan.
Facelifted 2021 Ford Ranger & Everest: The Blue Oval Dynamic Duo | Quick Look
2021 Ford Ranger
Ranger: Exterior
The 2021 Ford Ranger is highlighted by a slightly revised front fascia. It features a restyled trapezoidal grille with a contrasting accent that gives the Ranger a refreshed look. Looking at it, the Ranger's new grille shares a bit of similarity to one fitted on the FX4 trim.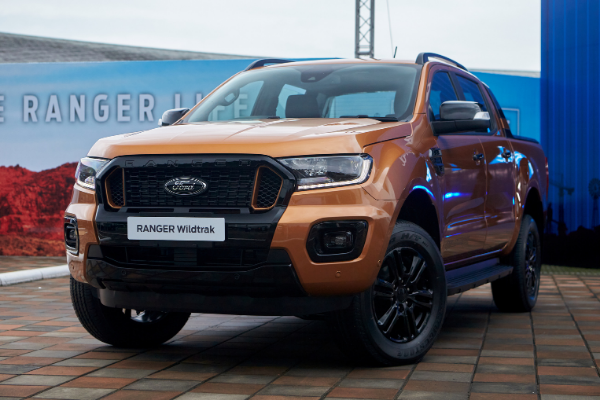 Facelifted 2021 Ford Ranger
Ford's challenger in the midsize pickup segment also gets a set of new black alloy wheels that complement the overall tough look of the Ford Ranger. Ford has also equipped the 2021 Ranger with black side mirrors and door handle.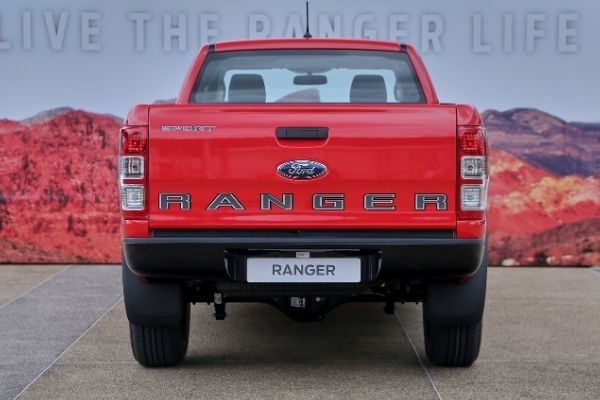 Rear of the 2021 Ford Ranger
The rear, on the other hand, comes with the same design as compared to the old Ranger. However, Ford says the 2021 Ranger Wildtrak comes with new toys such as load compartment accessory and power roller shutter.
Ranger: Engine
Ford Thailand has not released any word in regards to new powertrain options. As such, the 2021 Ranger comes with carryover engines that include: a 2.0-liter bi-turbo diesel engine (210 hp and 500 Nm of torque), a 2.0-liter turbodiesel engine (178 hp and 420 Nm), and a 2.2-liter turbodiesel engine (158 hp and 385 Nm).
>>> Related: 2021 Ford Ranger: Expectations and what we know so far
Ranger: Other Details
Aside from the facelift version, Ford Thailand debuted a new Ranger variant dubbed XL Street. The 2021 Ranger XL Street is the one that piqued our interest when it was first shown in the teaser video.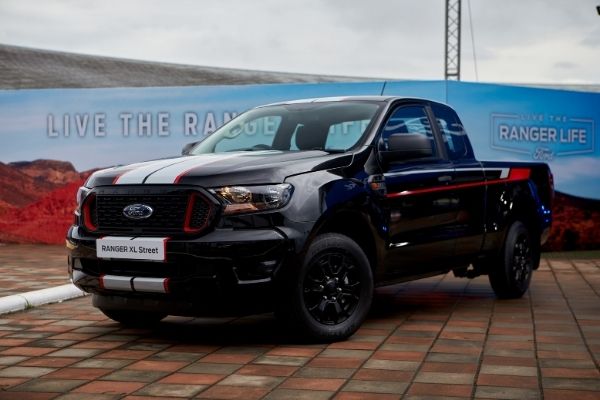 2021 Ford Ranger XL Street
This specific variant comes with all the design updates you see on the facelifted model. But, the Ranger XL Street comes with more flair and style that aims to tap individuals who want a sporty looking pickup truck. It comes with an open cab design as well as red accents and sporty-looking stripe decals designed by Ford's design team in Australia.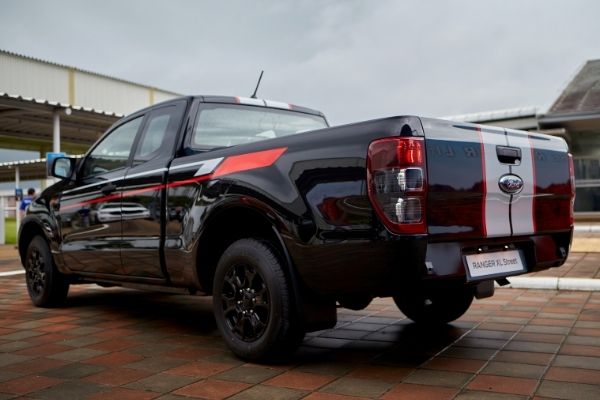 2021 Ford Ranger XL Street rear
The 2021 Ford Ranger XL Street is powered by a 2.2-liter diesel engine that generates 158 hp and 385 Nm. It is mated to a six-speed automatic transmission. Ford Thailand also said that this variant is available in four colors: Lightning Blue, Aluminum Metallic, Arctic White, and Absolute Black.
Overall, the design update given to the Ford Ranger is subtle. As such, it seems that Ford is maxing out the model lifespan of its current-generation Ranger. Of note, the current-gen Ranger has been in the market since 2011.
>>> Related: Ford PH gives Ranger hefty discount this month; price starts below P1M
2021 Ford Everest
Everest: Exterior
Providing the haymaker is the launch of the facelifted 2021 Ford Everest. Similar to its platform sibling, the 2021 Everest gets cosmetic upgrades across its variant range.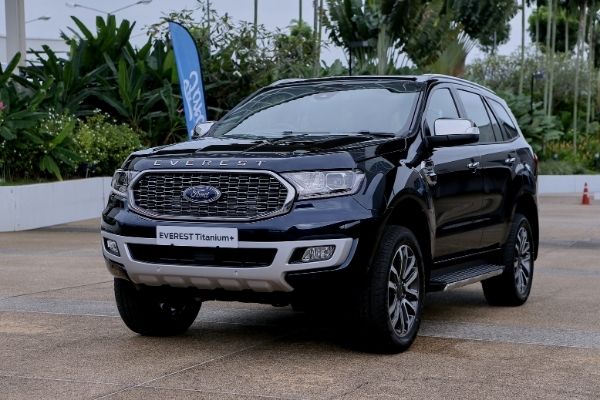 2021 Ford Everest
The 2021 Everest features design cues seen from the Everest Sport variant. As such, the new Ford Everest has a redesigned grille and an Everest chrome hood lettering. However, instead of black, the 2021 Everest comes with chrome door handles and side mirrors making it look more premium. Rounding up the design updates on this seven-seater midsize SUV is a new set of alloy wheels.
>>> Related: 2021 Ford Everest: Expectations and what we know so far
Everest: Engine
Aside from the said cosmetic tweaks, the 2021 Ford Everest still comes with the same interior layout and engine options. As such, it's still powered by either a 2.0-liter bi-turbo diesel engine (210 hp and 500 Nm of torque), a 2.0-liter turbodiesel engine (178 hp and 420 Nm).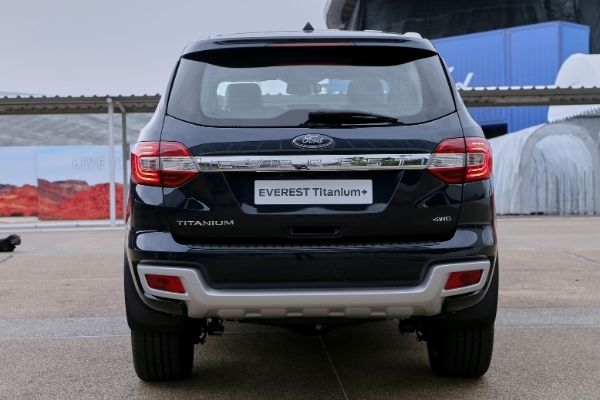 2021 Ford Everest rear
Ford Thailand is offering new exterior colors for the Ford Everest including Snow Flake White Pearl, and Deep Crystal Blue.
Ford 10-Year Driveline Care Program
Ford Thailand has also launched the 10-year Driveline Care Program, which offers the Ranger and the Everest with a 10-year or 150,000 km warranty coverage. This warranty covers the engine, transmission, and rear/front-wheel drive axles.
2021 Ford Ranger comes with a new front end
The introduction of the 2021 Ford Ranger and Everest in Thailand can be considered as good timing or counter move since its competitors have launched its respective revamped models. To put things in perspective, the Isuzu D-Max has been in the Thai market since last year while the new mu-X is freshly launched. On the other hand, Toyota has the new Hilux and Fortuner.
With that in mind, there's a high probability that Ford Philippines will soon launch the 2021 Ranger and Everest since it's now out in Thailand. In fact, Ford PH could launch the two new models before the year ends, and serve as its Christmas gift to the local market.
After all, Toyota Motor Philippines has already launched the new Hilux and Fortuner while Isuzu has already confirmed that the new D-Max will arrive next year. As such, it's only a matter of time before Ford PH brings in the facelifted Ranger and Everest.
Visit Philkotse.com to get more auto industry updates.
Know more about Ford Ranger

The Ford Ranger received numerous facets and practicality and is one of the long-running in the segment of pickup trucks. Still, it has changed a lot in recent years, and today, it is equipped with proper SUV features, truck muscularity, spacious cabin, car drivability, and the like. The sport-themed oriented urban truck was intended for the buyer's active lifestyle. Hence, the Ford Ranger is also utilized as a lifestyle 'weekend' SUV aside from being just a pickup car. The robust and multi-talented platform is common for both Ford Ranger and Everest, the latter is considered one of the leading SUVs in its respective segment. The Ford Ranger is equipped with 2.5-litre and 3.0-litre Dura TORQ TCDi diesel engines that supply high values of power and torque as well as better mileage. The Ford Ranger features enough room and additional space at the back for either business or personal purposes. The double cabin pickup truck comes with on-road agility, together with its competent handling and reasonable off-roading capability with a 4x4 mechanism. Moreover, the Ford Ranger features top-class safety features and competes with the types of Isuzu D-Max, Toyota Hilux, Chevrolet Colorado and, Mitsubishi Strada. Furthermore, it is showcased in a total of seven exterior paint options.

Martin Aguilar
Author