Is the F-150 just another pickup truck? Think again.    
You might think that a pickup truck needs little else beyond four wheels, a cab, and a cargo bed. After all, it's a workhorse first and foremost, an instrument of labor. But with a hotly-contested pickup segment in the Philippines, any advantage no matter how small should be highlighted to stand out in a sea of models from Japanese, American, Korean, and Chinese brands.  
2020 Ford F-150: The return to the Philippine shores – Quick Look
One of these contenders is Ford, which already has a solid foot in the door with its Ranger line of midsize pickups. But the big Blue Oval apparently isn't satisfied with being popular, as it aims for pickup dominance with the return of the Ford F-150 in the local market, available in base Lariat and range-topping Platinum trim.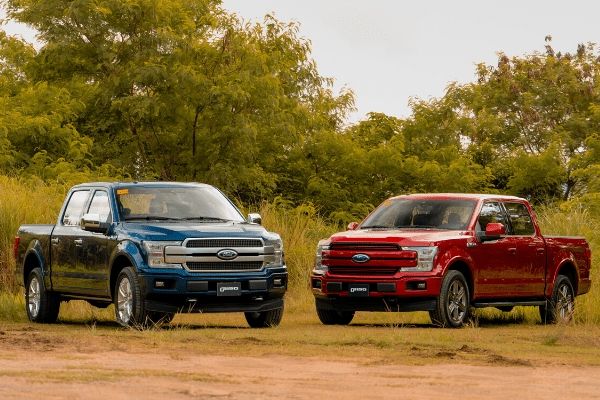 The Ford F-150 joins the Ranger in the highly competitive midsize pickup segment
You might think, "Great, another pickup," expecting to find a tedious laundry list of dimensions, engine output, and payload capacities as is usual for a vehicle in this category. But believe it or not, the F-150 packs a number of extra tricks up its sleeve that you simply won't find on its current rivals, and these might make you take a closer look at Ford's latest big rig.
>>> Latest update: 2021 Ford F-150: Expectations and what we know so far
Power-deploying running boards
Standard on the top-spec Platinum trim, these are electrically actuated step boards that run along the length of the cabin.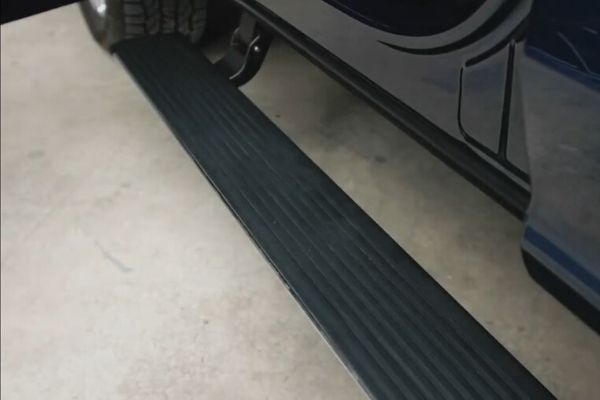 Open the doors and the power-deploying running boards fold out
In their default state, the boards are tucked away under the body. But when the doors are opened, the step boards unfold and slide out to provide a wide foothold, which aids in safer ingress and egress.
>>> Related: Ford F-150 makes PH comeback with starting price of P2.69M
Removable tailgate with remote release
What's so special about the F-150's tailgate? You can actually open it with a simple press on the key fob – a segment-exclusive.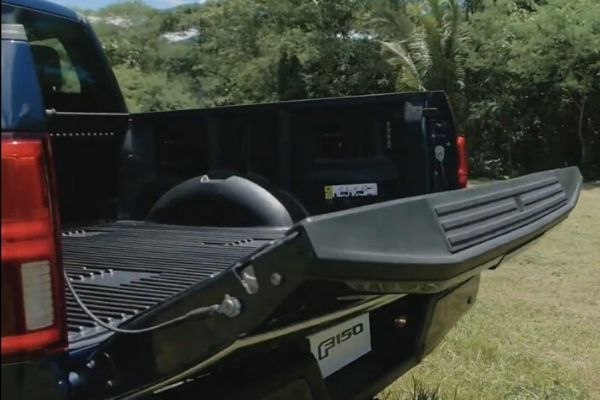 The F-150's remote tailgate can also be detached for bulkier loads
This adds convenience to loading cargo on the bed, especially when your hands are too full to reach the handle. You even have the option to remove the tailgate entirely, to accommodate bulkier loads that exceed the bed's dimensions.
Built-in tailgate step with lift assist
As the (literally) higher of the two variants, the Platinum also has another surprise within the tailgate – a concealed tailgate step that can be pulled out, making it easier to climb aboard the cargo bed. A second bar beside it can be deployed and set up as a lift assist, which is basically an extra hand hold that you can grip to avoid falling over while going up or down the bed.
>>> Related: The top five best pick up trucks in the Philippines in 2020
Active Motion seats
As beasts of burden, pickups don't necessarily inspire thoughts of ride comfort. After a hard day's work of mounting, hauling, and towing cargo, you're bound to end up with aches and pains all over.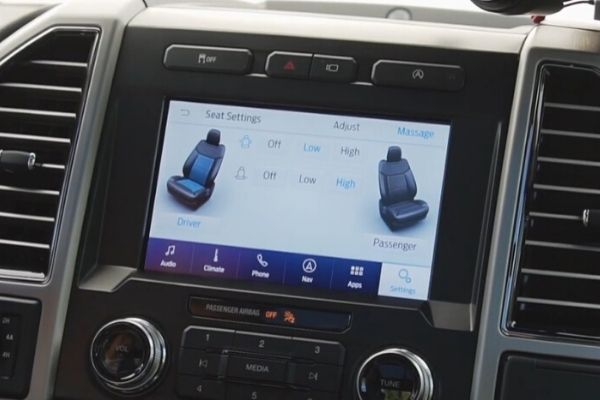 No more aching back and legs with the F-150's Active Motion front seats
That's one less thought to dread with the F-150 Platinum's Active Motion front seats, which use air pockets in two different locations to massage the back and legs, increasing blood flow and reducing driver fatigue. Perfect for enduring those long drives.   
Power-adjustable steering and pedals
Not all Filipinos are basketball players, and so the prospect of driving large vehicles can be understandably daunting. Steering columns with tilt and telescopic adjustment are steadily being offered, but they sometimes miss the mark in terms of finding the perfect driving position.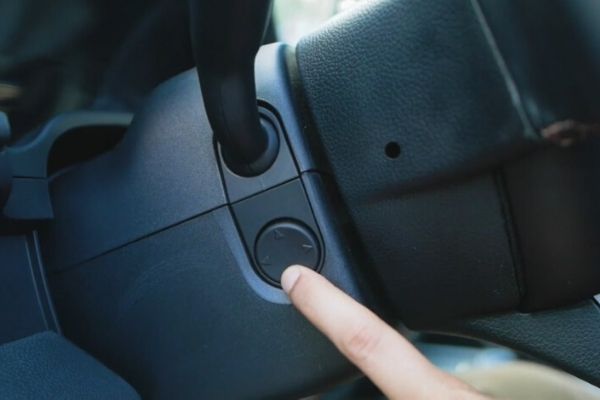 Power-adjustable steering gives you more precise positions
In addition to power-adjustable front seats, Ford also made the F-150's steering adjustment electrically-actuated, making it easier to fine-tune the steering position in precise increments. The foot pedals can also be electrically adjusted for a more customized cockpit experience.
Best of all, both the steering and pedals have built-in memory, so you can easily revert to your own custom settings even after someone else has been behind the wheel.   
>>> Related: A complete guide to Ford cars in the Philippines
Aluminum chassis
As big and brawny as the F-150 is, it's underpinned by a high-strength steel chassis with an aluminum body bolted on. Not just any old aluminum material mind you, but military-grade aluminum alloy.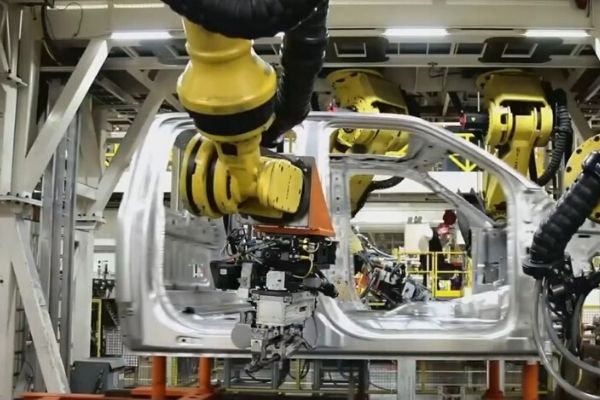 Every F-150 comes with a lightweight yet strong aluminum shell
This has the benefit of reducing the F-150's weight, contributing to significantly less fuel consumption while being able to tow and haul more loads, apart from making it more robust against both rough terrain and corrosion.
Ford Co-Pilot 360
Sure, there's at least one other pickup model locally that offers driver-assist technology. It's just that the F-150 has a more comprehensive array.
Consider the list: Pre-Collision Assist with Automatic Emergency Braking (AEB) and Pedestrian Detection, Forward Collision Warning and Dynamic Brake Support, Adaptive Cruise Control with Stop and Go, Blind Spot Information System (BLIS) with Cross-Traffic Alert, Lane-Keeping System, and auto high-beam quad-LED headlamps. It's almost as if the F-150 was specifically tailored to be driven on Philippine roads.   
It's made in the U.S.A
This isn't a case of colonial mentality, people. Unlike most pickups whose assembly is often outsourced to other territories away from their brand's home country, the F-150 we're getting comes straight from Ford's home court in Dearborn, Michigan.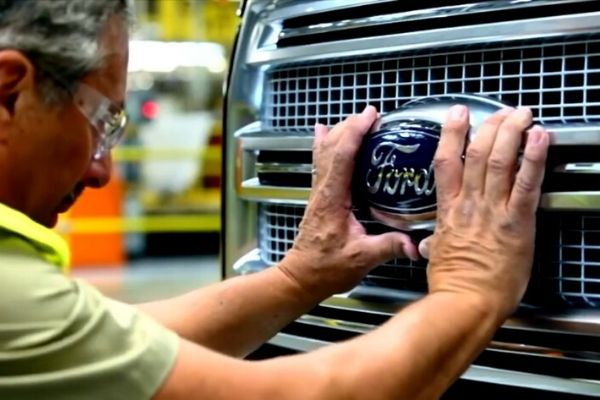 The F-150 units in our market will be delivered from Ford's Dearborn facilities
If that isn't an overt assurance of Ford's commitment to keeping the F-150's build quality and performance consistent with the U.S.-spec version, we don't know what is.
Get more automotive industry updates at Philkotse.com.

Know more about Ford F-150 2023

The Ford F-150 2023 is a full-size pickup truck that is now in its fourteenth generation. This generation was launched in the Philippine market in November 2021. Locally, the sole variant of the F-150 is the Lariat 3.0 V6 4x4 AT, and it has a price tag of Php 3,398,000. Under the hood of the all-new Ford F-150 is a 3.0-liter V6 turbodiesel mill. At maximum, this engine can churn out 250 horsepower and 596 Nm of torque. Power from the said engine is distributed to all four wheels via a 4x4 drivetrain, and it also uses a 10-speed automatic gearbox.
Size-wise, the F-150 Lariat 4x4 3.0 V6 AT is 5,885mm long, 2,431mm wide, and 1,961mm in height. It has a wheelbase length of 3,693mm, and a ground clearance of 239mm. The Ford F-150's only competitor in the local market is the Ram 1500.

Joseph Paolo Estabillo
Author