Ford finally comes up with their own active drive assist feature
In 2021, Ford will also be introducing their own autonomous driving technology called the Active Drive Assist (ADA) as an update to the Ford Mustang Mach-E EV crossover, which in turn will be launched later this year. Apart from that, there's also the exciting fact that Ford also implied that the ADA might also be coming to future Ford models.
ADA, which is under the Co-Pilot 360 safety suite, is capable of allowing the Mustang Mach-E to engage hands-free mode. This is a breakthrough for Ford, which of course will allow the company to better compete with the likes of Nissan, General Motors, and even Tesla, which have had a similar system for some time now.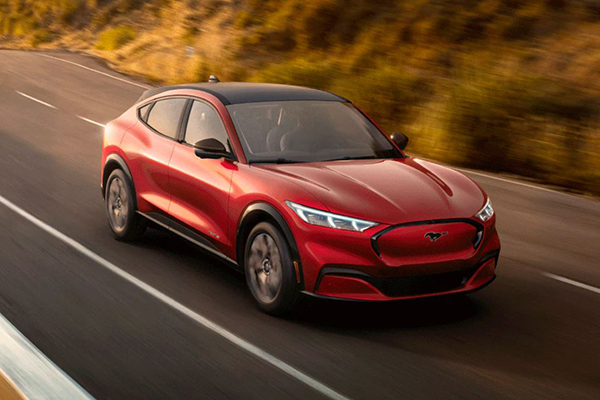 This made Mustang purists mad when it was revealed. For us, we want to see what it can do
The Active Drive Assist is an update of sorts
The Active Drive Assist system, is the next evolution of the Intelligent Adaptive Cruise Control with Lane centering. As such, the hands-free mode will work in conjunction with the several systems already available of the Co-Pilot 360, which the Intelligent Adaptive Cruise Control belongs to. It will also be offered to individuals who already bought the Mach-E, which comes ready with the Co-Pilot 360.
Unlike the autonomous driving system found on Tesla models where it requires a driver to keep his/her hands on the steering wheel, the ADA instead uses a driver facing camera, which monitors head position, as well as eye gaze to ensure driver attention.
Ford Active Drive Assist on the Mustang Mach-E
Other brilliant driver assist features that will work together with the Ford Mustang Mach-E's ADA is a Speed Sign Recognition system, Intersection Assist, Pre-Collision Assist with Auto Emergency Braking, Lane Keeping Assist, Cross-Traffic Alert, Blind Spot Monitoring, Auto High-Beams, as well as the Active Park Assist, which allows for hands-free parking.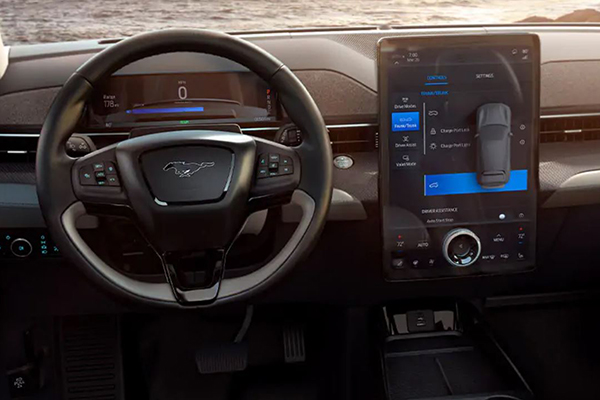 Also, look at how big that touchscreen is
>>> Related: Ford Mustang 2020 Philippines Review
The ADA has been tested thoroughly
In order to assure the quality of this new gadget, Ford has subjected the ADA through a very extensive testing phase. The company did this by going through a road trip across the U.S. and Canada in different conditions.
They ran it through snow, dark nights, traffic jams, under the sun, etc. With regards to the testing, Ford's Justin Teems, the Active Drive Assist feature lead says:
"Our team has aggressively tested Active Drive Assist to bring something to our customers' lives that they can trust. We go to far-flung places around the U.S. and Canada – from Florida to California, from Quebec to Texas, Wyoming and Idaho – to try to stimulate those rare-case sensor measurements we might not get anywhere else, capturing data in a number of different ways."
Are you curious to learn more about Ford's Active Drive Assist System? Are you excited by the fact that the ADA might come on other Ford vehicles in the future? If you do, then keep reading here on Philkotse.com.
Know more about Ford Mustang 2021

The Mustang from pony car icon Ford is now on its sixth-generation model and is available in the Philippines in four variants. This includes the Mustang EcoBoost 2.3-liter Premium AT, Mustang GT 5.0 Premium Fastback AT, Mustang GT 5.0 Premium Convertible MT, and the Mustang GT 5.0 Premium Convertible AT. All of these Mustang variants are rear-wheel-drive, and either uses a six-speed manual transmission, or a ten-speed automatic transmission. There are two avialable engine options for the Philippine-spec Mustang. The first is a 2.3-liter EcoBoost inline-4 gasoline engine capable of producing up to 310 horsepower and 475 Nm of torque. The second, more powerful engine is a 5.0-liter V8, which can churn out 460 horsepower and 569 Nm of torque.

Cesar G.B. Miguel
Author