Let's find out which GM-made V8 engine is worth its salt in this LT vs LS engine comparing article.
We've talked about the LS engine before. If you read that article, then you'll know that we practically gushed about it. It is, after all, one of the best GM products ever made, and is also probably one of the best V8 engines that money can buy today.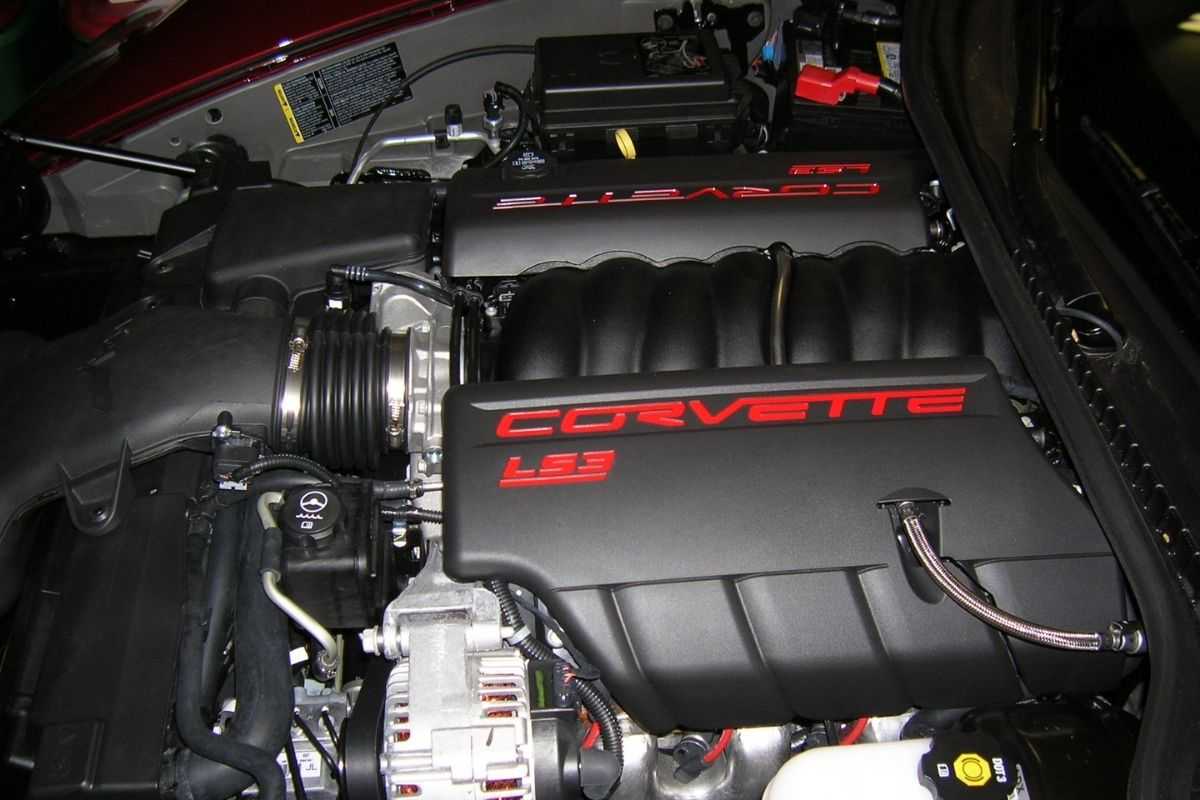 The 6.2-liter LS3 V8
But what about the LT engine?
Now the LT small-block V8 is currently in its fifth-generation, and like the LS, it is also made by General Motors. The LT as a product designation, however, came out much earlier in 1970, and the name was later reused for a newer V8 called the LT1 350 in 1991. The latest one, however, came out in 2014 and it is known fully as the LT1 Generation V.
Why the LT engine is even better than LS, and may be better for you.
For the purposes of this article, we'll mainly be talking about the Gen V LT1 vs LS3. 
If we compared LS vs LT engine in terms of construction, then the LS3 motor uses aluminum in its entirety. The same is the case for the newer LT1 Gen. V. While retaining the same 6.2-liter displacement and the same 4.40-inch bore. 
The LT1 Gen V's camshaft features a new cylinder head, a new tri-lobe camshaft, as well as a new piston design. Combined with the new high-pressure oil pump, the said engine can also introduce more fuel into its cylinders, thus having the potential for higher horsepower outputs.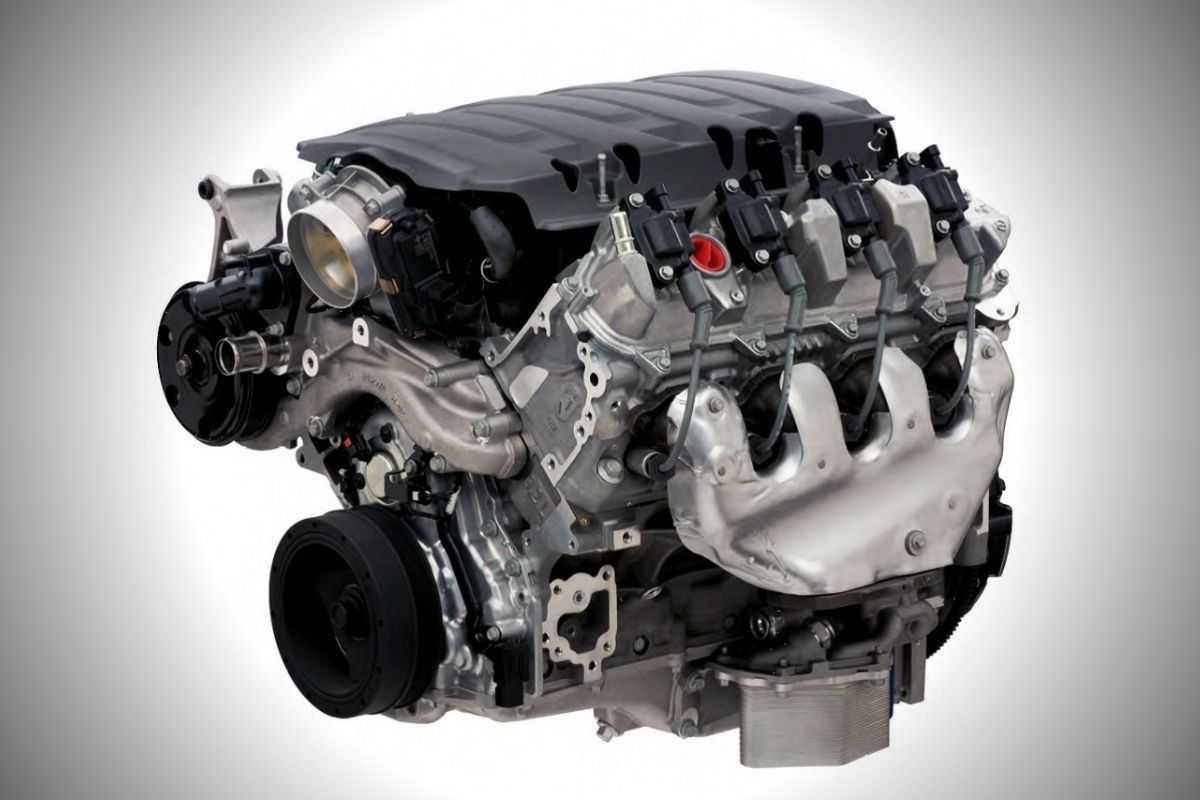 The 6.2-liter LT1 V8 Generation V engine  
Also, of note on the LT1, is that it now comes standard with variable valve timing. Compare that to the LS3, which only had VVT on specific car models. One example of which was the 2010-2015 Camaro SS with an automatic tranny. 
| | | |
| --- | --- | --- |
| Specs | LS3 | LT1 |
| Displacement | 6.2-liters | 6.2-liters |
| Max. Horsepower | 426-430 | 455-460 |
| Max. Torque | 576 Nm | 623 Nm |
| Peak HP and Nm RPM | 4,500 rpm | 4,500 rpm |
| Bore Size | 4.065-inches | 4.065-inches |
| Price (Crate Engine) | Php 377,701* | Php 407,029* |
| Head Material | Aluminum | Aluminum |
| Block Material | Aluminum | Aluminum |
| Compression Ratio | 10.7:1 | 11.5:1 |
Note: Before taxes/Price for LT1 is for the Wet Sump version 
LS vs LT: So which is better? 
If we're talking about raw power per liter, then the newer LT1 offers more. At the same rpm range, the newer V8 can offer around 30 more horsepower. If what you're after is more power without relying too much on forced induction, then this will matter a lot.
Apart from that, the LT1 comes standard with VVT. For those who don't know what VVT is, it is a system that controls the intake of fuel and air. With this system, the engine can offer better fuel mileage and a slightly lesser carbon footprint depending on the use of the car. For a thirsty and relatively high displacement V8, this can be a godsend.
>>> Related: Engine configurations: A comprehensive guide to different engine layouts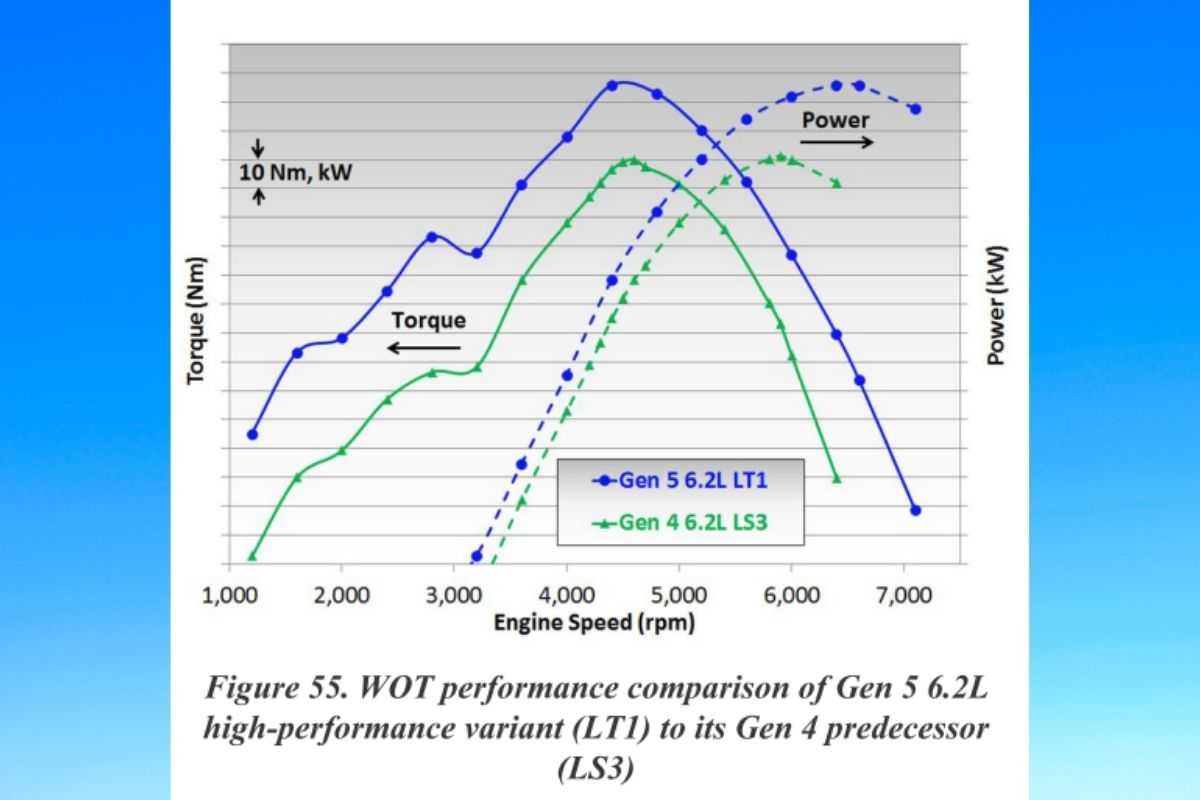 The LS3 and the LT1 both produce their max outputs at around the same rev-range
One huge disadvantage of the LT1 Gen. V is that it's a newer engine. In terms of LT vs LS, it has lesser available aftermarket parts. That however is slowly changing, and manufacturers are catching up. Of note, crate versions of the LT1 Gen. V are already for sale.
Do note though that the LT1 has a higher compression ratio than the LS3. This means that the latter's components are subject to more stress, and if things go wrong, engine knock is more likely to happen.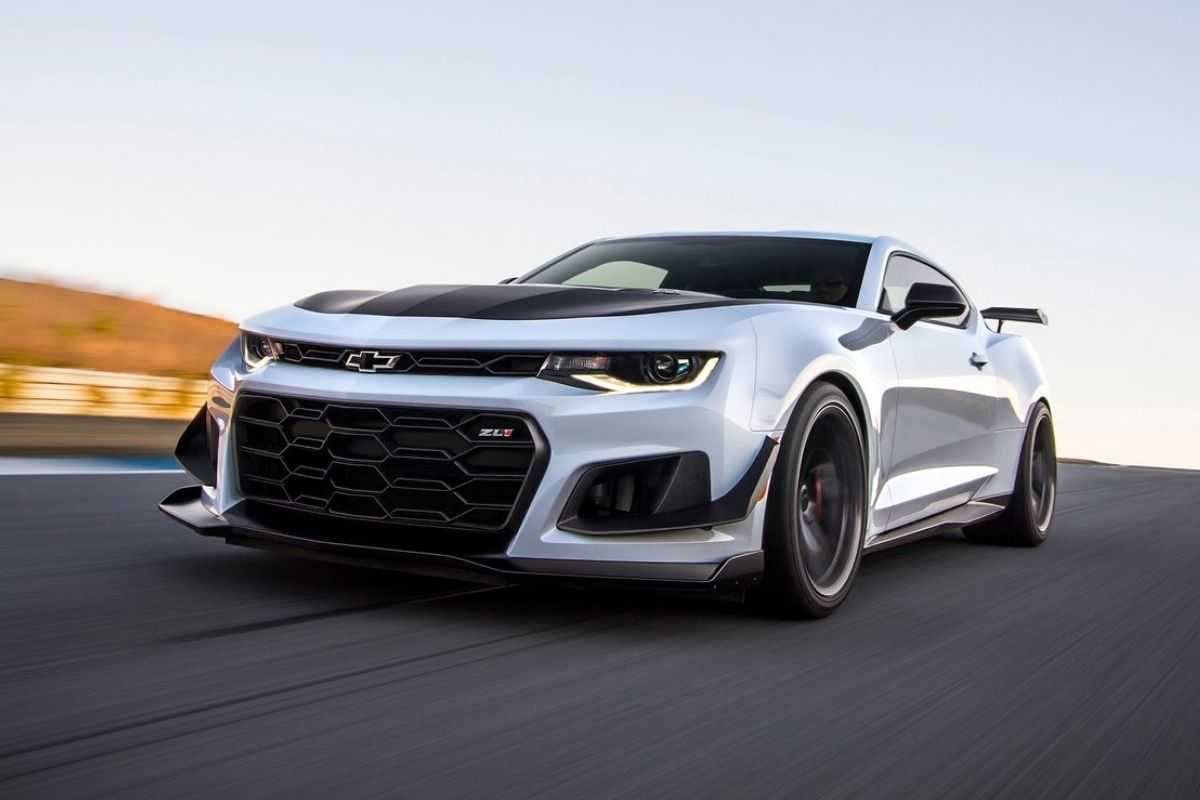 One of the production models that use the LT1 is the Chevy Camaro SS ZL1
While that may be the case, higher compression ratios also have their own advantages. In the case of the LT1 Gen. V, this allows it to make more torque and horsepower. Also, it provides greater efficiency of combustion. Combined with the VVT, this might mean that the newer LT1 might be more fuel-efficient than the LS3.
If we're talking about local availability for LS vs LT engine. Then it might be easier to find an LS1 engine. It's been around longer than the LS3, which in turn has only been available on the 2016-2021 Chevrolet Camaro SS, and on the 2014-2019 Chevrolet Corvette C7.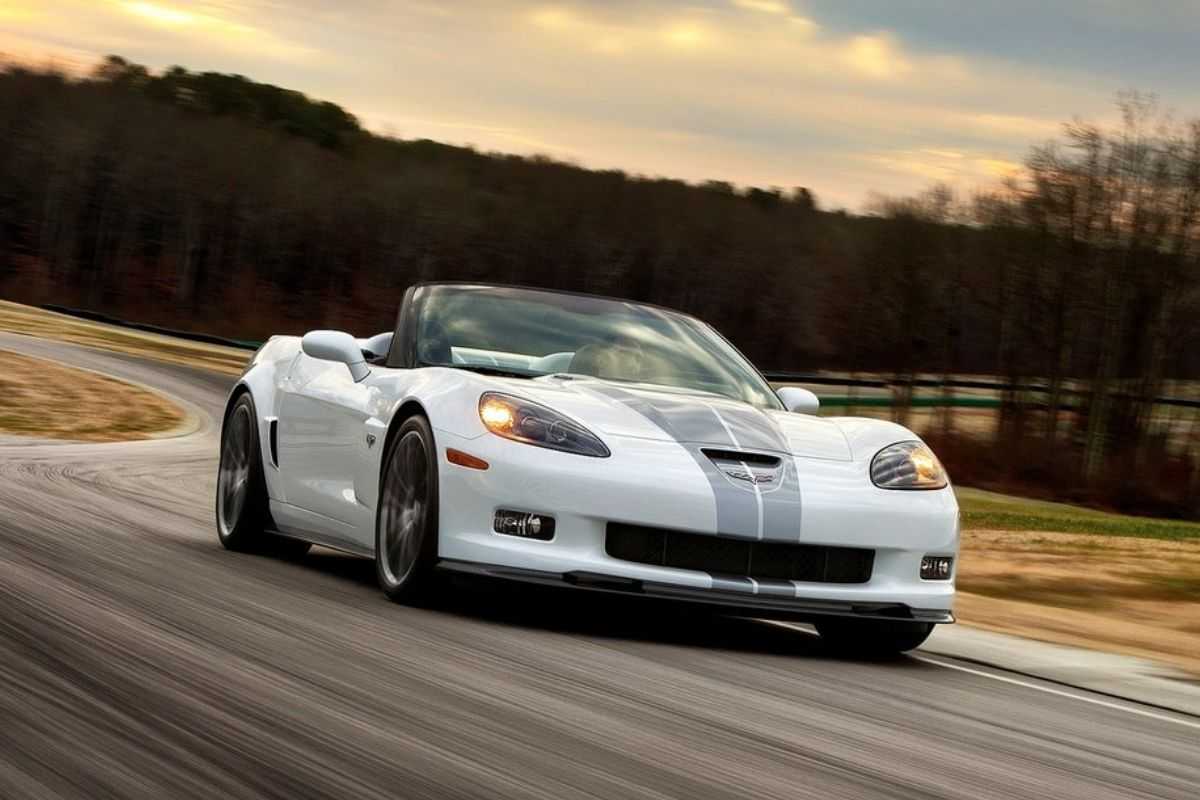 The Corvette C5 uses an LS3 engine. Later on, the Corvette C7 switched to the LT1
>>> Related: 10 most popular car engine parts that you should know
The bottom line, however, both of these engines can be expensive to import into the Philippines even in crate-engine form.
If you have deep pockets though, you can buy a used PH-spec Corvette C7 (equally hard to find) and then scavenge it for its LT1 engine. Just don't let the local Corvette fans know of what you're planning to do.
That is all you need to know regarding LT vs LS engine. For more informative articles like this, keep reading here on Philkotse.com.

Know more about Chevrolet Corvette 2023

The 2023 Chevrolet Corvette is a 2-seater sports car that is now in its eight-generation. It is available in the Philippines in one variant with a price of Php 12,421,888. Under the hood is a 6.2-liter LT2 V8 mid-engine capable of delivering 474 horsepower and 613 Nm of torque. As standard, the engine sends power exclusively to the rear wheels via an 8-speed dual-clutch transmission with paddle shifters.
In terms of dimensions, the Corvette spans 4,634 mm long, 1,934 mm wide, and 1,235 mm, with a wheelbase and ground clearance rated at 2,744 mm and 135 mm, respectively. Locally, this American coupe is comparable to the likes of the Jaguar F-Type, Ford Mustang (GT500), and Nissan GT-R.

Cesar G.B. Miguel
Author