Here's how car guys do it when they say that they'll give their car some TLC.
Showering your car with your love
It's a common saying that drivers are sweet lovers. But while the veracity of that statement can be arguable, what we're sure of though is that car guys are especially enamored by their personal vehicles.
We often get accused of giving for gifts to our car than to our wives/girlfriends, and you know that we think that the people who're saying that might be right.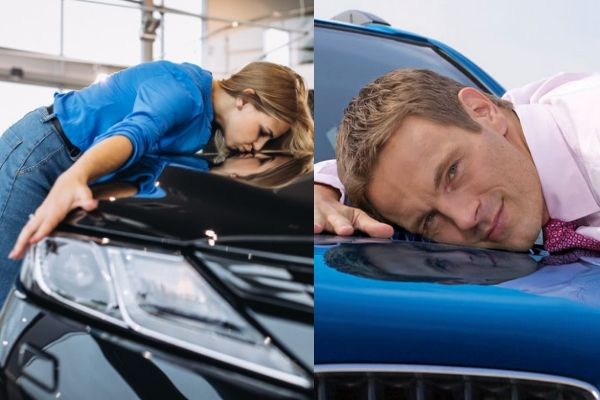 Who needs a GF/BF when you can make love to your car right? Ha ha ha...ha
So how do you give "tender loving" to your car? Through its exhaust pipe? No! You weirdo. It's about "taking care" of your car. Keeping it in tip top shape and making its engine purr like a kitten whenever you go out on drives.
Here are some way car guys do it;
1. Giving it a thorough wash…yourself
As we've said time and time again, washing your car and seeing it gleaming provides you a feeling of great accomplishment. Well…not that great but it sure feels good.
But you know what, it goes beyond your self-satisfaction. That's because, for many people including us car enthusiasts, our cars are an extension of our personalities.
Hence, a perpetually dirty car might be reflective of how slobby you are. We can't help but judge as we're human after all.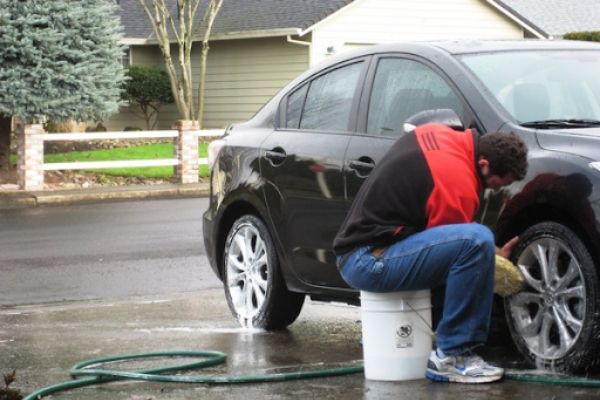 It's a therapeutic experience when its just you, the car, and the suds. Listen to some Enya for the full effect
To get the necessary knowledge on how to wash your own car PROPERLY, do check out our comprehensive guide on how to properly wash and wax your car.
And talking about waxing…
2. Wax and polish
After giving your car a good thorough wash, you'll want to make your car shiny. How do you do that? With the waxing of course! And best of all, waxing doesn't only make your car shiny and restores pride of ownership, but it also protects your car's paint.
For the polishing part, click on our guide to the differences between car polishing and waxing. The two are different from one another with the latter being performed after applying on the wax. For recommended wax brands, click our recommended wax brands. You won't regret it!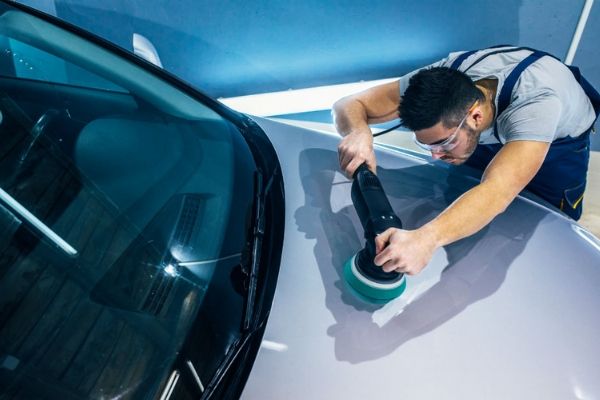 Get a partner who pays attention to you like how this guy is with polishing cars
3. Interior detailing
Like your summit girl, your car should also be clean and beautiful on the outside, and healthy and also beautiful on the inside.
The interior after all is the space inside the car where you spend the most time in when you're driving and a clean interior will certainly help you fall in love with your ride again.
Here are some simple steps to clean your car's interior.
Vacuum out the dirt. If a vacuum isn't available, you can always use a small brush and a small dustpan.
Cleaning hard surfaces like vinyl and plastic. Do this with a microfiber towel to avoid scratches.
Cleaning the leather. There are several methods in cleaning car seats, but generally, we recommend using a microfiber towel, your choice of leather cleaner and leather conditioner.
Clean the windows, again, with a microfiber towel. Not the same one you used to clean the insides of the car mind you. Also, we recommend using a glass cleaner.
>>> Read more: Helpful checklist for car interior cleaning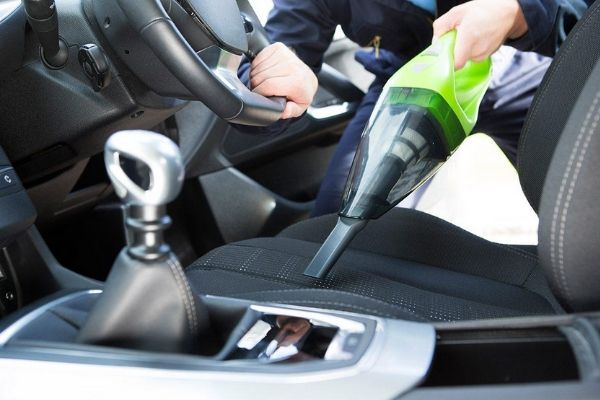 A light, handheld, and small-ish vacuum cleaner will do the job just right
4. Change those fluids
Another thing you can do to show your love for your car is to replace its fluids. Note though that a typical car has many fluids each having their own different replacement intervals. Here's a list the IDEAL change intervals for your car's fluids;
| | |
| --- | --- |
| Fluid | Interval |
| Oil | Gasoline @ 5,000 km / Diesel @ 3,000 km |
| Brake Fluid | Check daily if up to level |
| Manual transmission fluid | 50,000 Km |
| Automatic transmission fluid | 100,000 Km(Depends on model and make) |
| CVT transmission fluid | 50,000 Km |
| Coolant | Every 50,000 Km |
| Power Steering Fluid | 120,000 Km |
5. General repairs and new parts
Now that your car is spick, span, and purring like a content kitten, then you'll want to make it perfect. It might have a few scratches and dents over the years so it's time to address those. Also, removing dents and fixing exposed metal will prevent rust.
For a more detailed guide on how to repair dents yourself, read our article on some common ways for DIY dent removal.
6. New appearance modifications
Now this is where it gets expensive.
As we've mentioned earlier, your car is an extension of your personality. And while models and brands will certainly provide a great variation on the kinds of cars we're seeing on Philippine roads, you'll want to give your car a more personal touch. There are many ways to do this without making it too gaudy.
For wheels, we recommend the stuff from Rota; a local wheel manufacturer who makes kickass wheels that look great and durable all the while keeping their products affordable. They even got the drift king himself; Keiichi Tsuchiya and many other motorsport legends to use their brand.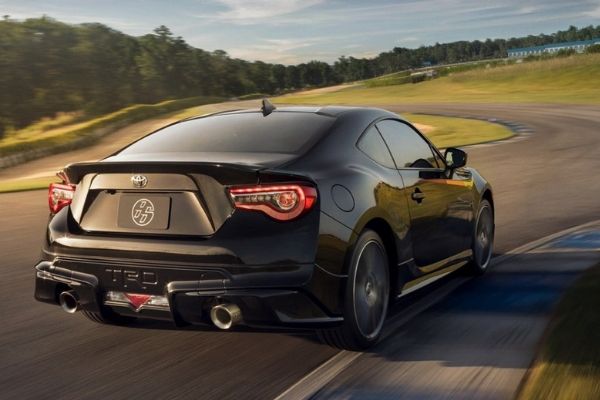 The proper kits will make your car stand out more. Just like this delicious looking Toyota 86
For body kits, this is a bit more subjective. But if it was up to the author of this article, he recommends that you stick with the body kits sold by officially sanctioned sub-brands.
There's Mugen for Honda, TRD for Toyota, Ralliart for Mitsubishi, Nismo for Nissan, and many others. Sure, parts and accessories from those companies might get expensive, but trust us, they're durable and your car will look SLICK.
Check out the updates about Camry TRD and you'll know what we're talking about.
7. Get that car under the sheets
 And finally, we highly recommend keeping your car under a good quality car cover. While some of you might have roofed parking spots, sometimes there are some unforeseen things that will ruin the perfect look of your car. There are insects, birds, your kids, your pets, and for the guys who are parking on the street; the weather.
8. Accessorize!
Get your car some accessories like a backing-up camera, a dash-cam, and a phone holder. Those three are THE most necessary things you'll need to drive in confidence here in the Philippines, especially here in Metro Manila.
>>> Grab your attention: 
Showering your car with love
There are many more ways car guys give love to their cars. Some might even give it names and some even go as far as giving them personalities and unique identities. Google the term "itasha" and you'll see what we mean.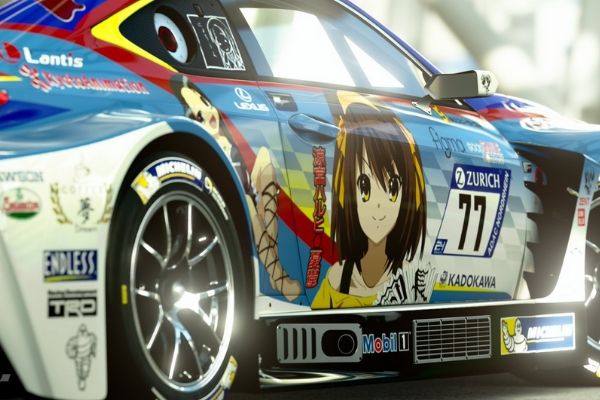 Here's the Lexus RC F GT3 Prototype with Haruhi's smug but cute face
We hope that you enjoyed this article and if you want more car related knowledge, keep reading here on Philktose.com.


Cesar G.B. Miguel
Author