What should you have in your accessory kit to keep your car in tip-top shape?
There are car-care essentials to help keep your vehicle clean, good-looking, and shiny. Proper car care requires using appropriate cleaning products and materials. This means you need to have your own car care kit. Philkotse.com compiles a list of must-haves for your car care kit.
1. Bucket
It begins with a bucket, obviously, for when you're washing your car. Aside from its main purpose of holding water, it can also be the container of your car cleaning materials in between washes.
It is recommended to have two buckets when you have a DIY car wash. One bucket is where the soapy water goes, and the other is for plain water used for rinsing your wash towels.
You don't need to have fancy buckets. As long as the bucket can hold water, that'll do. It's better if you look for the right bucket that is of good quality that you can use for a long time.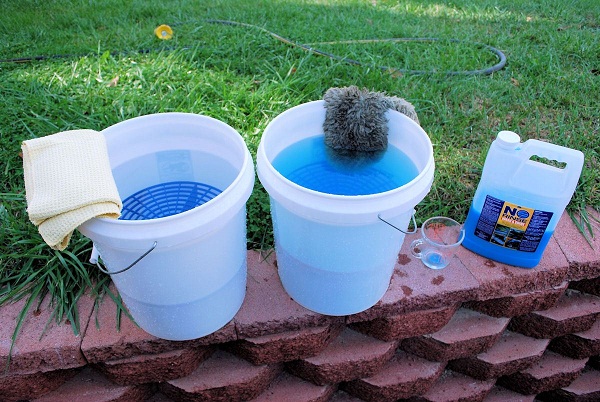 Buckets can also be used to store your car-cleaning materials in between washes
2. Car shampoo
There are some car owners who don't know that cleansing soaps and detergents are bad for their car's finish. The common misconception of most people is that when it comes to cleaning, soap is soap. Anything that can be a cleaning agent or that removes dirt can be used when cleaning.
However, that is simply not the case when it comes to washing cars. There are cleaning materials specially designed for cars. That's why there are car shampoos.
These are designed to clean and shine the car's exterior. Car shampoo is another must-have to be included in your car care kit. Make sure that you purchase the car shampoo that best works for your car.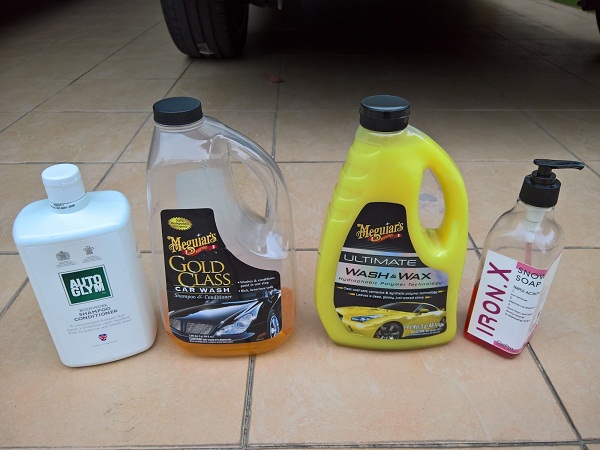 Car shampoo is designed to clean and shine the car's exterior
3. Hose Nozzle
When washing your car using a plain garden hose, it can be a hassle and, at the same time, you consume more water. Why not give your garden hose upgraded rinsing power by using a fire hose nozzle or power wand? Using it will allow you to rinse your car more effectively. So, add that hose nozzle in your must-have list.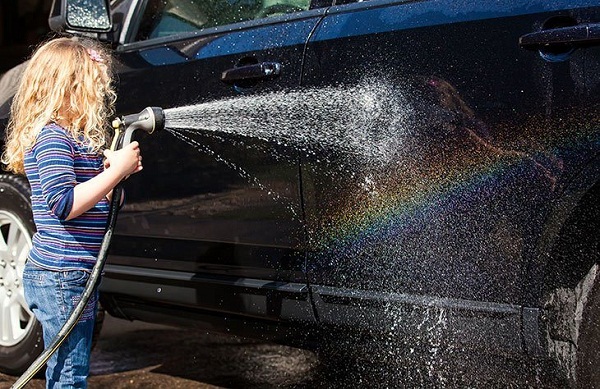 DIY car wash is easier with a Hose Nozzle
>>> Must read: DIY car cleaning tips: Top 7 car wash equipment for drivers in the Philippines
4. Grit guard
The grit guard is a small plastic screen usually placed in the soap bucket. It's very useful because it removes dirt and grit from your sponge which might scratch your car's finish the next time you use it.
Just scrub the sponge against the plastic grit guard. There are also car washing buckets designed for car cleaning that already come with a built-in grit guard. But you can still buy one and add it to your plain bucket.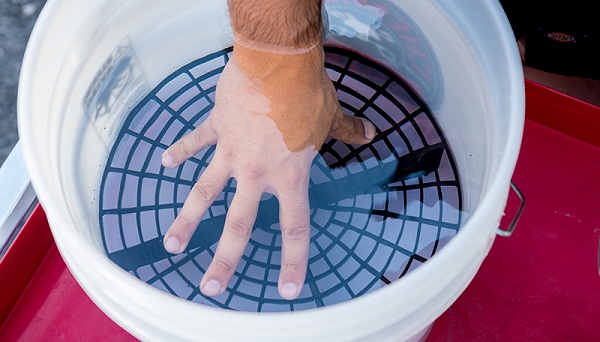 The grit guard is a small piece of the plastic screen usually placed in the soap bucket
5. Washing Mitt
For better car cleaning and to preserve the car paint, consider using a good-quality washing mitt. It can hold lots of soap and is great for the car's paint and exterior. It's much more preferable to use a washing mitt rather than your old towels. It will also provide a professional level of car cleaning.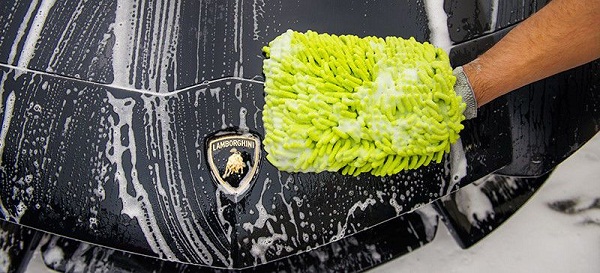 For better car cleaning and to preserve the car paint, consider using good quality washing mitt
6. Wheel brush
Every car owner's problem when washing his or her car is addressing hard-to-reach places, especially the wheels (which can get very dirty). It's a good thing that there are wheel brushes that will help you efficiently remove grime and dirt.
Remember, of course, that your cleaning tool for the car's exterior shouldn't be used on the car rims and wheels.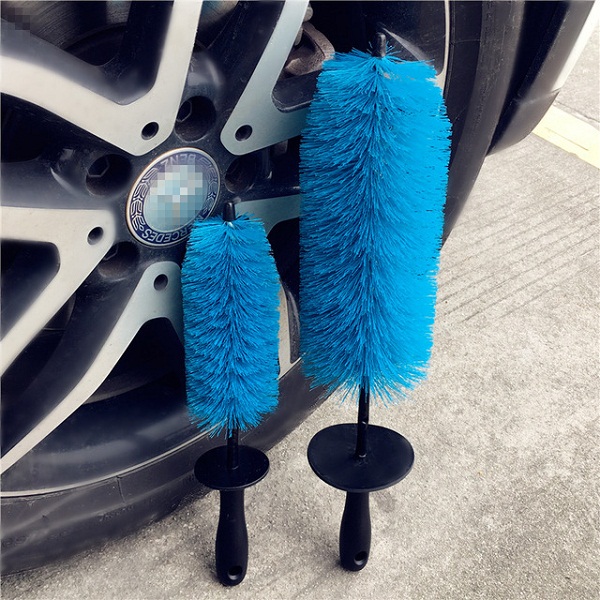 Wheel brush will help you efficiently remove grime and dirt
7. Car Wax
For finishing touches and polishing, car wax is commonly used. Include your preferred brand of car wax in the must-have list to include in your car care kit. If you want, you can look for car shampoos that already contain wax.
Proper use of car wax should be done to get the best results. if you're new to using car wax, always refer to the instruction that comes with its packaging. There are also lots of car wax brands, so it is best to research for the right car waxing products that will best suit your preferences.
>>> Also check out: Car Waxing, Detailing & Polishing: What's the Difference?
8. Microfiber towels
Microfiber towels are useful for a spot-free cleaning o the car's interior. This kind of towel is the perfect drying tolls. Compared to other types of towels, microfiber towels don't have hard and sharp textures and won't cause scratches on the car's finish. In addition, it is also very absorbent and very effective in removing all excess water.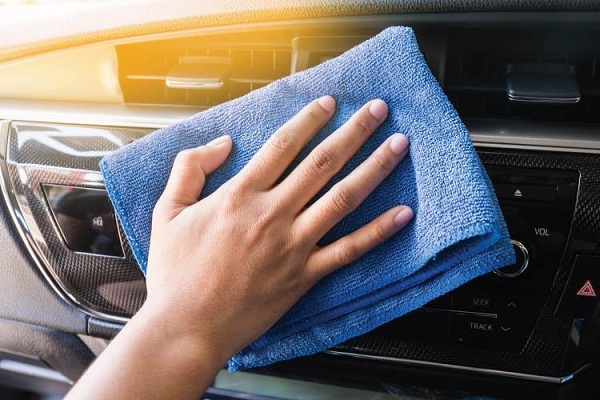 Wipe your car with a soft cloth
>>> For your further reference: 4 simple tips to keep your car interior clean and tidy
9. Glass cleaner
For a more thorough car cleaning, it's a great idea to add an anti-glare window cleaner to your must-have items in the car care kit. This glass cleaner is specially designed for car windows.
There are also products for window treatment used after car washing. It helps in beading up water on the car's windows so they roll right off. It also takes the grime with it.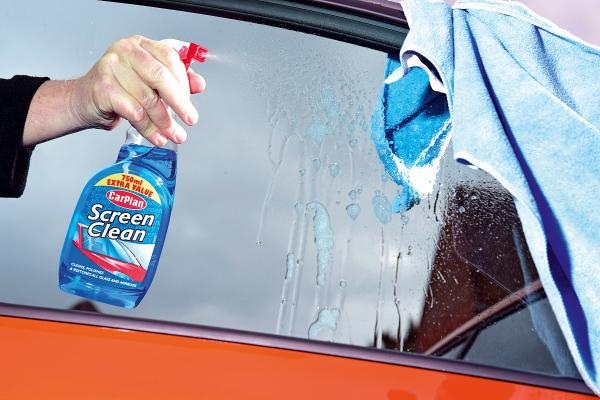 Treat your car window well after washing
10. Vacuum cleaner
Car care should not only focus on the exterior. The interiors should also be maintained as well. A dust buster or car vacuum cleaner is a very useful tool in quickly cleaning and keeping the seats and carpets crumb and dust-free.
You'll find different types of car vacuum cleaners in shops and department stores. Make sure to purchase dustbusters of good quality designed for long-term use. A vacuum cleaner is an ultimate must-have in your car care kit.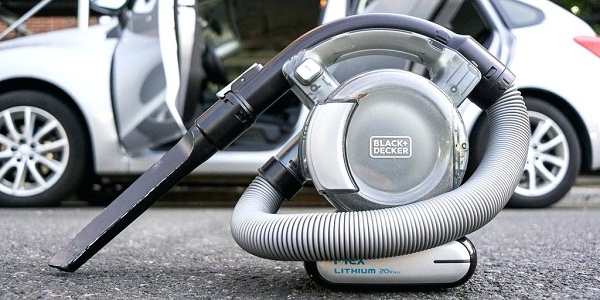 A dustbuster or car vacuum cleaner is a very useful tool in quickly cleaning and keeping the seats and carpets crumb- and dust-free
Your car-care kit will ensure that your vehicle is in tip-top shape to promise you and your passengers a pleasant experience and contribute to keeping the automobile's resale value high. There will be times that we'd rather have it bathed in the neighborhood car wash because of our busy schedule.
However, the car wash bills can add up quickly, which is why it is more advisable to have your car washed at home.

Hanna Sanchez
Author
Hanna is one of the most competitive swimmers in the country during her day. It was not long before she discovered her passion for the automotive industry as well. Nowadays, she balances her passion through writing as well as coaching.