Keeping your car spotless and organized is easily done with these dos and don'ts. Philkotse.com will show how to do it!
Owning a car is not only the aspects of driving, repair or maintenance but other vital chores too. Problems of how to keep the car interior are hurdle. And when it comes to keeping the passenger compartment clean and organized,  it might be a worsening grade!
Yes, many are guilty of that; but it can't be helped at times. For example; stuff that makes the interior compartment littered are kids, going in and out of the vehicle, and eating.
Some major contributors to create a mess in the car:
Dust and impurities can cause respiratory problems for some individuals, like Asthma which can be inconvenient.
A clean car is presentable; especially the passenger compartment which is kept immaculate by clean freaks!
Cleanliness is next to godliness which means a clean is better than dirty.
If there is no effort to organize the car; everything will be askew and look messy!
Keeping the interior compartment spotless will help to minimize odors.
Therefore, car owners should make all effort and time to organize and clean the compartment regularly.
I. Essential cleaning equipment
1. Feather Duster
This will come in handy when dusting off; large surfaces like the dashboard and the seats even parts of the rear bay compartment. This is better than using a cloth which could spread the dust over other surfaces in the car.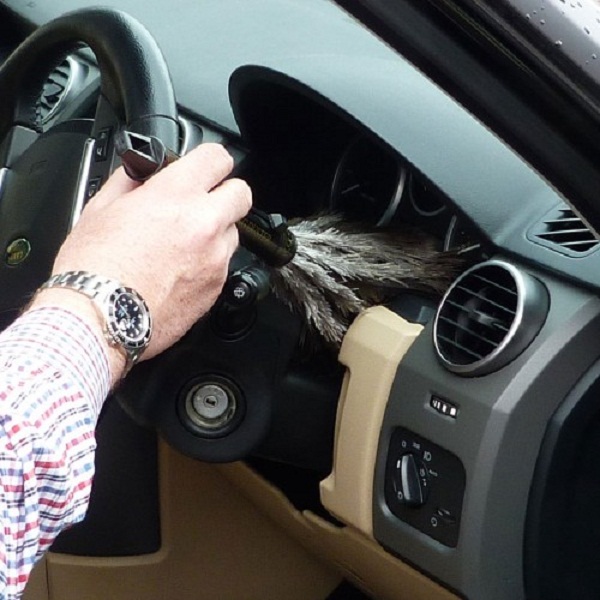 A feather duster is better to wipe the dust 
2. Kick Mat
This is useful when there are kids in the car; who like to kick the back of the seats. Toddlers in car seats and older kids who are just plain naughty. Other uses for it can be covering parts of the seat.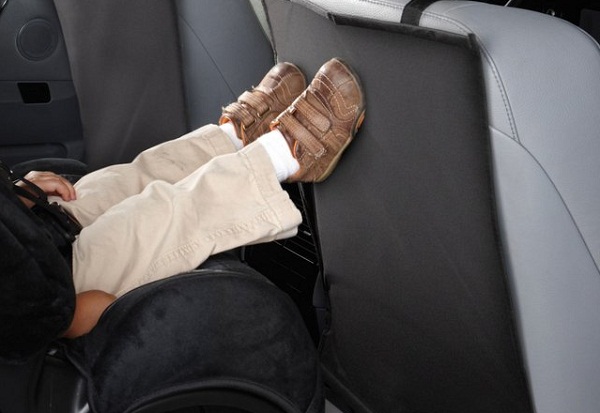 Kick mat is highly recommended when traveling with kids
3. Detail brush
Get a good detail brush with thick bristles to clean the seats with. If pets ride the car to the vet; there might be hairs all over.
4. Cleaning Cloths
Have more than enough cleaning clothes ready to wipe the seats with, or any surface that will need more than a feather duster. Dampening the cloth to wipe all surfaces, and used to apply armor-all protectorant is a smart move.
5. Handheld vacuum or vacuum cleaner
This is important because it sucks up dust better; even those that are hard to reach! After wiping and brushing; use the vacuum to finish the job! It better to get a hand-held vacuum with a portable battery and can be plugged in any car outlet.
Hand-held vacuum cleaner
6. Air freshener
Old cars will not have that new car scent that everyone loves. Choosing a nice scent that is attached to the louver vent will spread the smell much faster.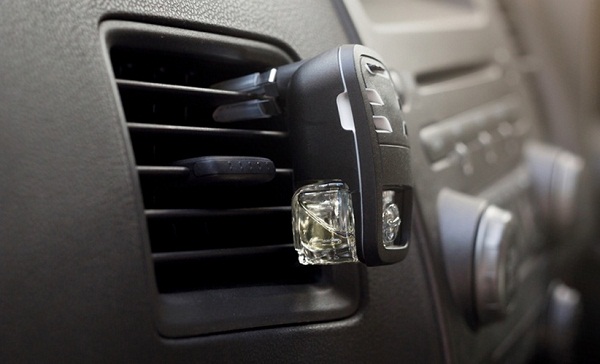 Air freshener will spread nice smell inside your cabin
7. Wipes
Optionally, using a wipe makes practical sense when there's nothing to damper the cleaning cloth. Keep wipes in a handy container for easy access, when cleaning or some other purpose.
8. Fabric shampoo or soap with a toothbrush
This is the trickiest part because it involves manual labor and using a brush to wipe off the most demanding stains or otherwise.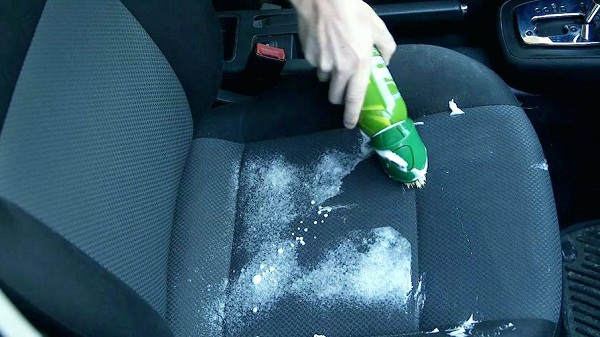 A fabric shampoo can wipe off the toughest stains 
9. Squeegee
Here's another trick that needs a squeegee and soap! When pet hair doesn't come off; it should be removed by dampening it and use the squeegee to remove the hair. Use a cloth to dry it after.
II. Equipment for organizing everything inside the car
1. Cereal box
Get any disposable plastic cereal box to put in all trash and mess. This will lessen trash inside the passenger compartment especially when kids eat in the back.
2. Waterproof backseat cover
Okay, sometimes pets may pee or scatter slobber all over the back seat. Use the waterproof back seat cover to protect it from getting messed. Especially if the vehicle is a car; that has no rear bay.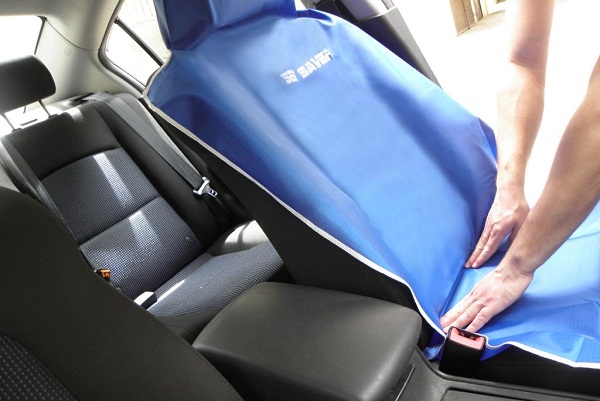 Waterproof car seat cover prevents your car from getting dirty with scatter slobber
>>> Read on useful tips on choosing best car seat cover in the Philippines 
3. Car seat organizer/ Expandable trunk organizer
Use these organizers to place important and useful items systematically. Randomly placing items in the back or just having no place to put it is messy.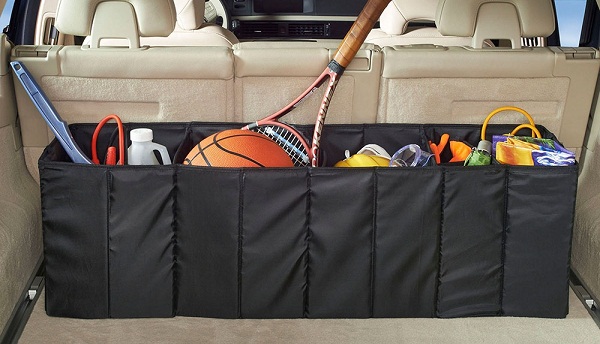 Expandable trunk organizer
4. Headrest hooks
This is most useful to hang bags or grocery bags that contain some items that are needed. It can be a supplementary to a car seat organizer as well if there isn't enough space in the pockets.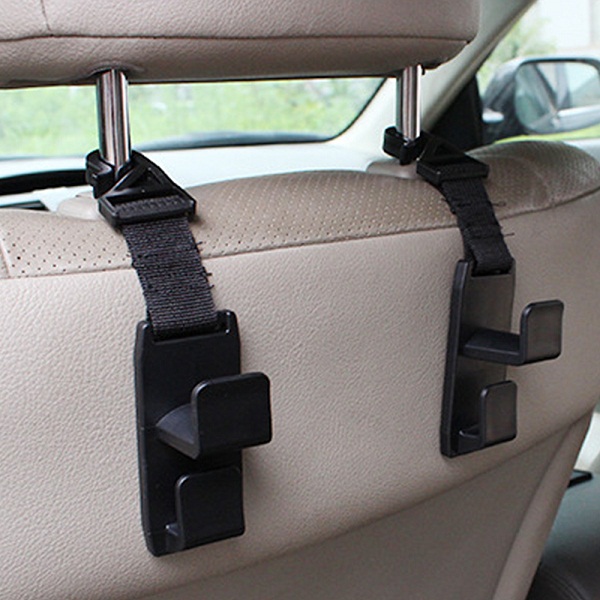 Headrest hook is useful to hang bags or grocery bags
5. Plastic caddy
Us the plastic caddy to hold anything like food or any item; especially when on road trips when several of them will come in handy.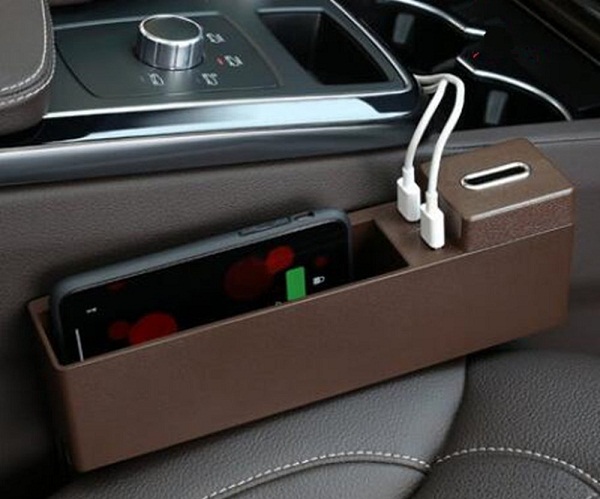 A plastic caddy can use to hold the phone when charging
III. What we shouldn't do to keep the passenger compartment clean and organized?
Don't throw anything in the car; place it in the designated trash receptacle.
Make cleaning a regular thing, and keep the interior especially presentable.
Put everything back in place after using, or the organization will be messed up again.
Never forget the kick mat when young kids are riding the car.
Never fail to check for any items that get trapped in hard to reach areas.
Don't take it for granted that all the mess is cleaned up!
All these do's and don'ts aren't ironclad, but keeping the passenger compartment clean and organized is a good idea for neat freaks and a peace of mind too. Everything is basic and easy to follow; just remember that everything is optional. Preferences are optional and should depend on personal choice.
>>> Get more helpful car tips and advice on Philkotse.com


Norjan Ismail Abbas
Author