How to choose car seat cover in the Philippines [Essential Tips]
Can't come up with the best car seat cover in the Philippines for your lovely car? Let us help you with that.
"You are what you wear" and how you dress up your car also reflects your personality. All car owners want to make their "buddy" appealing and attractive with aesthetic car accessories. Some of these are only optional, while others are indispensable.
Car seat covers are one of the accessories widely used by car users these days. They are good at protecting the seats' condition as well as increasing the convenience and practicality of your seats.
However, purchasing car seat covers in the Philippines is a daunting task especially for those who have never done this before. Being well equipped with the crucial information that should be taken into account when picking out the car seat covers.
In this article, Philkotse.com has prepared essential tips and recommendations to help Filipino drivers make the right decision every time.
How to choose the right seat cover for your vehicle
I. Benefits of using car seat covers
Equipping auto seat covers brings many considerable benefits for both the cars and the car owners.
To begin with, the major function of these accessories is to cover and protect the seats from unexpected damages or dirtiness. Thanks to the covers, your seats can avoid the pain caused by cleaning supplies and tools.
Seat covers are normally made from long-lasting materials, becoming the safe solution to the bad effect of spills, UV damage, and debris, plus consequently extend the durability of the original seats. Therefore, this is a great choice for car owners who wish to keep their car resale value at the highest.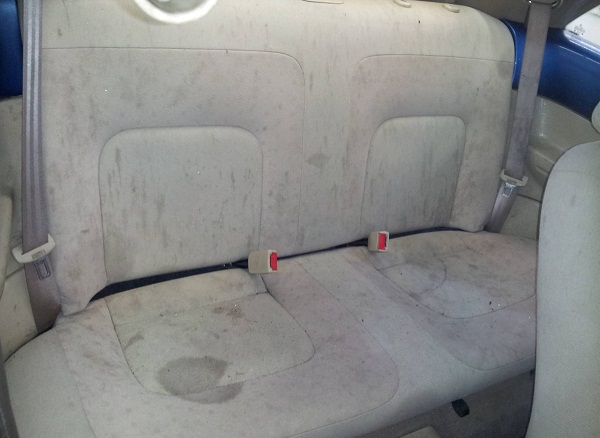 Seat covers can protect your cars from unexpected damages or dirtiness
Additionally, car seat covers can improve the convenience of driving experience. These useful car add-ons efficiently adjust the cabin's temperature, whether you are driving in extremely cold or hot conditions. In fact, leather car seat covers are able to absorb the heat and make the interior warm enough in the winter.
Another advantage of opting a car seat covers is to add an elegant decoration to the cabin, especially when the drivers are not satisfied with the default patterns and colors inside their cars. Filipino car enthusiasts can easily customize car seat cover design based on their taste, style, and personality.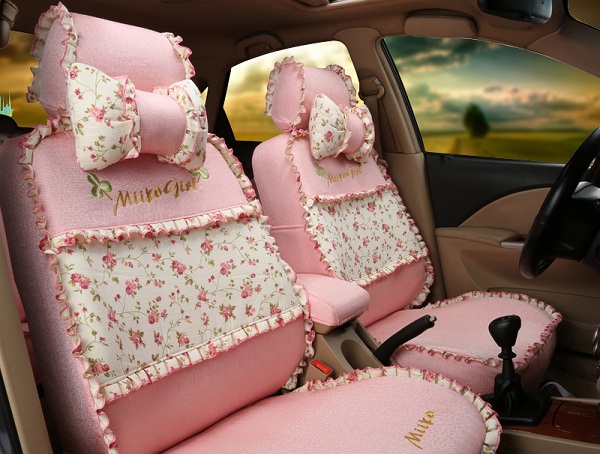 Customized car seat covers make your car's interior attractive and appealing
II. Features to consider when choosing seat covers in the Philippines
Considering the best seat cover for your car is not a simple task. There are many factors that you should examine carefully before grabbing the suitable auto seat covers.
1. Materials
The fabric used for car seat cover is the critical feature to consider when selecting one. Like car seat material, there are various types of material used for car seat covers. It is recommended that you should choose the right one depending on your habit and country weather conditions.
The table below presents a deeper look into the Pros & Cons of each material:
Pros and Cons of different car seat cover material
Material

Pros

Cons

Leather

- Decent protection

- Luxurious and elegant look

- Hot during summer

- Can not absorb spills

Suede

Affordable price

- Not resistant to UV

- No waterproof

Ballistic nylon

- Great protection against UV

- Very durable

Uncomfortable

Neoprene

- Exceptional waterproof

- Great for outdoor drivers

- Sporty

Difficult for the seat to breathe

Saddle blanket

- Warm and durable

- Western look

Not available for all style

Sheepskin

- Very comfortable

- Best option for cold weather

- Luxurious material

Very expensive
2. Quality
When choosing the right car seat covers in the Philippines, quality is always one of the first concerns. The higher the quality of the cover is the more comfort it brings to the drivers.
Among tons of car seat types and materials out there, neoprene is advised to use because of its sporty look, tight fit, waterproof ability, and reasonable price.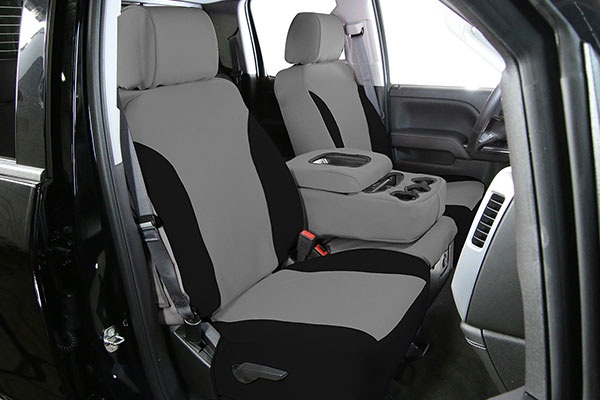 Neoprene is advised to use because of its sporty look and tight fit
3. Car size
Today, most manufacturers offer different models of seat covers that fit particular vehicles. It is important to have the make, model, and seat types of your car on hand so you can acquire the most compatible covers that work perfectly with your car and give it a whole new appearance.
Fortunately, you are capable of picking between the universal car seats cover or customized car seat covers in the Philippines.
4. Other additional features
In fact, it is challenging to recognize and mark off which cover is better in the market if examining only based on basic factors. Therefore, additional features such as water resistance ability, durability, and ease of cleaning or odor control should be taken into consideration. Do not hesitate to ask the retailers about these extended qualities to watch out for a high-quality seat cover, allowing an authentic and elegant look to your car.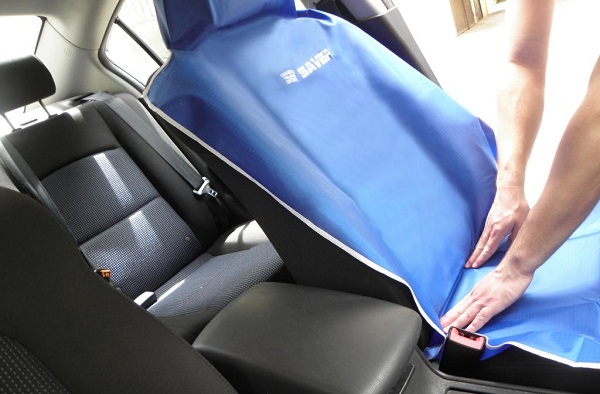 Water-resistance is one of the additional features should be taken into consideration when choosing seat covers
III. Places to buy the best car seat cover in the Philippines
1. Shop around Banawe Street
As Filipinos, you might be familiar with Banawe Street, a famous place for auto supplies and accessories stores. With various kinds of car seat covers for sale, shopping around different retailer departments, you would surely carry home your favorite one.
However, make sure to do your own research before arriving there. This way, you have an in-depth comparison of each option in the list; for example, leather seat cover price compares to suede seat cover price.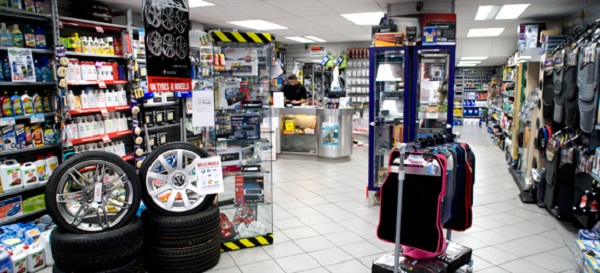 Shopping around different retailer departments, you would surely carry home your favorite leather seat cover in Banawe
2.  Online shopping
Shopping is becoming easier than ever with the development of an E-commerce website. There are many different online shops where you can purchase car seat covers, ranging from car seat cover specialists to generic auto part stores.
That said, you only need to type your desired items for your car such as these terms "wigo seat cover", "avanza seat cover", "innova seat cover"... and get easy access to an impressive list of available items.
Lazada and Shopee are definitely good places to browse thousands of models and allow users to get a good deal easily. Here's a list: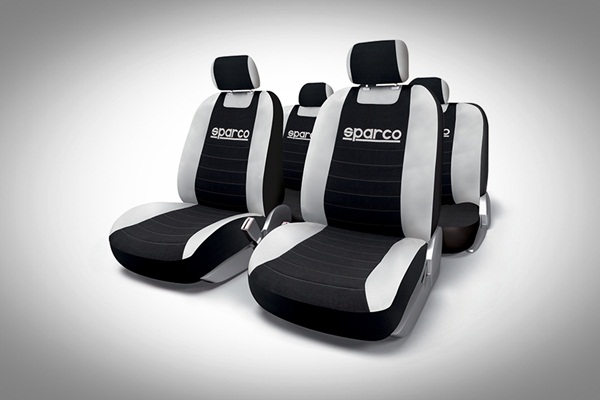 Sparco SPC1014 Seat Cover (Gray/Black)
Top car seat cover to buy online in the Philippines
1. 9-Piece Car Seat Cover Set with Headrest
Usually, we don't recommend universal car seat covers, but this particular one is actually compatible with several makes including Toyota, Honda, Nissan, Mercedes-Benz, Mitsubishi, Ford, Hyundai, Suzuki, Chevrolet, Isuzu, and Subaru. Do note however that this set is for five-seater cars only.
These are also very easy to install and remove, and best of all, they're machine washable too. They're made out of 100 percent polyester and we all know that that kind of material can withstand a lot of use.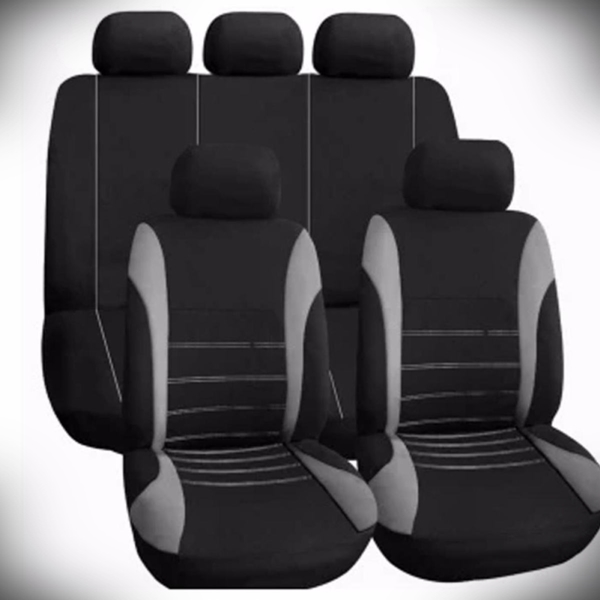 Pros

Cons

Made out of sturdy polyester
Very affordable
Easy to install

Set is only for five-seater cars
Limited color choices (Red and grey only)
2. Premium Car Seat Cover Knitted Fabric Mesh Composite 9 Piece Set
This is another premium seat cover that comes in a set. It's also made out of polyester, has a 3mm thickness, and can fit all standard car seats. Unlike the previous ones, however, the fabric of this set is grippier thanks to its unique texture that helps you stay planted on your seats. The package includes two for the front seats, five pieces for the headrests, one backrest, and a single piece for the rear seat.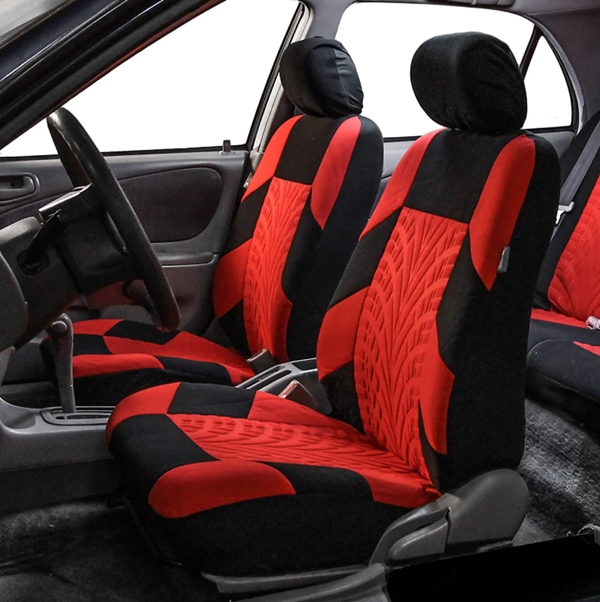 Pros

Cons

Durable Polyester
Grippy felt like texture
Comes in a set
Very premium looking

Pricey
Might be susceptible to damage caused by liquid spills.
3. Hello Kitty Car Seat Cover
Despite being made out of simple fabric, these Hello Kitty-themed car seats are well-made and will provide a predominantly pink and girlish feel to any car interior. A single package does not include five-seat covers, but also a steering wheel cover, a neck rest pillow, a gear shift cover, seatbelt straps, handbrake cover, and five headrest covers.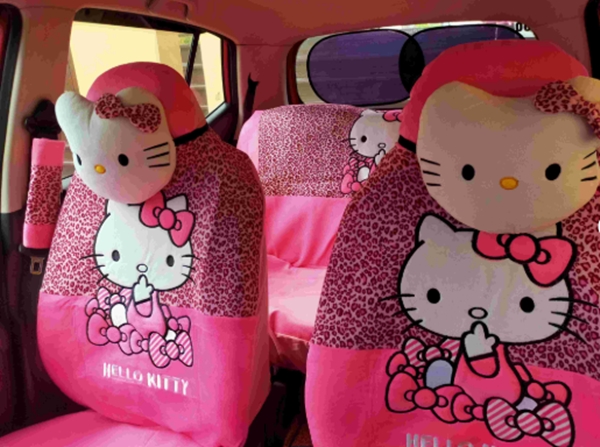 | | |
| --- | --- |
| Pros | Cons |
| A very comprehensive car interior accessory package for its price. | |
4. Universal Breathable Faux Leather Car Front Rear Seat Cover Pad Mat Cushion
If you can't be bothered to take the time to slip in an entire car seat cover, then this might be up to your speed because all you have to do is to place it over the seat. Despite its simplicity though, this car seat is flameproof, anti-static, and is actually a bit resistant to moisture. Available colors are beige, brown, coffee, grey, and orange.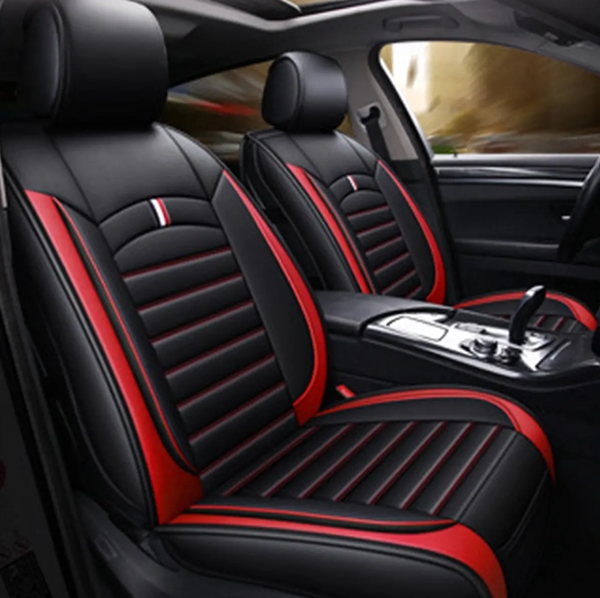 Pros

Cons

Very easy to install
Flameproof, water-resistant, and static-resistant
Can fit a lot of models

Color choices
Does not cover the entire seat
5. Universal Car Front Seat Mat Covers PU Leather Breathable Cushion Pad
Unlike the previously listed car seat cover, this product actually has padding and is made of a more durable, yet breathable artificial polyurethane leather. PU Leather is of course, more resistant to sharp objects, and at the same time more resistant to stains from spills. And yes, these ones also have storage pockets for the rear, comes in five color choices, and is textured to give that premium leather feel. Note that this does not come in a set.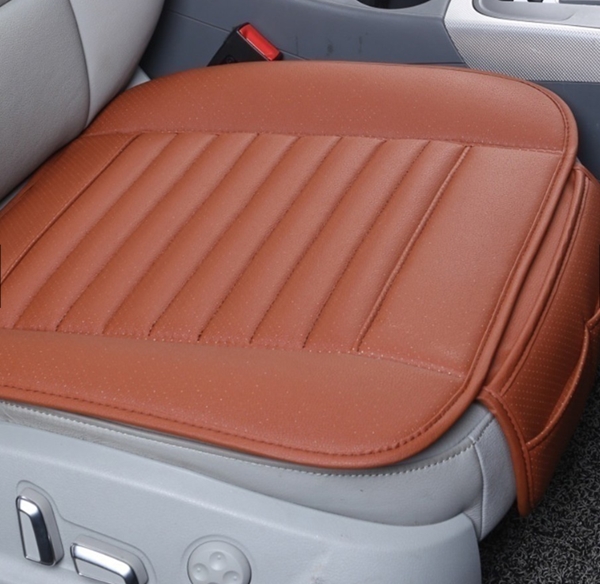 Pros

Cons

Made from textured PU Leather
Provides extra storage via back pockets
Premium looking
If you want to check out more recommended car accessories, keep reading here on Philkotse.com.

Author
Cesar learned how to drive a car years before he got his license. Today, he's still looking for that perfect '90s Japanese coupe to drive into the sunset while listening to Crazy Little Love by Nuage. Also has a thing for badass off-road vehicles and weird engine swaps.