With the help of these second hand car interior upgrade tips, it would feel like you've got yourself a brand-new car!
In the Philippines, owning a car has become a necessity for most citizens, especially those who have on-call and shifting jobs since they are required to reach their destination as quick and safe as possible. Of course, not everyone can afford a brand-new car, but fortunately, pre-owned vehicles are being sold in massive numbers nowadays. The better news is that you can actually do a second hand car interior upgrade to make the car look new as well as give it some personal touch.
No, we are not talking about the usual car seat cover changes and GPS system installations since those upgrades would be costly. Knowing that you've just spent a good amount of money in your car, we understand that the next thing you want is to spend more money. As such, Philkotse.com has collected some of the best interior upgrade ideas that will only cost you a minimal amount as well as those that you can do on your own or with just a little help.
Five Affordable and Simple Car Interior Hacks
1. Install a Welcome Light
Welcome lights, also known as logo and courtesy lights are new additions to modern car models and they have replaced the reflector lights that have been installed in older models of cars. In fact, some cars don't even have any form of lights installed in the door. These welcome lights are designed to light up and project the car brand's logo when the door is opened. How cool is that right?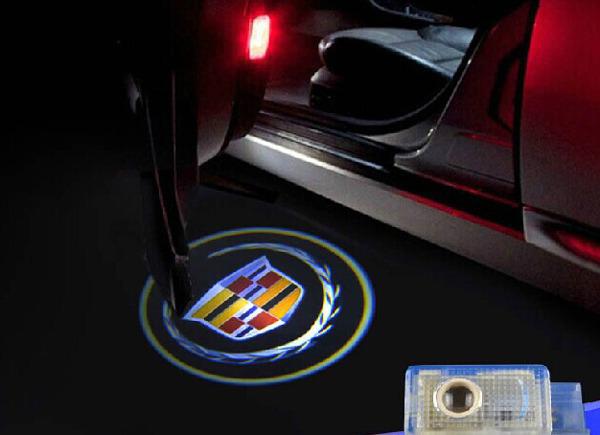 Welcome light in action!
Definitely, not everyone has the skills to install any form of systems with wires as well as the guts to open any parts of the car interior. Fortunately, there are already available wireless, logo LED lights that can be bought online and offline, and they would cost you around less than a thousand pesos per pair.
Additionally, they are very easy to install since they usually come with sticky backs that you just need to attach in place. Just make sure to follow the manufacturer's instructions carefully. Also, for it not to look out of place, choose a welcome light that has the specific logo of your car's brand.
>>> Related: 10 amazing uses of old tires you can try at home
2. Hide Old Scratches with the Help of Vinyl Wraps
You would expect that second-hand cars won't be in their 100% great condition because they have already been used before. The dashboard, trim, and other parts might have some light scratches that might or might not be visible enough. What you can do is purchase a vinyl wrap, which is extremely affordable, and cover up those unwanted sights.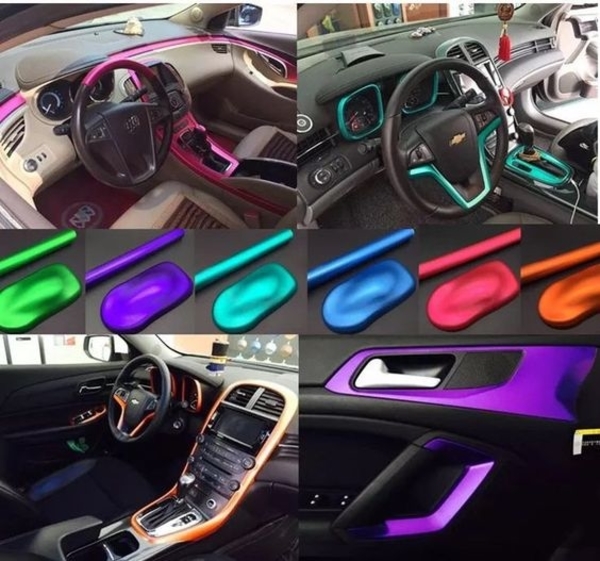 How car vinyl wraps look once installed
What is more exciting is that the wrap would also upgrade the style of the car interior, especially since these wraps are available in different colors. Installing vinyl wraps though is quite time-consuming, and at times, you might be required to detach the parts that need wrapping so that you can properly attach the vinyl material. Nonetheless, there is a simple hack that you can do so that you can have the vinyl placed without going through the usual process.
Here's the video:
Tracing the exact shape of the car part to be wrapped
3. Make It More Gadget-Friendly
Today, gadgets are must-have items not just for communication purposes but also to assist you in driving with the help of navigation apps. More often than not, you would buy a second-hand car that does not have built-in GPS. So, your only option is to use your phone or tablet, but you must also be careful since it might become a form of distraction and lead to an accident.
You must also be aware of the fact that the placement of the car gadget should be in accordance with the new Anti-Distracted Driving Act Philippines. With that said, it would be best to go for small, magnetic phone holders that you can easily install anywhere in your car. It will not just occupy too much space but will also make sure that you won't be violating any laws.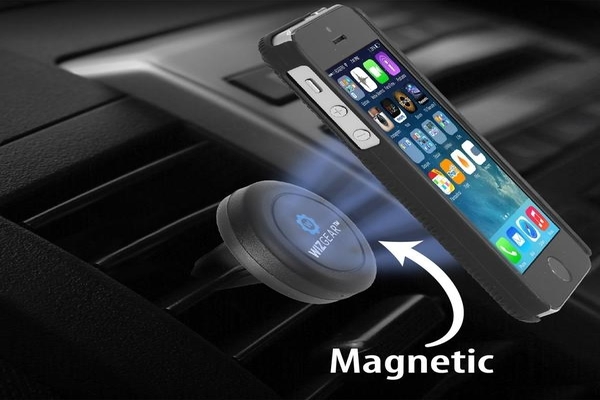 Magnetic CP holders are best as any model can fit
Apart from cell phone holders, to make your second-hand vehicle more gadget-friendly, adding more USB ports would be a great idea. When you shop around stores that sell car interior accessories, you will find plug-in units that have two or more USB ports, and the best thing about them is that they just need to be attached to your car's cigarette lighter socket.
4. Add Some Bling-Bling
One of the best car interior upgrade ideas that will surely catch the attention of female car owners would be the addition of a bling-bling. They are usually called door lock and gear accents and are embellished with rhinestones that will surely make your second-hand car interior look like a million-peso baby. Although they are easy to install, they are somewhat hard to find in the Philippines market, so you might need to order them online.
Samples of car interior accents
5. Wire Up Some Interior LED Lights
Adding some bling-bling might be more of a female thing, so this next hack would be more of a male thing, but of course, some females would also love this idea as this will provide car interior ambient lighting.
This interior LED lights can be bought anywhere and the cost would depend on the brand and quality of the product. The only problem with this hack is that it requires a little handy and electrical skills, so if you are a novice, it would be advisable to seek the help of a professional or a relative or friend who can do it. If your car's interior lights suddenly stop working, check out our article on interior car lights not working.
Nevertheless, the product will come with clear and detailed instructions, and if you need something that can visually guide you through the process, we've found a thorough and helpful video for you:
How to install interior LED lights
Second Hand Car Interior Upgrades Don't Have to be Expensive
Whether you bought the best-looking second-hand car or an ordinary one, making it look new, customized, and unique is never that difficult and expensive. In fact, you don't even need to have it reupholstered by professionals since all you have to do is add some glitz and glamor by following the second hand car interior upgrade tips and tricks that we have discussed here on Philkotse.com.
Of course, you don't have to apply all of them. Just choose those that would work for your needs, lifestyle, and personality. Best of luck and happy upgrading! Don't forget to visit our website frequently to update with useful car maintenance tips!


Charisse Kim
Author