A used tire could be your next house table.
At some point in time, you will have to replace the tires of your car mainly for safety purposes. An old tire can result in a blowout that leads to unwanted accidents. Tires do last for a long time, with an estimated lifespan of about six years. This still depends on how you drive your car daily.
Right after replacing your tires, these car components end up as a landfill. Some are even burned which can lead to serious effects on the earth's atmosphere. As you might already know, inhaling burned rubber is extremely harmful to our health such it contains carbon monoxide and cyanide.
With that being said, we have listed down 10 ideas you can make uses of your old tires at home. Not only will this save you some money from buying certain furniture, but it will also help the world become greener. The following ideas can be done at home using simple tools.
1. Swing Tire
A swing tire is one of the most common ideas when recycling a tire. Using a tire for a swing is a good idea considering that it comes with a gap in the middle where your back won't feel stress. All you need is a chain or a rope, depending on the availability, and find a firm tree to position your swing tire.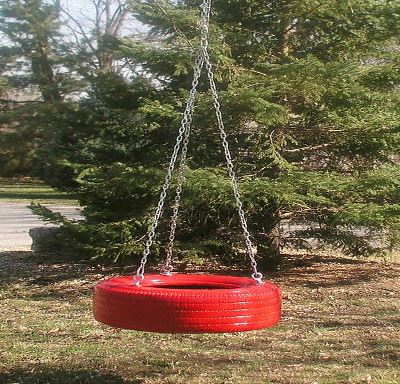 It is not unusual to spot swing tires [Photo: Debbie Williams]
If you don't have a tree in your backyard, then you can set up brackets made from recycled metals or woods. Be sure to measure the diameter of your recycled tires so you could determine the length of the metal or wood you will choose. You can also use a long metal or wood so you can build two swing tires.
2. Plant Tire
With the rise of growing plants in the country, you can never go wrong with a plant tire. You won't need a proper pot just to grow plants. A simple and old tire that you used from your car can help you grow the plant that you probably found on the internet or shop.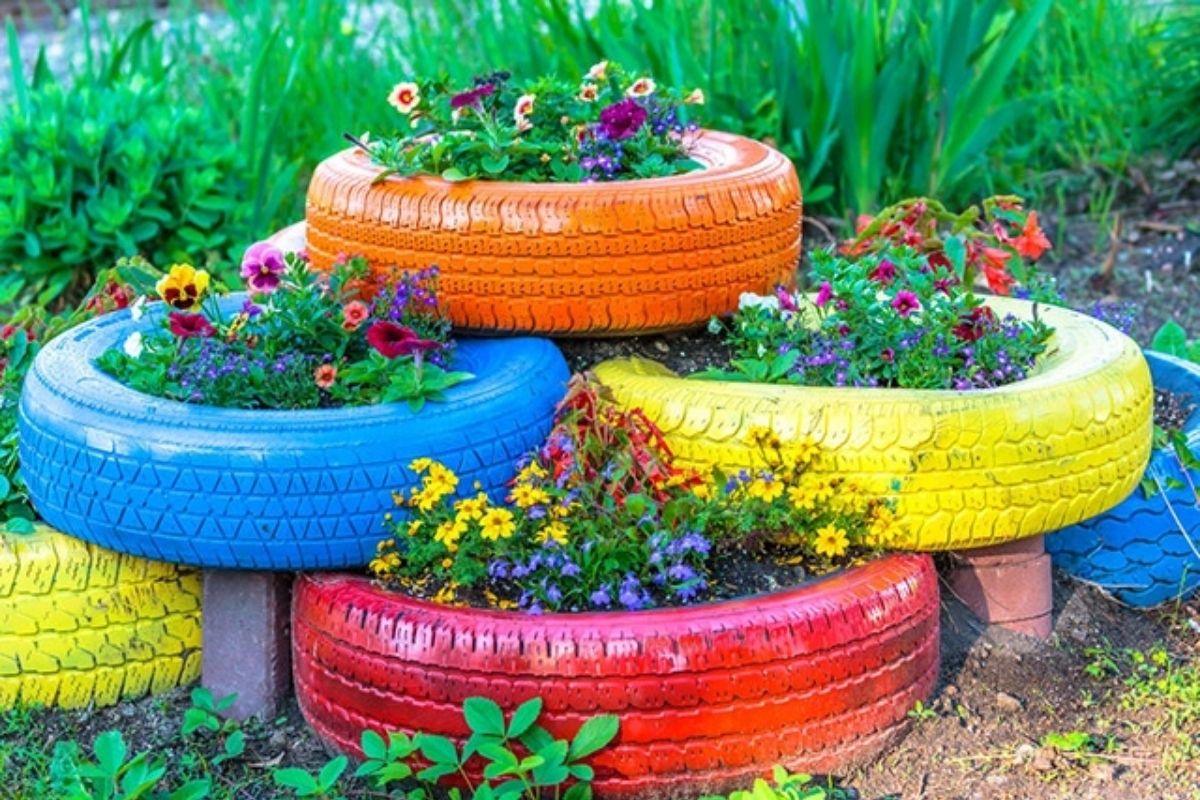 For Plantitos and Plantitas out there [Photo: Backyardboss]
The only costs that you have to think of are the types of plants and soils you will put in your tire. Prices can vary depending on the type but you could start with soils that are priced Php 40 per kilogram. Check out various plants online so you can have an idea of which type you would like to see in your backyard.
3. Chandelier Tire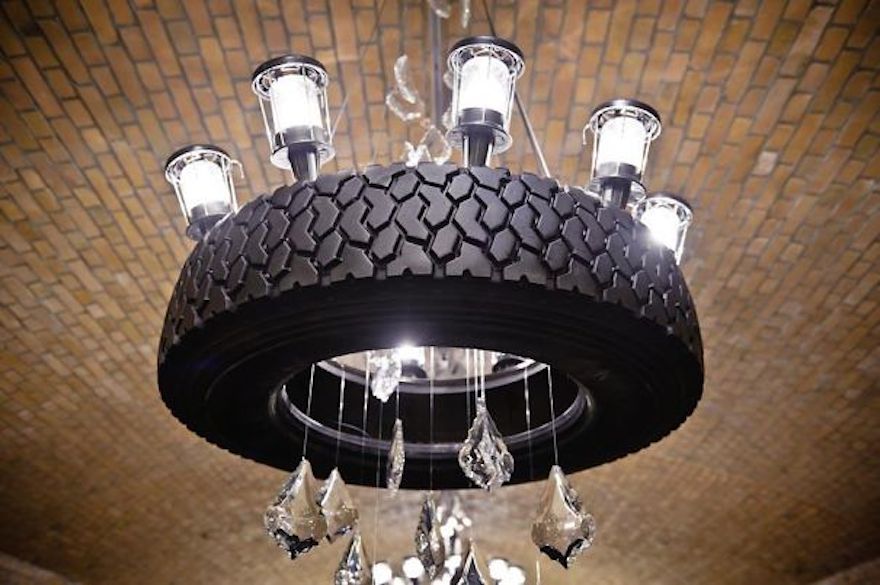 By adding few colors, it could ultimately change its vibe [Photo: blog.atomlabor.de]
The idea of putting a chandelier tire in your house can be very subjective. Pretty sure that not a lot of your family members will approve of this idea. But if somehow it is granted, then this could be a good alternative instead of just throwing out your tires. A tire almost takes a shape of a chandelier which can help you round your lights around. Add few glass figures as well for a more authentic chandelier look.
4. Table Tire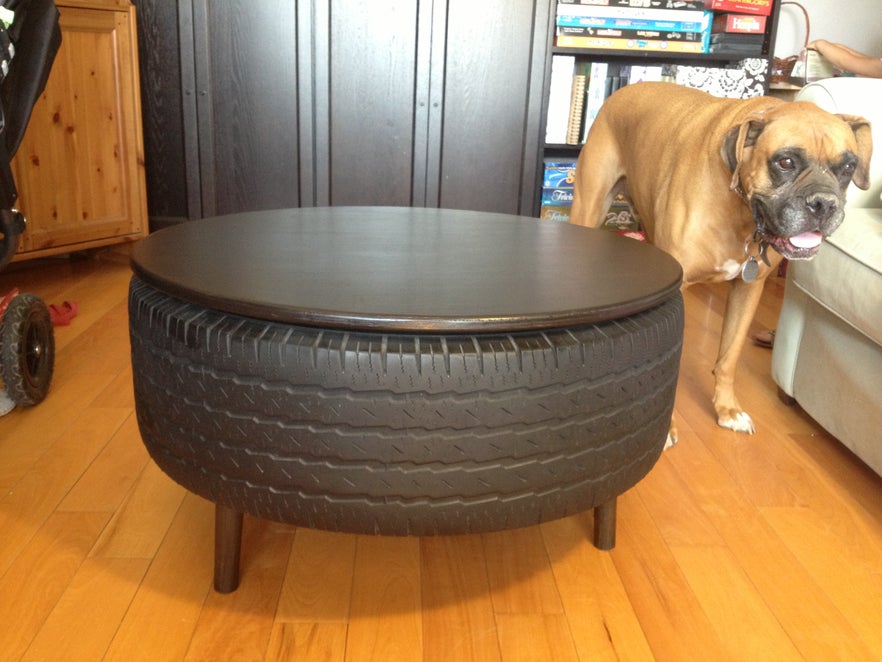 Tires are strong enough to become a table [Photo: Instructables]
Tires are designed to be strong enough to carry the weight of a car into various road conditions. With that being said, a table tire can effortlessly carry different household items such as glass or laptops. You would just need to place a flat surface on top of the tire. You can also add stands under a tire if you wish to make it look more like a table.
>>> Related: Car tires in the Philippines: Different tires sizes and types, what to buy
5. Christmas Tire
Since tires are round, they almost take the shape of a Christmas lantern or parol. You can use tires as an alternative so you won't need to spend more on Christmas day. Plus, you save the environment from harmful chemicals from tires in doing so.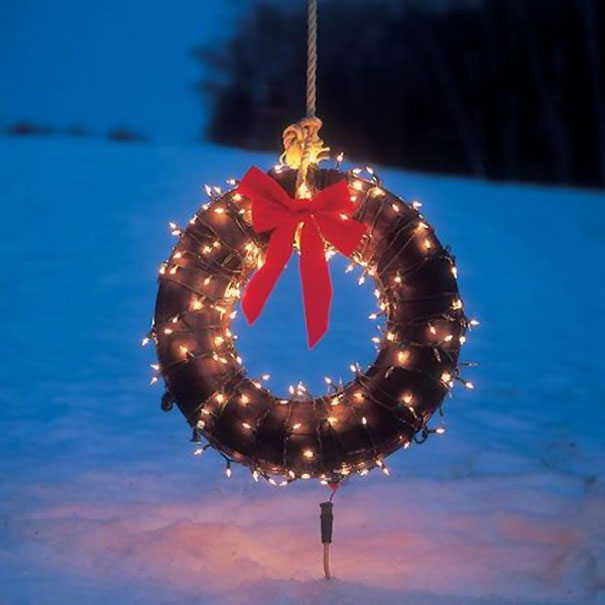 You could use this for the next Christmas season
Making a Christmas tire is more challenging as you are required to decorate it purposely. LED lights are good decorations to start with as they come with an affordable price tag at around Php 100 only. You can also add ribbons and other colorful shapes for a more delightful Christmas appeal.
6. Hammock Tire
You can recycle your used tires by making them as hammocks. With its round shape, you can cut it in half and add cushions for better comfort. The only challenge in building a hammock tire is where you will put it. Find a place where it is firm enough to hold you so you can have a sounder sleep.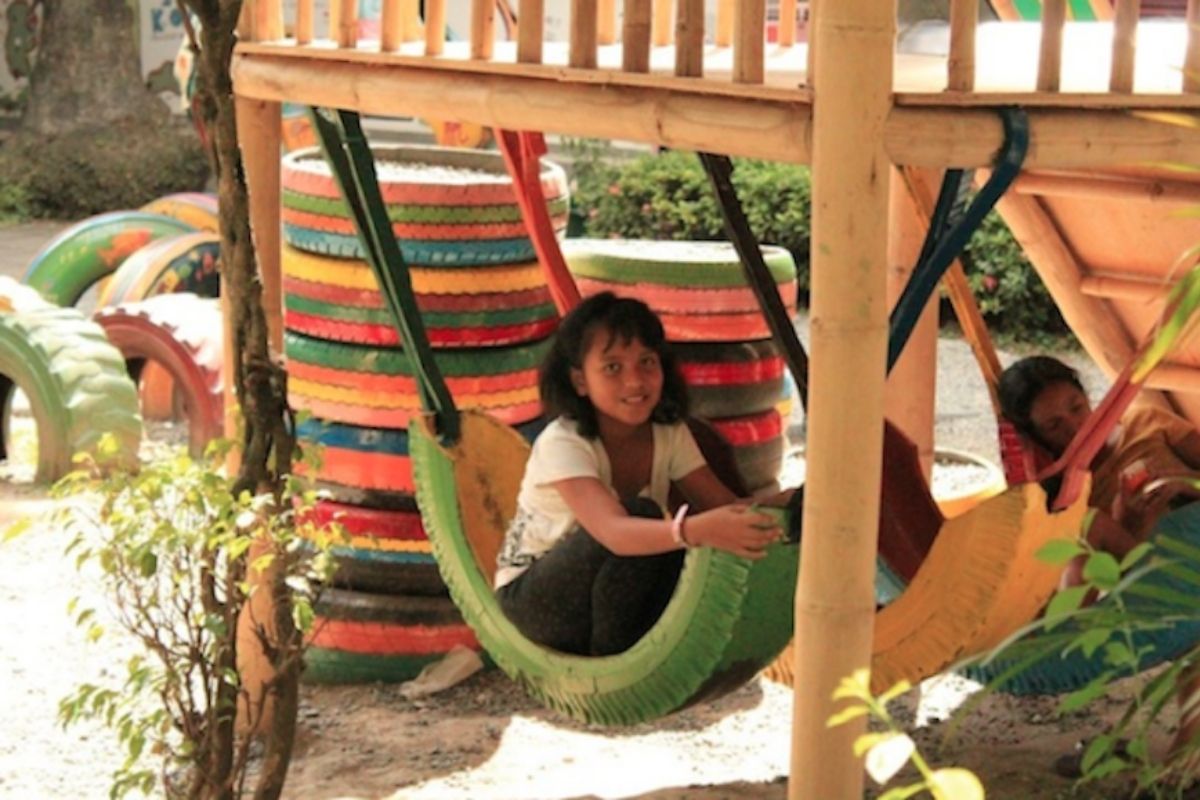 A great backyard resting place [Photo: Playgroundideas]
A humble cutter can help you slice through the tire. But if you wish to make the cutting process faster, you can also use more complex tools such as a drill and jigsaw. Be sure to soften out the edges so you can avoid unwanted cuts.
7. Tire Lamps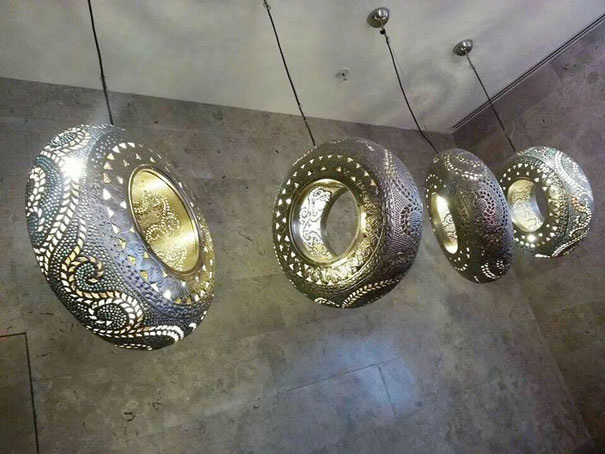 You could use this in your garage for a more automotive appeal
Making tire lamps can be difficult especially when puncturing holes on the tire. As such, plan the design of your tire lamp first before starting to buy the lights. Once you come up with the design, you can go ahead and get a bulb light in your local store which would cost around Php 200 only. It is recommended to get a bulb light that comes with a warmer tint so you can have a cozier ambiance.
8. Recycling Bin Tire
Building a recycling bin tire is like hitting two birds with one stone. You get to save the environment by recycling your used tires, and you get to help provide a proper designation for trash. To make this, you will need to stack multiple tires on top of each other so it can collect more wastes.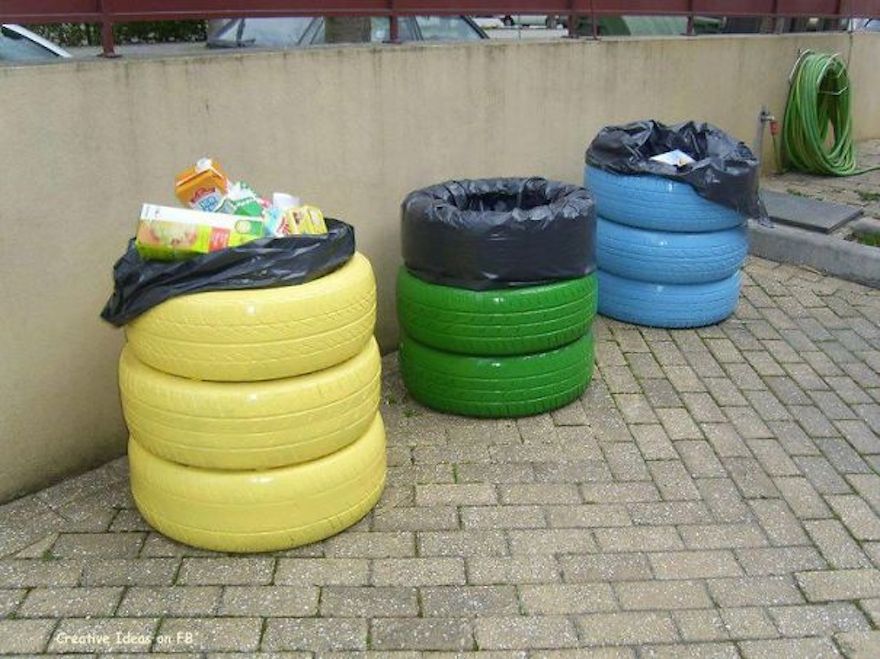 Your old tires can be used to recycle wastes
If you are thinking of doing this kind of idea, then you might as well make three recycling bin tires. These include biodegradable, non-biodegradable, and recyclable wastes. Print the signs for these designations and put them on the side.
>>> Related: 7 D.I.Y. car air fresheners and how to make one at home
9. House Tire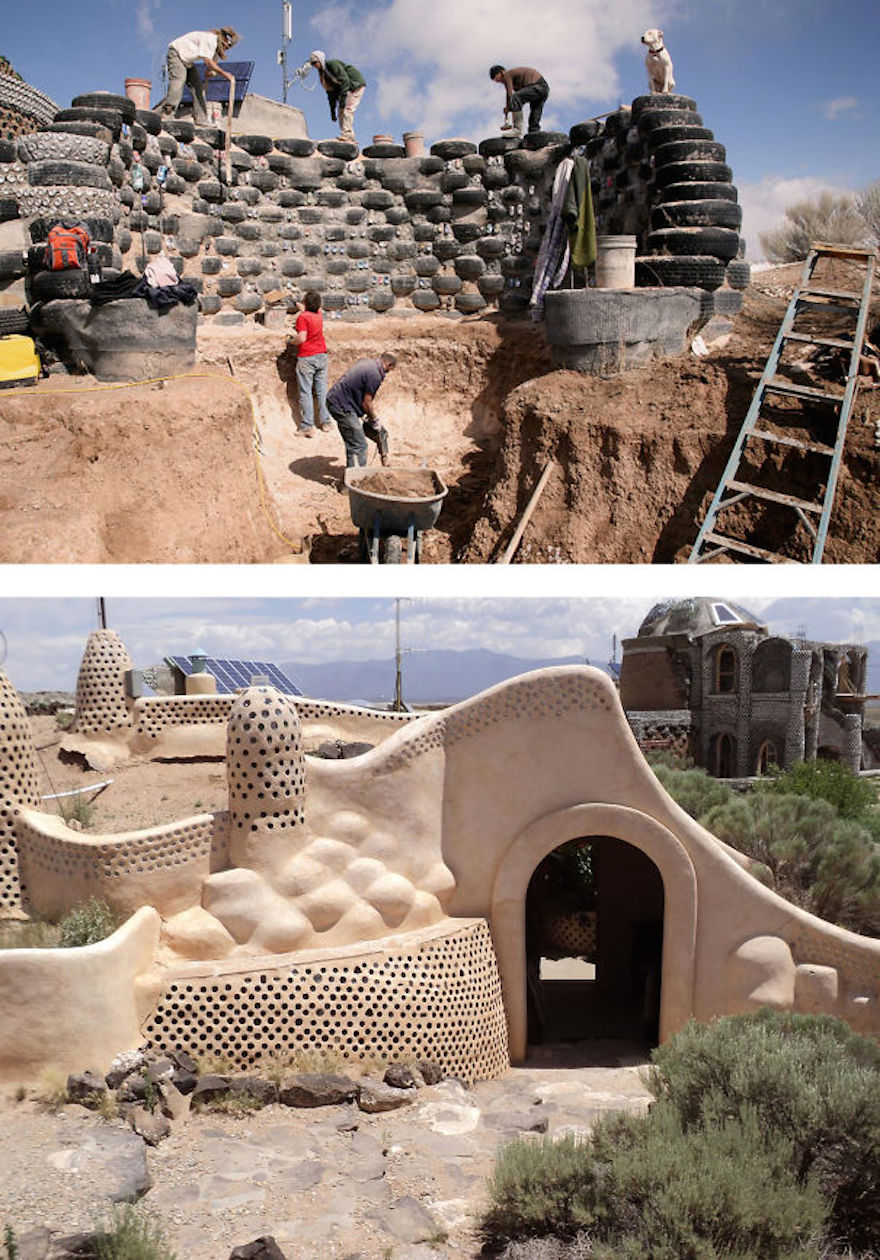 A bit ambitious but sure is rewarding in the end [Photo: David Margiotta]
Okay, you might need special tools and labor for this kind of idea. But this is just to show you how versatile tires are if you try to recycle them. Tires are strong enough to withstand various natural conditions. However, as much as possible, try not to put a kitchen in your house tire as it can be really bad for the environment if it, unfortunately, went up in flames.
10. Donut Tire
Rather than throwing your tires, you can use them as decorations inside your house. One of the most appealing designs you can do with your tires is a donut. Both donuts and tires take up the same shape which makes a donut tire a perfect in-house decoration.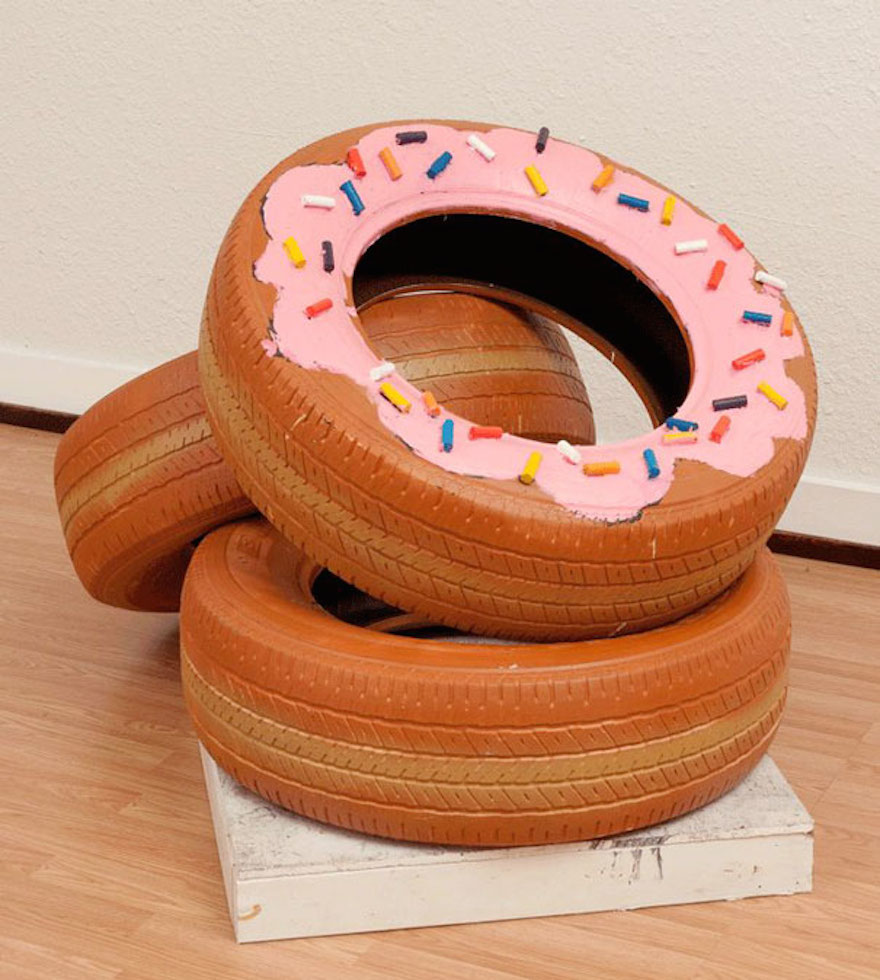 Have fun decorating your home with tires
You will have to paint this so it can look like an actual donut. With that being said, you will have to buy paint which would cost you around Php 600 only. It could cost more if you decide to make different types of donuts that come with different color schemes.
Now that you have an idea as to what you will do with your used tires, we hope that you will not throw them to become landfills or end up in the smoke. Consider the possibilities you can make use of old tires before deciding to dispose of them.
Here at Philkotse.com, we value your interest in the automotive industry. Visit our website to find out more.


Rex Sanchez
Author