A comparison review between 2 brand names that dominate the car tire industry: the Bridgestone and the Michelin.
When it comes to choosing tires for your vehicles, there are two brand names that stand out from the crowd, the Bridgestone from Japan and the Michelin from France. These two brands are all over the market, already winning the minds and hearts of millions of consumers. In recent years, they constantly switch between #1 and #2 positions on the ranking list. So, what is so special about their tires and how could they dominate the market for so long, let's come with Philkotse.com to find out. 
Michelin and Bridgestone are probably most known for being the official sponsors of one of the most prestigious car tournament in the world, the Formula 1 championship. That being said, the championship alone, which only happens several times per year, couldn't be able to keep their business afloat. Therefore, they still have to rely on other kinds of customers, especially who make the buying decision based largely on the value for money that they get, rather than how fast can their car travel with those tires, or how much heat and physical force they can sustain. In this article, Philkotse.com only analyzes the benefits from the perspective of the vast majority, the average consumers.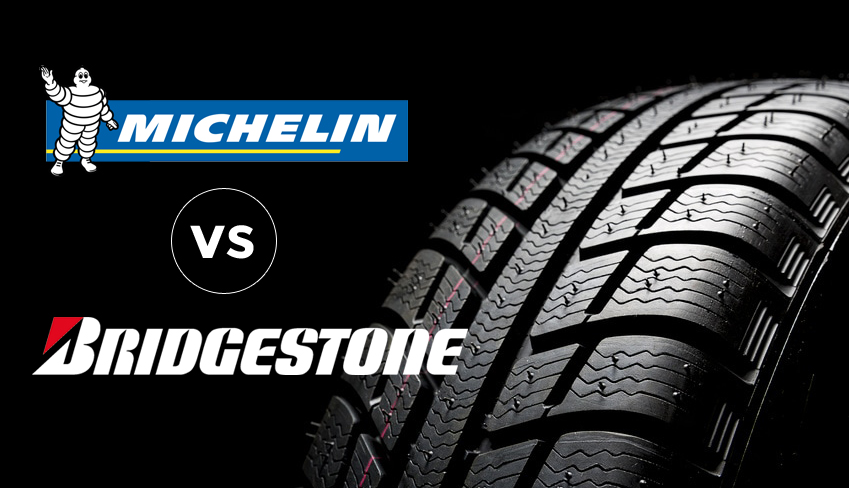 Who will win the customers' heart?
Philkotse.com has compared both brands and their car tire offerings to the average, using the most common tire size, 205/65/15 (tire width/height percentage/radius), according to an auto website, JaxTyres. 
They are most used by sedans and hatchbacks, especially the Toyota Corolla.
>>> Read more articles to choose the best type of tires for your car:
1. Pros & cons of Michelin car tires
The Michelin tire price is not the cheapest on the market right now, compared to that of Bridgestone or any other brand names. If what you need is something adequate and so-so, Michelin is not really a suitable option.
For those whose priority is long-term usage or tires that are integrated with the latest technology, then go for a Michelin. It has years of experience developing tires for the most intense car racing championship in the world, which makes us not able to think of a reason they couldn't integrate the same technology to their normal tires.
In a way, Michelin positions itself and its products at the high-end market, though they didn't explicitly say so.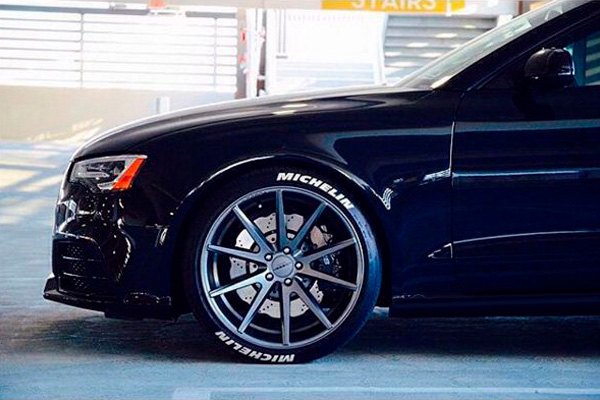 Michelin and "cheap" rarely appear in the same sentence...
If you don't' have time to do the research on your own, we have a suggestion for you: take a look at the Energy XM2 model. Energy XM2 is a relatively affordable model and specially designed to run smoothly and stable on wet roads. The treads along an Energy XM2 are called "water evacuating tread" because of its unique design to remove water as soon as it touches the surface of the tire; meaning you and our family will be much safer from now on when you have to travel under bad weather conditions such as snowy roads or slippery and muddy surfaces,
In conclusion, if the potential customers don't care that much about price and put safety level above all criteria, Michelin is a go-to brand name.
2. Pros & cons of Bridgestone car tires
Bridgestone has branded itself as a leading name in the car tire industry worldwide. Its line-up is positioned in the mid and high-end range, with products catering to a wide range of applications. 
It seems that Bridgestone focuses more on the "everyday" usage of the vast majority of the market, rather than divide their attention to the high-end market. The list of their tires is very detailed and can satisfy a wide variety of different customers. In other words, they appear to know what their customers truly want. For those who want to look for a higher level of safety, especially when driving on slippery roads, go to their website and check out RE88 model, it's the nearest equivalent of the Energy XM2 model mentioned above.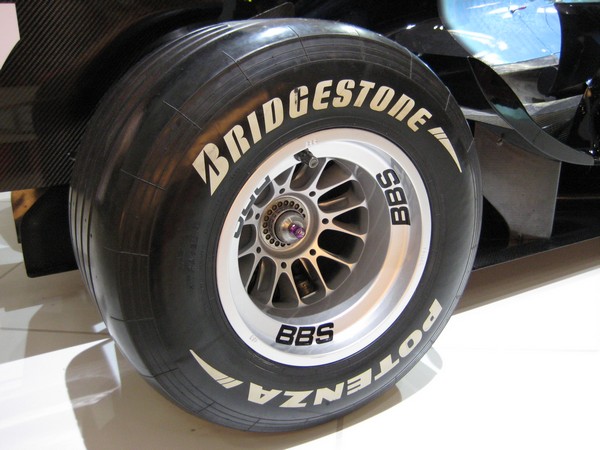 Bridgestone's tires are more prevalent in the middle market
Bridgestone's offerings in the 205/65/15 section of the market are slightly cheaper than that of Michelin, but covering a different segment. That is not to say Bridgestone is a 'cheap' brand, since the cheapest products in this size range are considerably cheaper, mostly from companies originated in countries with cheap labor. 
3. Bridgestone and Michelin - The "Cold War" between 2 leading names in car tire industry
Some might say the number one reason when choosing a tire is its quality, and since both Michelin and Bridgestone have a history of supplying high-end tires for the infamous F1 championship, and that they are both golden sponsors for almost all major car events on this planet earth, it appears that they both excel in this matter. In addition, there are too many factors that determine the strength of the brand, their history, the longevity of their brand, their international reputation, their promises, after-sale warranty, and countless others. In the end, it is impossible, and also naive, to say one brand name is inherently better than the other.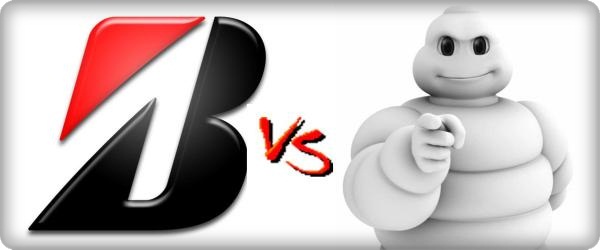 Bridgestone and Michelin - the "cold war" between 2 most prestigious brand names
All in all, in the current cut-throat competitive market, customer's feedback and reviews are the only things that count. More and more tires manufacturers are founded, offering ridiculously cheap products. The fight for customers attention all boil down to their specific needs. For example, which tire would they choose when traveling in urban areas? What about long distances traveling on mixed road types? The answers to such mind-numbing questions are crucial for car manufacturers if they want to come out on top.
>>> Click here to get more helpful tips and advice for all car owners