Check out this SLEX traffic advisory and some key points you should know if you regularly use this expressway.
While EDSA is on the daily, a waking nightmare and NLEX is comparatively less so except on some exits, interchanges, and most especially when approaching toll-booths, then the San Miguel Tollways managed South Luzon Expressway (SLEX) is…for a lack of a better term, is having some "improvement pains." Why? Well, that what we're here for right?
Here's an overview of the currently prevailing traffic situation in SLEX.
1. Traffic in SLEX: Current Situation
Overview of the Traffic situation in SLEX
Unlike the NLEX and the SCTEX which leads to the rest of northern Luzon, the SLEX can be the gateway to the rest of the Philippines. How you may ask? Well, one segment of the SLEX can lead you to the Ninoy International Airport through the NAIA-SLEX-Skyway segment which includes the access ramp to terminal 3.
Apart from that it also leads towards the rest of southern Luzon.
UB: Matinding traffic, nararanasan sa SLEX-Northbound
By this quality, the SLEX is as heavily used the highway as the NLEX. So what's causing it? Well…there are a number of reasons and here are some of the most recent ones plus from possible future ones.
The Skyway "Extension" project and the on-going widening project.
Constructions of an on-ramp leading to the Skyway before Alabang viaduct.
People are yet to adjust to the East Service Road between Sucat and Alabang being turned into one-way roads.
Installation of another steel ramp to connect the Alabang Viaduct to Skyway Elevated intended for Class 1 RFID Cars. It starts on Nov 5-30.
Closure of Skywage Stage 3 Section 1 which is from Buendia to Plaza Dilao due to construction on Nov 2, 2019.
The SLEX Filinvest Southbound Exit Ramp's closure to traffic for preventive maintenance. It will start from November 8 to November 9, 2019.
>>> Worth to note: NLEX Traffic Advisory: Situation, Traffic updates, Toll-fee & more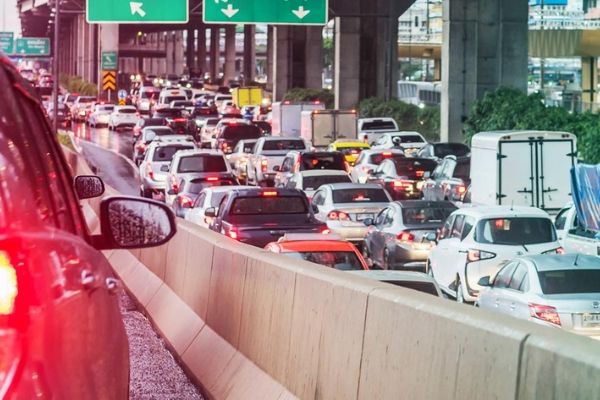 If you think EDSA is bad, well the SLEX can get much worse on some occasions
While most of these will make the SLEX better in every way, the construction operations will one way or another cause additional traffic. This is also on top of the increasing number of cars and car owners in Metro Manila which we have already talked about in previous articles.
Also, depending on when this article will get published, there is also a large number of motorists returning from their UNDAS 2019 vacations from the province.
Daily Peak and Off-Peak Times
As observed by Philkotse.com and other online sources, the regular peak times on SLEX ranges from 5:30 A.M. to 8-9 A.M. In the evenings, it can range as early as 4:30 P.M. to 9:00 P.M.
2. SLEX Traffic Advisory
Estimated Travel Times
These Estimated travel times are from Waze from several points on SLEX as of November 02, 2019 12:32 P.M. Note that these were the optimal routes at that time.
Pedro Gil Street, Paco, Manila to Magallanes Interchange Park – 15 Min (7.2 km)
Sucat Interchange to Magallanes Interchange Park – 20 min (18.3 km)
Magallanes Interchange Park to Sucat Interchange – 19 min (11.7 km)
Sucat interchange to Food and Drug Administration (Near Filinvest interchange) – 12 min (6 km)
Starmall Alabang to Sucat Interchange – 14 min (4.2 km)
Starmall Alabang to Lower Bicutan Public Market – 26 min (9.5 km)
Starmall Alabang to Libingan ng mga Bayani (Near C5 – SLEX Interchange) – 29 min (15.6 km)
Starmall Alabang to Magallanes Interchange Park – 25 min (15.4 km)
Magallanes Interchange Park to Starmall Alabang – 17 min (14.7 km)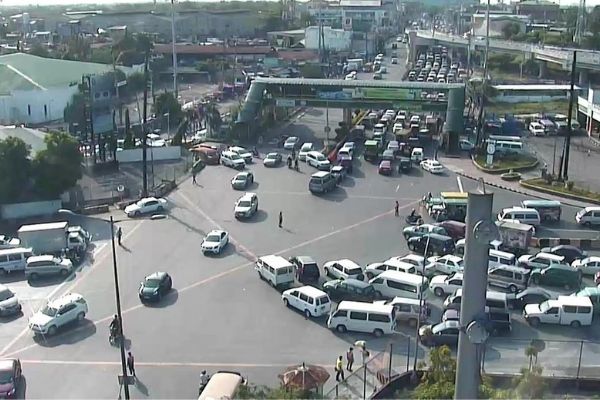 The Sucat interchange is one of the busiest areas along SLEX
>>> You might like to read: EDSA Traffic Advisory: Peak hours, Rules, Estimated travel time & more
Traffic update on SLEX
For the most accurate live  slex traffic update, you can check out this website here: http://mmdatraffic.interaksyon.com/line-view-slex.php.
This is service was made available to the public through the cooperation of MMDA and News 5's Interaksyon.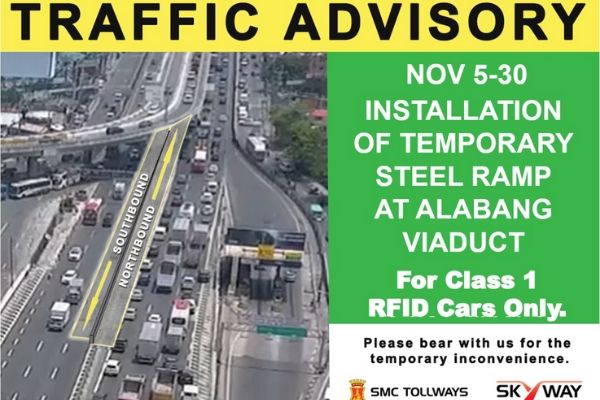 Here's one of their latest tweets...
For more updates, you can also visit the official SLEX twitter page. It also features current traffic reports as well as announcements for on-going and future infrastructure projects that will no doubt have an impact on traffic flow.
3. Traffic in SLEX: Rules and Toll rates
The Toll Regulatory Board's Vehicle Classification Scheme
| | | |
| --- | --- | --- |
| Vehicle Class | Types of Vehicles | Description |
| Class 1 | Cars, Vans, Pick-up Trucks, Motorcycles | Vehicles with 2 axles and an overall height of up to 7.5 ft. |
| Class 2 | Buses, Trucks, Class 1 Vehicles with a Trailer | Vehicles with 2 axles with a height of more than 7.5 ft. Includes Class 1 vehicles with trailers. |
| Class 3 | Large Trucks | Vehicles with 3 or more Axles and a height greater than 7.5 ft. |

Toll-fee SLEX class 1 [Click here for HD image - Source: http://trb.gov.ph]

Toll-fee SLEX class 2 [Click here for HD image - Source: http://trb.gov.ph]

Toll-fee SLEX class 3 [Click here for HD image - Source: http://trb.gov.ph]
>>> Must read: Increased toll fees applied for popular expressways in the Philippines in 2019
SLEX traffic rules and regulations
Just like the NLEX, all major traffic laws apply to the SLEX. This includes R.A. Act No. 8750 or the Seatbelt Use Act, the Motor Vehicle User's Charge Law which prohibits overloaded vehicles, specifically trucks loaded with more than 13.5 metric tons of cargo.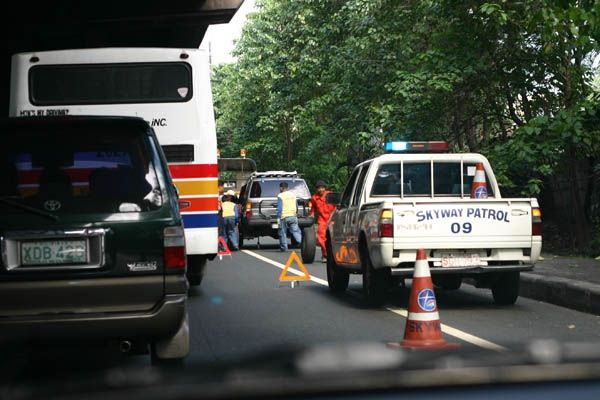 While they enforce, they'll also lend you a hand if things go bad
Also enforced on the SLEX is the Limited Access Facility act as follows:
A minimum of 60 kph and a maximum of 100 kph must be maintained except in areas where other speed limits are specified.
Stopping, parking, loading, and unloading is prohibited along the length of the SLEX except on designated places.
No vehicle or person shall go between SLEX, access SLEX from nearby areas except on designated entry and exit points.
The driver or the owner of a vehicle that has caused damage to SLEX properties such as lamp posts and perimeter fences shall face fines imposed by Toll Regulatory Board, with the compensation payable to the Manila North Tollways Corporation. 
The leftmost lane is solely used for overtaking. Any slow-moving vehicles including cargo trucks are NOT allowed on this lane at all times. Overtaking vehicles do not have Right-of-way.
Smoke belchers will be subject to the provisions and penalties stipulated under RA No. 8749, or the Philippine Clean Air Act of 1999. 
Non-road-worthy vehicles or those derelict vehicles with damaged lights, profuse fluid leakages are not allowed on SLEX.
Two-wheeled vehicles below 400cc in engine displacements such as scooters, underbone motorcycles, and tricycles are not allowed on the SLEX. For those that have higher engine displacements. Prescribed and approved helmets should wear at all times and only one back-rider is allowed per motorcycle.
Vehicles rendered inoperable due to mechanical issues and other emergencies shall be towed by authorized tow companies at the cost of the vehicle's driver.
Cargo should be firmly fastened, especially those loaded outside the vehicle. 
Cargo trucks carrying aggregates like sand, gravel, etc. are not allowed inside the limited access facility if their cargo is not covered and leveled.
Allowable hours for Manila Bound Trucks
In a bid to lessen the current traffic congestion along SLEX, the Skyway Operations and Maintenance Corporation has announced last month that trucks headed for Manila will be limited to late morning to early afternoon trips.
Trucks heading out of Manila and those coming from Laguna are exempt from this rule.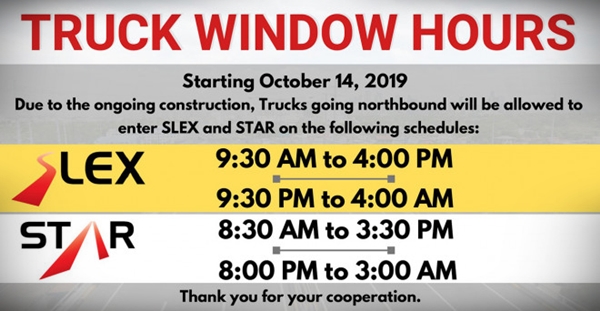 For more tips and advice on safe driving practices, keep reading here on Philkotse.com.