How's Traffic in NLEX doing right now? Read on our NLEX Traffic Advisory to find out the current traffic situation, estimated travel times, and some tips on surviving the journey.
1. NLEX Traffic Advisory: Introduction
Those of you who are either planning to go out of Metro Manila or coming into the metro during Undas, you might already be familiar with what you're getting into on expressways like the North Luzon Expressway (NLEX).
There's the longer than usual lines on tollbooth plazas, and slower travel times on the highway itself due to the increased number of vehicles. Heck, expect even the lines at the stores and comfortable rooms along the NLEX to be longer.
Even with no holidays around, vehicular traffic along NLEX is noticeably increasing; you'll feel this especially during the morning rush and the mad homeward scramble at night.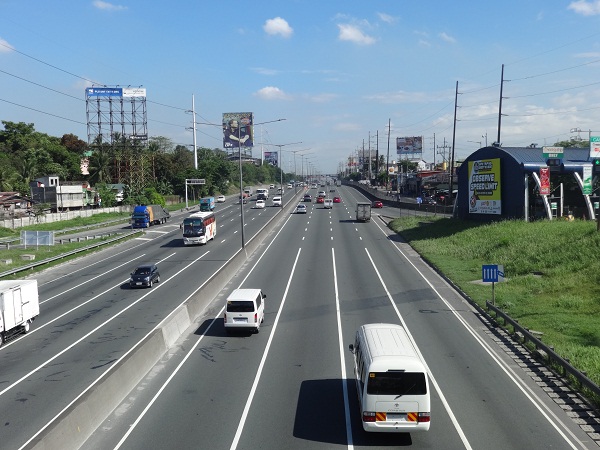 NLEX: The gateway to the North
For those who're not used to it, especially the first-timers who're planning to do the trip by driving, then this article is for you. We'll be presenting an overview of the Traffic in NLEX, its current state, how it has fared during past Undas seasons, estimated travel times, and where you can find real-time traffic updates.
We'll also give you some tips to keep you alert when driving on long stretches.
>>> Read more: EDSA Traffic Advisory: Peak hours, Rules, Estimated travel time & more
2. Traffic in NLEX: Current Situation
Back in 2018, the Metro Pacific Tollways Corporation or MPTC, the company managing NLEX and other expressways leading to and from Metro Manila, had a lot of preparations for All Saints' Day.
They launched programs such as "Safe Trip Mo Sagot Ko" which provided assistance to motorists, apart from several expansion and enhancement projects to address the increased traffic volume.
This year, MPTC is once again preparing for expected traffic rise during the Undas weekend. The Balintawak toll plaza will be fully operational with all 24 booths activated. The tellers will also be issuing pre-encoded tickets for smoother, faster transactions.
The company will also be deploying more teams to respond to emergencies. There will also be more patrols, and the lane management teams will be on full alert.
On regular days, the usual congested parts will be those leading up to the Balintawak toll plaza and the Mindanao exit. According to the Waze traffic monitoring map and the official NLEX Twitter account, heavy traffic is noticeable in these areas every morning from 5 am to 7 am, and again from 6 pm to 8 pm.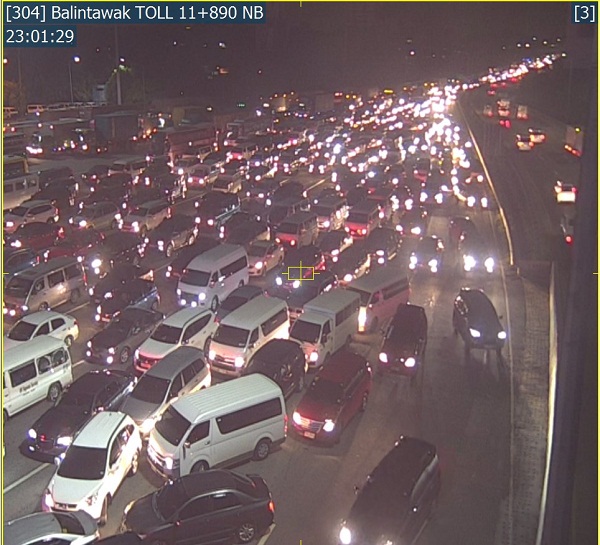 Here's traffic update in Nlex Balintawak on a particularly bad night
Traffic buildup also happens on the part heading towards the C3 exits due to large cargo trucks plying that route. They stay on the rightmost lane though, so at least one lane still remains passable most of the time.
In other areas, traffic situation in NLEX is less felt, such as the portion after the Balintawak toll plaza, San Fernando, and the NLEX viaduct.
>>> Also check out: Some parts of NLEX Bocaue Bridge northbound lanes to be closed for rehabilitation
3. NLEX Traffic Advisory
Daily Peak and Off-peak Times
Based on the NLEX Twitter page, the peak times of NLEX starts at around 5 am until 8 am, and then again from 5:40 pm to 8 pm. Those times can also vary,  so take note of the real-time traffic updates down below.
Estimated Travel Times (Times May Vary)
These times were taken at 9:49 am using Waze, and therefore might not be accurate. Expect these travel times to increase, especially during peak hours.
Northbound
Mitsubishi Motors Service EDSA (Near Balintawak Interchange) to Balintawak Toll Barrier – 10 minutes (3 km.)
Balintawak Toll Barrier to Petron E1, Lias, Marilao – 10 minutes (10.8 km)
Mitsubishi Motors Service EDSA (Near Balintawak Interchange) to Petron E1, Lias, Marilao – 20 minutes (13.7 km.)
Mitsubishi Motors Service EDSA (near Balintawak Interchange) to Sta. Ines Toll Booth – 1 hour and 4 minutes (79.5 km.)
Mitsubishi Motors Service EDSA to Lakeshore Petron NLEX, Mexico, Pampanga – 54 minutes (62.7 km.)
NLEX Live Traffic Updates
As of today, the Interaksyon traffic monitoring page for NLEX is not yet up. If you still want to check it out, you can check out here: mmdatraffic.interaksyon.com/nlex/line-view-nlex.php.
For the real-time NLEX traffic update today, you can instead go to the NLEX Corporation's Twitter Page.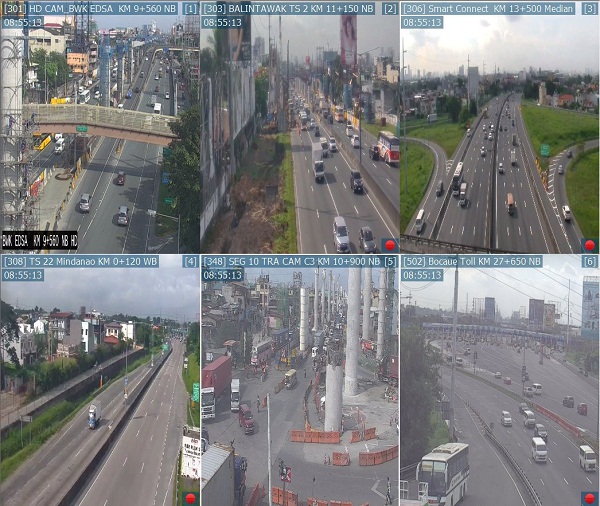 NLEX traffic update on Nov, 5th 2019 [Source: NLEX Corporation's Twitter Page]
4. Traffic Rules on NLEX
Aside from the Land Transportation and Traffic Code of the Philippines, there are also other laws that NLEX users need to be aware of.
NLEX Toll Fee
As of October 31, 2019, here are the toll rates.

Toll-fee NLEX- SCTEX class 1 [Click here for HD image - Source: http://trb.gov.ph]

Toll-fee NLEX- SCTEX class 2 [Click here for HD image - Source: http://trb.gov.ph]

Toll-fee NLEX- SCTEX class 3 [Click here for HD image - Source: http://trb.gov.ph]
>>> Click here for the complete guide on toll fees applied for popular expressways in the Philippines in 2019.
Motor Vehicle User's Charge Law
This law ensures the proper maintenance of both provincial and national roads, by imposing a charge on those using motor vehicles. Under the law, overloaded trucks, trailers or other vehicles that exceed their allowable gross weight are slapped with penalties. Axle loads should not go beyond 13.5 metric tons or 13,500 kilograms.
Seatbelt Use Act
Also known as Republic Act No. 8750, the Seatbelt Use Act requires drivers and front passengers of motor vehicles to fasten their seatbelts while the vehicle is in motion. This particular law is strictly enforced along the length of NLEX for your own safety.
Crashes involving vehicles traveling at high speeds have a higher fatality rate, especially if occupants are not wearing their seatbelts.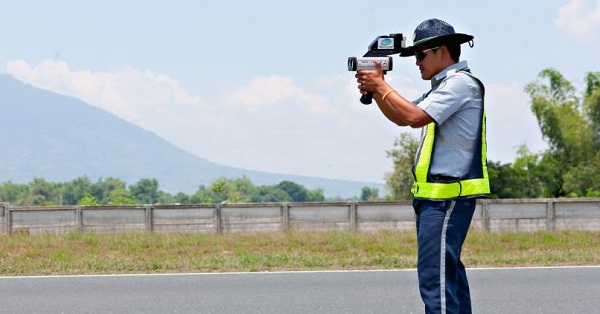 NLEX is strictly monitored by enforcers, so be aware
Limited Access Facility Act
Here are some special rules that apply to NLEX and other Philippine expressways:
A minimum of 60 kph and a maximum of 100 kph must be maintained except in areas where other speed limits are specified.
No vehicle or person shall go into NLEX from nearby areas except on designated entry and exit points.
The driver or the owner of a vehicle that has caused damage to NLEX property such as lamp posts and perimeter fences shall be held liable in the form of payment, with the compensation payable to the Manila North Tollways Corporation.
Lane No. 1 or the leftmost lane is solely used for overtaking. Slow-moving vehicles like cargo trucks and others are NOT allowed on this lane at all times. Overtaking vehicles do not have the Right-of-way on road.
Smoke belchers will be subject to the provisions and penalties stipulated under RA No. 8749, or the Philippine Clean Air Act of 1999.
Non-road-worthy vehicles (those with balding tires, broken headlights and taillights, misaligned chassis, profuse fluid leakage) are not allowed on the limited access facilities.
Two-wheeled vehicles below 400cc in engine displacement such as tricycles, scooters and underbone motorcycles are not allowed on the NLEX. For those that have higher engine displacements, one back rider is allowed, and helmets should be worn at all times.
Stopping, parking, loading, and unloading is prohibited along the length of the NLEX except on designated places.
In case of vehicle-related emergencies or vehicle breakdown, an authorized towing operator will remove the stalled vehicle from the expressway at the cost of the vehicle owner.
Cargo should be firmly fastened, especially those loaded outside the vehicle.
Cargo trucks carrying aggregates like sand, gravel, etc. are not allowed inside the limited access facility if their cargo is not covered and leveled.
5. Tips on surviving long expressway drive particularly on NLEX
Check your vehicle
Use the mnemonic B.L.O.W. B.A.G.E.T.S. which stands for Brakes, Lights, Oil, Water, Battery, Air, Gas, Engine, Tire, and Self. Even if you're not going on a particularly long trip, it's a good idea to do this every day.
NLEX is an expressway, which typically requires a minimum driving speed of 60 kph. Things can go wrong when traveling at that speed, particularly if your vehicle isn't in tip-top shape.
When you lose your brakes, for example, let's just say things can get catastrophic. If you're planning to mount stuff outside your vehicles like surfboards, your mountain bike, or sacks of rice, make sure that they're secured.
A pelican case hitting someone at 60 kph makes for a bad day, so please secure your stuff
Look ahead but…
We encourage drivers to look far ahead of their vehicle when driving on long stretches of NLEX. By doing so, you can focus on what's ahead and react faster when the unexpected happens. Remember, vehicles traveling on expressways are a lot faster than on normal roads.
At the same time, when driving on the straights for extended periods, avoid the temptation of staring at the white lane markers; highway hypnosis is real, and you can easily lose your focus. Try glancing at your car mirrors occasionally to break the monotony. Having traveling companions and talking to them also helps.
>>> You might like to read: 7 Things to Always Remember When Driving in Highways in PH
Don't hog the left lane
Slow drivers hogging the left lane are the worst; they only contribute to congestion and they can also cause faster drivers to weave through lanes, which is dangerous. In left-hand drive countries such as the Philippines, the leftmost lane on expressways is for passing or overtaking only. Once you've passed another vehicle, merge back into the same lane where you came from.
Prepare your toll fees
Before embarking on a trip, make sure you have some cash with you to pay for the toll fees. When approaching a toll plaza, have the amount ready so that you won't need to fumble around, which takes time and delays everyone else. If you use cashless transactions, make sure your cards have sufficient balance or load.
Take a rest when you need it
Driving for long periods of time can be draining especially for someone who's not used to it. Schedule breaks once in a while to stretch your legs, go on a bathroom break or refresh yourself, with the numerous stopovers you can avail of along NLEX.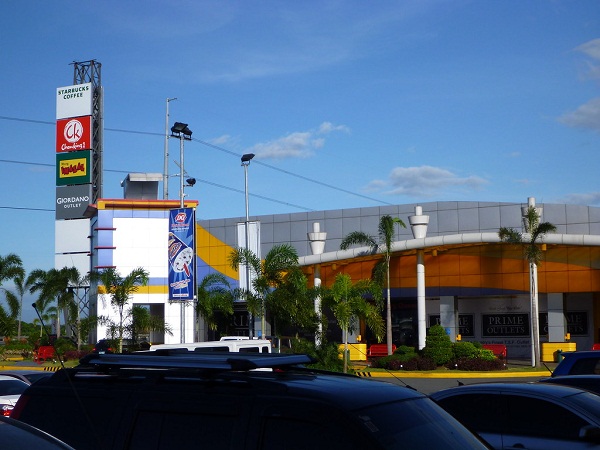 There are a lot of interesting stops along NLEX like the Shell of Asia
Observe proper merging
When merging onto the highway or any main road, follow these three simple steps: check your mirrors to see if the road is clear, activate your turn signal then accelerate, and make your turn.
Don't cut off other vehicles on the road
Remember that having a turn signal doesn't give you the right to just swing into a lane. The same goes for exiting a lane to move to another. You must consider your speed and other vehicles behind you, as well as the vehicles on the other lane. The same goes when approaching a toll plaza: be patient and avoid cutting through the line.
Do you think this guide has been of help? Let us know in the comments.
For more reviews, tips and news, keep posted here at Philkotse.com.


Cesar G.B. Miguel
Author