Here's how the MMDA's no contact apprehension policy works, and what to do if you have committed a violation.
In this new age of CCTVs and the internet in general, the job of enforcing the law, especially traffic laws have become slightly easier for the members of the Metro Manila Development Authority. Why? Well If you've ever driven along EDSA, did you notice the number of closed-circuit television cameras spread along its length and staring at the traffic below?
Well, those are part of the MMDA's no contact apprehension operations. Take a look at the comprehensive guide from Philkotse.com to know how does that work and what is no contact apprehension meaning?
1. What is no contact apprehension policy?
The MMDA's no contact apprehension policy works by utilizing digital cameras, CCTVs, and other devices to capture images and videos of vehicles that are violating traffic rules, regulations, and laws.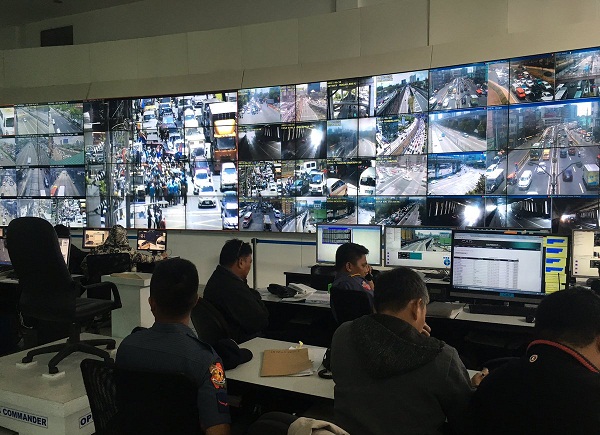 The MMDA Metrobase is manned by hawk-eyed individuals looking for potential traffic violations
In the areas where the policy is active; its purpose is to take the reigns of flagging down traffic violators thus freeing up traffic enforcers to focus on other problem areas. Also, the CCTVs are pretty useful for catching moving violations, for example, drunk drivers.
"May Huli Ma" is the MMDA no contact apprehension website to check if you have any active violations. From this site, you can type down a plate number and check it there are traffic violations associated with that plate number or not.
The MMDA violations that will be listed in the aforementioned site will only list the ones caught by the No-contact traffic apprehension policy.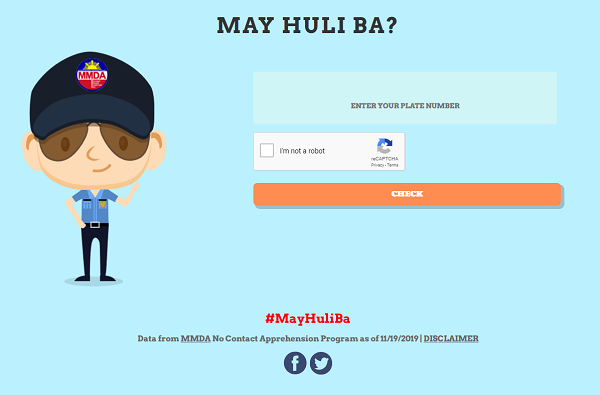 "MayHuliBa" - Homepage
Apart from that, we can also presume that the no-contact traffic apprehension policy eliminates the stress of dealing with an MMDA enforcer face to face. Likewise, this frees the MMDA Enforcer from the awkward social situation of having to deal with irate drivers.
It also frees up a lot of their time and let them concentrate more on actively managing the flow of traffic.
2. No contact apprehension coverage: Locations under MMDA's jurisdiction
It is safe to presume that a large chunk of EDSA, especially on its major intersections and areas, has a good amount of CCTV cameras in place. Also, the MMDA is intending to expand the area coverage of the said policy so we can expect more and more areas in Metro Manila to be adopting this in the near future.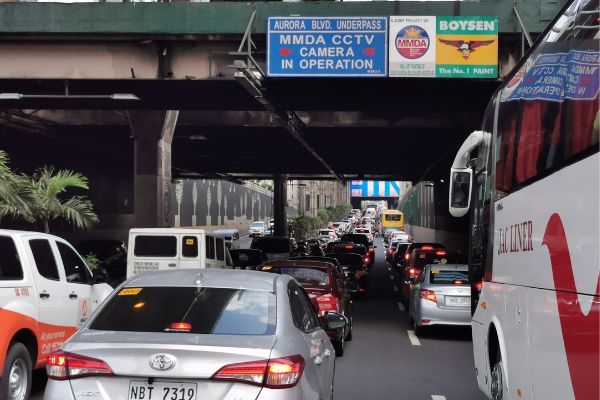 Some areas in EDSA with the no contact apprehension policy will have signs like this
>>> Worth to note: EDSA Traffic Advisory: Peak hours, Rules, Estimated travel time & more
3. What are the most common violations caught by the No Contact Apprehension Policy?
According to a report by the MMDA itself, more than 500,000 motorists have already been "caught" by the no contact apprehension policy since it was implemented in EDSA.
The top violation though is the violation of the yellow lane policy numbering a whopping 289,154 or 50% of the total number of apprehensions. This figure was presented during the last quarter of 2018 so we can presume that this number is now larger than before.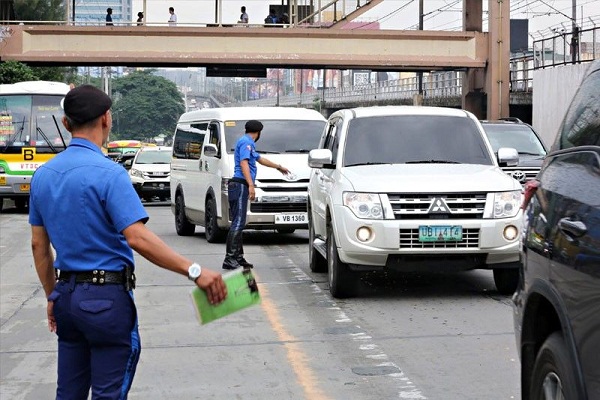 The yellow lane violation was the most common since the MMDA CCTV's were put in place
The yellow lane policy in EDSA prohibits private vehicles from traveling on the said lane except when they're about to make a turn. Provincial buses using EDSA are also prohibited to use the yellow lane.  Those who can use this lane are city buses.
The second most abundant violation numbering at around 85,800 was committed mostly by public transportation vehicles who were caught loading and unloading passengers in prohibited zones.
The third was the disregard for traffic signs at around 42,000.
4. What happens to violators caught by the MMDA's no contact apprehension policy?
Together with the Land Transportation Office – Information Query Facility, the MMDA will literally scour the collected footage for violations and then noting down their license plates. They will then use the collected plate numbers to identify violators.
Once identified, you will then be sent a summons for your violation at your home address. You then have at least seven days to settle otherwise a fine will be added for each day exceeding the given time. Aside from paying your traffic ticket, you can also file a protest at the MMDA-Traffic Adjudication Division within seven days of receiving the summon.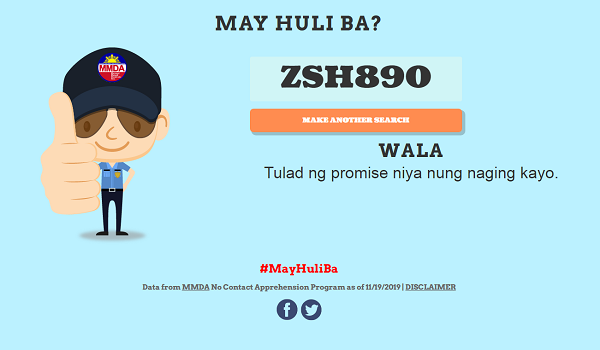 This is how it will look like if you have no violations
Penalties and fines must be paid within seven days of receiving the first summons. You can pay through any accredited payment centers like the Collection Division of the MMDA Central Office itself, SM Bills Payment, LBC, and etc. A complete list will be given below.
>>> Must read: 7 Most Expensive Fines for Traffic Violations in the Philippines (MMDA)
5. How violators will be summoned?
Motorists with violations will be given a notice which specifies the location, time, and date of the traffic violation/s. These will be sent through Philpost for private vehicle owners whilst bus companies may have their liaison officer pick it up from the MMDA's Records Division.
Violators who refuse to accept the summon without valid reason shall be considered to have received it.
If the fines and/or penalties are not settled, the violator's plate number will be listed down in an "alarm list" The LTO will then be made aware of the said alarm prohibiting vehicles with unsettled fines and penalties to register.
6. How do I settle violations detected by the no contact apprehension policy?
Here are the steps:
#1: Visit MMDA's mayhuliba.com, type your car's plate number and check if you have any listed violations.
#2: Check if your violation was issued within the seven day grace period
#3: If it is within seven days of being issued, go to your nearest MMDA accredited payment centers. If it's more than seven days old, proceed to the MMDA's redemption office.
#4: Fill out the payment form
#5: Proceed to payment to settle all charges. Keep a copy of the receipt
>>> Also check: 10 Most Common Traffic Violations in the Philippines & Respective Fines
List of Accredited payment centers
For violations that has not exceeded the seven-day leeway
G-Cash
MMDA Treasury Division
All Meralco Bayad Centers
SM Bills payment Outlets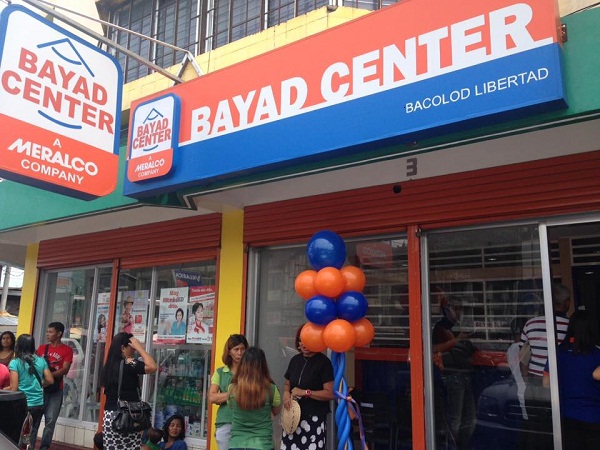 You can pay your fines at Meralco Bayad Centers
Other accredited payment centers
Cangatba Porac – located at the back of Municipal Hall of Porac Cangatba, Porac, Pampanga
Ever Gotesco Commonwealth – located at Commonwealth Avenue, Quezon City
Gulod Novaliches – located beside Meralco Nova
Meralco Complex Gate 2 – located at Meralco Complex, Ortigas Avenue, Pasig City
Pinagkamaligan Meralco Branch – located at Ma. Roxas St., Baranggay Pinagkamaligan Tanay, Rizal
Pritil Tondo – located beside Puregold Pritil
Romacom Muntinlupa – located beside PNB Poblacion Romacom Building, Muntinlupa City
Tropical Hut Taytay – located at Ortigas Avenue Extension Corner E. Rodriguez Avenue, Taytay Rizal
Ultra Mega Paliparan – located inside Ultra Mega Supermarket
Zapote Arcade – located beside Puregold Zapote, Zapote Arcade Corner Quirino, Zapote Road, Las Piñas CItt
7. What happens if violators contest the given summon?
For those who would contest the MMDA summons, you'll have around 15 days from receiving an adverse Traffic Adjudication Division or TAD to file a Motion for Reconsideration (MFR). If your MFR was denied, then you'll have to file an appeal at the Office of the Chairman where the decision, if any will be given, shall be final and executory.
Did this guide answer everything you wanted to know about the No Contact Traffic Apprehension Policy?
>>> Visit Philkotse.com for more articles on safe driving tips and advice.


Cesar G.B. Miguel
Author