2021 Mazda CX-30 Turbo is something we want to see in the Philippines
This small crossover is ready to put the 'sport' in 'sports utility.'
Right on the heels of the turbocharged Mazda3, there's another Mazda model sporting a blower under the hood. This time, it's the CX-30 subcompact crossover.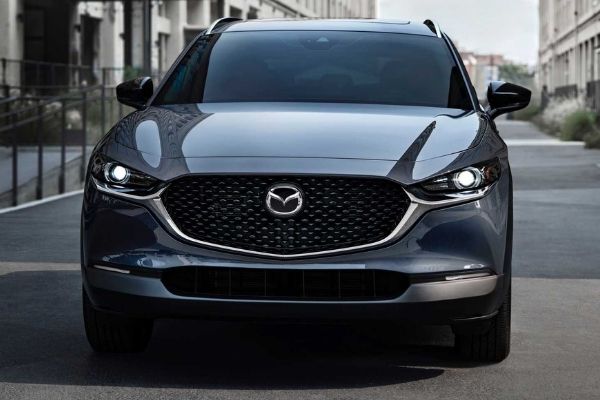 Even the CX-30 is getting in on the forced-induction action
The new variant shares the same 2.5L inline-4 with its award-winning sibling, generating 250 hp and 434 Nm of twist. However, the caveat is that these figures are only possible with 93 octane gasoline.
Owners who are a little tight on the budget can still get 227 hp and 420 Nm of torque on 89 octane fuel. Respectable figures nonetheless, considering the 186 hp that the regular Mazda CX-30 churns out.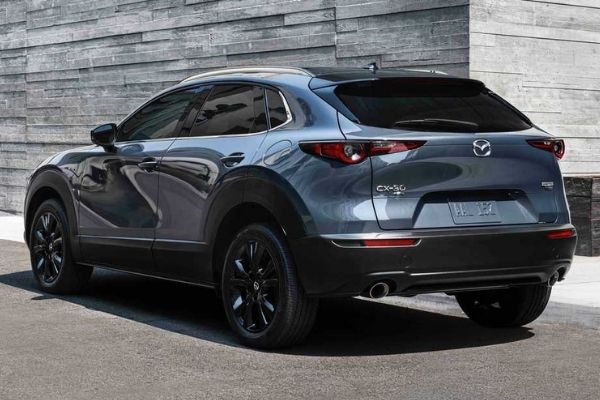 Blacked-out bits emphasize how serious this CX-30 is when it comes to power
Unlike the regular Mazda3 which natively uses front-wheel-drive, the CX-30 already comes available with Mazda's predictive i-ACTIV all-wheel propulsion by default, so no added drivetrain options are necessary.
Only off-road programming was necessary to capitalize on the CX-30's ground clearance. There's little reason to expect anything more than the same 6-speed automatic transmission found on the turbocharged Mazda3.
A set of blacked-out 18-inch aluminum alloys might be the first thing you notice on the boosted CX-30. Less obvious are the gloss black accents on the external mirrors, as well as the slightly bigger tailpipes. A Turbo badge sits right across the CX-30 emblem on the liftgate.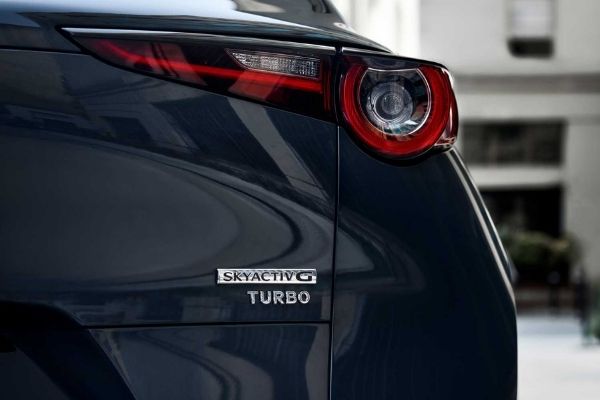 High compression plus turbocharging equals unreasonably more time spent behind the wheel
Considering that the standard CX-30's interior is generally acclaimed, the forced-induction variant makes no changes to the cabin. An 8.8-inch touchscreen infotainment display offers entertainment, communications, and navigation, patched to a Bose 12-speaker audio system.
On the safety front, the turbo CX-30 still comes with a 360-degree View Monitor that projects images in high definition, as well as the Active Driving Display, Traffic Sign Recognition, and Adaptive Front-Lighting System.
The standard i-Activsense safety suite has been upgraded to include Smart City Brake Support Reverse with Rear Cross-Traffic Braking, while Traffic Jam Assist provides automated steering input at speeds below 64 km/h.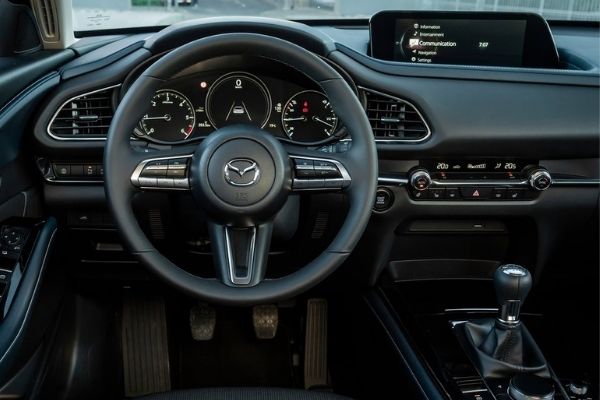 Why can't the boosted CX-30 get the standard version's stick shift?
No pricing has been set for this new trim on the North American market, but we wager that a lot of Mazda fans would want to see this particular CX-30 cross over to our shores. We'll just have to cross our fingers that Mazda sees it that way too.  
Find more information about your dream car models at Philkotse.com.
Author

Joseph has been on the LTO's records since 2004. Old enough to remember riding in taxicabs with analog meters. Keeping his hopes high and his revs low, he dreams about owning a Kei car when he retires. Hates slow parkers.