At least the Mazda3 Turbo comes with paddle shifters.
It seems that it's all systems go for the Mazda3 turbo's debut. In fact, days before its actual reveal, which is scheduled on July 8, details about the 3 hatchback (or Sportback)'s turbo version emerged online through a video uploaded in Mazda Mexico's Youtube channel.
We just had to let this out right off the bat, it appears that there's no manual transmission option for the upcoming Mazda3 turbo. But, the car has paddle shifters, which is good enough for you to have a more spirited drive.   
The Mazda3 hatchback turbo is powered by a 2.5-liter engine that puts out 227 hp and 420 Nm of torque. The engine is mated to a six-speed automatic transmission, and the 3 hatch turbo comes with All-Wheel Drive (AWD) system.
Now, to put things in perspective, the Mazda3 turbo's power output can significantly match the Volkswagen Golf GTI's 228 hp.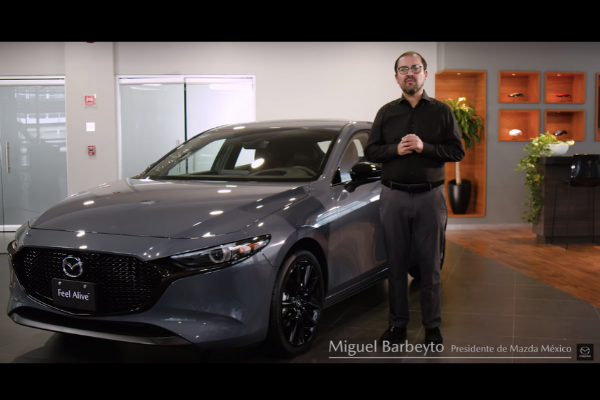 Mazda Maxico President Miguel Barbeyto presents the Mazda3 hatch turbo
Mazda Mexico also said that the 3 hatchback turbo comes with a set of 18-inch aluminum wheels in black, LED headlights, a sunroof, and 12 Bose speakers.
The car is fitted with seven airbags, reverse sensors, a rearview camera, and blind-spot monitoring, which are among the standard safety features in modern cars. The Mazda3 hatch turbo also features Apple CarPlay and Android Auto.
>>> Related: Turbo Mazda3 could debut as soon as next month per latest teaser
Mazda Reveal: Descubre más - 03.07.20
The last time Mazda offered a turbocharged Mazda 3 model was in 2013, which was the 2.3-liter MZR L-Series engine. With that in mind, it would be interesting to see how the 3 hatchback turbo performs in terms of sales in the Philippine market.
If it arrives here, it could be a serious competition for the Honda Civic RS and the Subaru WRX.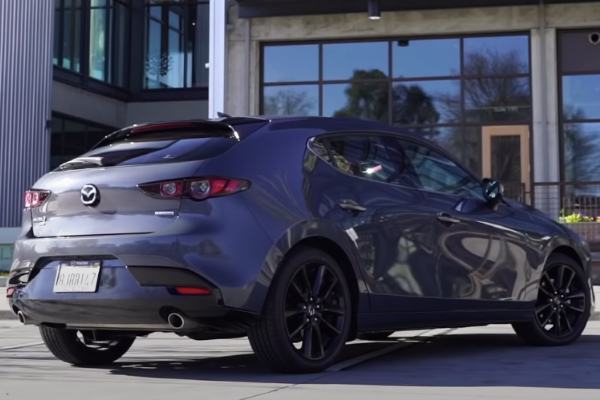 The Mazda3 hatch turbo comes with a set of 18-inch aluminum wheels
As such, could Mazda Philippines bring the Mazda 3 turbo in the market? The company has released a teaser over the weekend, which points us to believe that it will be revealing a new car soon by hinting that "something exciting is coming your way."
Could that be the Mazda3 Turbo? Well, the idea might not be that far fetched since the said vehicle is already introduced in Mexico, and sales will be starting on July 20. 
However, you also have to note that Mazda has introduced a Mazda3 that's powered by a 2.0-liter SkyActiv-X gasoline in Australia. The said engine is Mazda's new engine that uses a Spark Controlled Compression Ignition (SPCCI) system.
It basically combines how gasoline and diesel engines work. The SkyActiv-X engine uses the spark ignition tech of a gasoline engine along with the compression ignition of a diesel.
This is said to give the vehicle more power, as well as trimming down its emission levels, and contributes to better fuel economy. The SkyActiv-X engine produces 178 hp and 224 Nm of torque.
Visit Philkotse.com to read more latest stories from the automotive industry.
Know more about Mazda 3 2021

<p>Currently on its fourth generation, the <strong>Mazda3</strong> is still a staple in the busy roads of the metro as one of the top choices among city drivers. The model is Mazda Philippines&rsquo; entry into the competitive compact sedan segment that boasts of its style, performance, and Japanese developed technology. It is the first vehicle on the Mazda lineup to adapt the latest update of the brand&rsquo;s signature Kodo design theme which helped the <a href="https://philkotse.com/market-news/mazda3-is-the-best-designed-car-in-the-world-for-2020-6701" title="Mazda 3 is the best-designed car in the world for 2020">model win the 2020 Car Design of the Year</a>.</p> <p>The&nbsp;minimalist and cohesive aesthetic gives the nameplate a more premium look.&nbsp; New on the latest generation is the SkyActive Technology that the Japanese brand developed,&nbsp;providing&nbsp;fuel efficiency and better drive performance that support the engine&rsquo;s G-Vectoring Control Plus feature. On top of these are a slew of infotainment and hands-free features for added convenience.</p>

Martin Aguilar
Author