You can't go out of your house if you're not part of this list
As much as possible, let's all follow the imposed quarantine for our own good.
On March 17, 2020, an enhanced community quarantine (ECQ) has been implemented by the Philippine government. This means that the movement of the population in the entirety of Luzon is restricted.
As of now, the official lifting date of the ECQ is April 30, 2020.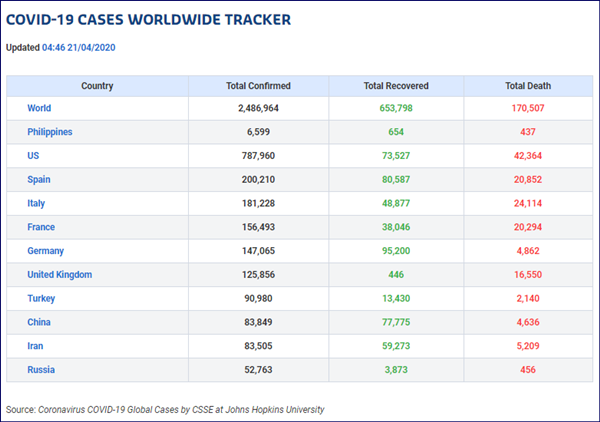 As of April 21, 2020
However, reports are saying that the lockdown may further extend by two weeks in order to avoid losing all the efforts made to contain COVID-19 in the country. This raises the question, "who exactly is allowed to go outside?"
The Metropolitan Manila Development Authority (MMDA) addressed that question by releasing an official list as to who are the only persons allowed during the Luzon-wide ECQ period to leave their homes.
>>> Related: Don't volunteer to drive out for grocery runs if you have these
This list is based on the Joint Task Force Coronavirus Shield's guidelines.
1. DOH officials
2. PRC vehicles bearing the Red Cross Logo and Staff with Red Cross IDs
3. Core Staff from WHO
4. Doctors (including their drivers)
5. Hospital/Medical Staff and Employees
6. Private Care Givers
7. Department of the Interior and Local Government personnel
8. Bureau of Fire Protection personnel
9. Governor
10. Department of Social Welfare and Development personnel
11. Brgy Health Emergency Response Team
12. LGU officials
13. Brgy Officials and Tanods
14. Law Enforcement Agency Personnel (including Philippine National Police, Armed Forces of the Philippines, Philippine Coast Guard, Bureau of Jail Management and Penology, National Bureau of Investigation, Office for Transportation Security, Bureau of Customs, Bureau of Immigrations, and Philippine Ports Authority)
15. MMDA personnel
16. Company Security Officers and Guards
17. Bank Employees (including technical service and provider crew)
18. Armored Vehicle Crew
19. Money transfer service employee
20. Public market vendors
21. Pharmacists
22. Food Chain, Restaurant, and Carinderia staff and crew
23. Funeral service employee
24. Immediate family of deceased
25. Officiating religious Ministers
26. Delivery personnel of cargoes (maximum of 3 including the driver)
27. Food, medicine, medical products, hygiene product, and other basic necessities distributors
28. Logistics/Warehouse establishments' employees
29. Telecommunication key officials and employees
30. Energy company employees
31. Exploration, coal operation, and trading employees
32. Employees and Delivery Drivers of:
Third-party contractors
Petroleum Tanker Drivers
Gasoline Attendants
33. Water company key officials and employees
34. Toxic Garbage/Waste Collectors and Drivers
35. Senators and congressmen with their CoS
36. Dept. Secretaries, USEC, ASEC, and Bureau Directors
37. Ombudsman and Deputy Ombudsman
38. Justices of SC, CA, CTA, and Sandigan Bayan
39. Judges and Prosecutors
40. Local Chief Executives
41. BPO and Export-Oriented Business personnel
42. Transportation facilities employees (i.e. MRT, LRT, PNR, Airport, and Toll facilities)
43. Foreign Mission heads, personnel, and staff
44. Hotel employees and tenants (who have existing booking accommodations as of March 17, 2020)
45. Executive Branch Capital Market personnel
46. International passengers and drivers
47. Airline pilot and crew
48. Civil Aviation related services personnel
49. Civil Aviation Authority of the Philippines personnel
50. Airport personnel
51. Civil Aeronautics Board personnel
52. Distressed OFWs
53. Ship Captain and Crew
Here at Philkotse.com, we value your interest in the automotive industry. You can visit our website to find out more.
Author

Rex found his passion for cars at a young age. He loves anything with an engine – which includes cars and planes. Right now, he is pleased to impart that passion for cars to a professional level under Philkotse.