Here's a helpful website that tells you which establishments are open during the enhanced community quarantine.
Due to the spread of the COVID-19, the Philippine government has enacted the enhanced community quarantine all over the island of Luzon. There are also local community quarantines all over the country enacted by provincial local government units. As such, movement is severely limited.
This makes time as precious as food especially for those directly fighting against the novel coronavirus threat.  
Enhanced Community Quarantine: How does it affect your land travel?
Just remember the last time you went out for groceries. There are now long lines just to enter a supermarket, and the lines leading up to the cashiers aren't getting any shorter.
Coupled with that is the sad fact that many Filipinos are forced to walk to and from these establishments.
But you know what sucks more? Walking for several kilometers only to find out that the business establishment you're heading to is closed.
So, is there a better way of knowing whether a supermarket or any other business establishment is open or not? Well, there is now.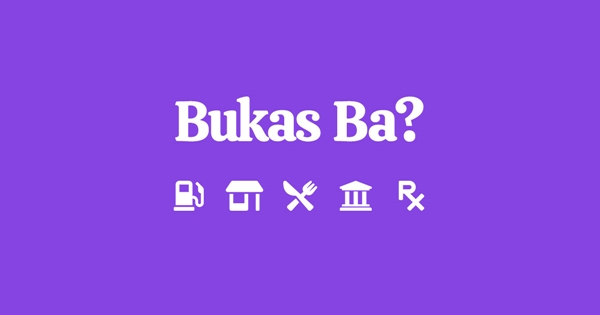 Bukas Ba? Literally means: "Is it open?"
Bukasba.com: It tells you which businesses are "bukas"
While it doesn't actually show exact opening hours, bukasba.com, which is derived from the Tagalog language sentence meaning "is it open?" is a map tool that shows you which establishments are open within your community.
bukasba.com uses an easy to read and easy to use interface
>>> Related: 6 food, grocery delivery apps you can use during COVID-19
How do I use it?
Here are some simple steps on how to use bukasba.com:
The establishments shown on the map are open for business
If you see an establishment closed – as in, you see it yourself in the flesh – open the website and tag it as closed.
If you know of open establishments that aren't reflected on the map, you can add them.
Note though that bukasba.com is open sourced so be honest when you mark an establishment is open. Also, only add places that are offering basic goods and services.

Cesar G.B. Miguel
Author