You might want to consider your own health before driving out.
As of March 31, 2020, there are 500 more COVID-19 cases confirmed by the Department of Health (DOH) which makes up 2,084 cases in total – with 88 deaths and 49 recovered patients. In addition, there are 348 confirmed COVID-19 cases for our Overseas Filipino Workers.
In order to reduce the risk of getting the Coronavirus, the DOH reminded everyone to stay at home, practice social distancing, and always wash your hands.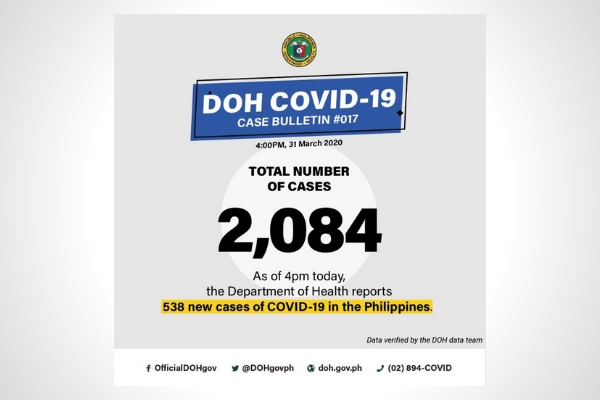 Latest COVID-19 update in the Philippines | Photo: Department of Health
>>> Related: 6 food, grocery delivery apps you can use during COVID-19
Several cities and municipalities in the entire Luzon are under enhanced community quarantine. This means that everyone is strictly limited to go outside of their homes. The barangays and city governments implemented a "quarantine pass" in order to allow one member of a household to freely buy groceries and medicines.
If you ever plan to drive out for grocery runs, then you might want to consider examining yourself first to avoid the further spreading of the virus. According to the World Health Organization, persons with noncommunicable diseases such as high blood pressure, diabetes, heart disease, heart attack or stroke, chronic respiratory disease, and cancer are susceptible to COVID-19.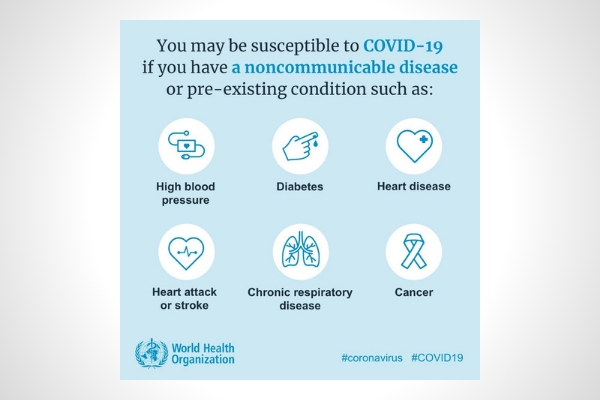 Heads up for these noncommunicable diseases | Photo: World Health Organization
>>> Related:  Which stores are open during quarantine? This website will tell you
If you're unsure, we've put up signs and symptoms that are worth knowing before heading out. However, take note that these are just symptoms and you should still confer with your doctor about these ailments for confirmation.
Symptoms of having a high blood pressure include experiencing a pounding feeling in your head or chest, a feeling of dizziness, blood in your urine, irregular heartbeat, and difficult breathing. You can exercise regularly and cut yourself back on sugar and carbohydrates to reduce the chances of experiencing high blood pressure.
You cannot diagnose diabetes in your home. However, if you urinate frequently, feel more thirsty and hungry than usual, and are having blurry visions, then you might want to consider getting examined by your doctor as these are some of the early signs of diabetes.
Chest pains, chest tightness, chest pressure, shortness of breath, pain in neck and back, and numbness in your legs or arms are signs of having heart disease. Over time, if not attended properly, this can cause a heart attack or stroke which belongs to the top killer disease in the Philippines with 19.86% total deaths in 2017.
Chronic respiratory diseases are diseases of the airways and other structures of the lung – this includes asthma and respiratory allergies. You can stop smoking, wash your hands, wear a mask, and take the stairs to prevent the disease from getting worse.
If you think you have these diseases, then it is best recommended to stay at home and let others do the grocery runs if possible. This will not only help yourself feel better but also decreases your chance of getting the dreaded COVID-19.
Here at Philkotse.com, we value your interest in new car releases and the latest news in the auto industry. You can visit our website to find out more.


Rex Sanchez
Author