Not as good as it once was, but the Toyota Fortuner's base model is still worth a look.
Many Fortuner addicts think that the base variant of the Toyota Fortuner is still worth checking out. Let us have a look on what the Fortuner's 2.4 G MT model has to offer and see for yourself.
The base variant Toyota Fortuner is still definitely worth considering
>>> Toyota Fortuner 2018 Philippines: Price, Specs review, Release Date, Interior, Exterior, and Pros & Cons
This base model is one of the somewhat "young" models in Toyota's lineup. Concerning the price, it is possibly the most reasonable midsize SUV in this segment. It's also the only one that is equipped with a manual transmission. If you want to buy or drive a good vehicle with stick-shifts where you are in control of gear selection, this model may be your best choice. It offers a 2.4-liter diesel engine that can deliver an output of 147hp and 400Nm.
Worth mention is that Toyota hasn't scrimped on their interior materials, with soft-touch features used throughout and a light and elegant color scheme adding even more style. Other trendy features are shiny plastics along with premium touchscreen entertainment system and a meaty, modern steering wheel.
Most hard drivers today come with a not comfy cruiser, so think about this Fortuner's 2.4 G MT model, it's still worth a look. It's indeed a beautifully made big 4x4 SUV that can accommodate 7 full-size adults. In addition, its cabin is plush, high-end and comfortable.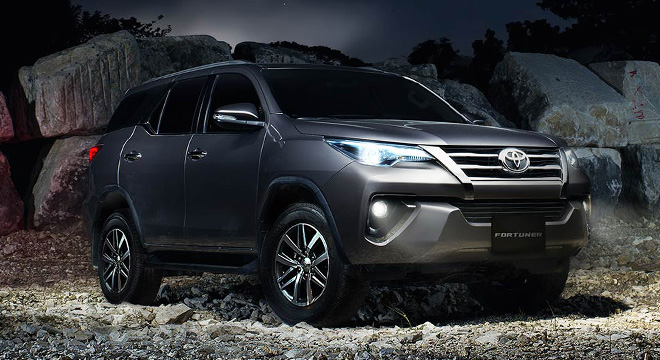 Toyota Fortuner's base model: Basic, tough yes, but still worth a look
Toyota Fortuner 2.4 G Diesel 4x2 MT 2017
>>> Click for new & used Toyota Fortuner less than P250,000 for sale in Metro Manila
Know more about Toyota Fortuner 2021

<p>The Toyota Fortuner is one of the best-selling midsize SUVs in the Philippines. This midsize SUV has been driven on the country&rsquo;s highways since the early 2000s. It became a household name because of its rugged platform, strong brand support, and tested durability. The second-generation Toyota Fortuner has topped the sales chart consistently, not only in the midsize SUV segment but also for the entire automotive industry in the country. And in 2020, Toyota Motor Philippines launched the new Fortuner facelifted which showcases a more aggressive SUV appeal. It still shares the same Innovative International Multi-purpose Vehicle (IMV) platform as the Hilux and Innova. The new model is offering a wide array of variants to market to various car consumers. These variants include the base G, V, Q, and top-of-the-line LTD variant which comes with a more distinct styling. The sky&#39;s the limit for Toyota&#39;s entry to the local midsize SUV segment as it remains to be a top choice among Filipino car buyers when considering a reliable, rugged, and family 7-seater vehicle. As for pricing, the G variant with a 4x2 drivetrain and manual transmission starts at Php 1,633,000 and goes up to the new LTD variant with a 4x4 drivetrain and automatic transmission (excluding the White Pearl body paint option).</p>
Recent posts