Mitsubishi offers 72-month Financing, Cash Savings and more this month
Celebrate the upcoming holidays with a new Mitsubishi car.
Mitsubishi Motors Philippine Corporation (MMPC) is offering flexible payment schemes and great deals under its October promo named 'Octoberbest.' The Mitsubishi vehicles included in the promo are the Montero Sport GT 4WD, Mirage G4 GLX MT, and Xpander GLX MT. Of note, the said promo will run until October 31, 2020.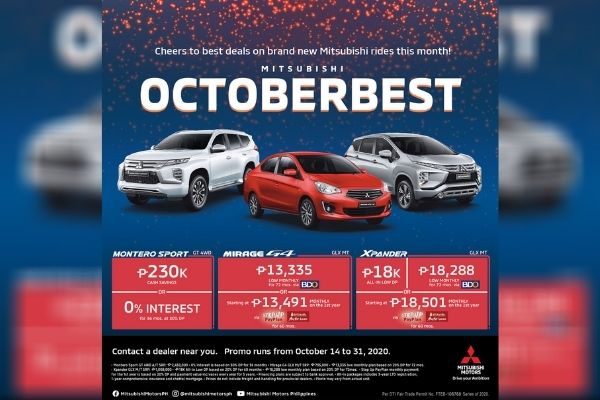 MMPC presenting the Octoberbest promo
The top-spec Montero Sport GT 4WD is offered with either a Php 230,000 cash savings or 0 percent interest for 36 months at a 30 percent down payment. This is a top SUV choice among Filipino car buyers thanks to its reliability, ruggedness, and improved styling.
Meanwhile, the Mirage G4 GLX MT is the subcompact sedan's entry-level variant. MMPC offers this Mirage G4 variant with either a Php 13,335 low monthly for 72 months via Banco De Oro (BDO) only or Php 13,491 monthly on the first year via BPI Family Auto Loan for 60 months.
The best feature the Mitsubishi Mirage G4 can provide is its practicality, long wheelbase, spacious trunk, and fuel efficiency. Powering the Mirage G4 is a 1.2-liter inline 3 gasoline engine that makes 77 horsepower and 100 Nm of torque.
Which 2020 Mitsubishi Xpander should you buy?
Lastly, the Xpander GLX MT is the entry-level variant of the Mitsubishi MPV. Under the Octoberbest promo, it is offered with three payment schemes: Php 18,000 all-in low down payment, Php 18,288 low monthly for 72 months via BDO only, and Php 18,000 monthly on the first year via BPI Family for 60 months.
Despite being a relatively new contender, the Mitsubishi Xpander is already the country's second best-selling MPV next to the Toyota Innova in 2019 with 19,089 units sold. In consideration of its space and affordable pricing, the Mitsubishi Xpander is an ideal vehicle for those who are planning to start a family.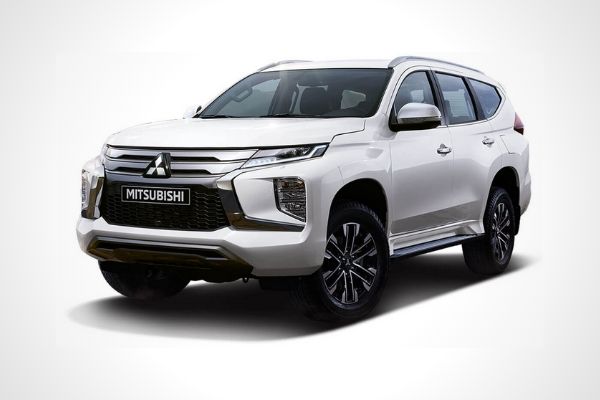 The Montero Sport was updated in 2019 to further improve its overall styling
MMPC clarified that the financing plans are subject to bank approval. In addition, all-in packages include 3-year LTO registration, 1-year comprehensive insurance, and chattel mortgage.             
Here at Philkotse.com, we value your interest in the automotive industry. Visit our website to find out more.
Author

Rex found his passion for cars at a young age. He loves anything with an engine – which includes cars and planes. Right now, he is pleased to impart that passion for cars to a professional level under Philkotse.