Worried about your Maxus vehicle? Then fear not because Maxus Philippines is here to help.
With the COVID-19 wreaking havoc on our country, and with an enhanced community quarantine in place to curtail its spread, saying that the times are tough is an understatement.
Going out, whether you're an essential medical frontliner, or simply going out to buy essential goods, or keeping your small business supplied is hard. This is why many of you are relying on your vehicles now more than ever. Vehicles, however, will sometimes break. And now in the midst of the ECQ, that's something you do not want to happen.
Maxus is here to help
Thankfully, owners of Maxus G10 multipurpose vehicles, Maxus V80 passenger, cargo or utility vans, and Maxus T60 pickup trucks are now able to avail of these following services:
1. Owners of the aforementioned Maxus models will be able to call on emergency roadside assistance, which is available 24 hours a day, seven days a week. Also included is free pick-up and delivery, and on-site servicing for companies with Maxus fleet accounts. You can reach the 24/7 emergency roadside assistance service at (02) 8459-4792.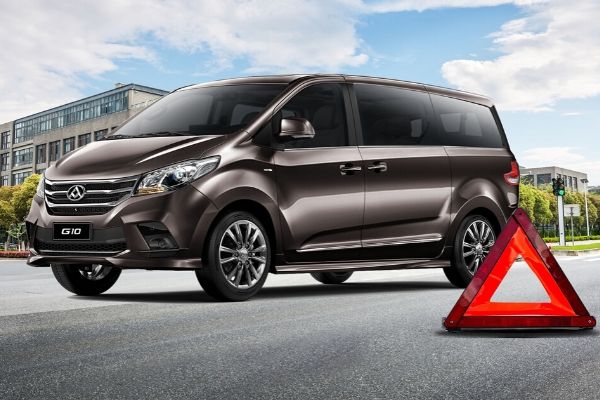 Being stuck on the road especially with the ECQ currently in place is without a doubt stressful
Note though that due to the varied community quarantine measures currently being implemented by the LGUs in the country, response times in providing these services might vary depending on the area, the vehicle owner, and the Maxus Philippines service provider.
2. For the Maxus G10 MPV specifically, it's periodic maintenance service intervals will be scheduled when it hits 5,000 kms or six months and every succeeding 10,000 kms or every 12 months, whichever comes first. This, of course, creates a worry-free ownership experience for this model and it is more cost-efficient compared to the standard 5,000 km PMS interval.
3. Maxus V80 and T60 pickup truck variants' PMS schedules are scheduled for the first 5,000 kms or six months, and then every succeeding 15,000 kilometers or every 12 months. Whichever comes first.
4. PMS schedules for the G10, T60, and V80 that are set within the duration of the enhanced community quarantine are extended for 30 more days after the government lifts the ECQ.
>>> Related: 2020 Maxus T60 could be your next pickup truck and here's why
Luckily for you Maxus owners, Maxus Philippines is ready to meet your after sales needs during these trying times
5. V80 variants and G10 MPV variants purchased since Maxus Philippines began their operations in June 2019 still have their general warranties set at three years or 100,000, whichever comes first.
6. Both 4x4 and 4x2 variants of the Maxus T60 pickup truck will have a general warranty period of five years, or 100,000 kms, whichever comes first.
For the latest automotive industry news, keep reading here on Philkotse.com. 
Know more about Maxus

Maxus Philippines' vision is to offer attainable yet quality vehicles to the Filipino people. It is one of the newest automotive brands introduced to the Philippine market. The first product offerings to the local market are the Maxus T60 pickup truck, the Maxus V80 passenger and commercial vans, and the Maxus G10 minivan. Browse through Philkotse.com to learn more about Maxus Philippines and its latest updates. Check out in-depth reviews, latest price list, and specifications of your preferred vehicle variants to find the most ideal auto to suit your preferences.

Cesar G.B. Miguel
Author