Take a look at the colored renderings of the next-gen mu-X.
Previously, we showed and talked about the leaked patent pictures of the upcoming 2021 Isuzu mu-X. As such, all doubts about whether Isuzu is making a new D-Max based SUV or not are somewhat quelled.
Those previous pictures however, were colorless grey blobs that didn't do the rendered car design any justice. Thanks to CarAdvice and renowned automotive artist Theophilus Chin, there are now colored renderings of the 2021 mu-X.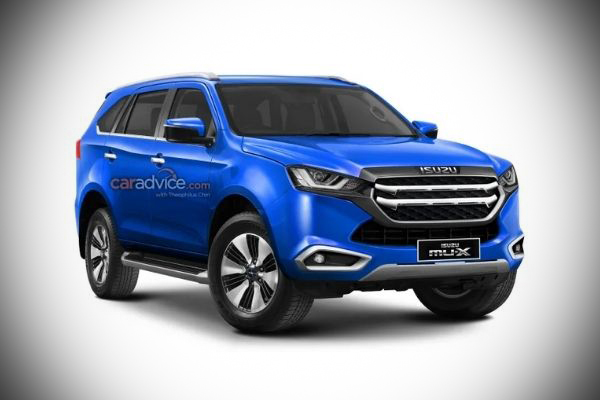 The render shows a sleeker and more modern-looking mu-X [Photo: CarAdvice]
As we've mentioned before, the upcoming mu-X's front end looks similar to the 2021 Isuzu D-Max it's based on. There are however some unique features like its two-bar grille and different-looking headlamps. The illustration also shows more angles on the upcoming mu-X's body.
Towards the sides, you'll also see that the rear window no longer stretches towards the sides of the vehicle. As a result, a more angled D-pillar positioned more towards the rear is adopted.
In comparison to the old mu-X, the rendering shows less prominent fender flares. This provides a smoother side that's more akin to designs found on current Mazda crossover models. Whether that's intentional or not, we don't know.
Overall, the renderings provide the impression that Isuzu is positioning the Isuzu mu-X to be a sleeker, more modern-looking SUV. That is in contrast to the current one's macho and utilitarian look. We're pretty sure however that despite the sleeker look, the mu-X will remain to be a robust and practical vehicle.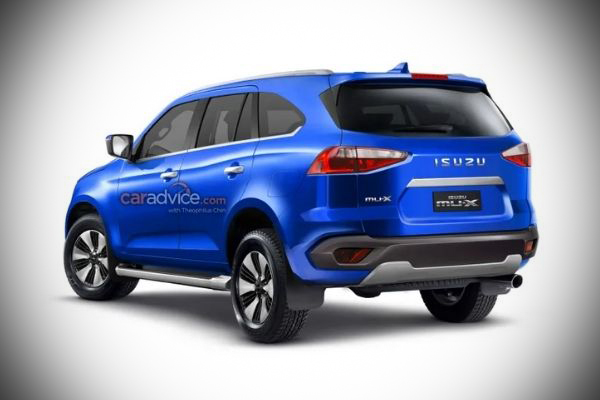 We're certain that it's still going to be a tough and practical vehicle [Photo: CarAdvice]
>>> Related: Next-gen 2021 Isuzu mu-X: See all changes in alleged patent images
We're also certain that it'll prove to be much more powerful than the current one considering that there's a good chance that it'll come with the 3.0-liter 4JJ3-TCX inline-4 engine.
The aforementioned turbo-diesel engine is already propelling the third-gen 2021 D-Max and it can make 187 horsepower and 450 Nm of torque. And yes, we're also sure that the new mu-X will have more tech, more safety features, and will retain the same body-on-frame build.
For more automotive-related news, car reviews, and car maintenance tips, keep reading here on Philkotse.com.
Know more about Isuzu mu-X 2021

<p>The Isuzu mu-X is a seven-seater midsize SUV with a front-engine, rear-wheel-drive or four-wheel-drive&nbsp;layout. It is based on the Isuzu D-Max, and like its pickup truck brother, it uses a body-on-frame chassis. For the Philippine market, the Isuzu-made SUV has two available engine options. The smaller one is a 1.9-liter RZ4E Bluepower turbodiesel capable of making up to 148 horsepower and 350 Nm of torque. It can come with a six-speed manual transmission, or a six-speed automatic transmission. The larger engine option for the mu-X is a 3.0-liter inline-4 turbodiesel. At most, this mill can produce up to 175 horsepower and 380 Nm of torque. Only a six-speed automatic transmission is available with this engine. The mu-X variants with this engine is either rear-wheel-drive or four-wheel-drive. For those unaware, this Isuzu model&#39;s name is an acronym which stands for&nbsp;Mysterious Utility eXtreme.&quot;</p> <p>&nbsp;</p>

Cesar G.B. Miguel
Author