Get the Grand Starex with a P290K discount.
Hyundai Asia Resources, Incorporated (HARI), the official distributor of Hyundai vehicles in the country, wants to start the year with a bang by rolling out the 'BOOM! BOOM! VROOM!' promo. The promo offers huge discounts on its vehicles such as the Grand Starex.
The Hyundai Grand Starex tops the cash discounts on the list with Php 290,000. With its roomy interior that can seat up to 18 seats (depending on the variant), the Hyundai Grand Starex is an ideal vehicle for families to use on their new and long road adventures this year.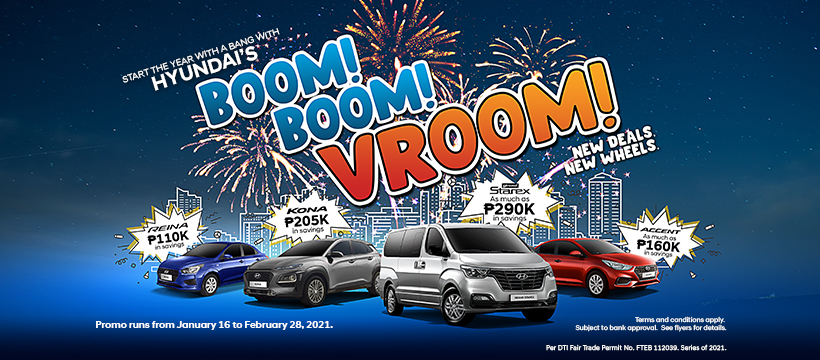 HARI's BOOM! BOOM! VROOM! promo
>>> Related: Boost your business with Hyundai's New Year's ReSolutions promo
Powering the Grand Starex is a 2.5-liter CRDi diesel engine powerful enough to pull the van even if maximum passengers are seated. The engine is paired to a five-speed automatic transmission that comes with a manual mode.
The Hyundai Kona also gets a hefty cash discount under the 'BOOM! BOOM! VROOM!' promo at Php 205,000. The stylish exterior design of the Kona makes it an ideal vehicle on the go especially for young individuals who are just starting out in their respective careers.
Lastly, the Hyundai Accent and Reina get cash discounts of Php 160,000 and Php 110,000, respectively. Both the Hyundai vehicles are efficient subcompact sedans with the Accent being the more premium option than the other.

The Hyundai Grand Starex has always been a reliable partner by many Filipino families throughout the years
The Hyundai Accent and Reina are available with a 1.4-liter gasoline engine both capable of making 132 Nm of torque. A diesel variant is also available for the Accent which uses a larger 1.6-liter CRDi diesel engine paired to either a 6-speed automatic or 6-speed manual transmission.
Of note, HARI's 'BOOM! BOOM! VROOM!' promo will run until February 28, 2021. To continue practicing social distancing, HARI is encouraging interested individuals to visit its Hyundai Online Market Experience (HOME) page to request quotes or apply for a loan.
Here at Philkotse.com, we value your interest in the automotive industry. Visit our website to find out more.
Know more about Hyundai Grand Starex 2021

The Hyundai Starex has been one of the popular vehicles over the years. Even before its official Philippine release, this vehicle was in demand, and an increase for second-hand options was felt in the surplus market. This all-new Hyundai Grand Starex is a reliable passenger and utility van known for effortlessly mixing a luxurious vibe with a beefed-up exterior. Inside, it offers one of the most comfortable and spacious cabins available in the market today. Locally, the Hyundai Grand Starex is available in nine variants with two to 18 seats. It comes in Timeless Black, Tan Brown, Creamy White, and Hyper Metallic Silver.

Rex Sanchez
Author
Recent posts