Hyundai Kona 2019 Philippines review will explain why it might be the best 5-door compact crossover SUV in its market segment.
In this review...
Introduction

Exterior

Interior

Engine & Performance

Safety Features

Price & Specs

Final thought
1. Hyundai Kona 2019 Philippines Review: Introduction
Given the meteoric rise in popularity of crossover SUVs worldwide, Hyundai also decided to go into the fray with their own, new subcompact crossover model.
Called the Kona after a certain region in Hawaii, the Hyundai made crossover debuted in June of 2017 and was distributed first in its home country of South Korea in early 2018.
Since then, the Kona was recognized by the world as a competent vehicle and both electric and non-electric versions of the Hyundai crossover even won the 2019 North American Utility Vehicle of the Year. This marks the first ever time that a crossover SUV won that award.
Here in the Philippines, HARI or Hyundai Asia Resources Inc. first showed off the Hyundai Kona at the 2018 Manila International Auto Show. Since then, HARI has sold a number of Kona units despite the local competition which includes the Nissan Juke and most notably, the Ford EcoSport.
Read on the below Hyundai Kona 2019 Philippines review from Philkotse.com to know why it might be the best 5-door compact crossover SUV in its market segment.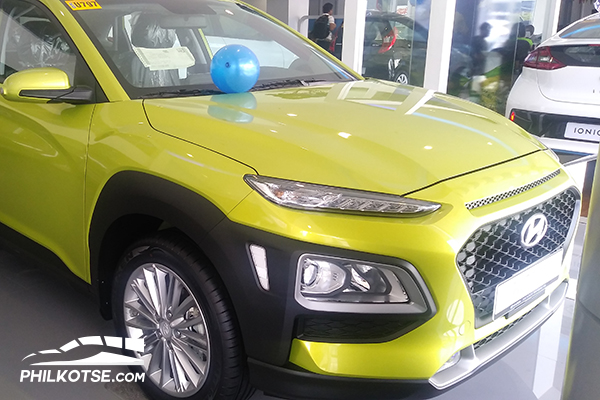 A Hyundai Kona 2.0 on display at the Sta. Rosa Hyundai dealership
>>> Latest update: 2021 Hyundai Kona: Expectations and what we know so far
2. Hyundai Kona 2019 Philippines: Exterior Review
One of the biggest draws of the Kona, depending on your taste, is its radical styling which definitely looks like it could appeal to a younger, more hip crowd than anyone else. While still following the "fluidic" design Hyundai has recently developed and bestowed upon their vehicles, the Kona definitely stands out in comparison to the subtler, more sedate looks of other models from the Korean car company's lineup.
Full-scale 2020 Hyundai Kona Philippines Review | Philkotse
On the front of the 2019 Hyundai Kona Exterior, some will definitely find the crossover aggressive looking with its slit thin daytime LED lights which reminds one of the eyes of a predator searching for its prey. Also distinctive is the signature Hyundai grille which takes up most of the surface of the front of the vehicle.
The projector headlamps that the Kona comes with are mounted on either side of the grille and a pair of fog lamps are located just below the grille on a lower lip. All in all, the positioning of the lights in relation to the chrome accents and the dark faux vents make up for a very stylishly angry looking vehicle.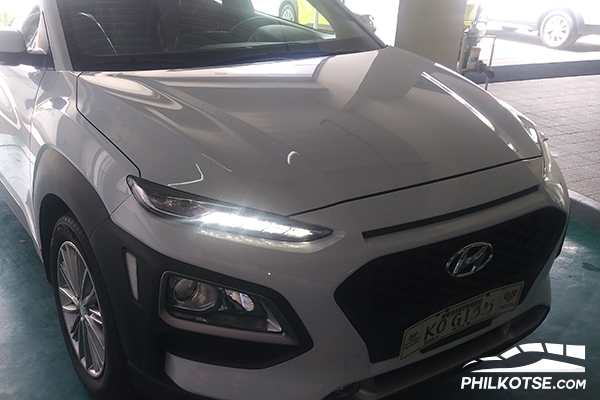 On this shot, the Hyundai Kona 2.0 test vehicle looks like a shark
Towards the sides, one can appreciate the dark contrast that the fender flares and the side skirt provides. The spoked 17-inch tires also complement the over-all look of the Kona.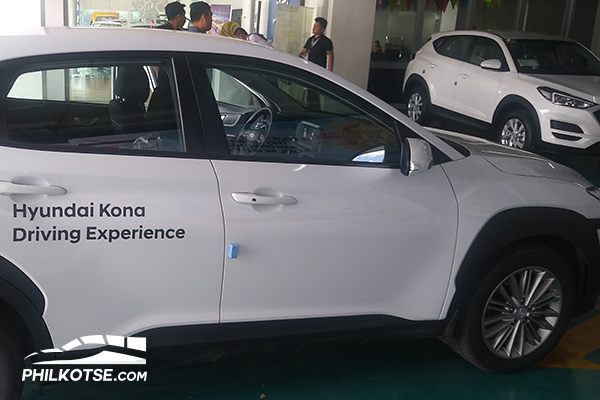 Note the long wheelbase of the 2019 Hyundai Kona 2.0
One cannot also help to notice and appreciate the stance that the Kona has. It appears low slung and rakish even for a vehicle of its class and thus gives it an air of sportiness.
Upon viewing the rear, the aggressive styling theme continues with the thin LED tail lights which mirrors the look of the front DRLs. The squarish turn signals can be found lower and are seamlessly integrated into a seemingly single piece with the rear fender flares. Like we've said, both aggressive and sporty looking with a slight hint of ruggedness which is even more apparent with the rear.
The 2019 Hyundai Kona 2.0 is very compact for a crossover even moreso than a Ford Ecosport. In comparison to other similar vehicles however, the Kona is lower with a wide wheelbase.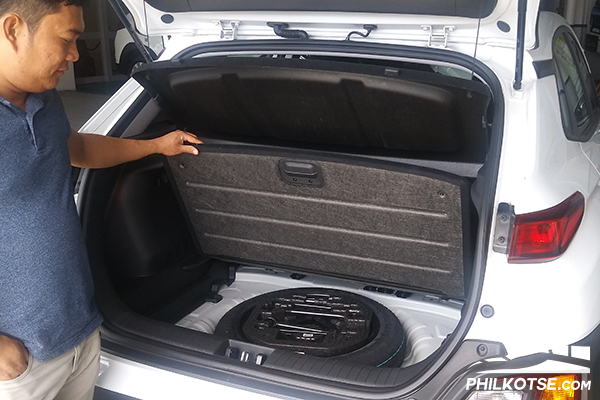 The rear of the Kona is every bit as spacious as other crossovers in the market today
>>> Find cars for sale from all brands by reliable sellers
October hottest deals
₱38,000
Downpayment
Hyundai Accent 1.4 AT w/ AVN
NCR
Get Promo
View Detail
₱48,000
Downpayment
Hyundai Accent 1.6 AT w/o AVN CRDi
NCR
Get Promo
View Detail
₱28,000
Downpayment
Hyundai Accent 1.6 AT w/ AVN CRDi
NCR
Get Promo
View Detail
₱18,000
Downpayment
Hyundai Accent 1.4 MT
NCR
Get Promo
View Detail
YOU MAY WANT TO READ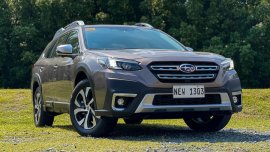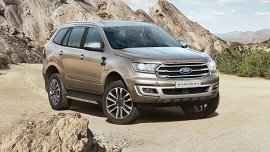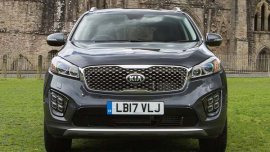 3. Hyundai Kona 2019 Philippines: Interior Review
Upon entering the 2019 Hyundai Kona interior, you are greeted with the crossover's uncluttered and premium looking interior. And suffice to say, the positioning of the controls for the air conditioning and the buttons on the steering wheel are intuitive and have a satisfying feel to them.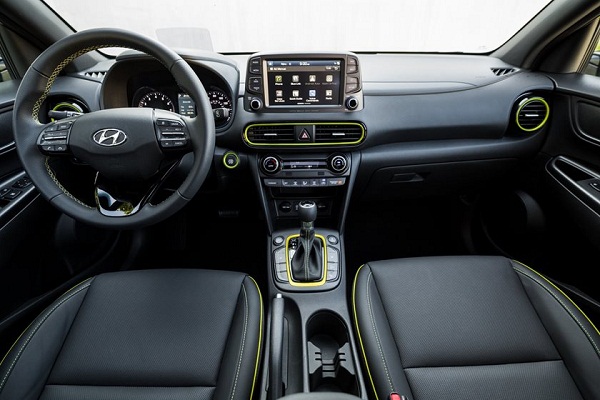 The Kona 2019 dashboard is satisfying to manipulate and  positioned logically
Some parts of the Kona however like the interior door panels have that usual thunk if you tap on them but otherwise, the parts fit well together and are seamless. We also appreciate the easy to use and very responsive touchscreen head unit which despite its position does not actually interfere with the driving experience at all.
The new Hyundai Kona, according to manufacturer's specs can fit five, but the rear seat may be a little more appropriate for two adult-sized people. At the front legroom and headroom is adequate but in the back, taller and wider folk might have some issues especially with regards to the legroom. The seats on the front look and feel sporty as they take a bucket style shape that we've found to be sufficient even during spirited driving.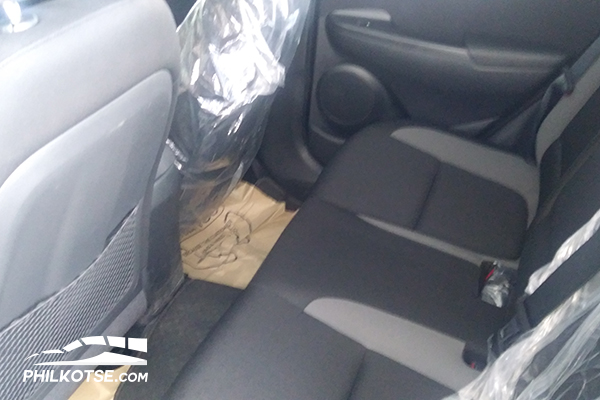 Legroom can be tight for larger people inside the Kona's rear seats
The Hyundai Kona interior aside from the excellent touchscreen multimedia display comes with USB ports and an AUX jack, Apple CarPlay and Android Auto, a convenient start/stop button, an AM/FM radio and a fairly decent sound system.
All in all, the Kona can take the role of a family vehicle especially if one have children as the materials Hyundai used for the seats are durable and have a darker color. These make them easier to clean of course.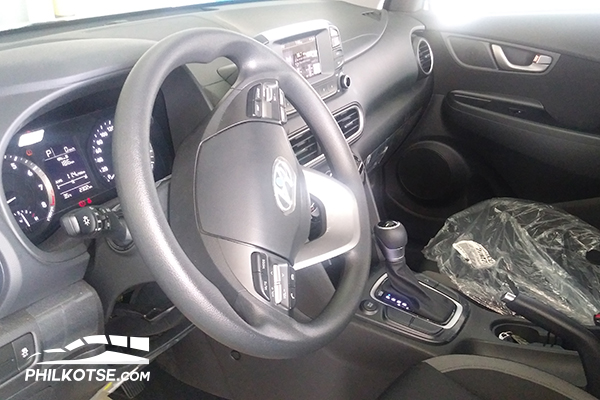 The test Kona's driver's seat and front passenger seat
>>> Check out more Hyundai Kona for sale in the Philippines.
4. Hyundai Kona 2019 Philippines: Engine & Performance
The sole variant of the Kona 2019 available for the Philippine market comes with Hyundai 2.0 liter Nu MPI gasoline, Atkinson cycle engine which is rated to make 147 hp and 179 Nm of torque. Power is then sent to the front wheels by a 6-speed automatic transmission. Also of note is the Kona's fuel tank which can take up to 50 liters.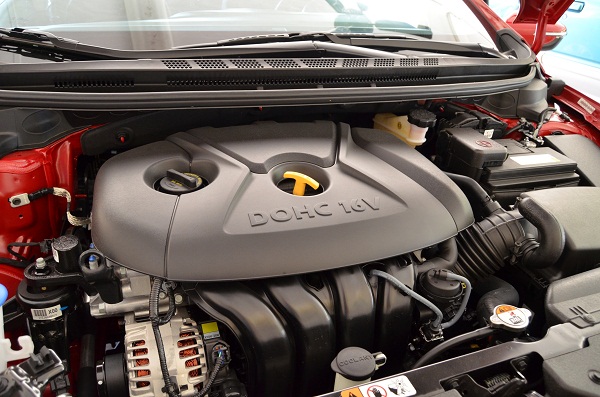 Hyundai 2.0 liter Nu MPI gasoline
In terms of handling, the crossover does not feel like a big vehicle at all. In fact, the Kona feels like a sporty little hatchback that can take corners. You also cannot feel any body roll at all due to its lower stance and as such, you can even take to the twisties with more enthusiasm than any other vehicle from its class.
With the economy mode turned on, the conventional six-speed automatic gearbox does its job by shifting early. That's pretty normal. If you turn on the sport mode through the Kona's six-speed automatic transmission excellently does its job and can go through the gears smoothly.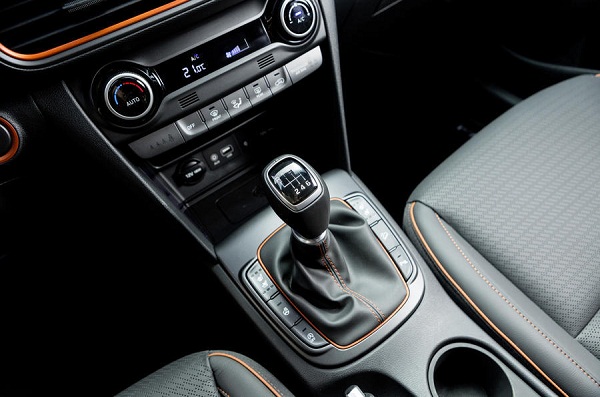 Kona's six-speed automatic transmission does its job excellently
It's a joy to drive and its power absolutely sufficient for Philippine roads. If you have qualms about the torque figure what we can say is, don't worry about it as the Kona's horsepower to weight ratio is actually quite good and can actually offset the apparent lack of torque.
In terms of handling bumpy roads or speed humps, the Hyundai Kona 2019 suspension does it quite well. Smaller potholes are even unperceivable to a certain degree. This also extends to the interior cabin noise or the lack thereof as while even doing about 60 kph the Hyundai crossover's occupants a practically insulated from almost all forms of sound save for the hum of the engine, which is more perceptible at around 60 kph and the tire noise.
This quite thorough insulation from noise might be a point of contention for some people who are used to noisier vehicles.
5. Hyundai Kona 2019 Philippines: Safety Features
When it comes to safety equipment, the 2019 Hyundai Kona specs sufficiently protects its occupants. Such equipment that comes standard to this crossover includes airbags for the front passenger and driver, anti-lock braking, electronic brake force distribution, traction and stability control, hill start assist, hill descent control, and even a tire pressure monitoring system.
6. Hyundai Kona 2019 Philippines: Price & Specs
Overall

Name

2019 Hyundai Kona 2.0

Body Type

5-Door crossover SUV

Dimensions

Length

4165 mm

Width

1800 mm

Height

1550 mm

Wheelbase

2600mm

Number of Seats

5

Engine & Performance

Machine Type

2.0 Nu MPi Atkinson cycle gasoline Inline-4

Engine Size

2.0

Number of Cylinders

4

Number of Valves

16

Transmission Category

6-speed automatic

Max Output

149 Hp

Max Torque

180 Nm

Drive Type

Front Wheel Drive

Safety Features

Driver and passenger airbags

Child safety locks

ABS

Brake Assist

Parking Sensors

Smart key + Push Start

Crash Sensors

Rear Camera

EBD

Traction Control

Stability Control

Rear Camera

Other features

Front Suspension

MacPherson Strut

Rear Suspension

Coupled Torsion Beam Axle

Front Brake

Vented Disc

Rear Brakes

Disc

Price
Kona 2.0 GLS AT
₱ 1,118,000
>>> Refer to our Hyundai Kona price list with estimated monthly installment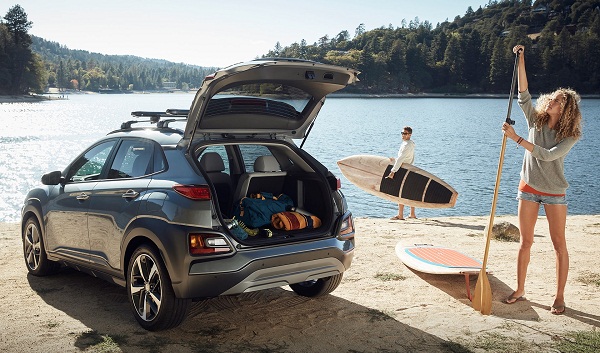 Are you willing to spend P1,118,000 on this SUV?
7. Hyundai Kona 2019 Philippines Review: Final thought
In comparison to its rivals, the Hyundai Kona 2.0 is more powerful than most but just sits a bit below the Subaru XV whose 2.0 variants makes 154 horsepower. In terms of torque, the Kona is in the median range but what makes up for that is it actually handles better than many of its competitors.
The Kona also has the longest wheelbase in comparison to the competition and it is 170 mm ground clearance places it around the middle. Thanks to that wheelbase, the Kona is very stable at high speeds.
Also of note is the Kona's impressive headroom due to its width whereas its legroom for its passenger cabin is actually even tighter than the Mazda CX-3's 
With its impressive handling, powerful engine and smooth transmission coupled with that relatively affordable price tag, the Hyundai Kona 2019 Philippines is very well worth your attention if you're in the market for a practical daily driver or even family car that's also fun to drive.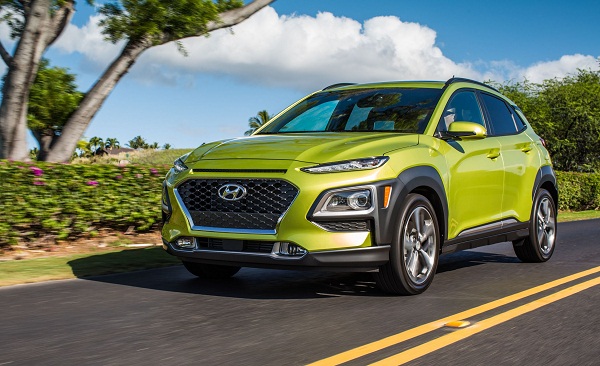 Would you buy the aggressively styled Hyundai Kona crossover?
>>> Refer to our SUVs car review section to learn about Hyundai Kona's rivals

Cesar G.B. Miguel
Author