The MG ZS 2019 crossover appears to be an interesting vehicle from MG. Let's take a closer look!
In this review...
1. MG ZS 2019 Philippines Review: Introduction

2. MG ZS 2019 Philippines: Exterior Review

3. MG ZS 2019 Philippines: Interior Review

4. MG ZS 2019 Philippines: Specs & Engine

5. MG ZS 2019 Philippines: Safety Features

6. MG ZS 2019 Philippines: Variants & Price list
1. MG ZS 2019 Philippines Review: Introduction
MG or Morris Garages first officially appeared in the Philippines back in 2015. But as of 2018, The Covenant Car Company Incorporated (TCCI), the same firm behind the Chevrolet brand here, has taken up the position of being MG's official distributor here in the country.
MG isn't by any means a new or even young car company. This is immediately apparent when upon visiting one of their dealerships here. You would notice the text below the MG logo which says "Since 1924."
Once called MG Car Company Limited, the company has produced very interesting vehicles such as the very successful T-Series and the MGF roadster under the Rover Group. As of 2005 however, the Nanjing Automobile Group has since acquired the British car company and all its assets and as such has enjoyed a much larger availability worldwide.
Nanjing itself merged with the SAIC Group in 2008. MG has since sold cars in Australia, Chile, China, Thailand, the United Kingdom and, of course, the Philippines.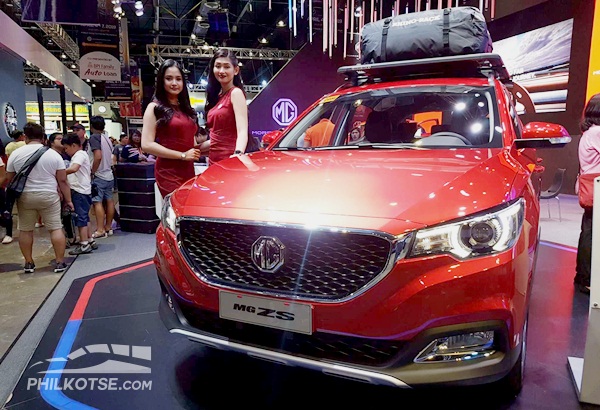 The MG ZS 2019 features styling cues you might recognize from a number of other vehicles
The MG ZS (pronounced "zed es") crossover actually shares its name with a 2001 saloon which the car company made under the Rover badge. Announced back in 2016 at the Guangzhou Auto Show, the MG ZS is the second time MG has dipped its hand in the crossover market.
Additionally, it is intended to lie in between the large MG RX5 SUV and the smaller MG 3 hatchback which is sadly not available here in the Philippines. Now let's take a closer look at this new crossover through our MG ZS 2019 Philippines review brought by Philkotse.com.
2. MG ZS 2019 Philippines: Exterior Review
For a crossover with its price, the five-door, five-seater MG ZS 2019 is a good car to look at. It does not have as much road presence as, say, Mazda CX-5 but otherwise it is much larger looking than the more expensive Ford Ecosport. But let us talk more about the ZS's price later.
Suffice to say, the 2019 MG ZS exterior looks much closer to the aforementioned because of its equally sizable grille at the front and probably the overall profile of the vehicle as well. Another thing to note is the availability of roof brackets to allow for a roof rack which adds to the practicality of the MG ZS.
2019 MG ZS Review! New Motoring
Overall, the MG ZS seems to have borrowed a lot of design cues from its competitors, but in this case, that isn't exactly a bad thing as the car overall looks fine. It is good to note however that as MG is developing more and more vehicles, the time will inevitably come that the company can create its own unique look for their vehicles.
The affordable crossover measures 4,314 mm in length, 1,809 mm in width, and is 1,648 mm in height. It has a long 2,585-mm wheelbase and weighs 1,258 kilograms. Surprisingly enough, the Ecosport is actually much longer but the MG ZS is a little bit wider.
A look at the MG ZS 2019 rear view
Other MG ZS exterior amenities include fog lights, a power-adjustable rear view mirror, 17-inch alloy wheels, and a rear window wiper. As of now, the MG ZS comes in six creatively named colors; Scottish Silver, Meteorite Black, Extreme Speed Red, Moon White, and Electro-optic Orange.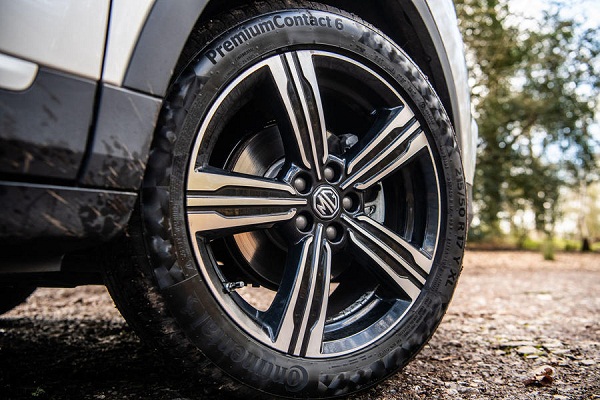 The wheels of the MG ZS. They look simple which to some simple is a strong point
>>> Widen your search with cars for sale from all brands by the reliable seller.
YOU MAY WANT TO READ
Model Price Philippines
₱ 1,179,000 - ₱ 1,373,000
Model Price Philippines
₱ 1,368,000 - ₱ 1,885,000
Model Price Philippines
₱ 998,000 - ₱ 1,332,000
3. MG ZS 2019 Philippines: Interior Review
Before talking about anything else, one surprising feature of the 2019 MG ZS interior is that it comes with a panoramic sunroof which many of its competitors have yet to provide. Now moving on to the interior design itself, everything looks fine and the buttons and controls are fairly ergonomically positioned - within easy reach.
The pedals are placed just right, and everything within the MG ZS is simple and logical. What we're not a big fan of however is that MG decided to use fake carbon fiber which is extremely prominent around the infotainment system and around the shifter. Another nitpick we simply cannot ignore are the drab color choices for the MG ZS's interior.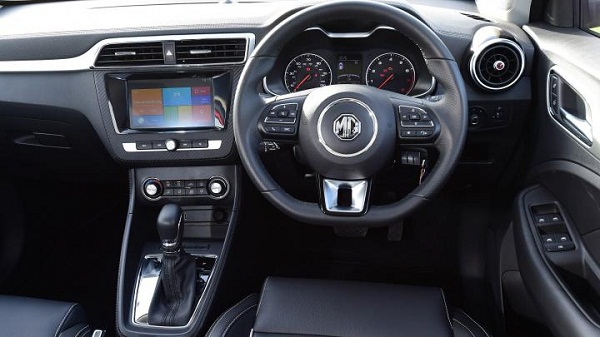 The MG ZS interior looks clean and the equipment is ergonomically placed
Upon closer inspection of the MG ZS infotainment system, it is surprisingly good with just a little latency compared to many used in other cars. Its homepage thankfully adds much-needed life and color inside the simple cabin. The infotainment system of the MG ZS can play FM/AM radio, has Bluetooth connectivity, and has USB and AUX ports which are all made audible by fairly decent front and rear speakers.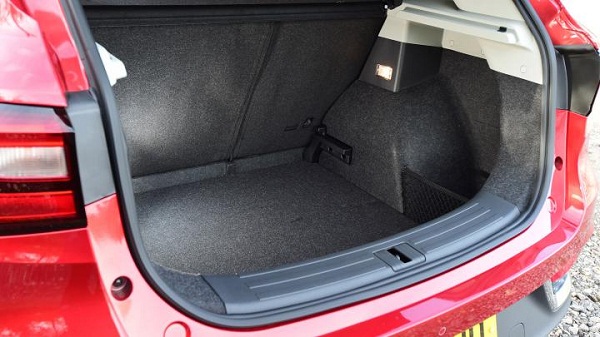 The trunk of the MG ZS is spacious and more than enough for a weekend sojourn
In terms of seating, MG claims that the ZS crossover can comfortably seat five. We would disagree with that point however and would claim that it is better suited to four, owing to the bulging center of the rear passenger bench. As for knee space and headroom, we have no complaints about.
Other comfort features that come with the MG ZS interior are air-conditioning, power windows, automatic climate control, a heater, fold-down seats which you can also adjust manually, accessory power outlets, and a power trunk opener which opens up to fair-sized boot.
4. MG ZS 2019 Philippines: Specs & Engine
The engine that powers the 2019 MG ZS crossover is a 1.5-liter, naturally aspirated four-cylinder gasoline engine which produces a decent 118hp and 150Nm of torque. That's competitive compared to other existing crossovers in the market.
The engine, however, is a bit rough sounding but otherwise runs well with enough power and economy for a crossover within its price range. Peak power for the MG ZS is achieved by revving the engine high at about 6,000 rpm, so that's one thing that needs to be improved.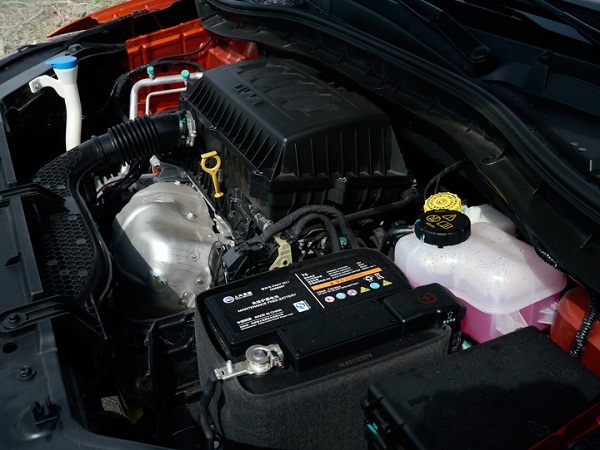 MG ZS 2019: 1.5-liter AT Engine
The current engine, however, is a good choice as there is also an MG ZS 1.0-liter turbocharged engine available in other markets which sources say underperforms and is slower than the 1.5 one available here in the Philippines.
The MG ZS 2019 can come with a five-speed manual gearbox or a four-speed automatic. The manual in question feels light and responsive. But when you're running on the highway, the five-speed may be inadequate, and a six-speed would've been better for better highway gas economy. Otherwise, though it's a good tranny all around.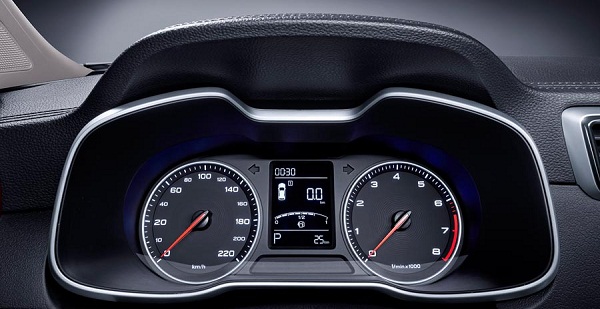 The MG ZS 2019's  speedometer which reaches up to 220 km/h and its tachometer which reads up to 8000 rpm
The suspension overall is comfortable and is on the soft side as one would expect from a crossover; comfortable and promising a good ride over minor bumps on the road. The other side of this is that the MG ZS's soft suspension causes a bit of roll. Furthermore, when it comes to the steering, feedback is lacking.
Despite those gripes, the MG ZS is a comfortable ride and driving it down a typical road in the city feels okay. It doesn't stand out by any means in this regard but it's good for a vehicle of its price.
5. MG ZS 2019 Philippines: Safety Features
The MG ZS is designed around a rigid safety cage made from high-strength steel. All variants also come equipped with airbags, seatbelt reminders, electronic brake distribution, cornering brake control, child locks, and ISOFIX child seat mounting points.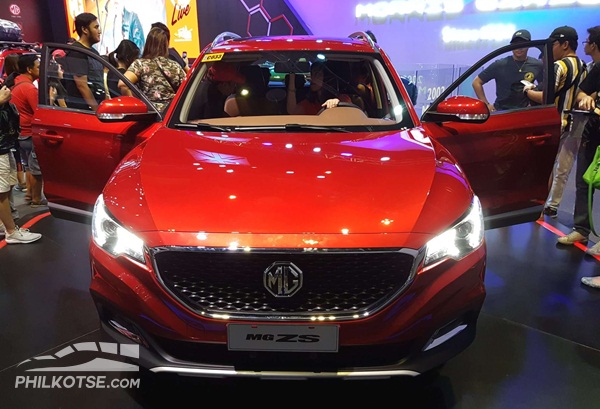 All MG ZS variants come with modern safety features such as ABS, ISOFIX child seat...
6. MG ZS 2019 Philippines: Variants & Price list
The MG ZS 2019 comes in three variants. Listed below are the variants and how much MG ZS costs.
MG ZS price in the Philippines - 2019

| | |
| --- | --- |
| Variant | Price |
| 2019 MG ZS MT STYLE | P 818,888 |
| 2019 MG ZS AT STYLE | P 869,888 |
| 2019 MG ZS AT ALPHA | P 998,888 |
>>> View full price list of MG Philippines


Cesar G.B. Miguel
Author
Recommended articles