The current PH-spec Land Cruiser 200 will return for the 2021 model year.
2021 Toyota Land Cruiser: What we know so far
By now, many of you will have heard that Toyota is indeed making the Land Cruiser 300 to replace the good ol' Land Cruiser 200. That next-gen version however won't be revealed until 2021 due to delays.
"Toyota Land Cruiser: The Pride of the Land"
As such, we're certain that the Philippine market will have to hold on to the current Land Cruiser 200 for the 2021 Model year. On top of that, new models tend to take a while to get to the Philippines.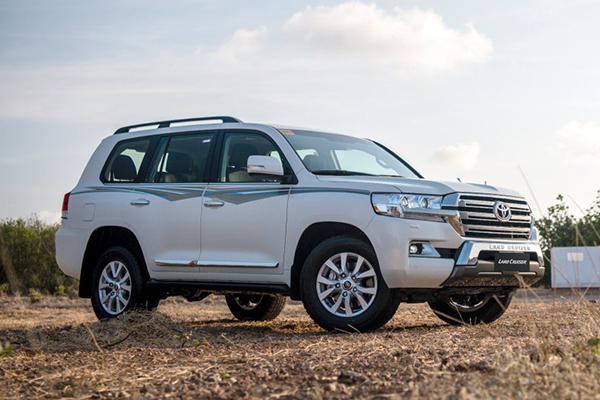 The Toyota Land Cruiser 200
While some of you are sticklers for new cars, a great subset, however, still highly appreciates the current Land Cruiser. As such, we'll mainly talk about the Philippine-spec Land Cruiser 200 that will be carried over as the 2021 version. However, there are already substantial rumors surrounding the Land Cruiser 300, so we'll touch on those bits as well.
2021 Toyota Land Cruiser: Exterior
For the Philippine-spec Land Cruiser, we're confident that it won't be seeing changes for the 2021 model year. That, however, is a non-issue since the Land Cruiser 200 as it is today, already bears a timeless SUV exterior design. It looks tough, is very recognizable, and its bulky size is still an awesome presence on the road.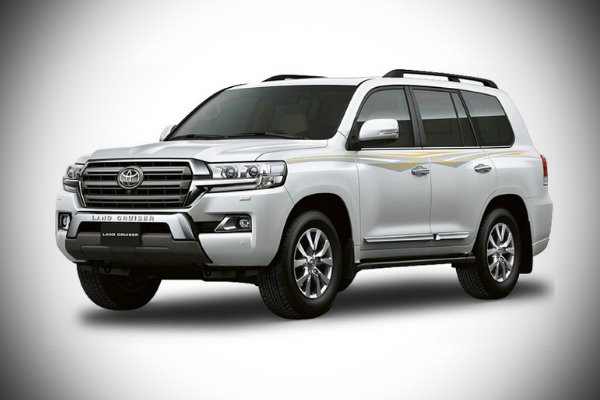 The Premium variant comes with a body stripes on it's sides
Besides its tough and macho looks, Toyota has also managed to update the Land Cruiser 200's exterior amenities over the years. Currently, the Japanese made SUV already comes standard with LED headlamps with dynamic auto-leveling, LED fog lamps, LED daytime running lamps, LED turn signal lamps, and roof rails.
The Land Cruiser Premium variant however takes it up a notch with power retractable side-mirrors with memory function, as well as a front wiper with a rain sensor.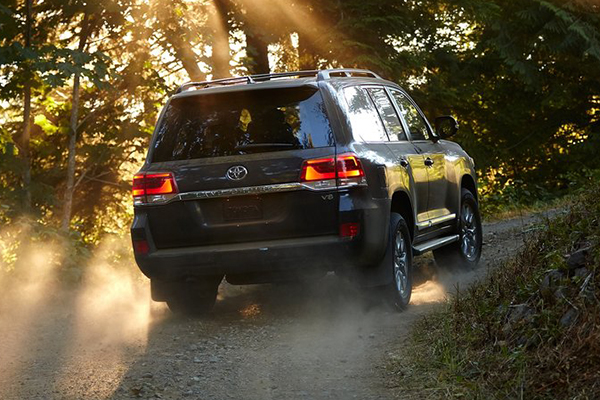 The Land Cruiser 200's recognizable rear end
Comparatively, almost all the renderings for the next-generation Land Cruiser 300 makes it like it gained sharpened edges all around. Sure, it's portrayed as a more high-tech looking SUV, but it's pretty much a consensus that the future Toyota Land Cruiser might still bear the same recognizable front fascia. Do note though that most of these renderings are just speculations so don't take them as representations of the actual Land Cruiser 300.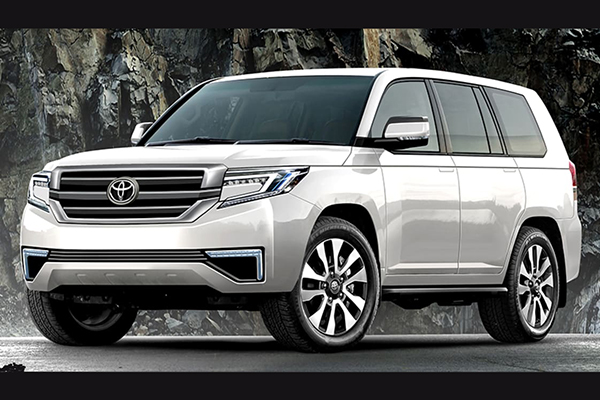 Rendering of the next-generation Land Cruiser 300 [Photo Source: bestcar.jp]
2021 Toyota Land Cruiser: Interior
Since 2007, the Land Cruiser 200 has provided tons of space for families, or an entire VIP security team. The case, of course, will be the same for the Philippine-spec 2021 Land Cruiser 200. It will still be able to seat up to eight occupants, with ample room for elbows, knees, and cargo.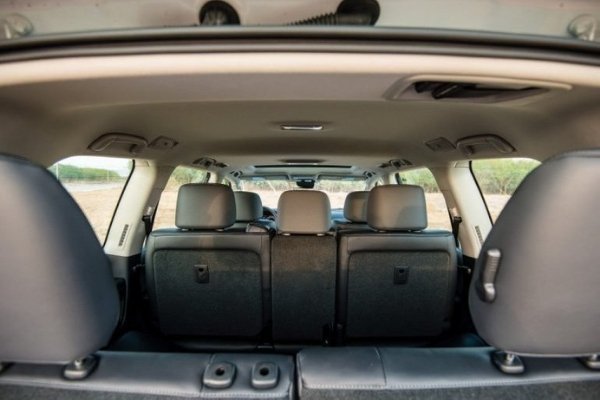 Check out all that room
On top of having a lot of space inside, the Land Cruiser 200 that's currently available locally also has a decent set of comfort features. Both of its variants come with automatic climate control, a cooled storage box, 12-volt and 120W outlets, and a six-piece sound system.
The driver is also given access to an Optitron Multi-Information display, cruise control, tilt and telescopic steering wheel, power-adjustable front seats, as well as a push to start button. Note that the top-spec variant's steering wheel is electronically adjustable, while the entry-level variant only has manual adjustment.
As for on-board entertainment, the entry-level Land Cruiser 200 variant only comes with a 2-DIN system with Bluetooth. The top-of-the-line Premium variant does have a six-inch touchscreen, which unfortunately lacks smartphone integration. It does come with Bluetooth and navigation though. Maybe that's something Toyota PH would want to update for the 2021 Toyota Land Cruiser 200.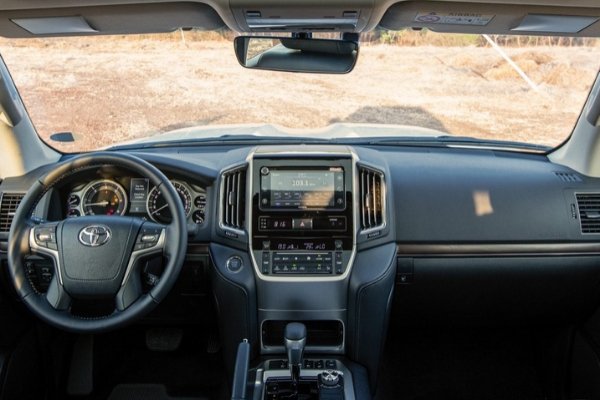 The cockpit of the Land Cruiser 200
For speculations on the next-gen Land Cruiser however, details are scant. So we'll just have to wait for Toyota to finally release more juicy details. However, we're hoping that the new Land Cruiser 300 will be given more in the way of its entertainment system. It's already a spacious and comfortable vehicle, but updating that will definitely elevate the said model.
>>> Related: List of all Toyota SUVs in the Philippines: Price list with Brief review
2021 Toyota Land Cruiser: Engine and Performance
If you aren't familiar with what a Land Cruiser 200 can do, then let's just say that it provides a perfect balance of off-road performance, on-road performance, and ride comfort. Sure, it can be unwieldy due to its size, but its front double wishbone and rear 4-link suspension systems are versatile enough to provide a stable ride on paved roads.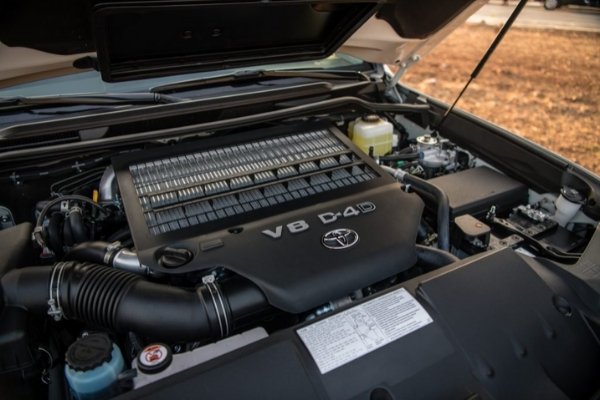 The Land Cruiser 200's V8 turbo-diesel engine
Under the hood, the Land Cruise 200 is propelled forward by the 1VD-FTV V8 turbo-diesel engine. It can make up to 232 horsepower and 615 Nm of torque. Combined with its eight-speed automatic transmission, differential lock, electronically controlled full-time 4x4, Kinetic Dynamic Suspension System stabilizers, as well as the massive 226 mm ground clearance, the Land Cruiser 200 is one of the best off-road capable SUVs you can buy today.
When talking about the future Land Cruiser 300 however, there are rumors that Toyota will be dropping the V8 engines in favor of a smaller V6. To match the older Land Cruiser 200's power, the rumor goes on to speculate that the Japanese carmaker might be giving the said V6 two turbos.
Another rumor floating around regarding the Land Cruiser 300, is that the V6 engine will form the basis for a future hybrid-powered model.
As with most speculations though, please do take these with a healthy dose of skepticism.
2021 Toyota Land Cruiser: Safety
For safety, the Philippines-spec Toyota Land Cruiser 200 comes with what you'd expect from a modern vehicle. It has anti-lock braking with electronic brake distribution, child-proof locks, and speed-sensing door locks. As for the top-spec Premium variant, it has a whopping eight airbags. Meanwhile, the entry-level variant is equipped with four.
2021 Toyota Land Cruiser: Final thoughts
As we've said, the Philippine market will be getting the same good ol' Land Cruiser 200 for the 2021 model year. It's still a very potent off-road SUV, and it will still become a prime choice for many consumers in the premium market.
Sure, it's a bit pricey, but it's just one of those models that has more than proven itself when it comes to being "built to last."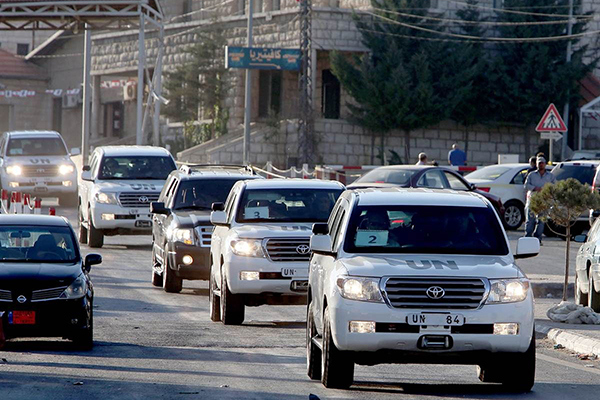 The Land Cruiser 200 is United Nation's favorite mode of transport
As further proof of that, just look at the many programs of the United Nations. Most of them use Toyota Land Cruisers to access some of the most remote parts of the world. The Land Cruiser 200's body-on-frame chassis and suspension system can also handle the added weight of bullet-proof glass and steel plate armor.
That said, the Land Cruiser 200 is already proven to be a tough and reliable vehicle. As such, we're fairly sure that the next-gen Land Cruiser 300 will carry on those characteristics if Toyota decides to use the same platform. As we've said, however, concrete details are scant for the Land Cruiser 300.
>>> Related: SUV prices in the Philippines from 14 most popular brands
2021 Toyota Land Cruiser: Expected Price
Currently, the Philippine-spec Land Cruiser 200 Premium 4.5 4x4 AT variant is priced at Php 4,950,000. The entry-level 4.5 4x4 AT on the other hand is slightly cheaper at Php 4,585,000.
However, if Toyota decides to provide the 2021 Philippine-spec Land Cruiser a better infotainment system and more safety features, then we're certain that it'll see a slight price increase.
As for the next-generation Toyota Land Cruiser 300's pricing, we'll have to wait for more concrete news from Toyota for that. For more automotive news, the latest car releases, and car reviews, keep reading here on Philkotse.com.
Know more about Toyota Land Cruiser 2021

The Toyota Land Cruiser has been around from time immemorial. In fact, it is currently the longest-running car on Toyota Motor Philippines production. Its heritage and lineage started way back the '50s. Time has already tested the reputation of the Toyota Land Cruiser. It came from a total off-road car and evolved into one of the market's most luxurious SUVs. The all-new 4x4 SUV offering from Toyota is very capable of boasting benchmark-setting statistics in function and form. The Toyota Land Cruiser now comes with advanced features, including Traction Control (A-TRC), Vehicle Stability Control (VSC), Hill-Climb Assist, CRAWL Control, and Multi-Terrain Select. Powering the Toyota Land Cruiser is an enormous 4.5L Direct Injection Twin Turbo-Intercooler V8 Diesel mill that pumps out 232 horsepower and 615 Newton-meter of torque as its maximum output. It can pull the vehicle up and over the roughest and most undulating terrains in the country. This 4x4 SUV is worth every penny because of its proven dependability and reliability. The Toyota Land Cruiser is the perfect vehicle for family or for drivers who are up for an adventure. It is available in two variants – Standard and Premium. The Premium variants get extra features that provide an advantage both on and off-road.

Cesar G.B. Miguel
Author