The world of car modification is vast and sometimes even weird. Even weirder still as some of these engine swaps that we've compiled.
In the car enthusiasts' quest to make their cars run faster, there are conventional engine swaps, and then there those that will leave you scratching your head in bewilderment.
The more common engine trades typically involve upgrading to a larger and arguably better version of the car's stock powerplant, such as plonking down a 2ZZ-GE into a Toyota Vios or transplanting a K20 into a Honda Civic EG hatchback.
While these swaps can result in a more or less reliable build and up your horsepower game, some might argue that they're too conventional and predictable.
Meanwhile, there are engine swaps right out of the left-field that may not make much sense (if at all), but look like a whole lot of fun. This article from Philkotse.com compiles some of the most outrageous engine swaps ever seen, ranging from weird to absolutely mind-blowing.
1. Honda N600 with a Suzuki GSX-R1000 engine
Before becoming a household name with the Honda Civic badge, Honda was known in its early years for making small, sprightly, and relatively fuel-efficient cars like the S500 sports car and later on, the Honda N600.
A man named Alex Saint, however, was struck with inspiration. A very twisted one.
Upon laying eyes on Built as a tribute to professional rally driver Ken Block's Hoonitruck, itself based on a 1977 Ford F-150, Mr. Saint customized a 1971 Honda N600 into a mini-truck, lopping off the rear half of the cabin and substituting it with a cargo bed.
Except that this really small rig isn't going to do any hauling, because the bed is already home to a 1.0L four-stroke DOHC dynamo sourced from a 2013 Suzuki GSX-R1000 that can make as much as 190 horsepower. That doesn't sound much until you realize that the mini-Hoonitruck weighs just 454 kilograms.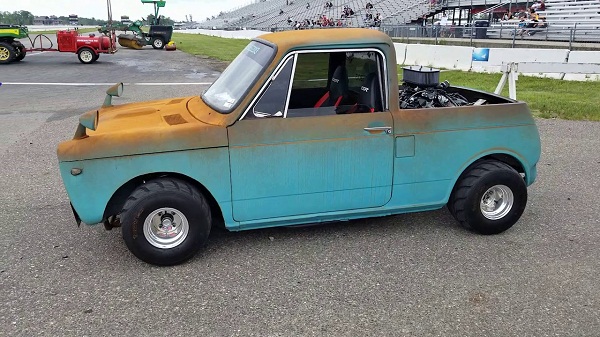 This mini-truck is really cute, but also really powerful
>>> You might like to read: 6 most fuel-efficient diesel cars in the Philippines
2. Mazda RX-8 with a Cummins Diesel engine
Rotary engines, specifically those made by Mazda, are known to command a very passionate fan base who happens to be very outspoken about their powerplant of choice. It comes as no surprise then that one particular RX-8 mod has earned the moniker "RX-Hate", due to its outlandish nature that's probably a bit too much for the hardcore rotary engine follower to bear.
This specific build involved removing the stock Mazda RENESIS engine and replacing it with a Cummins 6BT diesel, of all things. Fans of the Mazda RX-8 for sale on the market might call it blasphemy, and it doesn't help that the elegant lines of the hood had to be mangled to make the turbocharged oil burner fit, but the mod works after all.
The car runs and does burnouts, thanks to the monster 597 Nm of torque. You won't find a more stark contrast between the RX-8's sleekness and the 6BT's hulking lump, yet the result is admittedly one of the more striking car mods you won't soon forget.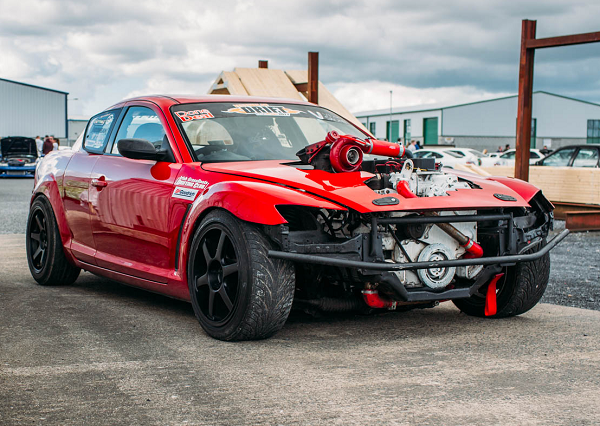 The "RX-hate" in the flesh. Note the way the engine juts from the hood
>>> Related: The beauty of GM's LS engines
3. Honda Civic with a Honda outboard motor
Like the Mazda RX-8, the Honda Civic enjoys a loyal following. The number of Civic units sold around the world can attest to that fact, which also means that this model is no stranger to modifications.
One of the more bizarre examples is brought to you by a group of car nuts called Life OD, who have gained fame (or notoriety) over the internet for their automotive hijinx.
Get this: they took a fifth-generation Honda Civic and replaced the stock engine with another Honda. Sounds normal? Not if it's a 75 hp Honda outboard marine engine. By the looks of it, they connected the propeller shaft to the car's transmission, which explains why the boat motor is standing tall from the engine bay.
And this is where it gets weirder: one still needs to use the pull the motor's starter cord to get the motor running, the throttle is still on the tiller handle, and it periodically needs a bucket of water to stave off the heating. As automotive projects go, this is certainly one of the more outrageous ones.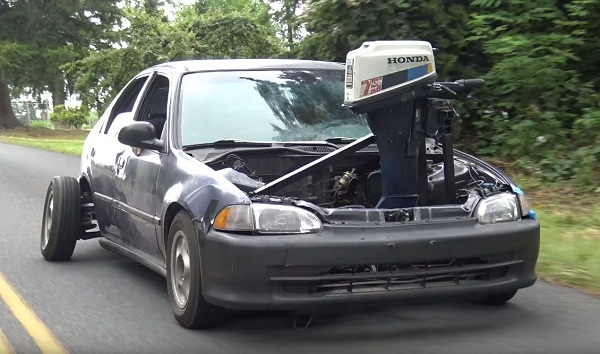 This mod looks really sketchy. It still runs, but slowly
4. Smart Car with a Suzuki Hayabusa engine
Built by Mercedes-Benz in cooperation with Swiss timepiece company Swatch, the Smart Car was intended to be a stylish city car, is fuel-efficient and easy to use for the environmentally-conscious consumer.
Not long after its launch many car enthusiasts and mainstream consumers derided the Smart Car for a number of things; the name (short for Swatch Mercedes ART) sounded condescending, and the prospect of that short, stubby being involved in a car crash was an unsavory thought.
On the other corner is the Suzuki Hayabusa, a legendary motorcycle that was once touted as the fastest production bike in the world. It eventually won the Japanese sportbike speed wars and was quite possibly the gnarliest motorcycle Suzuki has ever made during its time. People were intimidated by its power, to say the least, and it drank a lot of gas.
Combining the Hayabusa's powerplant and the Smart Car's frame, you get a tongue-in-cheek, tire-spinning pocket rocket that burns rubber every time you shift gears. Good for a couple of laughs, yet very fun-looking, too.
Smart Car with Hayabusa Turbo Engine! Smart Hayabusa Donuts And Burnout, Brutal Exhaust Sound!
5. Toyota Tacoma with a Honda F20C engine
Quite possibly the most mechanically complicated swap in this article, this particular 1996 Toyota Tacoma has its entire drivetrain sourced from a Honda S2000; that includes the F20C engine, transmission, and even some parts of the interior such as the seats.
The result? A certified sleeper vehicle that can outrun most cars on the road. Very unique and very sneaky indeed.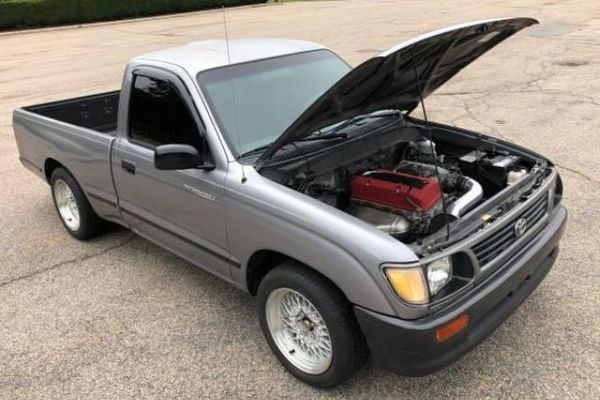 It looks like any ordinary Hilux on the road until you look under the hood
>>> Related: 8 significant Toyota engines you should know about
6. Jeep Wrangler with a Hellcat V8 engine
Converted into a six-wheeler pickup, this Jeep Wrangler might as well be America's answer to the Mercedes-Benz 6x6 G-Class. But the real story is that it also comes with a Hellcat V8 engine that generates around 707 horsepower, and this mechanical monstrosity is a creation of California-based Exotic Custom Motorsports.
The Hellcat V8 can actually power all four rear tires and do burnouts as well. The fabrication of custom parts was quite extensive, such as the rearmost axle, so this build isn't as affordable as the other engine swap projects on our list.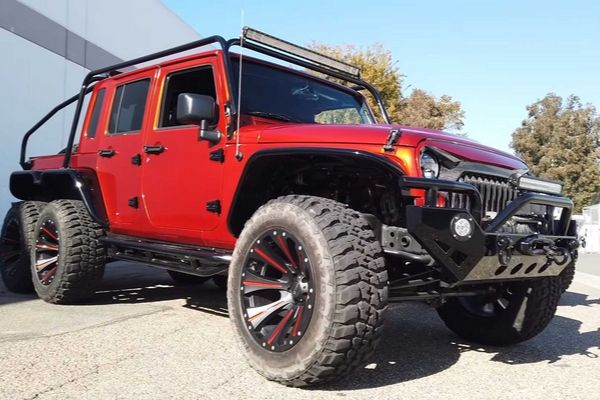 This extra-long Wrangler is America's answer to the 6x6 G-Wagen
>>> Read more: Stock vs. Modified - What's the Difference?
7. Toyota Prius with a Hellcat V8 engine
Another cheeky car builds on the list again involves the beefy Hellcat V8, this time making its home in one of the unlikeliest of cars: the Toyota Prius, probably the last thing that the word "performance" conjures in your head.
Built by Nick Filippides, this hilarious-yet-seriously fast project can actually achieve 9-second runs on a quarter-mile (0.40 km) drag strip. Like the Hellcat-powered Wrangler, this Prius may look fun, but there's nothing enjoyable about its price. At USD150,000 (PhP7.7M), this might actually be the most expensive swap on the list.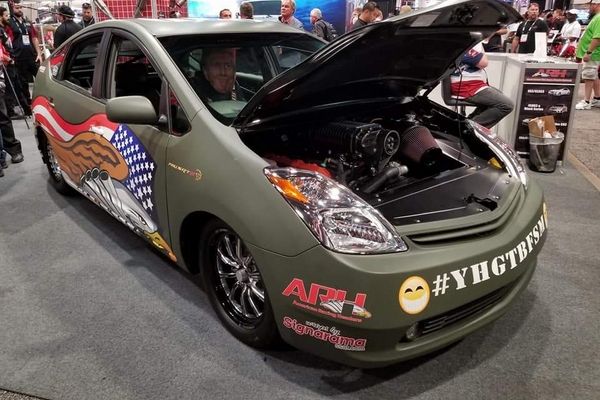 Check out the very tongue-in-cheek paint job
>>> Also check: 
8. Toyota Hilux with a Supra 2JZ engine
Powered by a 2JZ-GTE sourced from a Toyota Supra, this 1994 Toyota Hilux produces 400 horsepower, with its turbo producing up to 7 psi of boost.
Unlike the Tacoma/S2000 combo, however, this project's interior is a mish-mash of parts: the gearbox and handbrake came from a Toyota Celica, the seats belonged to a Mitsubishi Lancer Evolution IV, and the dashboard was donated by a 1990 Hilux. What's more, the truck's ride height was also dropped using lowering blocks.
It looks like a whole shop was responsible for this build, but in reality, it was done by just one guy named Kurt Muller, who claims that Japanese cars are easy to work on since their parts come together like building blocks.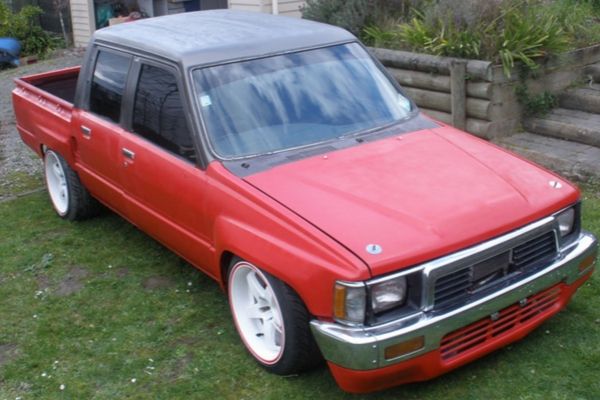 The clean-looking exterior on this Hilux belies the power underneath
>>> Refer to our Toyota Hilux 2020 Philippines review to get a deeper understanding of the newest Hilux in the market.
9. 1972 Datsun 1200 "White Zombie" electric conversion
Built by John Waylan, the "White Zombie" is a 1972 Datsun 1200, propelled by a 500-hp dual-armature 9-inch series wound electric motor. If that sounds complicated and obscure, that's because it's actually a custom job, also a solo project. The electric setup runs on 355 volt/22 kWh batteries that Waylan's sponsors have generously provided, reducing acquisition costs.
On its current EV powertrain, the "White Zombie" achieves 0 to 100 km/h in just 1.8 seconds. That's faster than the Dodge Demon, Ariel Atom 500, Tesla Model S, and the Porsche 918 Spyder, all of which take under three seconds to reach the same speeds.
Note that the "White Zombie" is also street legal, proof that you can outrun supercars while being environmentally-friendly.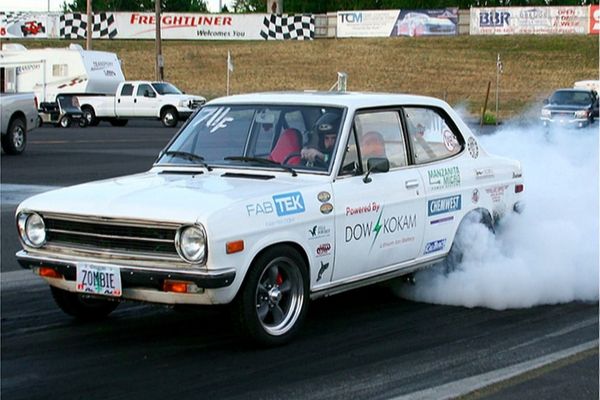 The "White Zombie" Datsun 1200 warming up its tires before a drag run
10. Mazda MX-5 Miata with a Subaru EJ251 engine
Unlike the other cars in this list, the Mazda MX-5 actually has a conversion kit available in Idaho, USA. Nevertheless, the kit doesn't diminish the oddity of planting a 2.5L Subaru flat-four inside a Miata. Regardless of what many gearheads feel, the flat-four seems to work well on the roadster, with the car's balance benefiting from the engine's lower center of gravity.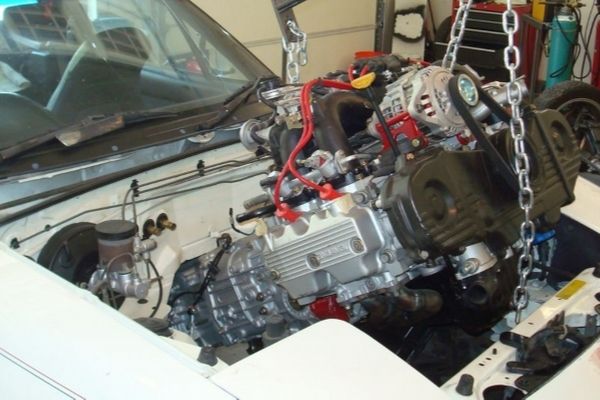 Despite the available kit, this Subaru swap on a Miata doesn't look easy at all
So what do you think of our list? Have you come across more engine swap ideas that are more far-out than what we've listed above?


Cesar G.B. Miguel
Author