If you want to get into racing here in the Philippines, the best way to start is to look for a car suitable for the rigors of the track. Here are our 5 suggested cars for guaranteed fun.
So! Do you want to race?! Well then, let's see what car you got!
If you answer that question is a tired old econobox, a long and heavy luxury sedan or a big bad lifted SUV then we've got a problem. A luxury sedan is well…heavy. An SUV, lifted or not, can be hefty and has a high center of balance, and an econobox (typically a small sub-1.5-liter hatchback) may not take the rigors of a race track and/or is slow.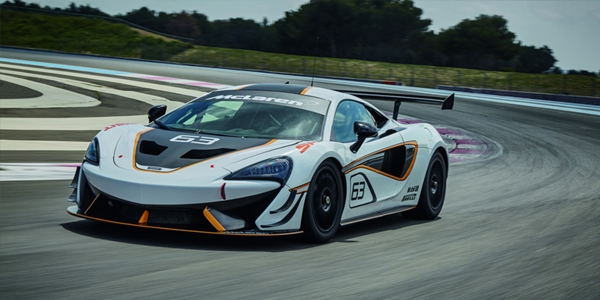 So! Do you want to race?! Well then, let's see what car you got!
Also, not everyone can just get into Toyota's Vios Cup. You need funds for that yo. I mean check out AK Lavapie's 2014 Toyota Vios Race Car and you'll see what we mean.
So, what kind of car should you get you to ask? Well, that's where we step in with some suggested car models that you can find easily in the Philippines used car market, will not cost an arm and a leg, easy to work on, are fairly reliable, and most importantly…are powerful and are snappy enough to not lull you to sleep.
Here are Philkotse.com's picks for the top 5 best beginner track cars plus some extra ones that somewhat fit our category.
1. Nissan Cefiro A31 1988-1994
There's a reason as to why the Nissan Cefiro A31 is a popular beginner's drift car. First off are its engine options which are mostly comprised of the RB series like the legendary RB20DET. This is the same engine series found aboard the Nissan 240SX and the near-mythical Nissan Skyline…line of cars. And you know RB engines, they're tough and can be made to make huge amounts of power.
There are also tons and tons of aftermarket parts for the Nissan Cefiro that'll come in handy once you get to a more serious level of racing. Err, drifting. Despite that, however, examples of the Nissan Cefiro A31 on our cars for sale section are affordable but strangely enough, they're a bit rare.
Nissan Cefiro A31 Drift Clips
>>> You might want to know: Top 3 Tips on Getting the Best Deals on Car Accessories in Banawe Street.
2. Mazda Miata MX5 NA and NB
While the stereotype of being a hairdresser's car has kinda stuck a bit, the Miata is a great beginner's car not because its fast (the NA's 1.6-liter inline-4 can make only 115 horsepower) but it's because examples of the NA are plentiful, cheap, and are really agile even in stock form.
Apart from that, the NA to NB Miatas is really reliable and is also great as a daily driver. With as little as coil-overs though, the Miata regardless of generation and year model can become a really big threat, especially on the autocross.
Why? Well, the Mazda Miata MX5 for sale has all the things needed for a winning sports car; it's light, therefore, has great power to weight ratio, the manual transmissions are smooth and precise, is rear-wheel-drive, and most of all…it have a nearly perfect weight distribution.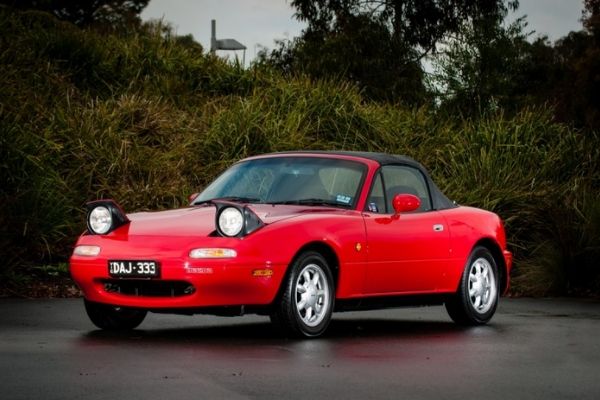 Also, the NA has pop-up headlights which everyone loves
>>> Read more: 5 RWD sports cars with manual transmission priced under $15,000.
3. Honda Civic SiR 1996 – 2000
Despite being a front-wheel-drive vehicle, the Honda Civic SiR is one of the most coveted cars for the would-be Pinoy racer. They're plentiful, they're relatively cheap, and there are tons and tons of options when it comes to aftermarket car modifications. Also, the 1.6-liter B16A engine that it comes with can make 160 while returning a decent 11 km/l. 
And yeah, Honda makes some of the slickest manual transmissions ever including the ones aboard the Honda Civic SiR.
A warning about the SiR though, there are a lot of "FAKE" ones out there that are just made to look like SiRs but there are indicators that you can watch out for. First is the DOHC B16A2 engine and the chassis number should have "EK4" somewhere in the beginning.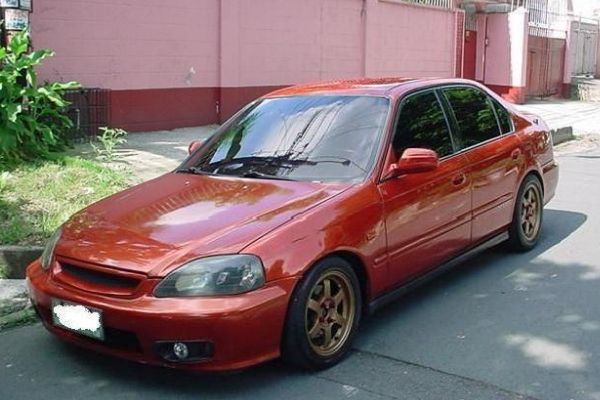 The Honda Civic SiR's design is timeless too
>>> Check out for the best deals of Honda Civic 1996 - 2000.
4. Honda Civic EK 1996 – 2000
The Honda Civic EK hatchback, even today, is a common sight in the Philippines. Why? Well in stock form, the EK is a reliable and versatile vehicle that can do just about anything. They're pretty reliable and fuel-efficient too.
If you have the extra moolah however, the Civic EK is the ideal platform if you want to go ham with after-market modifications. From slapping on a B16A2 from a Civic SiR to body kits to car's coil-overs, the Civic EK has a million different ways to make it do a million more different things. Those things can range from a show car, drag racing, autocross, circuit racing, and what have you.
Note also that the most famous Honda Civic Type R for sale comes from the Civic EK series and yes, the parts are compatible. Winning!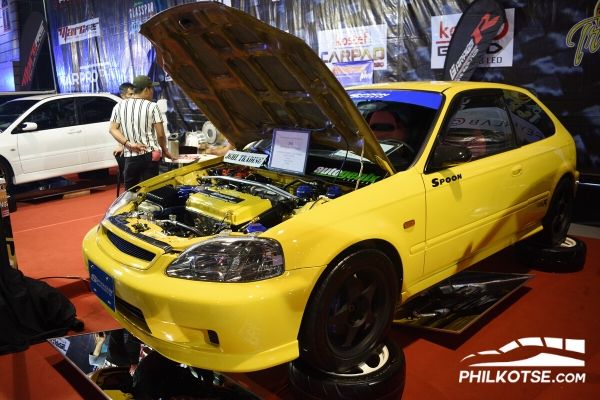 Like this one, we found at the 2019 Manila Auto Saloon
5. Honda Accord 1997 - 2002
If you're saying that we're talking out of our assess because the Accord is "too heavy" or is "supposed to be a luxury car" then you're wrong.
Under the hood, the Honda Accord comes with a whole slew of engine choices from the F series inline-4 to the C27A4 V6. Both of which can be tuned to make oodles of power. And yes, even the SOHC VTEC F22 engine can be boosted to make around 300 horsepower but we digress. We're talking about beginners here so we'll have to acknowledge the power that the V6 which can make around 170 horsepower aboard the 1997 Accord. That's in stock form.
So for a beginner-friendly budget build, just hook-up a good set of coil-overs and you're good to go.
>>> Also check: [Philkotse pick] What are the 4 best cars for beginners?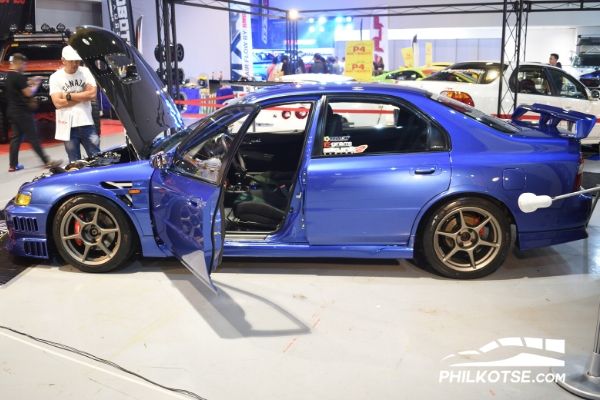 Check out this monstrous 500 horsepower Accord
If you're wanting to dedicate your Accord to the track though, we highly advise you to reduce its weight by deleting unnecessary parts. For the Accord, you'll also have no trouble fitting in yourself, plus the eventual roll cage you're going to install as it has oodles of space inside.
And lastly, the Honda Accord like most of the cars in this list has plenty of affordable examples, is easy to fix, and their manuals are butter smooth.  If you want to see for yourself, check out our Honda Accord 1997 - 2002 for sale.
Bonus Round!
Toyota Corolla E90 – E100
"Duurr, it's just a Corolla so it's boring."
Nope, not at all! You know why? Because examples of the E90 and the E100 are abundant and are cheap here in the Philippines. There are also hundreds of shops with just the right kind of part you can think of for these generations of the famous Toyota Corolla for sale. And better yet, they're so easy to work on.
The E90's engine bay can also easily fit in the amazing 1.6 L 4A-GZE and the 4A-GE which of course are a bit rare here in the Philippines. The E100 also has the same engine options.
These cars are also known to be indestructible. With a bit of maintenance here and there, they'll last for a long time and might even become a veritable heirloom. If your grandchildren don't want your 4A-GZE Corolla, disown them immediately.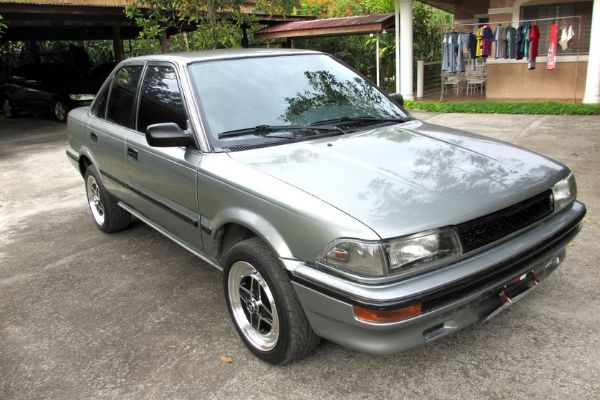 It looks boring until it comes screaming at you at 8,000 RPM
Toyota MR2 W10 1984 – 1989
"WHY IS THE FREAKING MR2 ON THE BONUS LIST?!?"
Calm down. The Toyota MR2 for sale on the market is without a doubt a great car to take on the track. It can even perform great as sexy looking daily if you take care of it enough. There's a huge but though (pun not intended), the MR2, specifically the W10 is notoriously hard to find here in the Philippines.
Sure, there are some listings on our cars for sale section sometimes but most are for the W30. Those are still good but it doesn't have pop-up headlights. Chicks like pop-up headlights. Also, later models don't have the super delicious 1.6-liter 4A-GZE Supercharged inline4.
Note also that the rare (here in the Philippines) 2.0-liter MR2 W20 with the turbo has this thing called snap-oversteer which happens exactly as it sounds like and is NOT great for beginners.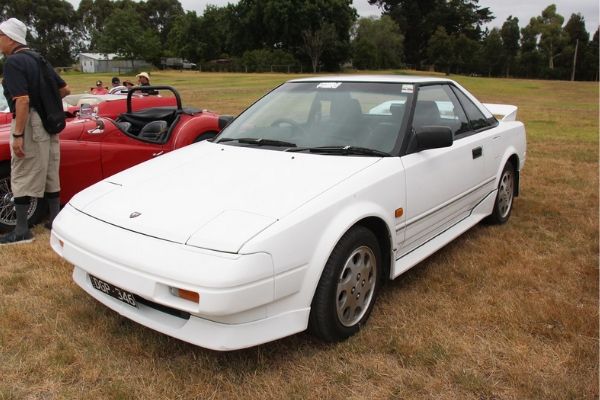 The MR2 is a quintessentially late 80's design that'll still turn heads
Mazda RX8
"Gasp! But the apex seals tho!" Yes, we know, we know. The rotary engine of the Mazda RX8 for sale eats apex seals like no tomorrow but regardless, this vehicle is rev-happy, is actually quite agile, and if you know what you're doing, it can haul ass before you can say Dorito.
But alas, the Rotary as a performance engine is quite dead. So good luck finding a rotary specialist here in the Philippines. Also, sourcing parts from the U.S. where there's still a sizable large Rotary engine community can be straining on your wallet.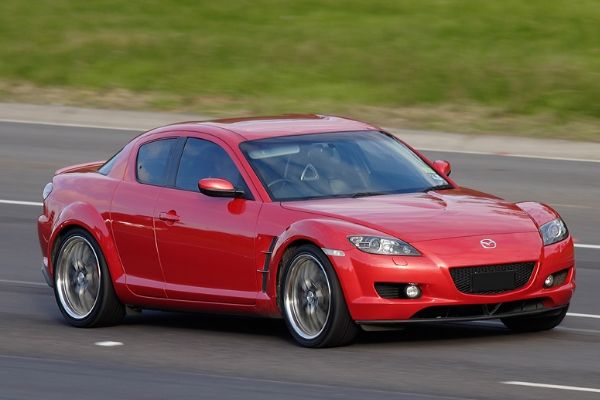 Most of the time you'll be trying to fix it. But with the few times that it runs, its a fun car
Toyota 86/Subaru BRZ
Yeah yeah, we get it, these cars should be listed above and not in the bonus round because they're the ultimate car models when it comes to out of the box race track capability. But guess what, even a six-year-old Toyota 86 will cost you from Php 900,000 (if you're lucky) to Php 1,100,000. They didn't depreciate at all and are still in high demand. And who could blame the sellers?
The Toyota 86 or Subaru BRZ is still one of the best platforms to do whatever on a race track. Be it autocross, drifting, time-attack, you name it. With minimum mods and despite the "underpowered" engine it can do it. Well maybe except drag racing. But yo! The 86/BRZ is one of the few cars in its price range that can drift straight from the dealership. But please, don't do that.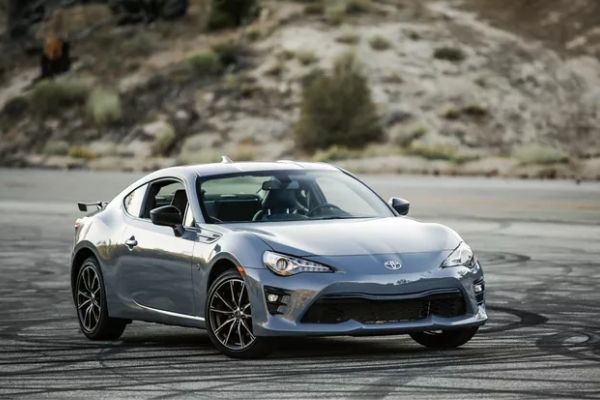 You can't go wrong with an 86/BRZ for a track car. If you have the cash
Porsche 944
"Are you kidding me? A freaking Porsche? Do you think I'm made out of money?" Well, the Porsche 944 for sale on the market is old and it has depreciated a LOT. But regardless, the car still deserves a spot on the bonus round because of its potential as an agile track car. The caveat, however, is the prices for its parts can be quite stiff.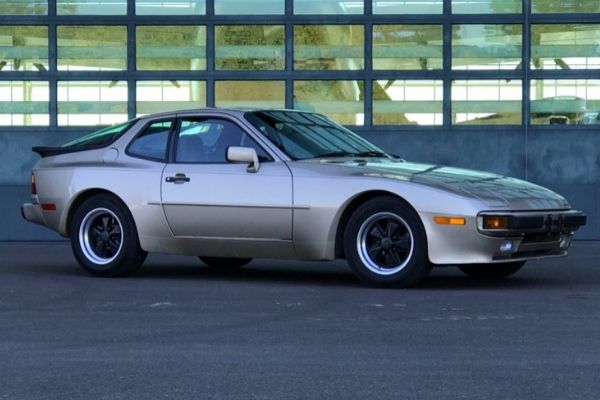 It's one of the more cheaper European sports cars that you can buy used today
For more fun lists like this, keep reading here on Philkotse.com!


Cesar G.B. Miguel
Author