The more important difference is what's under the hood.
As the names suggest, the biggest difference between midsize and full-size trucks is their size. Those in the market for a large truck that will fit their big family or camping essentials usually opt for a full-size truck mainly for its massive interior and bed size.
However, there are more differences between the two truck types aside from their respective sizes only. These differences are what most truck buyers thoroughly consider depending on when and how they will use the truck.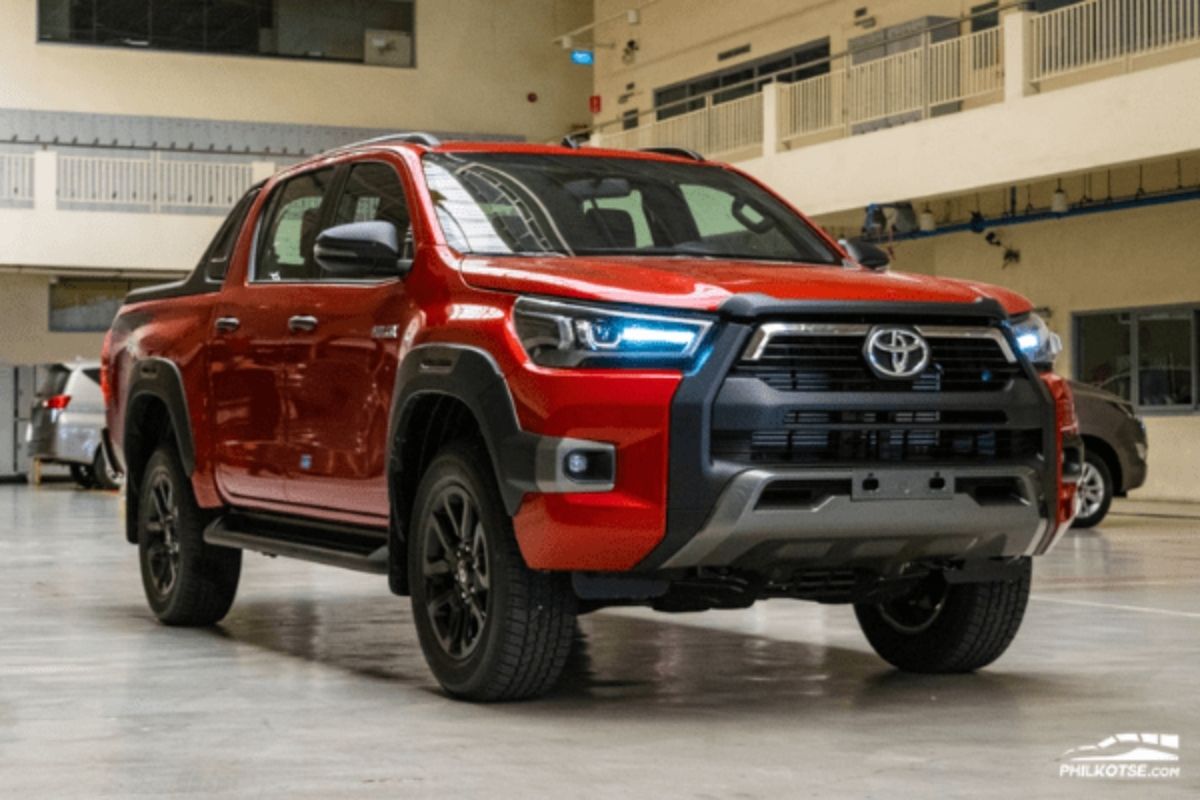 The Toyota Hilux is one of the popular trucks in the country
Here in the Philippines, the market for various types of pickup trucks is not that broad. You will see a huge market for this vehicle in the country like the United States where massive pickup trucks are made by American truck manufacturers such as Ford and Dodge.
As such, let's tackle each difference between midsize and full-size trucks. So by the end of this writing, you could have an idea of which type of truck you would consider buying depending on your daily driver needs.
Midsize vs full-size truck comparison table
| | | |
| --- | --- | --- |
|   | Midsize | Full-size |
| Engine | 4-cylinder Diesel | V6 or V8 Gasoline |
| Power output (average) | 180 hp and 450 Nm of torque | 380 hp and 600 Nm of torque |
| Fuel Economy | Better | Good |
| Price (average) | P1.3M | P3.5M |
Engine and performance
Generally, full-size trucks are equipped with a larger engine than a midsize truck. Why so? The answer is simple, and that is to enable full-size trucks with extra weight to move on any type of road effortlessly. But this doesn't mean that midsize trucks are underpowered by any means.
Most midsize trucks are powered by engines that are sufficient enough for the city and off-road driving. In other markets, midsize pickup trucks are offered with different engine options. But in the local market, all midsize trucks are equipped with a diesel engine for better fuel efficiency and that powerful pull at low RPM runs.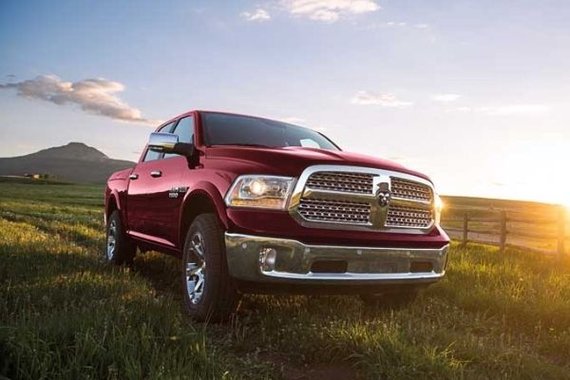 The Ram 1500
The midsize truck market offers Filipino car buyers 4-cylinder diesel engines only. Some midsize trucks are offered with a 4x2 drivetrain configuration, while some are offered with a 4x4 drivetrain configuration. As for local full-size trucks, they are powered by either a V6 or V8 gasoline engine. 
Local midsize trucks come with average power outputs of 180 hp and 450 Nm of torque, while local full-size trucks offer average power outputs of 380 hp and 600 Nm of torque.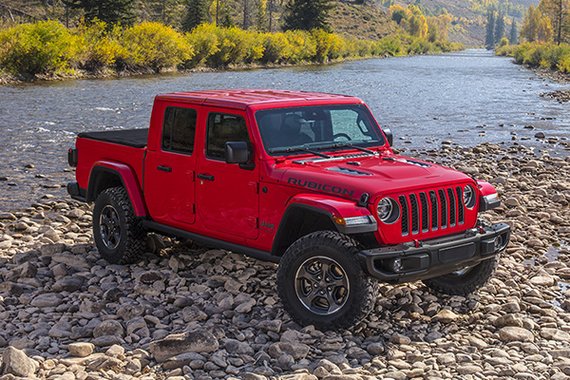 It was almost 30 years when Jeep last offered a pickup truck
Bigger engines generally mean better towing and payload capacity mainly due to their relatively high power outputs. In terms of ground clearance, both midsize and full-size trucks are playing on even grounds. Almost all trucks offered in the local market ride above the 200 mm of ground clearance.
Fuel Economy
As for this category, midsize trucks got the upper hand. Since midsize trucks are equipped with a smaller engine as compared to those in full-size trucks, they require lesser fuel to keep the engine cranking. The larger size in full-size trucks is also a factor that reduces fuel economy as it adds weight.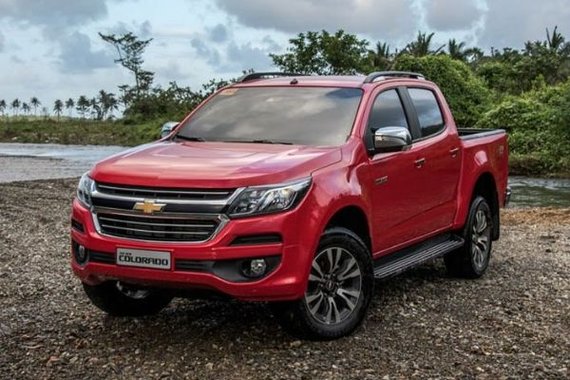 Midsize pickup trucks such as the Chevrolet Colorado is generally more fuel-efficient than full-size trucks
However, due to the advancement of automotive technologies, the gap between midsize and full-size trucks in terms of fuel economy is now relatively narrowed. But then again, real-world traffic conditions play a huge role when it comes to fuel economy.  With that being said, the more important factor to consider for most truck buyers is power over fuel economy.
>>> Related: Truck 101: Differences between Double Cab and Crew Cab
Price
The larger size and bigger engine are the factors that add up to the final pricing of a vehicle. As such, full-size trucks are more expensive than midsize trucks. Full-size trucks in the local market are offered from two to four million. Meanwhile, midsize trucks are offered from an estimated price range of Php 850,000 to Php 1,800,000.
As of this writing, one of the most affordable midsize trucks that are available in the local market is the Toyota Hilux with a starting price of Php 843,000 for the cab and chassis option. The truck on the opposite side of the price range is the new full-size Jeep Gladiator which has a Php 4,790,000 sticker price for the top-of-the-line Rubicon variant.
Which is right for you: midsize or full-size truck?
The answer for which truck is right for you depends on your daily driver needs. If you have a big family that consistently go for out-of-town trips, then you can opt for a full-size truck. The fuel economy will not completely matter considering you will usually drive on open highways. Plus, you can make full use of the full-size truck's big engines for almost any payload and towing jobs.
One of the most affordable full-size pickup trucks in the market right now is the Ford F-150 which was introduced last year. It comes with a 3.5-liter EcoBoost V6 engine good for 375 hp and 637 Nm of torque. Pricing starts at Php 2,698,000 for the base Lariat variant and goes up to Php 2,998,000 for the top-spec Platinum variant.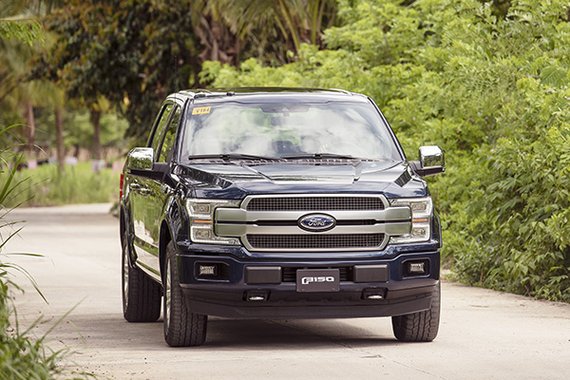 Full-size trucks offer more space and power
Other full-size trucks you can get in the Philippines are the V8 engine powered Ram 1500 with an estimated price above the three million and the Jeep Gladiator which starts at Php 3,890,000. Full-size trucks are not practical choices considering parking for this type of truck is troublesome especially in the Metro due to narrow roads.
If you opt for a more practical and better vehicle in the city, midsize trucks are the alternative for you. You can expect advantages in owning midsize trucks such as the engine is more fuel-efficient, finding a parking spot is easier, and affordability.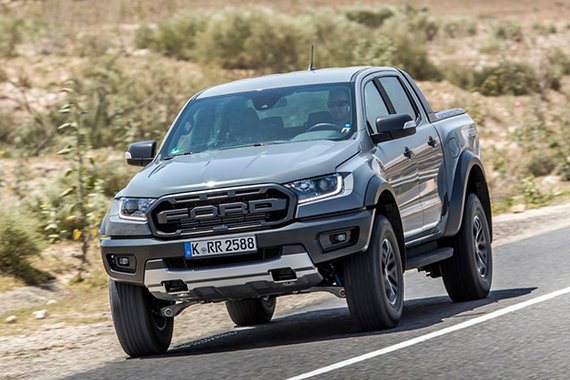 The stylish-looking Ford Ranger Raptor
The new Toyota Hilux facelift is a good choice in the local midsize truck segment considering its long good reputation in the country. We recommend that you get the Hilux J variant priced at Php 952,000 if you are looking for a practical option. The more stylish Hilux Conquest variant is also offered with a price that ranges from Php 1,380,000 to Php 1,830,000.
If budget is not an issue, then you can opt for the Ford Ranger Raptor. This entry of the Blue Oval brand is arguably the best-looking pickup in the midsize truck segment. The Ford Ranger Raptor is powered by a 2.0-liter bi-turbo diesel engine good for 210 hp and 500 Nm of torque and comes with a sticker price of Php 1,998,000.
Midsize vs Full-Size Trucks: FAQs
Q: What are the full-size trucks in the Philippines?
The local market offers few full-size trucks including the Ford F-150, Ram 1500, and Jeep Gladiator.
Q: Which is better, midsize or full-size truck?
Midsize trucks are better in terms of practicality and affordability. Meanwhile, full-size trucks are generally better in terms of power and performance.
Q: How much is the Toyota Hilux in the Philippines?
The starting price of the 2021 Toyota Hilux is Php 843,000 and goes up to Php 1,830,000 for the top-spec Conquest variant.
Q: Are full-size trucks more expensive than midsize trucks?
For the most part, yes. Full-size trucks are more expensive than midsize trucks due to their large body size and engine displacement.
Q: What are the midsize trucks in the Philippines?
There are plenty of options for midsize trucks in the country including the Toyota Hilux, Ford Ranger, and Nissan Navara.
Here at Philkotse.com, we value your interest in the automotive industry. Visit our website to find out more.

Know more about Ford F-150 2023

The Ford F-150 2023 is a full-size pickup truck that is now in its fourteenth generation. This generation was launched in the Philippine market in November 2021. Locally, the sole variant of the F-150 is the Lariat 3.0 V6 4x4 AT, and it has a price tag of Php 3,398,000. Under the hood of the all-new Ford F-150 is a 3.0-liter V6 turbodiesel mill. At maximum, this engine can churn out 250 horsepower and 596 Nm of torque. Power from the said engine is distributed to all four wheels via a 4x4 drivetrain, and it also uses a 10-speed automatic gearbox.
Size-wise, the F-150 Lariat 4x4 3.0 V6 AT is 5,885mm long, 2,431mm wide, and 1,961mm in height. It has a wheelbase length of 3,693mm, and a ground clearance of 239mm. The Ford F-150's only competitor in the local market is the Ram 1500.

Rex Sanchez
Author