Choosing the right Toyota Hiace might be an ordeal. This article will guide you about the seating capacity of the Toyota Grandia & other variants
I. Toyota Hiace Grandia seating capacity: Guide
For a lot of Filipinos, one reason that we prefer large vehicles is our families. While in some cases it might be cheaper and more logical to actually buy two separate sedans or subcompacts, some invest in vans like the Toyota Hiace and its Grandia variants.
Another is that we as a culture also have this strong sense of "Fear of Missing Out." So yeah, we prefer to travel together with our extended families, co-workers, etc. whilst sharing platitudes, jokes, and conversation. That is something that we cannot enjoy aboard smaller vehicles.
For others, it isn't just about family because in some cases, a Van car becomes the primary tool in business. Be it as a public utility vehicle or "UV," a company transport or as a rent-a-car. In these roles, seating capacity is crucial. The more passengers it can fit in, the more efficient it is in terms of time and in terms of fuel usage.
So, here's a guide on the seating capacity of all Toyota Grandia Variants. This includes the Grandia's seating capacity. But before we talk about how many people the Toyota Hiace can jam inside, we really have to talk about the new Hiace first.
2019 Toyota Hiace GL Grandia Tourer - Exterior & Interior Feature (Philippines)
II. Toyota Hi-Ace 2020: Overview
Introduced this year, the Toyota Hiace 2020 is a totally revamped van that has gained not only style points but also a lot of interior room as well. The front now comes with a small bonnet which is a departure from the older Hiace model which you remember featured the stereotypical blunter front end of a van.
Top variants of the Hi-ace are now equipped with a pair of LED daytime running lights and a pair of fog lights, all of which are then attached to a new and very angular looking grille and a new front bumper.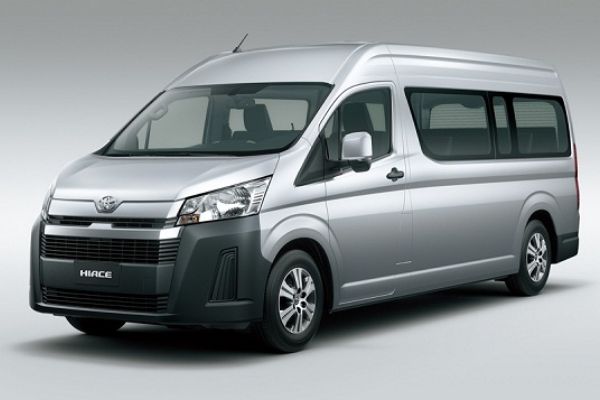 The 2020 Toyota Hiace Commuter might be the most affordable but it still has a significant road presence
Under the hood, the Toyota Hiace Philippines has a 2.8-liter diesel engine making up to 163 horsepower and 420 nm of torque. This new engine sends power to the rear wheels through a six-speed automatic or six-speed manual transmission.
The suspension set-up for the new higher-end Hiace variants like the Super Grandia is now fancier and isn't some stiff, jarring set that comes from a truck.
Instead, the 2020 Hiace is equipped with a fully independent double-wishbone suspension for the rear and MacPherson struts for the front. According to current owners, riding the Hi-ace feels soft and will provide a very cushioned ride befitting a king.
Inside, the new Hiace offers a very well-arranged interior which of course includes the dashboard. As for its seating capacity, we'll talk about that in focus a bit later.
>>> Check out the full-scale review of the Toyota Hiace 2020 here.
III. 2020 Toyota Hiace seating capacity guide
1. Seating capacity of Toyota Hiace Commuter 2.8 Deluxe MT
| | | | |
| --- | --- | --- | --- |
| Seating Capacity | Engine | Transmission | Price |
| 15 | 2.8 L Diesel | 6-Speed Manual | P1,605,000 |
While having the simplest complement of interior features like bench type seats and a 2-DIN CD/TUNER/MP3 player, and a mere two units of airbags, the Toyota Hiace Commuter Deluxe is the most affordable variant in the Hiace line-up. It does have the same engine that produces the same power with the more expensive GL Grandia variant.
The Commuter likewise shares the same suspension set-up with the GL Grandia Tourer and the GL Grandia; a McPherson Strut for the front and a Rigid Axle, Leaf Spring for the rear.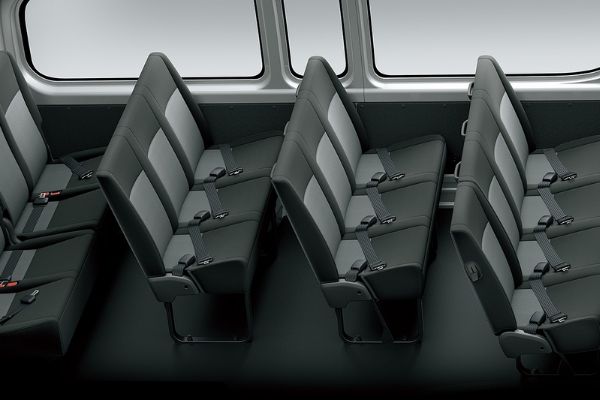 Looks a tad simple but it will fit a lot of relatives
While the ride might be rigid on rougher roads, the Commuter can fit a whopping 15 passengers. This makes it the most cost-effective variant of the Hiace especially if you want to get one for commercial purposes. The bench-type seats though recline as one piece.
2. Toyota Grandia GL Seating capacity
| | | | | |
| --- | --- | --- | --- | --- |
| Variant | Seating Capacity | Engine | Transmission | Price |
| | 12 | 2.8 L Diesel | 6-Speed Automatic | P2,063,000 |
| | 12 | 2.8 L Diesel | 6-Speed Manual | P1,988,000 |
One of the few advantages the GL Grandia has over the Commuter is more tech. It has a hill-start assist, stability control, and anti-lock braking with EBD. It even has the TVSS or the Toyota Vehicle Security System. For airbags though, it has the same amount as the Grandia Commuter.
The GL Grandia does come with some additional stuff for the passengers to play around with like one more cupholder and a Display Audio head-unit that can handle Bluetooth, AUX, USB. It even has the T-Link smartphone connectivity software which can handle both Apple and Android phones.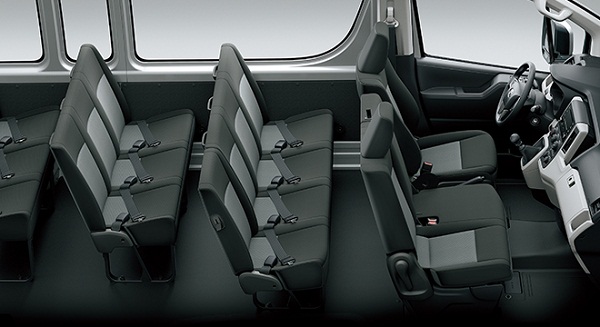 The seating capacity of Toyota Grandia GL is up to 12 people
While it seats 2 less than the Grandia Commuter, it has the advantage of individually reclining seats.
Although some people will say that this feature isn't a big deal, it's quite a level-up from the one-piece recliners aboard the Grandia Commuter as it provides at least a modicum of customizability for each passenger. It also has a larger rear storage space in lieu of the smaller passenger capacity.
>>> Also check: Top 10 best features of the Toyota Hiace 2019 you should know
3. Toyota Grandia Tourer Seating Capacity
| | | | | |
| --- | --- | --- | --- | --- |
| Variant | Seating Capacity | Engine | Transmission | Price |
| | 14 | 2.8 L Diesel | 6-Speed Automatic | P2,235,000 |
| | 14 | 2.8 L Diesel | 6-Speed Manual | P2,160,000 |
Next up in the Hiace hierarchy is the GL Grandia Tourer. It gets ventilated disc brakes all around, the same suspension set-up as the GL Grandia and the Commuter. The GL Grandia Tourer also comes with the same individual reclining seats as the GL Grandia. The GL Grandia Tourer gets one more row of seats enabling it to carry a total of 14 passengers.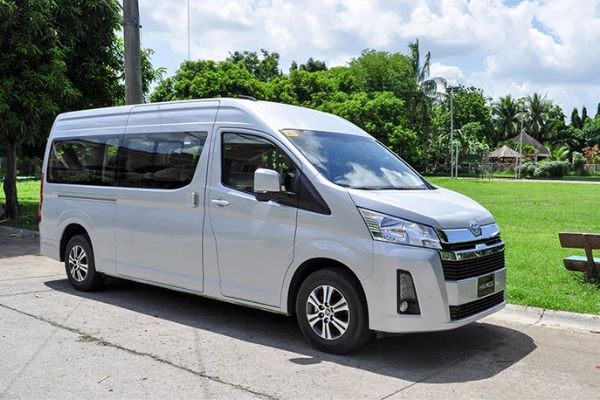 The Grandia Tourer looks more stylish than the Commuter due to the presence of chrome
Other GL Grandia Tourer features that the lower variants are not getting is a pair of LED daytime running lights, a larger overall length, and height. Weirdly enough though, despite having the same engine and a better set of brakes, the GL Grandia Tourer gets a slightly weaker engine output at 160 horsepower and 420 Nm of torque.
>>> Related: 2021 Toyota Hiace: Expectations and what we know so far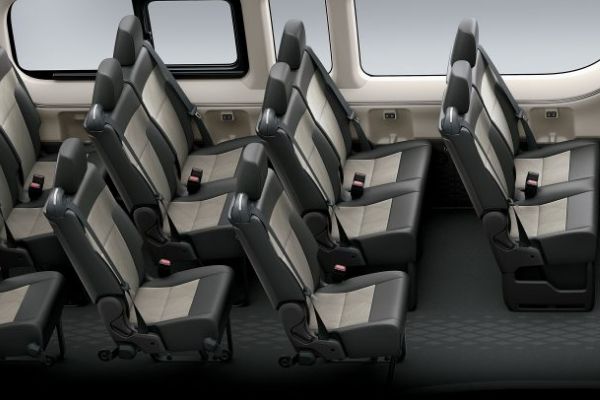 Note the positioning of the seats. It has more room to get in and out of
>>> You might like to read: How to Choose the Right Van for You to Drive in the Philippines
4. Toyota Super Grandia Seating Capacity
| | | | |
| --- | --- | --- | --- |
| Seating Capacity | Engine | Transmission | Price |
| 10 | 2.8 L Diesel | 6-Speed Automatic | Php 2.4 M to Php 2.89 M |
And finally, for the top of the line Hiace variant; the Toyota Hiace Super Grandia Philippines.
As you can see from the table above and from the pictures, it seats a significantly lesser number of passengers than the rest of the available Toyota Hiace variants for sale. That's because the Super Grandia comes with very adjustable captain seats that are clad in leather and of course, more wiggle room.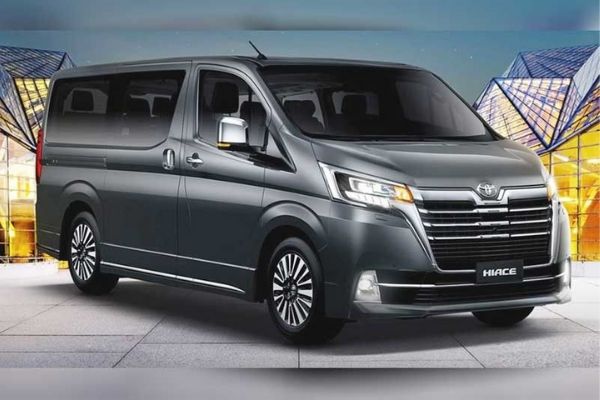 The 2020 Toyota Hiace Super Grandia is on a league on its own when it comes to style
That being said, the captain seats are sizable themselves and will take up a room especially when reclined. With the Super Grandia Elite ups the ante with quilted leather with Ottoman. The base Super Grandia like most of the Toyota made van's variants are covered in fabric.
Note also that the Super Grandia base model and the Elite come with dual sliding doors. This makes this van really easy to get in and out of especially for mobility-impaired persons. All Super Grandia variants come with a power-adjustable driver's seat (6-way) and rear seats (4-way). And lastly, the Super Grandia stands out from the pack with its unique grille and bumper.
>>> Worth to note: [Philkotse pick] Best passenger vans in the Philippines for every ride
IV. Toyota Hiace 2020: Competitors
The Hiace's variants all come 10 plus seating capacities, there are other vehicles however that might be more to your liking or more appropriate for your budget.
1. Hyundai Starex 2020
Another alternative is the Hyundai Starex Philippines. The new one. It comes with a luxurious interior and it can seat up to ten people. The seats on the higher-trim variant called the also come with swivel captain seats. So, while it accommodates fewer passengers, the interior room is excellent. The one with the swiveling seats is currently priced at Php 2,060,000 which is within the range of the Hiace GL Grandia.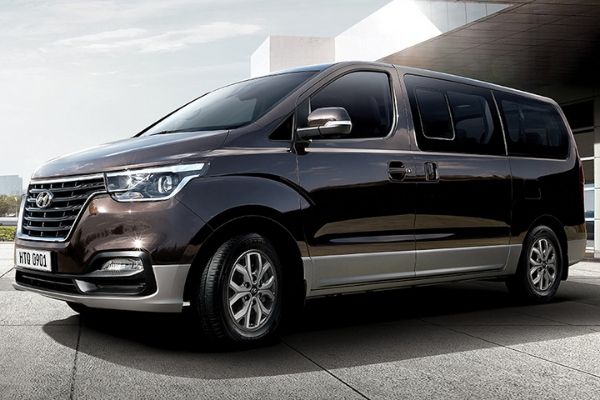 The Hyundai Grand Starex. For the guy whose kids enjoy spinning around on the swivel chairs
2. Maxus V80 2020
In Britain, the predecessor of the Maxus V80 was mainly as a cargo vehicle. And yes, a V80 with three seats and a maximized cargo space can still be had today for around Php 1,190,000. There's an 18-seater though called the V80 Transport and this variant probably has the most in terms of seating capacity out of all the vans in this list.
If you want a more comfortable version, there's the Maxus V80 Comfort which is priced at Php 1,570,000. It has fewer seats but more legroom and elbow-room. All Maxus V80 variants come with a 2.5 CRDi engine with a 6-speed manual tranny.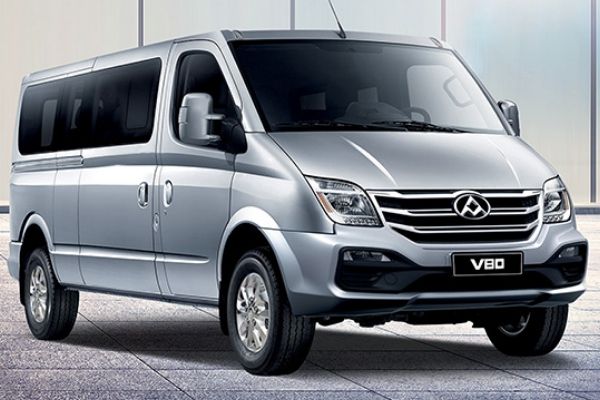 The 2020 Maxus V80 is boxier than the Hiace but its cheaper. It can also carry more people
We hope that this article has aided you with regards to the 2020 Toyota Hiace's variants and their respective seating capacities.
For more tips about cars and how to buy them, sell them and fix them, please keep reading here on Philkotse.com.

Know more about Toyota Hiace 2023

The Toyota Hiace 2023 is a light commercial vehicle that is a familiar sight on Philippine roads. Aside from being used as a spacious private transport for households with large families, it is also typically employed for business in delivering cargo and as a fleet transport. Toyota Hiace Prices in the Philippines range between PHP 1,724,000 and PHP 2,439,000 from a base 15-seater Commuter Deluxe variant to the GL Grandia Tourer. A single 2.8-liter turbodiesel engine is on offer, partnered with either a 6-speed manual or 6-speed automatic transmission.
A Hiace car features a body measuring 5,265mm long, 1,950mm wide, and 1,990mm high on most variants, with a wheelbase of 3,210mm. Dimensions differ on the range-topping Super Grandia Elite which sits 650mm longer and 290mm higher, and has a wheelbase of 3,860mm. Monthly installments start at Php 19,875 for the Commuter Deluxe, with a 60-month contract on a 50 percent downpayment. Among its rivals are the Nissan Urvan, Foton View Traveller, Hyundai Grand Starex, Hyundai H350, and Ford Transit.


Cesar G.B. Miguel
Author