The 2021 D-Max can cater to a very wide array of customers.
With the all-new third-generation 2021 Isuzu D-Max already out, many people are already eyeing it as their next vehicle purchase. Many might be leaning towards using it as a family car, some might be thinking of getting one for logistics, while some just want a cool, fun-to-drive pickup truck.  
Like most popular pickup truck nameplates in the local market, however, the 2021 D-Max has nine variants available locally. For a newbie car buyer, that might be an intimidating number of options to choose from. As such, we're here to help you pick the right D-Max with this short variant guide. 
2021 Isuzu D-Max Quick Look (with driving impressions): All new and ready for you!
2021 Isuzu D-Max Variants: Exterior 
For would-be D-Max buyers who want the most kick-ass-looking truck, then the top-spec D-Max LS-E and LS-A are the right variants for you. Both come with several pieces, which enhances the already macho-shape of the new Isuzu truck.
In addition, many of these parts aren't available in the lower variants. Several examples of these are the gun-metallic radiator grille, LED fog lamps, the very sturdy bed-liner, cargo extender, lower bumper guard, and the beefy over-fenders.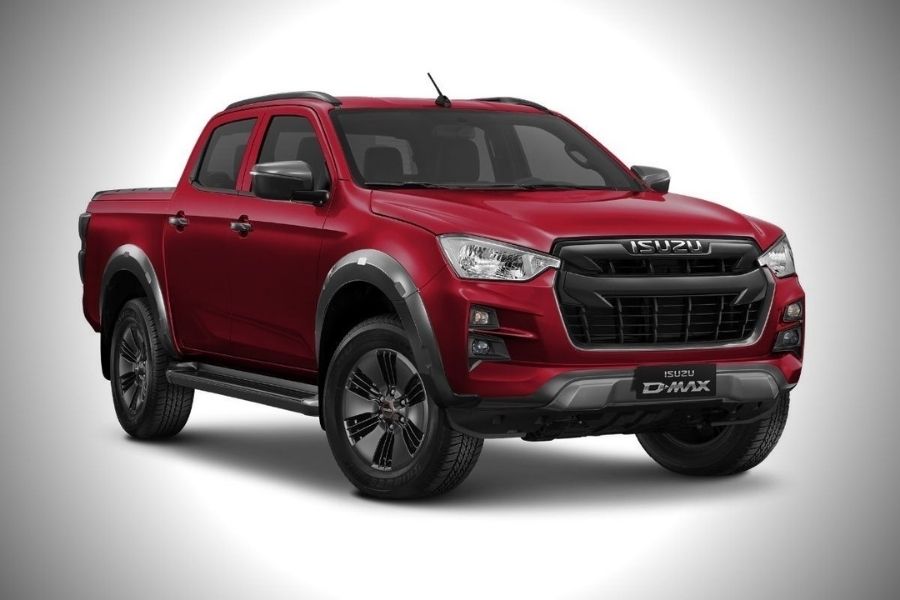 This is the D-Max LS-A. Note the simpler looking headlamps
Note however that while the LS-A also has these, it lacks the Bi-LED projector headlamps that are available on the LS-E top variant and the LS 4x4 MT. In turn, the two aforementioned trim levels also have access to daytime running lamps.
The LS-E, LS-A, and the LS 4x4 MT all come with roof rails that are rated for up to 100 kg loads, as well as power adjust and power-folding side mirrors. Only the LS-E however, comes standard with automatic on and off and auto-leveling headlamps. 
As for the rest of the variants, these are equipped with a simpler pair of multi-reflector halogen headlamps and halogen foglamps. The LS variants come with a medium gray metallic grille, while the LT and the entry-level single-cab have material color grilles.
They also don't have the dark metallic door handles available on both the LS-E and LS-A, as well as the chrome ones on the LS 4x4 MT. Instead, they have body-color door handles. The LS variants do come with power adjustable side-mirrors, but these are only manual-folding.
>>> Related: 2021 Isuzu D-Max Old vs New: Spot the differences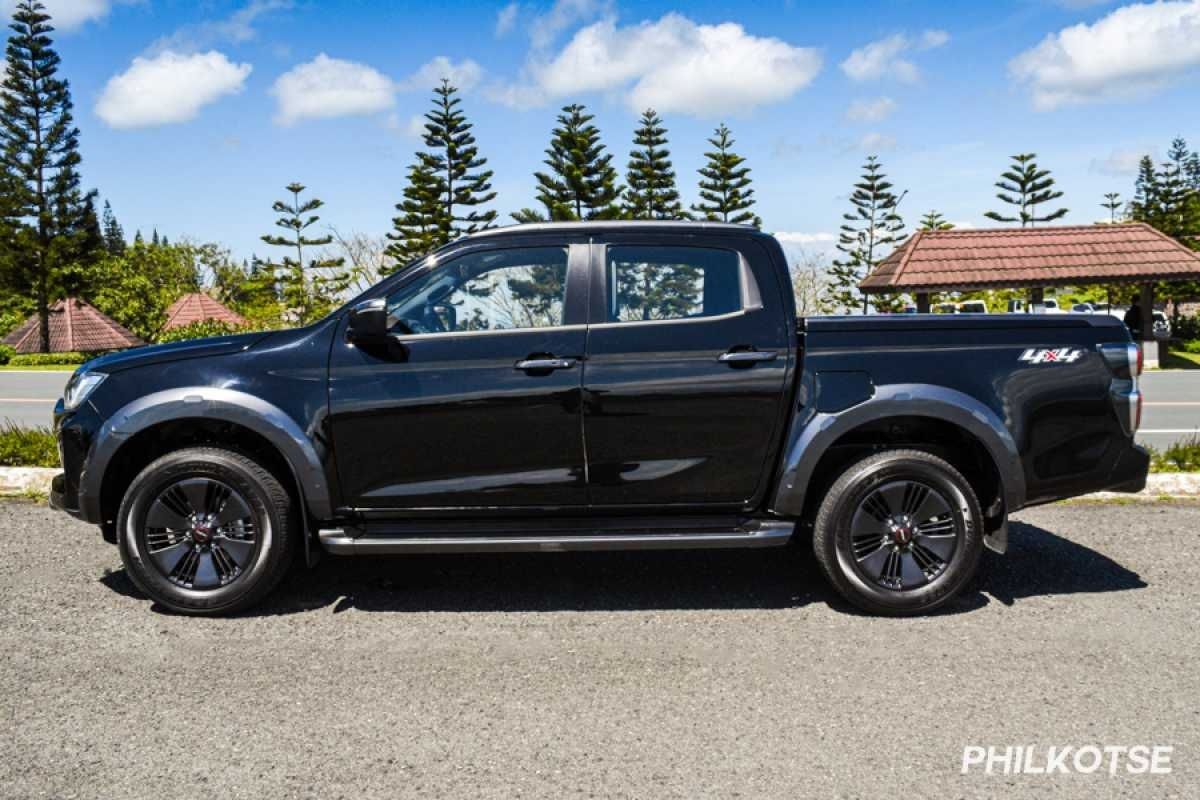 The 2021 D-Max LS-E from the side
When it comes to size, the LS-E and LS-A both measure 5,277mm long, 1,880mm wide, and 1,810mm in height. The majority of the LS variants are a bit smaller at 5,265mm in length, 1,870mm in width, and a height of 1,810mm.  
The LT 4x2 MT has slightly different dimensions than the other trims. It's actually the longest at 5,285mm though it has the same width as the rest of the variants. However, it is by far the shortest from the ground with its 1,695mm height.
The shortest trim level is the single-cab variant as it measures only 5,020mm in length. It does have the same width as the rest of the variants, and it's also taller than the LT 4x2 MT by 5mm.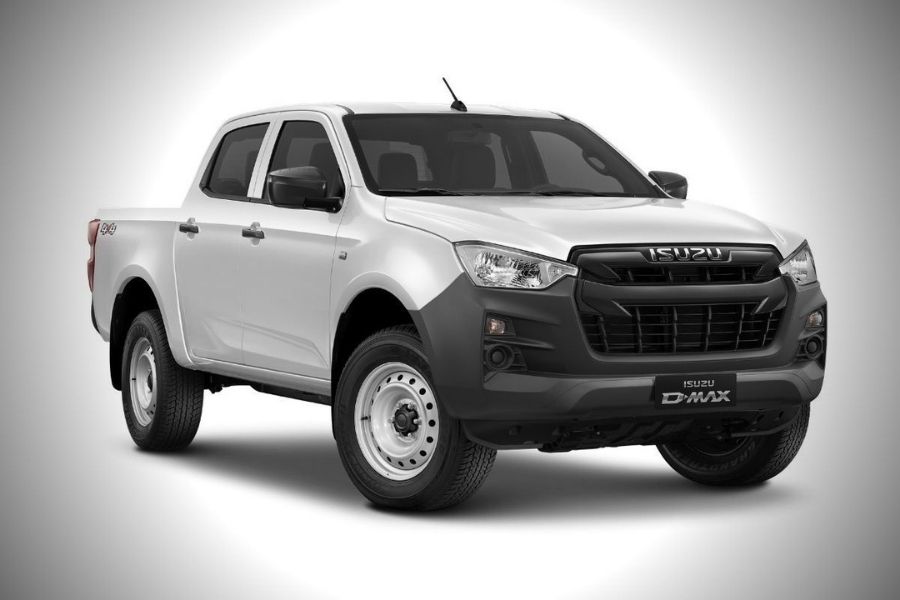 The humble, but still capable D-Max LT variant
If you're concerned about off-roading, then note that the LS-E, LS 4x4 MT, and the LS-A all have 240mm of ground clearance. The lower LS trims have 235 mm ground clearance, while the LT and single-cab variants have the least ground clearance at 195 mm. 
And lastly, only the LS-E, LS 4x4 MT, and the LS-A come standard with 18-inch alloy wheels, while the mid-spec LS trims instead come with a smaller set of 17-inch wheels. The LT in turn has a set of 17-inch steel wheels, and the single-cab uses an even smaller set of 15-inch steel wheels.
>>> Related: 2021 Isuzu D-Max beefs up for PH pickup slugfest
2021 Isuzu D-Max Variants: Interior 
Inside, only the LS-E have leather-clad seats. The LS-A and LS trims instead have black fabric seats, while the LT 4x2 MT and single cab variant have cloth seats. Only the LS-E, LS-A, and LS variants come standard with first-row bucket seats with anti-vibration elastic foam. The LT 4x4 MT has regular old bucket seats, while the single cab has a bucket driver's seat and a bench-type front passenger seat. 
For second rows, all dual-cab variants come with 60:40 split-folding seats. Of course, the entry-level single cab variant lacks rear seats.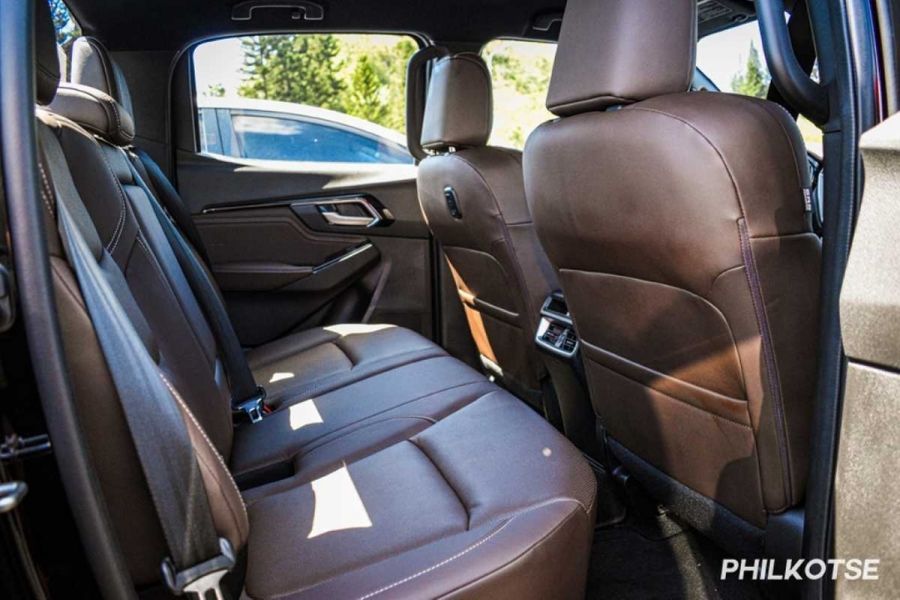 The rear seats of the D-Max LS-E variant
For entertainment, the LS-E, LS-A, and LS trims come equipped with a 10.1-inch touchscreen. The said screen has Apple CarPlay and Android Auto, and it can also handle Bluetooth streaming, USB, and Aux-in. The variants that aren't equipped with the 10.1-inch touchscreen instead get a single-din audio system with Bluetooth, Aux-in, and USB connectivity.  
Bundled together with the 10.1-inch infotainment system are a navigation system and a clinometer. The top-spec LS-E variant, however, has the most speakers numbering at eight. The rest gets a six-piece speaker system, while the LT and single-cab variants only get two speakers.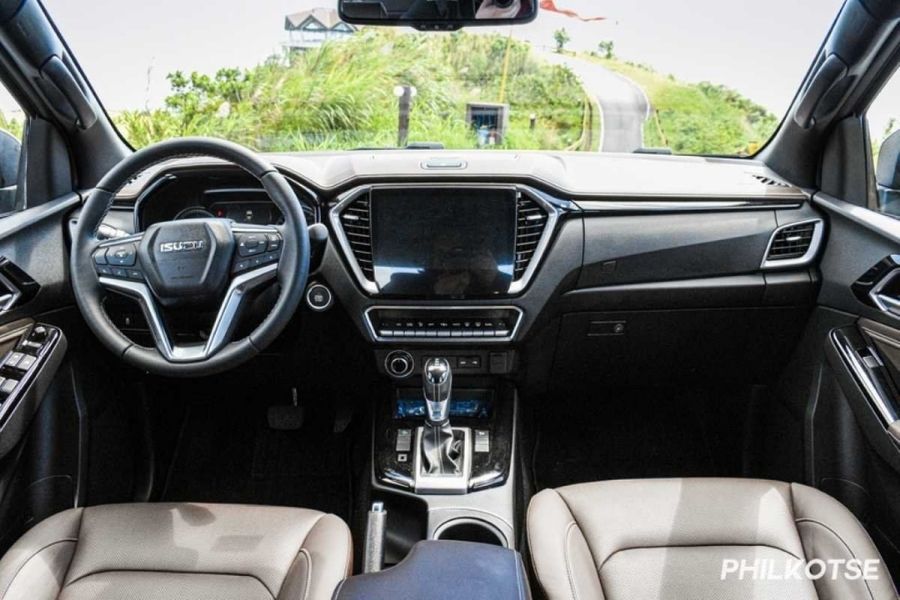 The D-Max LS-E's dashboard and steering wheel 
For the driver, the LS-E, LS-A, and LS variants provide a 4.2-inch electroluminescent multi-information display. Meanwhile, the LT and the single cab trims get a slightly smaller 3.5-inch monochrome display. In addition, only the top-spec LS-E gets adaptive cruise control. 
In terms of air-conditioning, only the LS-E is equipped with dual-zone automatic climate control, while the rest of the D-Max variants are equipped with a three-dial type air-conditioning system. The LS-E, LS-A, and LS are the only trim levels that come standard with rear AC vents. 
>>> Related: check out Isuzu Sportivo 2010 for sale here.
2021 Isuzu D-Max variant guide: Engine and performance 
Before talking about what's under the hood, do note that the third-gen D-Max retains a leaf spring rear and double-wishbone front suspension setup. The said leaf spring allows the D-Max to carry up to 970 kilograms, while being able to provide a comfortable, balanced ride due to the addition of more dampeners. The new model also gets a larger set of rear drum brakes and front disc brakes, though it still uses a hand-operated manual parking brake.  
As for engines, the LS-E, LS 4x4 MT, LS-A, LS 4x2 MT, and the LT 4x4 MT are powered by the new 3.0-liter 4JJ3-TCX turbo diesel engine. At the most, this four-banger can produce up to 188 horsepower at 3,600 rpm, and 450 Nm of torque from 1,600 to 2,600 rpm.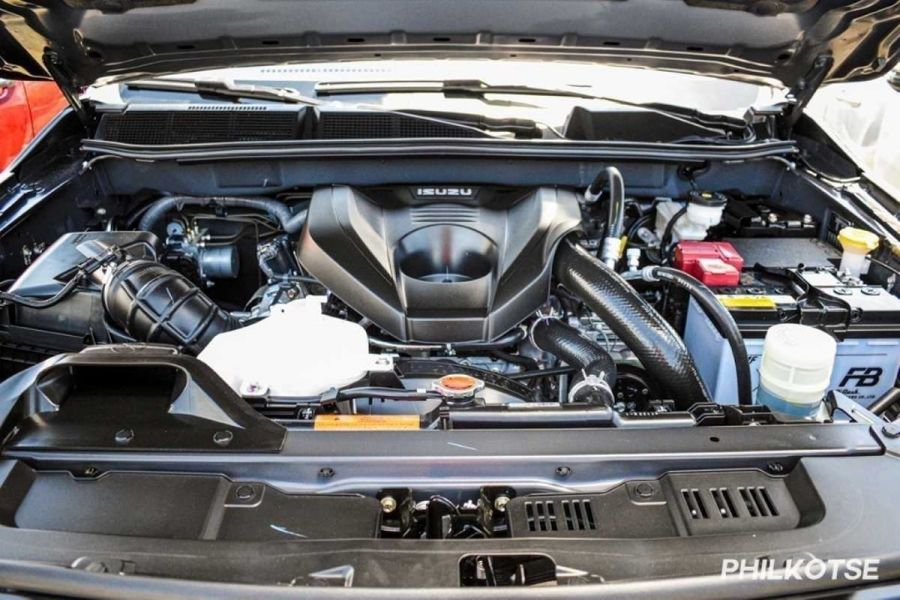 The D-Max's 3.0-liter turbodiesel engine 
The 2021 Isuzu D-Max also gets the RZ4E-TC engine. Variants that use it include the LS 4x2 AT, LS 4x2 MT, LT 4x2 MT, and the single cab variant. It's also an inline-4 turbo-diesel, but it has a smaller displacement of 1.9-liters. The said engine can churn out 148 horsepower and 350 Nm of torque.  
Available transmissions for the D-Max include the new and improved six-speed automatic gearbox with sequential shift and a six-speed manual with reverse lock-out.  
The 2021 D-Max LS 4x4 MT variant
For optimum off-road performance, the LS-E and the LS 4x4 MT get access to a transfer control switch and an aluminum rear driveshaft. Only the LS 4x4 MT, however, gets to use a differential lock.
>>> Related: 2021 Isuzu D-Max Quick Drive Review: Lightyears ahead
2021 Isuzu D-Max variant guide: Safety 
If you're in the market for the safest possible D-Max, then the LS-E can definitely meet your needs. It has a total of seven airbags, and it also features Isuzu's Advanced Driver Assist System (ADAS). This system includes forward collision warning, turn assist, autonomous emergency braking, a manual speed limiter, multi-collision brake system, adaptive cruise control, among others.  
While the other variants lack the aforementioned features, the LS-E, LS 4x4 MT, and the LS-A get blind-spot monitoring and rear cross-traffic alert. All variants except the LS-E, LT, get dual front airbags.  
Standard on all variants except the single cab is anti-lock braking with electronic brake distribution, as well as brake assist. The LS-E, LS, and LS-A trims also come equipped with traction and stability control, hill start assist, and hill descent control.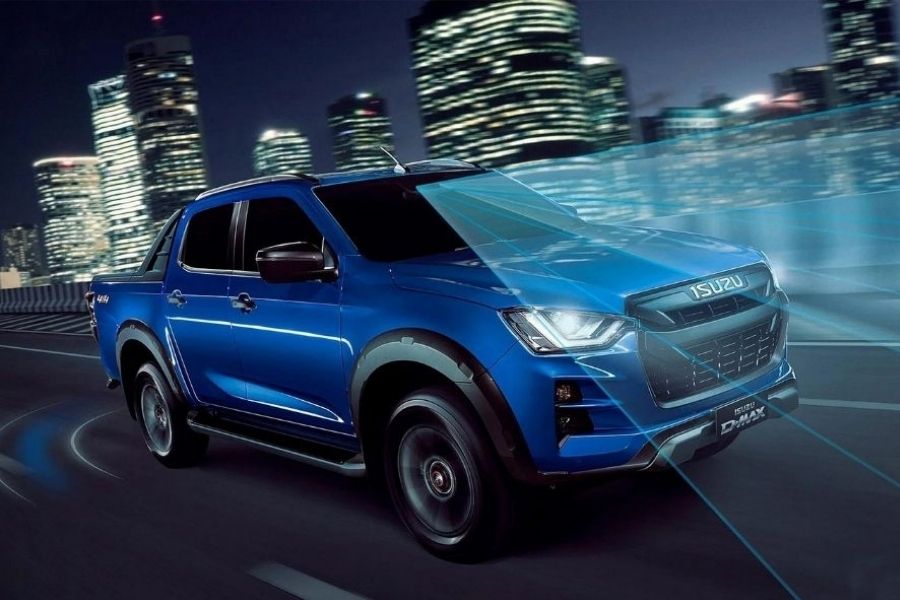 The D-Max's LS-E's ADAS in action
Moreover, only the top-spec LS-E has rain-sensing wipers and an auto-dimming rear-view mirror. The top three variants do come with a frequency car lock system and anti-relay attack function for extra security. The LT and single-cab also lack the engine immobilizer that's available on the rest of the 2021 D-Max variants. 
Parking is also the easiest for the top-spec LS-E since it gets four sensors for its front and rear, as well as a rear-view camera. The mid-range variants do get four rear parking sensors and a rear-view camera, though it lacks front parking sensors. The LT and single cab lack these features altogether.
>>> Related: 2021 Isuzu D-Max gains five-star safety rating from Euro NCAP
2021 Isuzu D-Max variant guide: Price 
 
| | |
| --- | --- |
| Isuzu D-Max Variants | Price |
| D-Max RZ4E 4x2 Single Cab MT | Php 857,000 |
| D-Max RZ4E 4x2 LT MT | Php 987,000 |
| D-Max 3.0 4x4 LT MT | Php 1,288,000 |
| D-Max RZ4E 4x2 LS MT | Php 1,219,000 |
| D-Max RZ4E 4x2 LS AT | Php 1,309,000 |
| D-Max 3.0 4x2 LS MT | Php 1,320,000 |
| D-Max 3.0 4x2 LS-A AT | Php 1,390,000 |
| D-Max 3.0 4x4 LS MT | Php 1,630,000 |
| D-Max 3.0 4x4 LS-E AT | Php 1,825,000 |
2021 Isuzu D-Max variant guide: Conclusion 
To conclude, the top-spec LS-E provides the most comfort and safety out of all the 2021 D-Max variants. Along with the LS-A, it also sports the best-looking exterior.  
For those who want a more engaging driving experience off the road, however, it seems that Isuzu is positioning the LS 4x4 MT to perfectly fit that niche. It comes with a manual gearbox, and it also gets a differential lock which is absent on the LS-A and LS-E.  
If you're looking for a cheaper but still very capable alternative, then there's the LT 4x4 MT. It can't match the plush interior of the LS 4x4 MT and lacks a locking diff, but it still uses the same 3.0-liter engine and 4x4 drivetrain.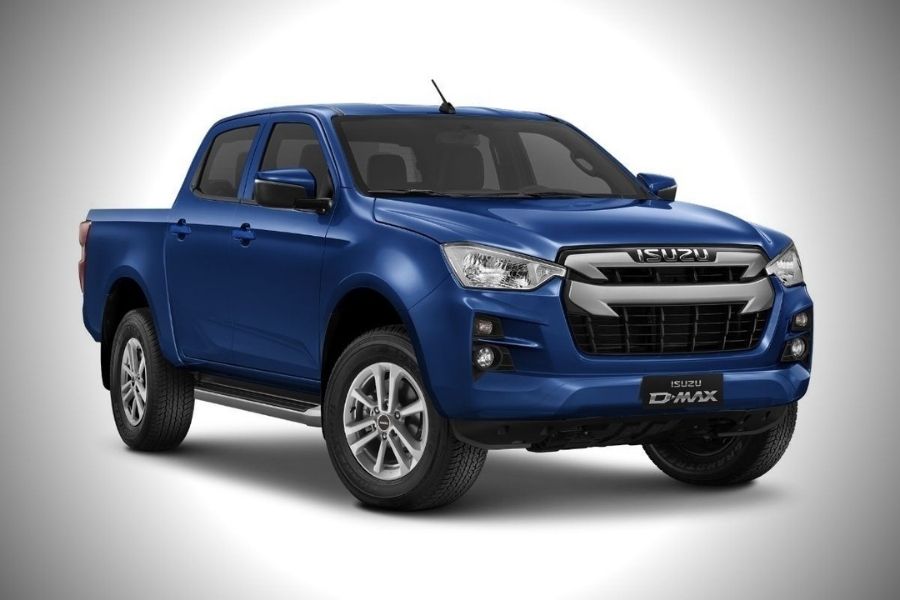 The D-Max LS 4x2 variant
>>> Related: 2020 Ford Ranger vs Isuzu D-Max Base Variant Specs Comparison
For those who want a variant that provides a good balance of practicality, style, and performance, the entire LS mid-range of the D-Max provides great value for your money. These three variants have prices that aren't too spread too far apart from each other, while they can provide you with the two available engine choices. The mid-range LS, however (except the LS 4x4), lacks a 4x4 transmission. 
Last but not the least, the LT 4x2 MT and the single cab are there for people who want the cheapest, no-nonsense D-Max. These will be perfect for small to large businesses, and they might even make for great fleet vehicles as well. 
Did you find this variant guide helpful? For more articles like this, keep it here on Philkotse.com. 
Know more about Isuzu D-Max 2021

Japanese diesel powerhouse Isuzu Philippines offers the D-Max as its entry in the midsize pickup truck segment. This tough workhorse from the Japanese carmaker is designed to take on any road. Isuzu D-Max got the reliability of its predecessors and the Fuego. However, the current pickup truck is equipped with more modern features that perfectly fit the Filipino lifestyle. Additionally, Isuzu D-max also has a remarkable rear bed size that can carry a multitude of heavy and large items. The Isuzu pickup truck can also be optioned with a set of accessories such as camper shells, bed covers, and many more. Isuzu D-Max also comes in a commercial vehicle layout. It can also be configured as the cab and chassis variant. This configuration can be had with an enclosed van type rear end, passenger layout, bed, or other job-specific configuration. Isuzu Philippines offers the third-generation D-Max with a couple of engine and transmission options. The first option is a 1.9L turbo diesel that produces 148 horsepower and 350 Nm of torque. For car buyers who are looking for more power, they can opt for the bigger mill, which is the 3.0L engine that pumps out 187 horsepower and 450 Nm of torque. These two engines are equipped with the brand's BluePower technology for Euro 4 compliance and better fuel efficiency. Both engines can be paired with either six-speed automatic or six-speed manual transmission.

Cesar G.B. Miguel
Author