The all-new D-max is available in 9 variants.
Isuzu Philippines Corporation (IPC) has officially launched the 2021 D-Max that looks ready for a pickup truck slugfest. It now comes with a beefier and more aggressive exterior design. The all-new Isuzu D-Max also gets a revamped interior as well as a more powerful 3.0-liter turbodiesel engine.
2021 Isuzu D-Max Quick Look (with driving impressions): All new and ready for you!
The arrival of the 2021 Isuzu D-Max means that the local midsize pickup truck segment gets even more competitive. The Isuzu D-Max is set to go up against segment rivals such as the new Toyota Hilux that was launched last year. IPC's pickup truck also competes with the facelifted Ford Ranger, introduced last February 2021.
Exterior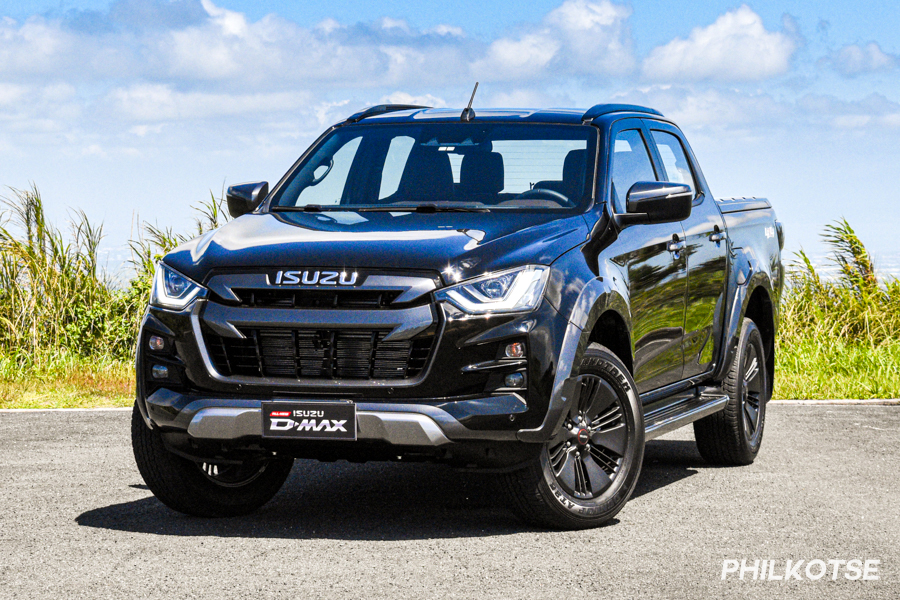 2021 Isuzu D-Max
The 2021 Isuzu D-max features an all-new exterior design that now comes with a more aggressive and bolder appeal. The D-Max also now has a more angular look that adds to the pickup truck's overall muscular demeanor. 
There are three things that could strike you the most when you look into the front end of the top-spec 2021 D-Max LS-E variant. The first one is the sharp-looking LED headlights that are integrated with U-shaped daytime running lights. The other one is the D-Max's restyled grille that comes in a gun metallic finish, which allows the truck to have a more beefed up appearance as compared to having a chrome trim. The third is the 2021 D-Max's angular bumper that comes with LED foglamps.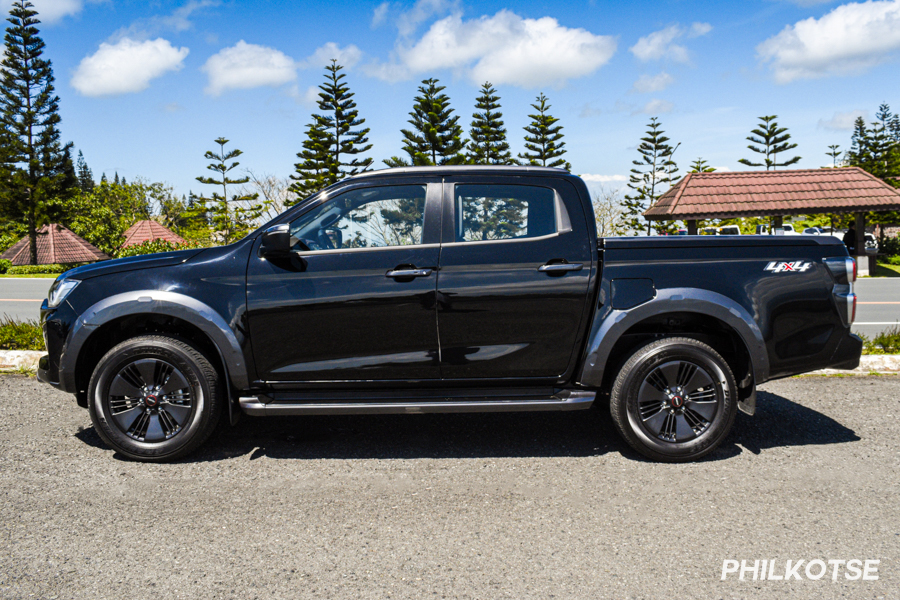 Look at that prominent fenders
Turning at the side, the 2021 Isuzu D-Max gets prominent fender flares as well as a straight character line. It also has a dark gray metallic accent on the side mirrors and door handles. For added functionality, the D-Max is fitted with roof rails that is said to have a 100 kg capacity.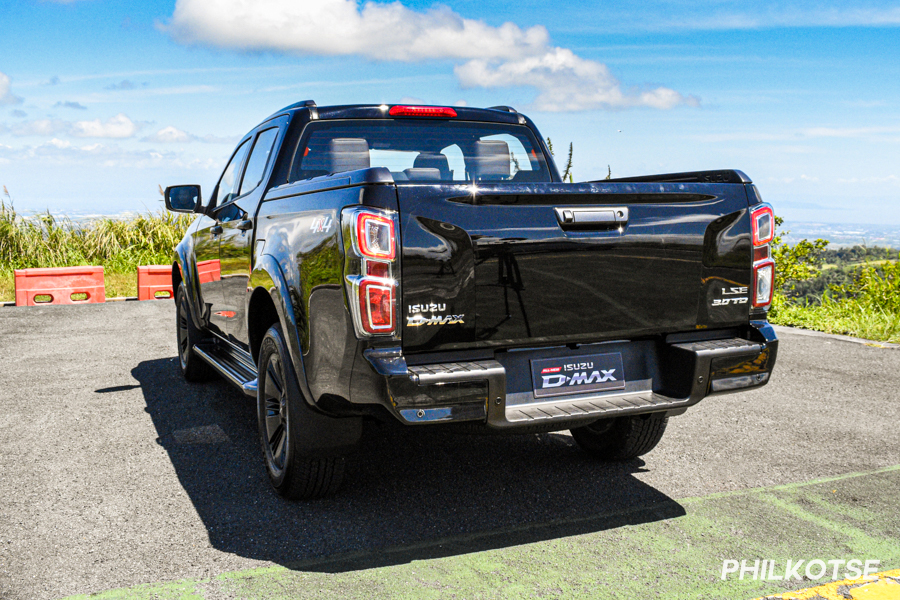 The D-Max comes with more distinctive taillights
The rear, on the other hand, features redesigned LED taillights that now look more distinctive as compared to the outgoing model. The top-spec 2021 D-Max is also equipped with a rear fog lamp. In case you're wondering, the 2021 Isuzu D-Max top-of-the-line variant has a ground clearance of 240mm.
Interior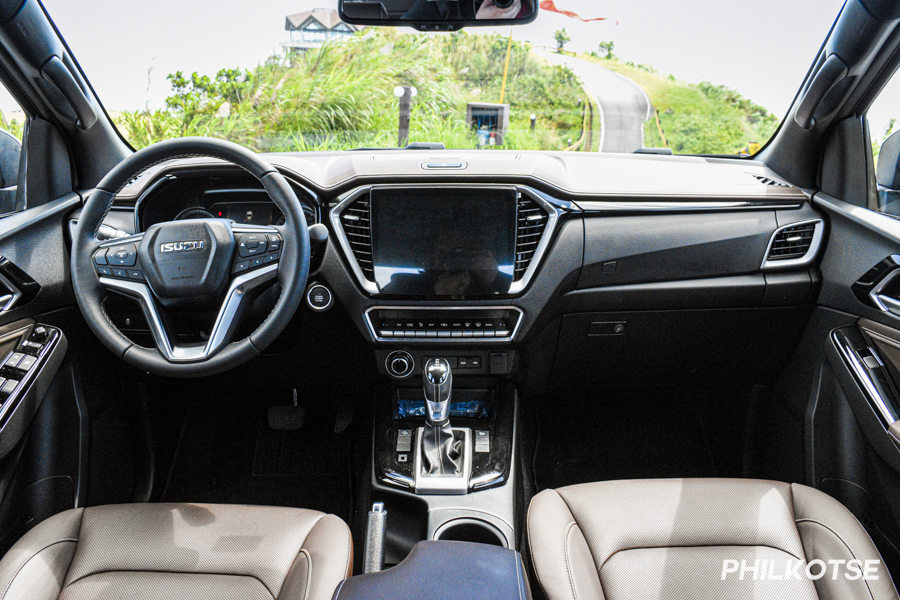 It comes with a two-tone interior 
Inside, the 2021 Isuzu D-Max gets a revamped cabin that now looks more premium-looking than the old model. This is specifically seen in the top LS-E variant of the D-Max that comes with a two-tone interior theme of black and brown.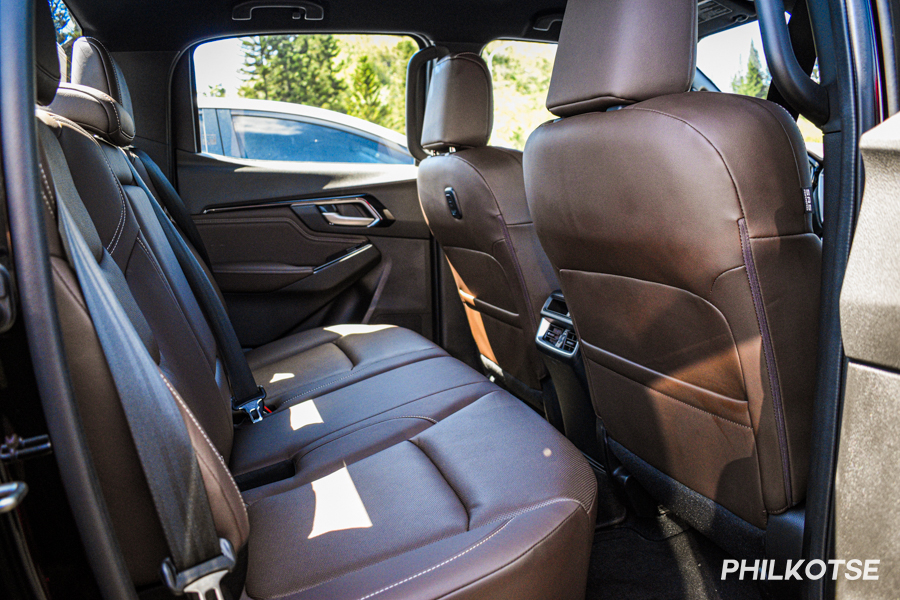 The D-Max comes with a premium-looking interior
It also gets leather seats, a leather-wrapped steering wheel, and a 4.2-inch digital instrument cluster display. You can also see brown accents on the door panels, which gives the cabin a premium-looking appeal. Right at the center of the dashboard you'll see a 10.1-inch infotainment touchscreen. Placed below it is tactile buttons for air climate control.
>>> Related: 2021 Isuzu D-Max Old vs New: Spot the differences
Tech & Safety
The 2021 Isuzu D-Max is equipped with a boatload of tech and safety features. First up, the 10.1-inch touchscreen comes with Apple CarPlay and Android compatibility. It also gets a built-in navigation system. The said features are standard in almost all of the variants of the 2021 D-Max except for the Single Cab and LT variants.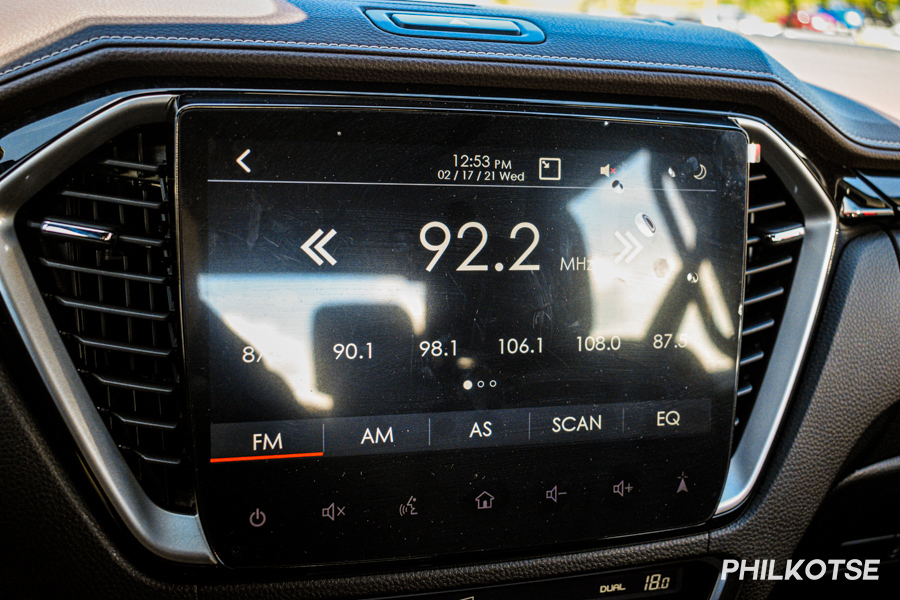 10.1-inch infotainment touchscreen
In terms of safety, the top-spec 2021 D-Max trim is equipped with a total of seven airbags while the rest of the variants gets two. The D-Max LT, LS, LS-A, and LS-E gets an anti-lock braking system, electronic brakeforce distribution, and brake assist. On the other hand, it is only the LS, LS-A, and LS-E variants that feature electronic stability control, traction control, hill start assist, and hill descent control. 
The top-spec 2021 D-Max is the only variant equipped with the Advanced Driver Assist System (ADAS), a tech that's similar to Subaru's EyeSight. ADAS comes with features such as forward collision warning, autonomous emergency brake, adaptive cruise control, lane departure warning, among others. With the said features, the 2021 Isuzu D-Max got a five-star safety rating from the ASEAN NCAP.
>>> Related: Suzuki, Isuzu to adapt Subaru's EyeSight safety tech
Engine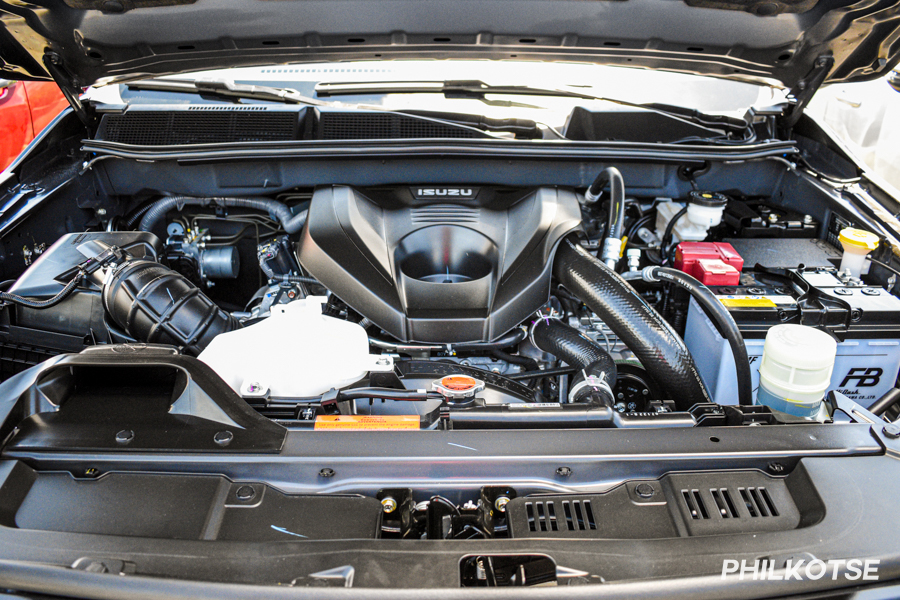 The D-Max can be powered either by a 3.0L or 2.0L diesel engine
The 2021 Isuzu D-Max is powered by two engine options depending on the variant. It can be equipped with a 3.0-liter turbodiesel engine that delivers 188 hp and 450 Nm of torque. There's also the 1.9-liter RZ4E diesel engine that puts out 148 hp and 350 Nm. The 2021 D-Max comes with either a six-speed manual or automatic transmission. 
Pricing
Here are the variants and the introductory prices of the 2021 Isuzu D-Max. Of note, the introductory prices do not include the additional deposit for the provisional safeguard duty, Php 123,200.
| Variants  |  Price |
| --- | --- |
| D-Max RZ4E 4x2 Single Cab MT | Php 857,000 |
| D-Max RZ4E 4x2 LT MT | Php 987,000 |
| D-Max 3.0 4x4 LT MT | Php 1,288,000 |
| D-Max RZ4E 4x2 LS MT | Php 1,219,000 |
| D-Max RZ4E 4x2 LS AT | Php 1,309,000 |
| D-Max 3.0 4x2 LS MT | Php 1,320,000 |
| D-Max 3.0 4x2 LS-A AT | Php 1,390,000 |
| D-Max 3.0 4x4 LS MT | Php 1,630,000 |
| D-Max 3.0 4x4 LS-E AT | Php 1,825,000 |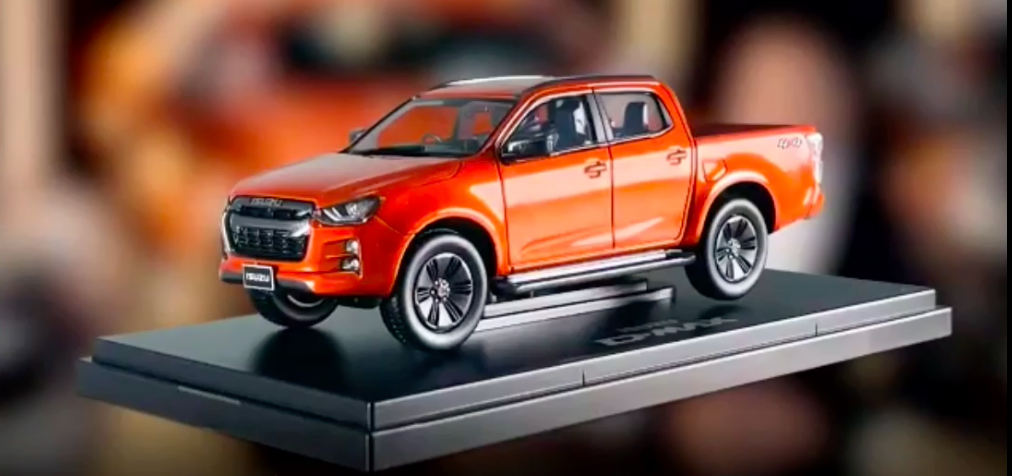 IPC is also giving away a scale model of the 2021 D-Max for the first 200 customers who will purchase its newest pickup truck in any of the brand's dealerships nationwide. 
Visit Philkotse.com to get more of the latest news in the automotive industry.
Know more about Isuzu D-Max 2021

Isuzu Philippines offers the Isuzu D-Max as its entry in the midsize pickup truck segment. This tough workhorse from the Japanese carmaker is designed to take on any road. Isuzu D-Max got the reliability of its predecessors and the Fuego. However, the current pickup truck is equipped with more modern features that perfectly fit the Filipino lifestyle. Additionally, Isuzu D-max also has a remarkable rear bed size that can carry a multitude of heavy and large items. The Isuzu pickup truck can also be optioned with a set of accessories such as camper shells, bed covers, and many more. Isuzu D-Max also comes in a commercial vehicle layout. It can also be configured as the cab and chassis variant. This configuration can be had with an enclosed van type rear end, passenger layout, bed, or other job-specific configuration. Isuzu Philippines offers the third-generation D-Max with a couple of engine and transmission options. The first option is a 1.9L turbo diesel that produces 148 horsepower and 350 Nm of torque. For car buyers who are looking for more power, they can opt for the bigger mill, which is the 3.0L engine that pumps out 187 horsepower and 450 Nm of torque. These two engines are equipped with the brand's BluePower technology for Euro 4 compliance and better fuel efficiency. Both engines can be paired with either six-speed automatic or six-speed manual transmission.

Martin Aguilar
Author
Recent posts