It's inexpensive without compromising on vehicle and occupant safety.
The EyeSight driver-assist technology is commonly associated with Subaru vehicles. Now, the safety feature is set to gain wider acceptance as two more Japanese carmakers decide to adopt the technology for their own offerings.
Subaru EyeSight Driver Assist Overview
Hitachi Automotive Systems, which developed the technology, has already licensed it to Isuzu by way of the latest mu-X midsize SUV. EyeSight could show up next on the Xbee Kei car by Suzuki, in compliance with the latest government regulations.
Cameras mounted on top of the windshield help the small vehicle monitor road conditions ahead. Equipped with EyeSight technology, the Xbee becomes the first Suzuki model to get a lane-keeping assist feature. Adaptive cruise control, forward collision warning, and automatic braking will also be unlocked.
At the core of the EyeSight technology is a pair of high-resolution forward-facing cameras that act much like human eyes, resulting in stereoscopic vision which considerably adds depth and range processing. This allows the car to activate specific safety features in a given situation, such as lane departure warning and automatic emergency braking.
>>> Related: How do modern cars protect you in a car crash?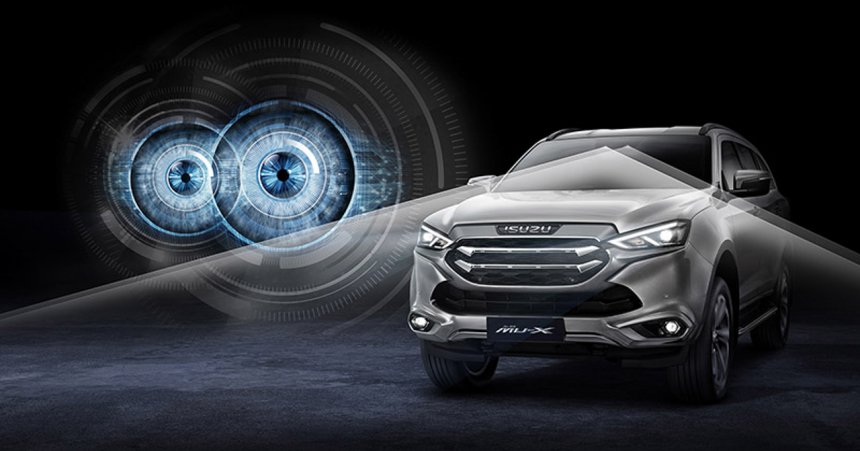 Isuzu has implemented the technology on the new-generation mu-X midsize SUV
Unlike conventional cruise control setups, EyeSight is usable even in heavy urban traffic, automatically engaging as soon as the vehicle moves. Because the system doesn't need more expensive components such as radar or even LIDAR technology, it enables carmakers to cut down on costs without compromising safety.
Subaru claims that EyeSight-equipped models are involved in less than 61 percent fewer accidents, 85 percent fewer rear-end crashes with injuries and 35 percent fewer pedestrian-related injuries. Japan's Ministry of Land, Infrastructure, Transport, and Tourism has mandated that all vehicles within the country's market be equipped with collision avoidance braking by 2021, and the fastest way to ensure widespread adoption is to make it easier for other carmakers to use the technology.
Do you think that EyeSight technology will make its way to your preferred car brand soon?  
Look out for more automotive updates at Philkotse.com.

Know more about Isuzu mu-X 2022

The Isuzu mu-X Philippines 2022 is the Japanese marque's entry to the 7-seater midsize SUV, which is based on its pickup truck sibling, the Isuzu D-Max. It is offered in five variants with a price that ranges from Php 1,590,000 to Php 2,450,000. For the Philippines market, the Isuzu-made SUV has two available engine options. The smaller one is a 1.9-liter RZ4E Bluepower turbodiesel capable of making up to 148 horsepower and 350 Nm of torque. It can either come with a six-speed manual transmission, or a six-speed automatic transmission. Meanwhile, the larger engine option for the mu-X is a 3.0-liter inline-4 turbodiesel. At most, this mill can produce up to 187 horsepower and 450 Nm of torque. Only a six-speed automatic transmission is available with this engine.
Dimensions-wise, the mu-X is 4,850 mm long, 1,870 mm wide, and 1,825 mm high, with a wheelbase and ground clearance rated at 2,855 mm and 235 mm, respectively. Locally, this midsize SUV is competing against the likes of the Toyota Fortuner, Nissan Terra, and Mitsubishi Montero Sport.

Joseph Paolo Estabillo
Author
Recent posts