Stalled? Ran out of gas? Are all of your tires flat? Then call these guys for towing services in Metro Manila!
I. Towing services in Metro Manila
On the less busy, sometimes even lonely roads located in the provinces, getting a flat or outright breaking down due to an engine failure and then subsequently pushing your car towards the side of a road isn't much of an ordeal.
You can take your time to carefully deploy your early warning device and change your tire. In some cases, you can call someone for help and wait for them whilst enjoying the scenery and fresh air or whatever it is you do to stave off boredom.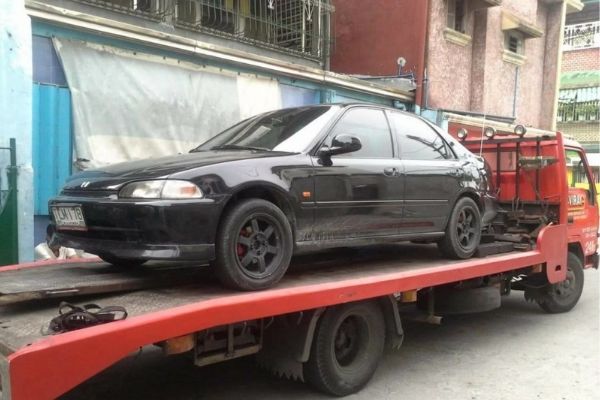 A flat-bed truck/towing service is necessary for transporting track cars
On the more hectic and terribly congested streets and roads of major cities especially Metro Manila however, space is at a premium. As such, you can't just push your car towards the side as it will most certainly cause a jam.
Have you ever thought of what you would do if even your car stalled in the middle of EDSA? Say in the middle of the EDSA-Shaw intersection? Well, you'd be annoyed and inconvenienced while also annoying and inconveniencing everyone around you right? Alas, you'll have no choice except to get your car towed.
As such, Philkotse.com will list down the most highly rated and most trusted towing services in Manila.
Note: These aren't the kind of towing companies who're tasked with enforcing illegal parking and that kind of stuff.
II. List of towing services in Metro Manila
1. Viray Towing Services, Inc.
Address: 332 Barangka Drive, Mandaluyong, 1550, Metro Manila
Contact Numbers: 09175313459 (Globe), 09999928003 (Smart), 09228313459 (Sun), Landline: 532-4444,531-3468,531-2822,531-3459
Open hour: 24/7
Viray Towing Services, Inc. is one of the O.G. on-call towing services in Manila. They've been around since 1984, and there's no doubt that they've honed their craft after over 30 years of experience.
As such, Viray Towing Services is THE trusted towing service if you want to transport your beloved classic car, rare JDM beauty, or even your race car.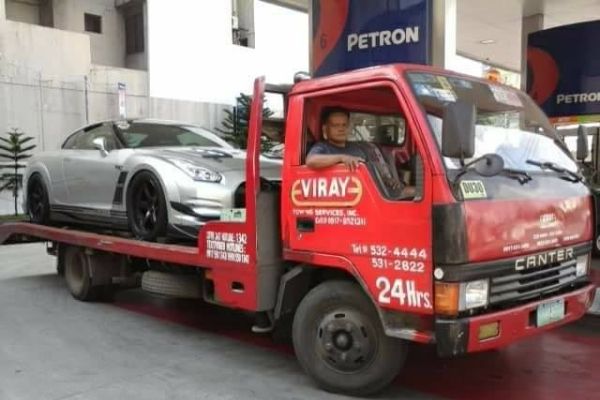 Here's a GT-R being transported on a flatbed Viray Towing Services, Inc.
Aside from transporting vehicles, Viray Towing Services can also transport heavy machinery and container vans. And aside from multiple flatbed trucks (which they use for car transport), telescopic boom trucks, and wreckers (light and heavy).
>>> Make sure you know: Towing Guidelines MMDA: Know the Law and Your Rights
2. Protech Towing Service – Protech Motorworks
Address: 12 Tusayan St. cor. Agno Extension, Brgy. Tatalon, Quezon City, Philippines
Contact Numbers: 09175393815 (Globe), 09258345858 (Sun), 09193850589 (Smart), 02-2435799/02-6925362 (Landline)
Opening hours: 24/7. The Protech Motor Works office and shop are open Mon-Fri 8:30 AM to 6:00 PM and Saturdays from 9:00 AM to 5:30 PM
While Pro-tech isn't as old as the aforementioned towing company, they do have the advantage of being able to provide auto paint and body repair services, car insurance (Alpha Car Insurance), repair and tune-up services.
That's on top of their already noteworthy towing service/emergency roadside service.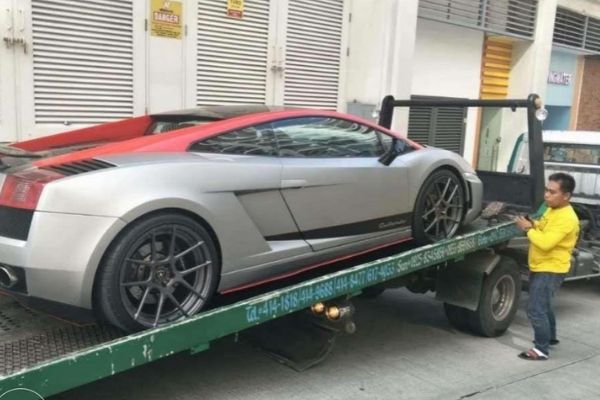 A sportscar being loaded onto a Protech flatbed truck
Apart from the typical flatbeds, Protech Towing also has a boom truck available for rent.
>>> For your information: Deadweight and towed weight: What's the difference?
3. Lard Towing Services
Address: Ortigas Ave. Ext., Rosario, Pasig
Contact Numbers: 09175740427
Established in 1995, Lard Towing Services is one of the pioneers of the trade here in the Philippines. They've got over 20 years of experience with towing cars so we're pretty sure that they know what they're doing.
Also, Lard Towing can provide its services to and from any point of Luzon.
4. Motor Trust Towing Services
Metro Manila
Address: 791 Aurora Blvd. Cor. Monte De Piedad St. Quezon City
Contact Number: 785-17-05
Pampanga / Bulacan / Laguna / Cavite
Contact Number: 09178252172 / 09338555833 / 09479955707
Another highly popular car towing service is Motor Trust Towing Services. Currently, their FB page has more than nineteen thousand followers and has a 3.9 out 5 ratings. Like Protech, Motor Trust also has other services related to car care like auto repair, insurance claim assistance, and they can also provide comprehensive auto insurance.
A huge truck carrying an equally huge tractor head
>>> Just in case you need: 4 common types of tow scammers and tricks to avoid
5. AAP Roadside Assist
Quezon City Office
Address: AAP Tower, 683 Aurora Boulevard, Quezon City 1112
Contact number: 8-705-3333
Cebu Office 
Address: 15 CRM Bldg., Escario cor. Molave Sts., Cebu City
Contact number: (63 32) 268-2400
Davao Office
Address: Room 314, 3rd Floor, SM City Davao
Contact number: (6382) 299-49-61/09985847674
While not exactly a towing service per se, the Automobile Association Philippines or AAP is actually an auto club. In fact, it is the biggest and oldest auto club in the country.
The PMA, now AAP, was established by a group of cool, gentlemanly dudes way back in the 30's. 
>>> Worth reading: Illegal Parking Laws in the Philippines: How not to be a Parking Jerk
Founded in 1931 and was known back then as the Philippine Motor Association, the AAP is a non-profit, non-stock organization that is primarily concerned with the welfare and safety of Filipino motorists. That being said, being a member of AAP will have several benefits and interests. Here are some of those;
24/7 Emergency Roadside Service (Includes Towing)
Free Personal Accident Insurance
24/7 Ambulance Service (Through Aeromed)
MyCASA Car Maintenance Exclusive Discounts
24/7 Road Safety Call Center
Etc.
While it has a lot of strengths that will be very attractive to avid motorists, one needs to apply to the AAP to become a member. Here's a price chart from their official website with pricing details;
| | | | |
| --- | --- | --- | --- |
| Membership Category | New / Renewal | 12% VAT | Total |
| Regular Individual (1-year) | P2,000 |  P240 |  P2,240 |
| Regular Individual (3-year) | P5,000 |  P600 |  P5,600 |
| Regular PIDP (1-year) | P3,500 |  P420 |  P3,920 |
| Regular PIDP (3-year) | P8,000 |  P960 |  P8,960 |
| Associate Individual (1-year) | P1,500 |  P180 |  P1,680 |
| Associate Individual (3-year) | P3,750 |  P450 |  P4,200 |
| Motorsports (National) 1-year | P6,000 |  P720 |  P6,720 |
| Motorsports (International) 1-year | P9,000 |  P1,180 |  P10,080 |
| Motorcycle Membership Plus | P600 |  VAT Inclusive |  P600 |
| Membership Plus (Membership through Car Dealership) | FREE |  FREE |  FREE |
| Membership Plus (Free membership from Bank Partners/Auto Loans) | FREE |  FREE |  FREE |
| Commercial Membership (four-wheeled class 1 delivery vehicles) | P3,360 |  VAT Inclusive |  P3,360 |
| Corporate Plus (Personal Accident Insurance Only) | P280 |  VAT Inclusive |  P280 |


Cesar G.B. Miguel
Author