For you convenience, here's a guide to car wash services located in Metro Manila. Two physical car wash business, and three that are mobile and can provide home car wash service.
Car wash services offered in Metro Manila, Philippines
Car guys love their cars, that's a fact, and it'll always be true no matter what car it is. The car is an extension of the owner's personality and for some, it's the owner's dream made manifest. For others, cars serve as a tool for their livelihood, being their primary source of income. 
Keeping a car in tip-top shape is always foremost in a car owner's mind, and one way to do that is by making it presentable with a good washing down. Many car owners will prefer to wash their own car at home, but they don't always have the time to do that.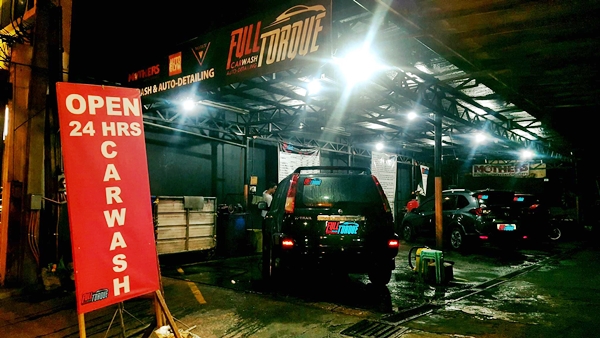 24 hour car wash service is available at certain service centers
Maybe they don't have enough time even during weekends, or maybe they just don't have the knowledge and confidence to wash their own cars. And trust us, a lot of things can go wrong out of something as simple as giving your car a wash.
Also, many areas in Metro Manila have been experiencing water service interruptions, so people would rather save water for other uses like cooking and bathing. To get around such interruptions, many of the car wash businesses in this feature offer waterless carwash services.
So here's Philkotse.com's guide to highly recommended car wash services in Metro Manila.
Recommended Home Car Wash Services & Price list
As the convenience of having your car washed in the comfort of your own home is an attractive option for many car owners, here's a list of businesses that offer car wash services at home.
1. Pap's Mobile Carwash
Website: https://papsmobilecarwash.com/
Contact Numbers: +639 667 657 033
Address: 4th Floor Genesis Building,Cor. 19th Avenue, Comembo Makati, Philippines
Operating Hours: Monday – Sunday 8 AM to 6 PM (Branch dependent)
Pap's Mobile Carwash, as the name implies, provides premium car care services wherever you are in the city. They provide car wash and polishing services, without you having to take the car out of the garage.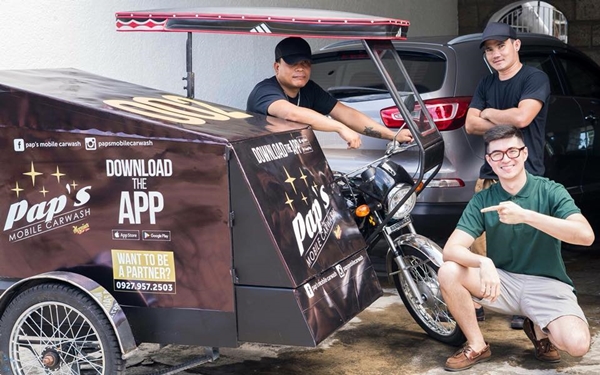 Availing of their service is as easy as opening the app and tapping on the "Book" button.
How does it work?
You can avail of their services by giving them a call or visiting their website. There's also a mobile app that you can download use to book an appointment; Pap's Mobile Carwash, after all, is the first mobile car wash in the country that offers this feature.
Once you've made your booking, they will promptly dispatch one of their service vehicles (a Piaggio Ape closed van, Piaggio Ape City or a motorcycle) to your location, and you can even track the trip in real time.
Aside from cash, Pap's Mobile Carwash also accepts credit card and online payment options.
Car size
Small
Medium
Large
Extra large

 

Pap's Wash

 

P170
P190
P210
P260
Pap's Waterless

 

P300
P350
P400
P450
Pap's Shine
P600
P700
P900
P1000
Pap's Signature

 

P2,000
P2,500
P2,800
P3,000
Pap's Buff and Shine

 

P850
P960
P1,200
P1,300
Pap's Platinum Exterior Detailing

 

P4,200
P4,800
P5,500
P6,000
Pap's Interior Detailing

 

P3,000
P3,500
P4,500
P5,000
Pap's Engine Detailing

 

P2,000
P2,000
P2,500
P2,500
Pap's Glass Polish

 

P2,000
P2,000
P2,500
P2,500
Pap's Zero Bacteria

 

P500
P500
P850
P850
2. Carwash Philippines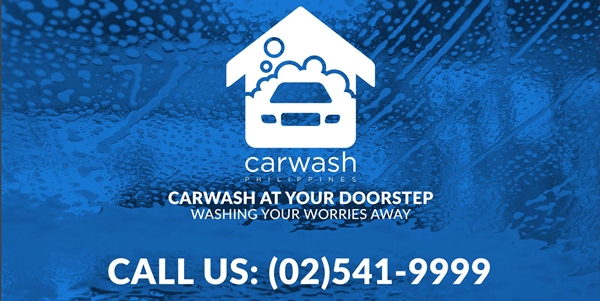 Carwash Philippines' services are also on the move. Just give them a call.
Carwash Philippines is another car wash business that offers car wash service at home, sou you can avoid the hassle of having to bring your car to the neighborhood car wash. 
This car wash business also has partnerships with popular brands like Mother's, Piaggio, and Bosch; along with their highly-trained staff, this ensures that they deliver high-quality service. All you have to do is call their hotline number, or you can book their car wash services via the beepbeep.ph.
Car size
Small
Medium
Large

 

Carwash
P200
P220
P250
Carwash Plus
P1,300
P1,500
P1,800
Waterless Carwash
P300
P350
P400
Exterior Detailing
P3,000
P3,500
P4,000
Interior Detailing
P3,000
P3,500
P4,000
Antibacterial Fogging
P300
P400
P500
3.

 

Mr. Sponge Car

 

Wash

 

Delib

 

eer

 

y
Address: Unit 3 Town and Country Arcade Marcos Highway Cainta, Rizal
Contact Numbers: 463.5466 or (0939) 912.9152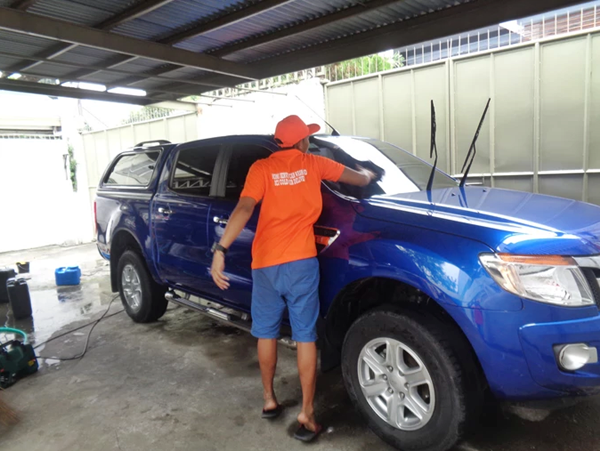 Mr. Sponge Car Wash can wash your car and deliver a cold one to you. That combo's hard to beat.
While Mr. Sponge offers reliable and affordable car wash services at home, this business offers something of an edge over their competitors; they also deliver beer. Imagine kicking back with a cold brew in hand after a hard day's work while a competent car wash expert takes care of your car. Brilliant!
Booking their services is as easy as dialling up their numbers or booking a home service session on their website.
>>> Worth to note:
| | | | | |
| --- | --- | --- | --- | --- |
| Wash type | Small | Medium | Large | Extra Large |
| Mr. Sponge's Economy Wash | P129 | P149 | P169 | P189 |
| Mr. Sponge's Classic Swag (w/ vacuum) | P159 | P179 | P199 | P219 |
| Wash and Wax Deluxe | P499 | P519 | P539 | P559 |
| | | | | |
| --- | --- | --- | --- | --- |
| Detailing | Small | Medium | Large | Extra Large |
| Full Interior | P2,999 | P3,999 | P4,999 | P5,999 |
| Full Exterior | P3,999 | P4,999 | P5,999 | P6,999 |
| Full Interior/Exterior | P6,999 | P8,999 | P10,999 | P12,999 |
Recommended Car Wash Service Centers located in Metro Manila
Sometimes, you really need to get your car washed but have no time to wait around at home, much less do it yourself. Here's a list of car wash centers in Metro Manila where you can bring your car straight for some TLC, recommended by Philkotse.com.
1. Full Torque Carwash and Auto-detailing
Facebook Messenger: @fulltorque.detailing
Contact Number: (082) 691 0883
Address: 1124 Chino Roces Ave., Brg. La Paz, Makati
Operating Hours: 8 AM to 2 AM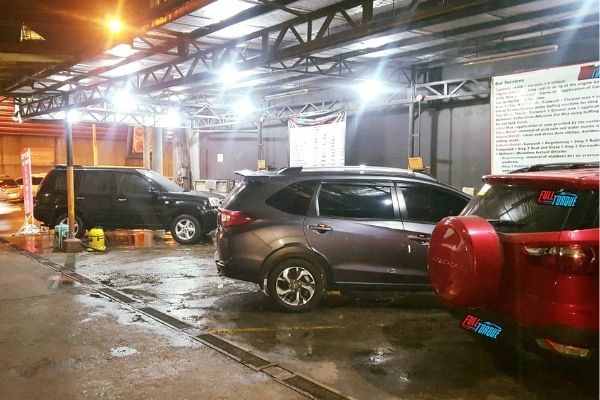 Full Torque is open to serve until late hours, ideal for even the busiest of people.
With over 2,256 likes on their Facebook page, Full Torque Carwash and Auto-Detailing is one of the more popular car wash businesses in Metro Manila. Their competently-trained staff and updated equipment are sure to give your car the pampering it needs.
Due to Full Torque's popularity, expect a line of customers waiting for their turn when you arrive at their shop. For many satisfied customers though, it's worth the wait.
Services

Small

Medium

Large

Extra large

1. Motorcycle Wash

399cc below

400cc above

*with armor all

90

100

2. Car wash

120

150

180

210

*with armor all

170

200

230

260

3. Engine Wash

450

500

550

600

4. Carnauba Wax w/ FREE Carwash

550

600

650

700

5. Hydrophobic Wax w/ FREE Carwash

360

700

750

800

6. Double wax w/ FREE Carwash

1,200

1,400

1,600

1,800

7. Labor Wax

350

400

450

500

 

5 seater

7 seater

8. Seat cover - Install

350

500

   Seat cover - Removal

200

300

Auto Detailing Services

Ceramic Coating

(Exterior Detailing Included)

7,000

7,800

8,600

9,400

Exterior Detailing

3,000

3,500

4,000

4,500

Per panel Detailing

600

700

800

900

Interior Detail (Standard)

2,800

3,300

3,600

4,000

 

5 seater

7 seater

Deep cleaning

3,000

4,000

Interior Detail + Deep Cleaning

5,800

6,300

7,600

8,000

Full package Detailing

7,500

8,000

8,500

9,000
2. JSP Car Klinic
Website: http://jspcarklinic.com/index.html
Contact Numbers: (02) 532-8493, (02) 986-4572, (0922) 846-4406
Address: JSP Car Klinic, 145 San Francisco Street, Plainview, Mandaluyong City 1550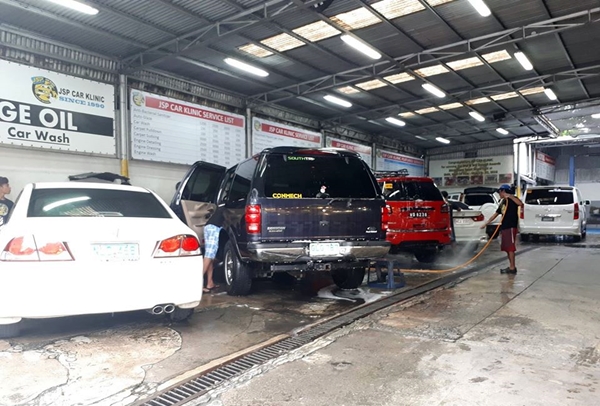 Beside basic car wash with detailing service packages, JSP Car Klinic also provide auto restoration services
Probably one of the oldest car wash businesses on this list, JSP Car Klinic was established in 1990. This makes them something of an expert when it comes to car care. Aside from a full-service car wash, JSP Car Klinic also offers carpet shampooing and detailing, among others.
Also, they also have a lounge called "Ann Wine" that serves coffee and pastries to waiting customers; it even has free wifi.
Their services are offered in several packages, consisting of:
Service 1: Car Wash, Auto Glaze, Vacuum Cleaning
Service 2: Car Wash, Vacuum Cleaning, Engine Wash
Service 3: Car Wash, Vacuum Cleaning, Hand Buff Wax
Service 4: Car Wash, Auto Glaze, Machine Buff Wax
Service 5: Interior Detailing w/ Steam sanitizer and Deodorizer, Engine Wash, under wash
Service 6: Interior Detailing W/Car Wash, Engine Wash, Under Wash
Service 7: Full Auto Detailing, Complete Wash
| Car Size | Small | Medium | Large | Extra large |
| --- | --- | --- | --- | --- |
|  Service 1 |  P330 |  P470 |  P550 |  P770 |
|  Service 2 |  P480 |  P570 |  P650 |  P820 |
|  Service 3 |  P530 |  P740 |  P970 |  P1,140 |
|  Service 4 |  P1,100 |  P1,560 |  P1,830 |  P2,260 |
|  Service 5 |  P3,500 |  P5,500 |  P6,500 |  P7,000 |
|  Service 6 |  P3,500 |  P5,500 |  P6,500 |  P7,000 |
|  Service 7 |  P7,000 |  P11,000 |  P13,000 |  P14,00 |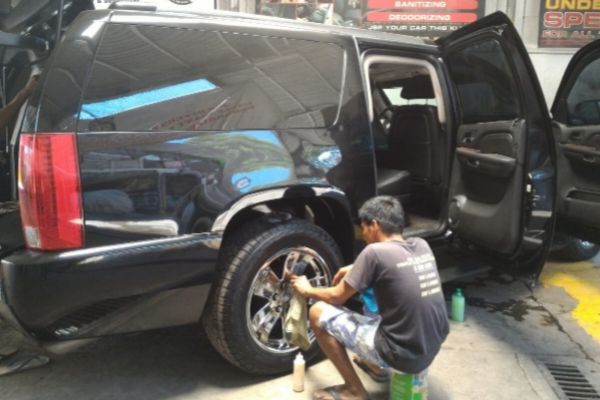 A JSP Car Klinic attendant working on a vehicle owned by a VIP.
Aside from the packaged lists, JSP Car Kilnic also offers their services "ala carte", with very affordable prices. They also provide auto restoration services. You can visit their website for further details.
How About Self Service Car Wash?
Even though we're on the final weeks of 2019, Filipinos have yet experience an automated car wash service or even self-service car wash, except in select areas that have coin-operated water pumps (mostly found in the provinces). You might be wondering, "Why would I want to pay to wash my own car?".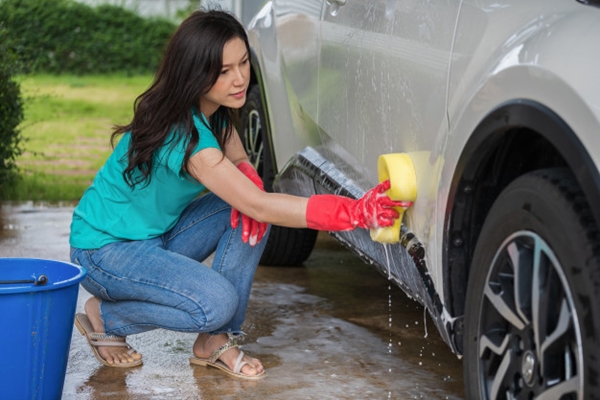 Self service car wash is like a bonding time with your car aside from driving it
Believe it or not, there are people who view car washing as a therapeutic experience, helping them to de-stress. It also serves as an opportunity for you to bond with your car, akin to looking after a beloved pet. But before you even spray water on your car, make sure you have these essentail equipment for a DIY car wash in your garage first.
Did this guide help you at all? Let us know! Also, if you feel that our list is lacking, send us your recommendations so we can have a Part 2!
For more tips, advice, and guides on all things automotive, keep reading Philkotse.com.


Cesar G.B. Miguel
Author