At the 2019 MIAS, Chevy unveils the Chevrolet Camaro 2019 Turbo which has found a replacement for displacement.
The muscle car, an American icon of power, speed, and engineering. Desired by all and coveted by many a car enthusiast out there. Of course, Chevrolet acknowledges Filipino's thirst for muscle cars by releasing the very powerful and torquey Corvette last year.
But this time at the 2019 Manila International Auto Show, what Chevy has released instead is the Corvette's cousin: The Chevrolet Camaro 2019. This model of Camaro has something different under its bonnet.
For the 2019 Chevrolet Camaro Philippine model, Chevrolet gave it a 2.0-liter turbocharged inline-four engine connected to an eight-speed automatic transmission which has a paddle shifter. The engine in question can make up to 275 horsepower and about 398 nm of torque. To compare, the Chevrolet Camaro 2018 for sale came with a similar engine but without turbocharge.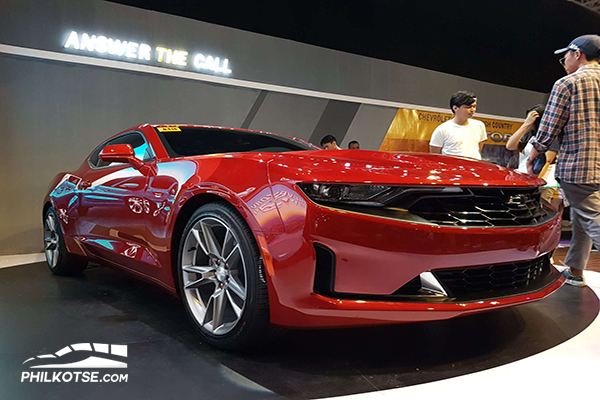 Chevrolet Camaro launched at MIAS 2019
This Camaro, which is called the Camaro Turbo 3LT RS follows in the same vein in terms of what Ford did with their Mustang which they also gave a smaller engine. That being said, the 2019 Chevrolet Camaro Turbo 3LT RS will definitely come cheaper than its foreign variants but is still much more expensive than the Ecoboost Mustang variant.
Upon taking a seat inside the Camaro Turbo 3LT RS, one may find that this Camaro is somewhat very alike to its more powerful variants. Situated on the center console are buttons for the number of driving modes available to the driver.
What's interesting of course is the Track mode combined with the stability control which can be fumbled with to unleash the vehicle's power.
Like any performance vehicle of this day and age, the 3LT RS has a snug-fitting driver's cockpit. Couple that with instrument panels and displays pointing towards the driver creates a veritable driver-oriented car.
Standard amenities, of course, can still be found like a touchscreen infotainment system with Apple Carplay and Android Auto, climate control, fully adjustable seats, etc.
The tight cabin might be claustrophobic to some people thus might also get taking used to. Otherwise, the interior of the vehicle is very comfortable at least on the front cabin.
Because at the back, one will find passenger seats that are too small for most adults to sit in coupled with headroom and knee room deficiency. That hauling passenger is not the point of buying a Camaro in the first place.
>>> Also check out: MIAS 2019: The Kia Stinger 2019 has arrived!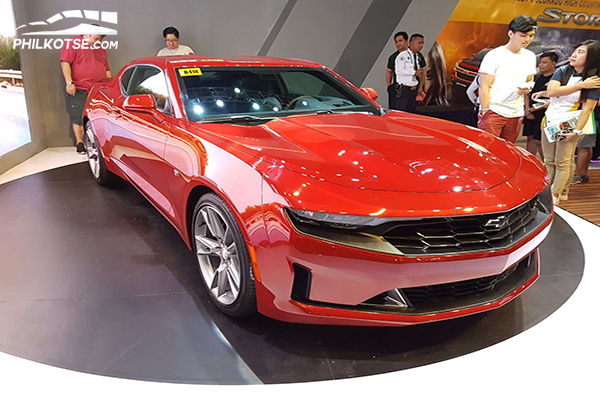 The Chevrolet Camaro Turbo 3LT RS is still a beautifully muscular car and now, more affordable 
As to the RS package itself, it gives the Camaro Turbo 3LT RS a few fancy-looking stuff like 20-inch wheels, a very recognizable and high-quality RS badge on the grille, a spoiler, and a Bose sound system for the audiophiles out there.
For the purists out there though who took a long time to wait for another muscle car beside the Stang, they might come disappointed to learn about the Camaro Turbo 3LT RS's engine and why it isn't a V8 nor does it come with a manual.
Otherwise, the vehicle is a good-looking car with powerful specifications which is more than enough for spirited driving on our local race tracks. So yes indeed, the Camaro Turbo 3LT RS found a replacement for displacement.
All in all, the Chevrolet Camaro 2019 is a powerful enough vehicle that is decently priced for the Philippine market at Php 3,298,888. The Chevrolet Camaro 2019 price Philippines is a bit more expensive than the Mustang Ecoboost variant but is definitely still as powerful.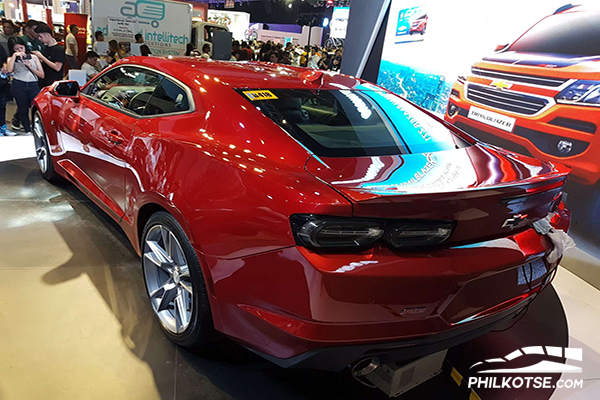 The rear of the 2019 Chevrolet Camaro 3LT RS
Regularly catch up with our Chevrolet price list Philippines to update the latest changes in Chevrolet prices. 

Know more about Chevrolet Camaro 2023

The Chevrolet Camaro 2023 is a 2-door coupe that has been around in the American automaker's lineup since 1966. It is available in the Philippines in one variant starting at Php 4,066,888. Under the hood, this sports car is powered by a 2.0-liter inline-4 DOHC twin-scroll turbocharged engine capable of generating 275 horsepower and 398 Nm of torque. An 8-speed automatic transmission exclusively sends the power to the rear wheels.
Dimensions-wise, the Camaro is 4,783 mm long, 1,897 mm wide, and 1,349 mm high, with a wheelbase rated at 2,811 mm. In the local market, this American sports car goes up against the likes of the Ford Mustang, Toyota Supra, and Dodge Challenger.

Cesar G.B. Miguel
Author