P641,608 is reasonable for such a big Box, isn't it?
Tomorrow, the new Honda N-Box will officially make its way in the home market.
Let's go from the inside. As its name suggests, the cabin of the new N-Box, certainly, is as spacious as a big big box. Apart from a commodious cabin, the Box also comes loaded with a push-button ignition, three-spoke steering wheel and a multi-infotainment display integrated with GPS navigation system in the instrument cluster. Moreover, the interior is also adorned with Aller Clean seats featuring an antiviral upholstery treatment.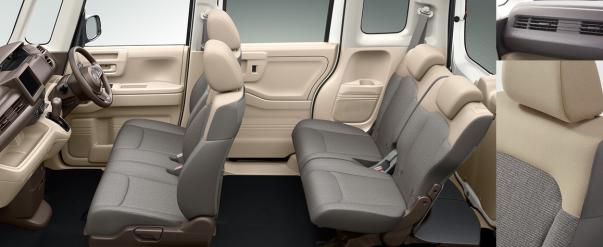 The new N-Box, certainly, is as spacious as a big big box
Getting outside, you can instantly recognize a new front fascia, in which the front is now flanked by LED headlamps. What's more, the boxy styling significantly contributes to the aforesaid cabin.
>>> Take a sneak preview of the Honda Urban EV Concept ahead of Frankfurt
Overall, the exterior changes are fairly slight. However, under the paint scheme is a new platform as well as new joining technique that improve the kei car's rigidity and simultaneously reducing its weight by nearly 80kg.
Overall, the exterior changes are fairly slight
Powertrain-oriented, the new N-Box is powered by a 660cc engine, giving a modest output of 58 PS and 65 Nm of torque. The power is sent to four wheels via a continuously variable transmission (CVT). If you're not satisfied with that performance, pay more to get higher-end variants driven by a turbocharged engine.
As regards safety features, the N-Box exclusively comes with the Honda Sensing suite containing Collision Mitigation Braking, Traffic Sign Recognition, False Start Prevention, Road Departure Mitigation, Lane Keeping Assist, Pedestrian Collision Mitigation Steering System and an Adaptive Cruise Control.
The pricing for this new Honda N-Box is expected to range from ¥1,385,640 (P641,608). Latest updates on upcoming Honda cars can be found in our Complete guide to the Honda Philippines' local lineup.