Meet the Smart car. It's cute and very fuel-efficient.
Traffic is a hassle especially here in the Philippines, be it in Metro Cebu, Davao City, or here in Metro Manila. For this reason, many people are opting to buy city cars like the Honda Brio and the Toyota Wigo. These are small city car models that are small, yet agile enough to zip through traffic while being fuel-efficient.
But did you know that there's another kind of car that's a lot smaller yet still offers enough safety, and is surprisingly planted and agile? That's right, we're talking about the Smart car.
What's a Smart Car?
Made by Smart, or Swatch Mercedes ART, which is a division of Daimler AG, the Smart specifically the "Fortwo" is a microcar. It's made to be economical and ideal for the small roads of Europe while being powered by an environmentally friendly hybrid engine. And yes, due to the Smart car's size, parking is also no issue.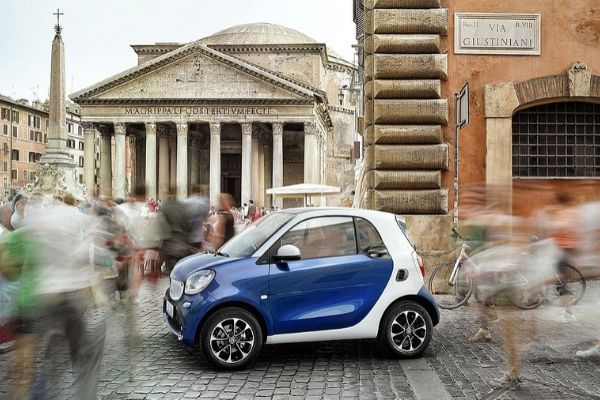 The Fortwo was designed for European streets but it could easily perform as a daily here in the Philippines
Currently, Smart cars are sold in Canada, South Africa, Europe, Japan, and China. We also should point out that the Smart Fortwo is the only non-Japanese car to fulfill the regulations for Kei cars. Aside from the Fortwo however, there's also the larger Smart Forfour, which can fit four passengers.
Note that Smart cars were discontinued in several territories like the United States, Australia, and Brazil due to low sales figures.
However, Zhejiang Geely Holding Group, or Geely Automobiles, acquired a 50% stake of Smart in March 2019. This might mean that Smart cars will become widespread again but let's just wait and see. 
What does a Smart car look like?
When it comes to looks, well, it's very polarizing. For starters, its previous models looked like an egg on wheels with its rounded silhouette. With the third generation version, however, it looks more…car-like with its larger rear bumper and the presence of a hood.
And if you squint hard enough, it looks like Renault's third-generation Twingo. That's because of the Smart Fortwo third-gen shares around 70 percent of its parts with the aforementioned Renault hatchback.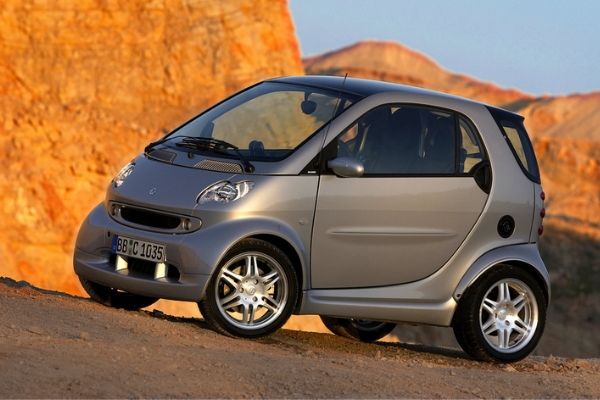 The 1st-gen models looked like this. And yes, this particular one is a Brabus
Inside, it's got room for only two people. Regardless of that though, there's ample elbow and legroom for the passenger and driver. The new one even has a "Benz-like" feeling of quality to it so it's very much a very comfortable car to be in.
Due to its small size, many were also skeptical when it came to a Smart car's safety. That being said, however, the Smart Fortwo rates at four stars over five in the National Highway Traffic Safety Administration's safety test, which is decent.
This is thanks to its Tridion Safety Cell which was designed to provide ample crumple zones despite its smaller size. Note however that due to its high center of balance, a Smart car does have a lot of body roll, which will graduate to a full-on tumble if one is not careful.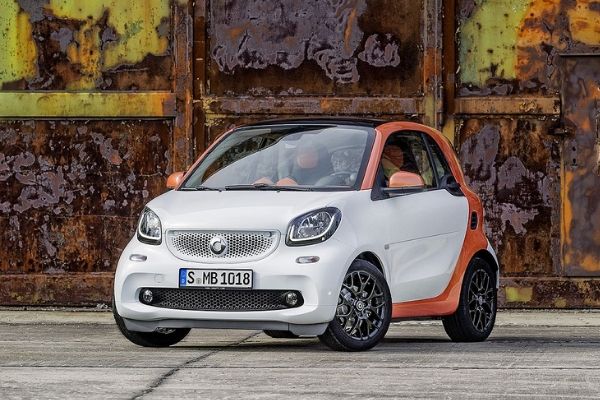 Here's the 3rd-gen version of the Smart Fortwo, which definitely looks better 
>>> Related:
Where can I buy a Smart car in the Philippines?
As of 2020, Smart cars are not officially available here in the Philippines. Do note though that there are a number of dealers in Metro Manila that have used examples available.
Also, do check out our Smart car for sale section from time to time. And yes, there are many local Facebook pages out there dedicated to the Smart car.
Here's the slightly bigger but still compact Smart Forfour.
So yes, it appears that there's a sizable fanbase of the said vehicle here in the country. It makes sense too because as we've said earlier, traffic here is bad and one way to address that is using a small vehicle just like the Smart car. Right?
For more informative articles like this, keep reading here on Philkotse.com.


Cesar G.B. Miguel
Author