As with love, age is nothing but a number for this ultra-rare Civic.
The eighth-generation Civic brought a number of firsts to Honda's long-running nameplate, such as two separate platforms for the sedan and hatchback, as well as a two-tiered instrument panel. Upon its arrival to our market in 2006, this iteration proceeded to edge out the Toyota Corolla Altis in cumulative sales within the next four years.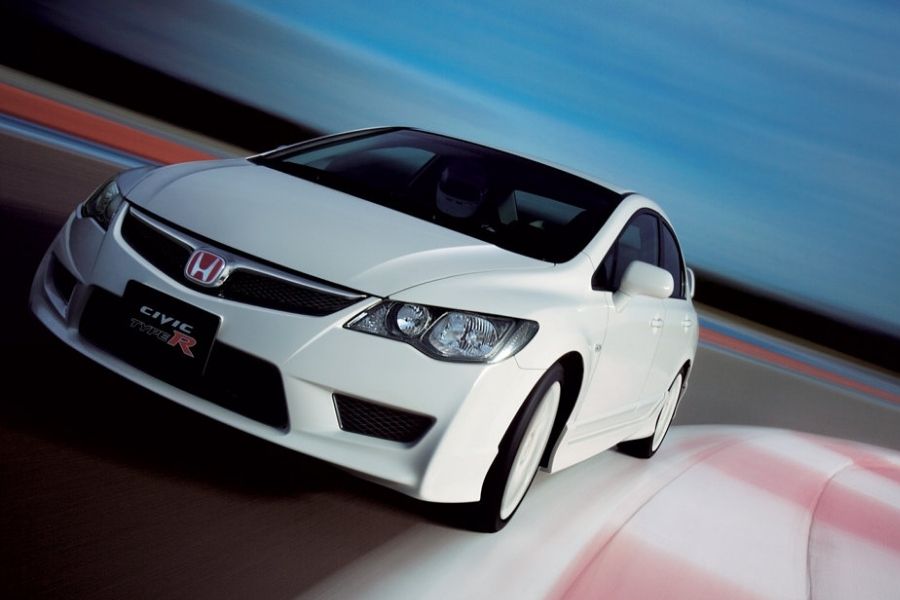 The Type R for the Honda Civic FD was already plenty exciting for many owners
Back then, the priciest variant on offer was the 2.0 S A/T variant, fetching up to Php 1.115 million at the dealership in 2010. Fast forward to over a decade later, and one particular Civic from that era is now going for more than five times as much. To be clear, this isn't just any vanilla Honda compact sedan.

This is the Honda Civic Type R Mugen RR, and it seems to get lucky with numbers. For starters, how does such an unwieldy name get away with demanding £89,990 (Php 6.09 million) in a time when you can get a current Civic Type R for practically half the price? Forget about a bargain basement deal if all you can cite is this model's age. The particular example in question is one of only 300 units intended for the Japanese market, decked out in little else but Milano Red paint.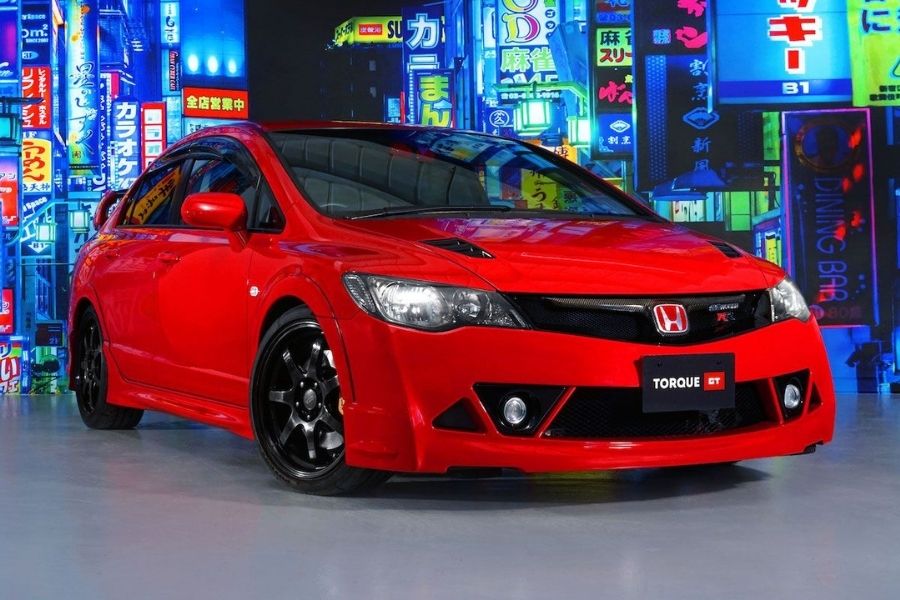 Only 300 examples of the Type R Mugen RR were ever made, all for the Japanese market [Image: torque-gt.co.uk]
Is that all? Where the standard model weighed as much as 1,312 kilos, the Civic Type R Mugen RR shaved off some 57 from that number. A vented aluminum hood was just one of the many culprits responsible for the crash diet. Honda probably passed by a carbon-fiber yard sale in those days, liberally applying the material to the bumpers, grille, air scoops, rear wing, steering wheel, and Recaro SP-X racing seats.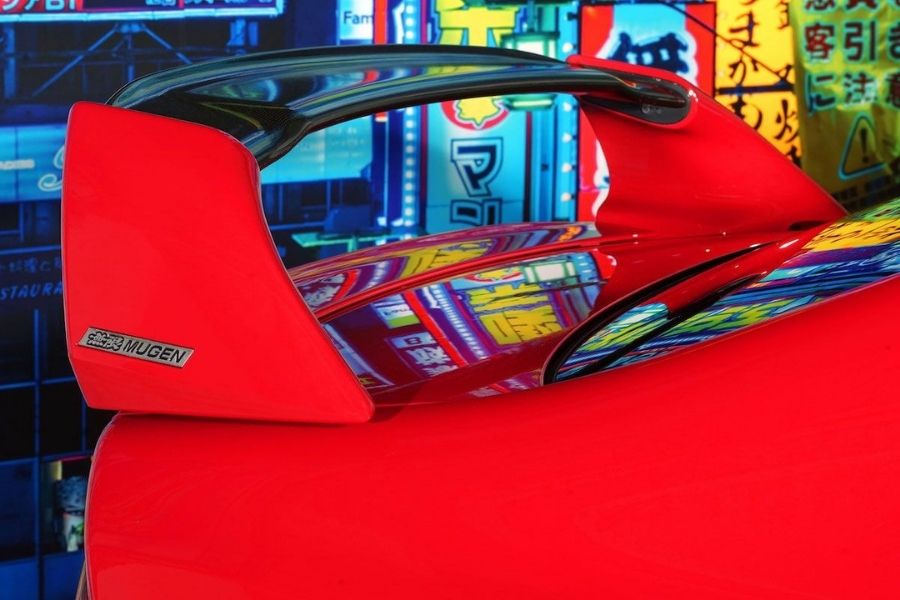 Carbon fiber was plentiful on the car, including the rear wing [Image: torque-gt.co.uk]
Engineers tore off the sound insulation from the cabin, the better for drivers to savor the engine's glorious note, anyway. And what an engine it was, a 2.0-liter K20A that benefitted from extensive retooling to crank out 237 hp and 218 Nm of torque, all gobbled up by the front wheels through a 6-speed manual gearbox (of course). The mill is partnered with a Mugen-developed free-flowing exhaust manifold diverting the combustion by-products to twin-exit tailpipes.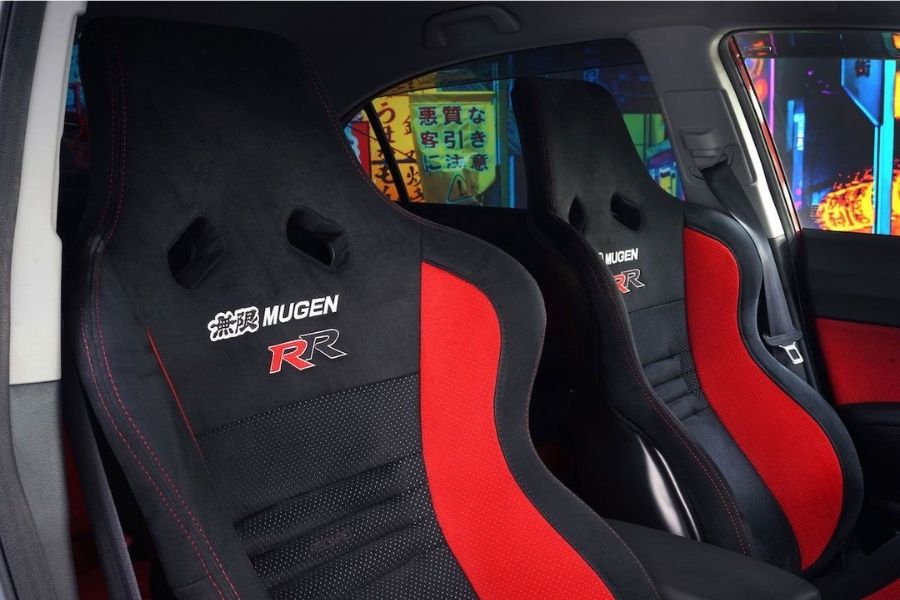 The Civic Type R Mugen RR came with exclusive Recaro SP-X racing seats [Image: torque-gt.co.uk]
A special set of 18-inch Mugen 7-spoke alloys prop up the reworked chassis, with the tuning house providing its own springs and adjustable dampers (up to five settings). One caveat: switching between settings can only be altered manually using a special tool, the way racers did. But all that extra tinkering gave the Civic Type R Mugen RR lap times two seconds quicker than an equivalent Civic FD in Type R guise, even though only 15 horses separate their respective engines.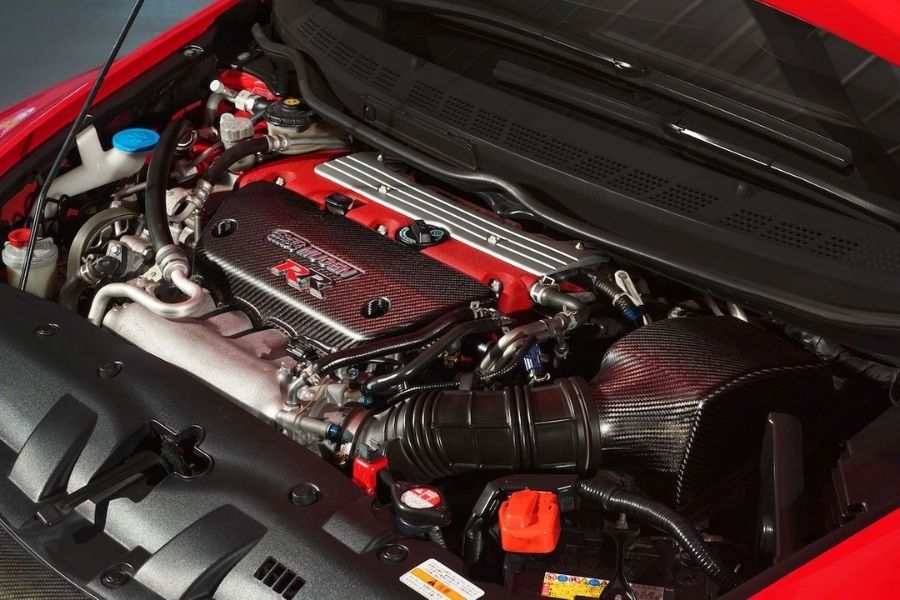 The tweaked 2.0-liter engine only had 15 more horsepower than the Type R, yet it yielded lap times two seconds faster [Image: torque-gt.co.uk]  
The specific unit for sale (as of this writing) is sitting in storage somewhere in the U.K., with only 52,946 kms. on the odometer. Here's the kicker: only 440 kms. of those came from British roads, which means the car ran free mostly in its home market. Adding to the privilege of owning one, the lucky buyer also gets the original Mugen RR owner's wallet, handbooks, and a full accounting of the car's service history records in Japan. If this has caught your fancy, it might be time to make a beeline towards the nearest lotto outlet and pick out lucky numbers of your own.

More premium cars with a rich history are in store for you at Philkotse.com.
Know more about Honda Civic 2021

The Civic compact sedan by multinational automaker Honda is now in its 10th generation. It was first introduced back in April 2016, and currently it has three variants. Under the hood, the 10th-gen Civic for the Philippine market has two engine options. The Civic RS uses a 1.5-liter turbocharge inline-4 that can make up to 171 horsepower and 220 Nm of torque. The second engine option is a naturally-aspirated 1.8-liter inline-4 that can produce a maximum of 139 horsepower and 174 Nm of torque. All variants use a continuously variable transmission, which sends all power to the front wheels.

Joseph Paolo Estabillo
Author